It seems someone left the oven on, again!  Temperatures, so far, for July have been several degrees above normal (Figure 1) and with relatively calm winds and little precipitation, the warm temperatures during the day can feel brutal.  Even nighttime lows have been several degrees above normal removing the much needed daily relief.  Combine that with near-normal precipitation (up to only an inch above normal in the northwest, northeast, and southwest parts of the state, to only an inch below normal elsewhere), and high-temperature stagnation seems to be the climate over the last few weeks.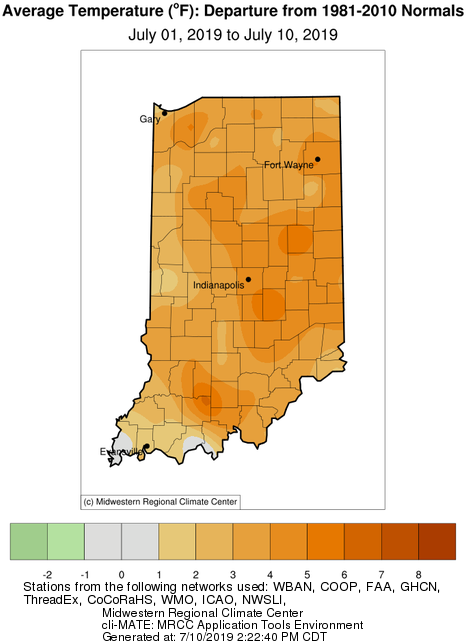 Root-zone soil moisture data is indicating a surplus for southern Indiana with near-normal conditions in the northern half of the state (Figure 2).  Fortunately, there have not been any indications of reported drought across the state.  However, continued high temperatures and normal / below-normal precipitation could present a rapid onset and potentially short-lived ("flash drought") drought environment.
The near-term (8-14-day) climate outlooks are predicting confidence for these above-normal temperatures to continue with the possibility of above-normal precipitation through the end of July (Figures 3 and 4).  To provide some climatological perspective, Indiana normally receives 4.37" and 3.57" in July and August, respectively, with average daily temperatures of 74.2°F (July) and 72.6°F (August).