Stored Product Pests
PIRATE BUGS
LARGER PIRATE BUG - Lyctocoris Campestris
WAREHOUSE - Xylocoris Favipes
If you want to view as pdf, click here



DESCRIPTION
These predators are commonly found in storages. They are about 1/8" long and dark brown in color.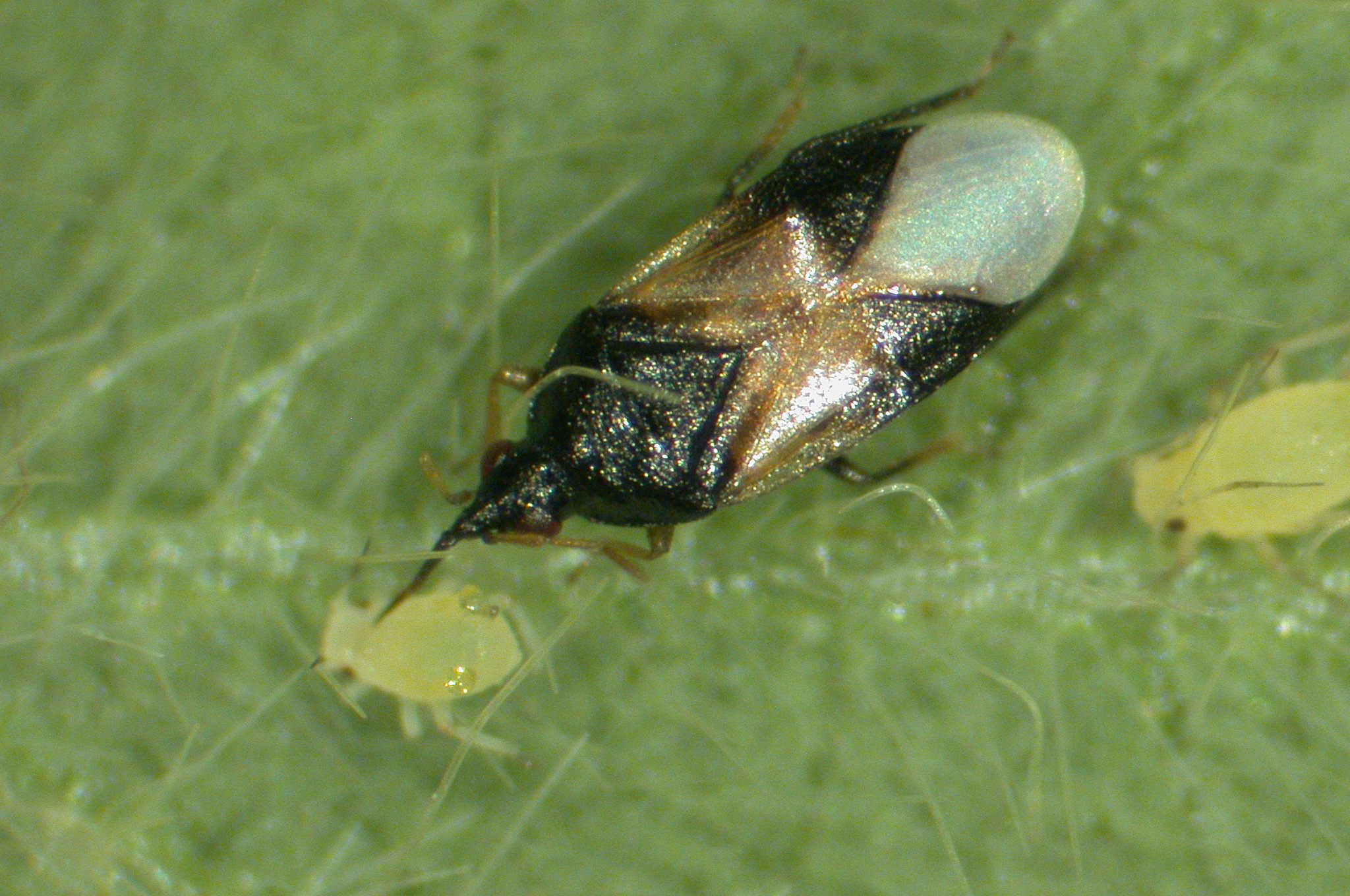 BIOLOGY AND BEHAVIOR
Females lay approximately 150 eggs. Young pirate bugs (nymphs) start to feed as soon as the hatch. It takes about 16 days (at 30°C) to go from egg to adult. They live about 100 days and can survive up to 20 days without food or water. This is important for a predator if it has to wait between prey hatchings. Excellent predators, they are able to catch and kill prey 15 times its size. One advantage to their use in grain bins is that populations can survive cold temperatures during the winters. Despite subfreezing temperatures, live insects can be collected in grain bins, and when placed in warmer temperatures, they will start feeding. These predators have a high capacity to increase their numbers and to consume all available prey, or to reduce their numbers by cannibalistic behavior, thus reducing their own populations when prey are scarce. Unfortunately, they are incapable of penetrating hard material (seeds) to control internal infestors (weevils).
FOOD
Among its favorite prey are larval Indianmeal moth, Mediterranean flour moths, almond moths, red flour beetles, confused flour beetles, sawtoothed grain beetles and warehouse beetles.
READ AND FOLLOW ALL LABEL INSTRUCTIONS. THIS INCLUDES DIRECTIONS FOR USE, PRECAUTIONARY STATEMENTS (HAZARDS TO HUMANS, DOMESTIC ANIMALS, AND ENDANGERED SPECIES), ENVIRONMENTAL HAZARDS, RATES OF APPLICATION, NUMBER OF APPLICATIONS, REENTRY INTERVALS, HARVEST RESTRICTIONS, STORAGE AND DISPOSAL, AND ANY SPECIFIC WARNINGS AND/OR PRECAUTIONS FOR SAFE HANDLING OF THE PESTICIDE.
November 2018
It is the policy of the Purdue University Cooperative Extension Service that all persons have equal opportunity and access to its educational programs, services, activities, and facilities without regard to race, religion, color, sex, age, national origin or ancestry, marital status, parental status, sexual orientation, disability or status as a veteran. Purdue University is an Affirmative Action institution. This material may be available in alternative formats.

This work is supported in part by Extension Implementation Grant 2017-70006-27140/ IND011460G4-1013877 from the USDA National Institute of Food and Agriculture.
765-494-8491
www.extension.purdue.edu
Order or download materials from edustore.purdue.edu