Landscape AND ornamental
Mimosa webworm
If you want to view as pdf, click here
Mimosa webworms attack both mimosa and honeylocust trees in Indiana. Widespread use of thornless honeylocusts as ornamentals has heightened interest in the control of this insect, because all varieties of the tree are susceptible to attack.
Damage is done by webworm caterpillars, which web foliage together and skeletonize leaflets. The insect has two generations each year. However, injury is most noticeable by August when second generation larvae are at the peak of activity. Continued feeding may cause infested trees to turn brown as if scorched by fire.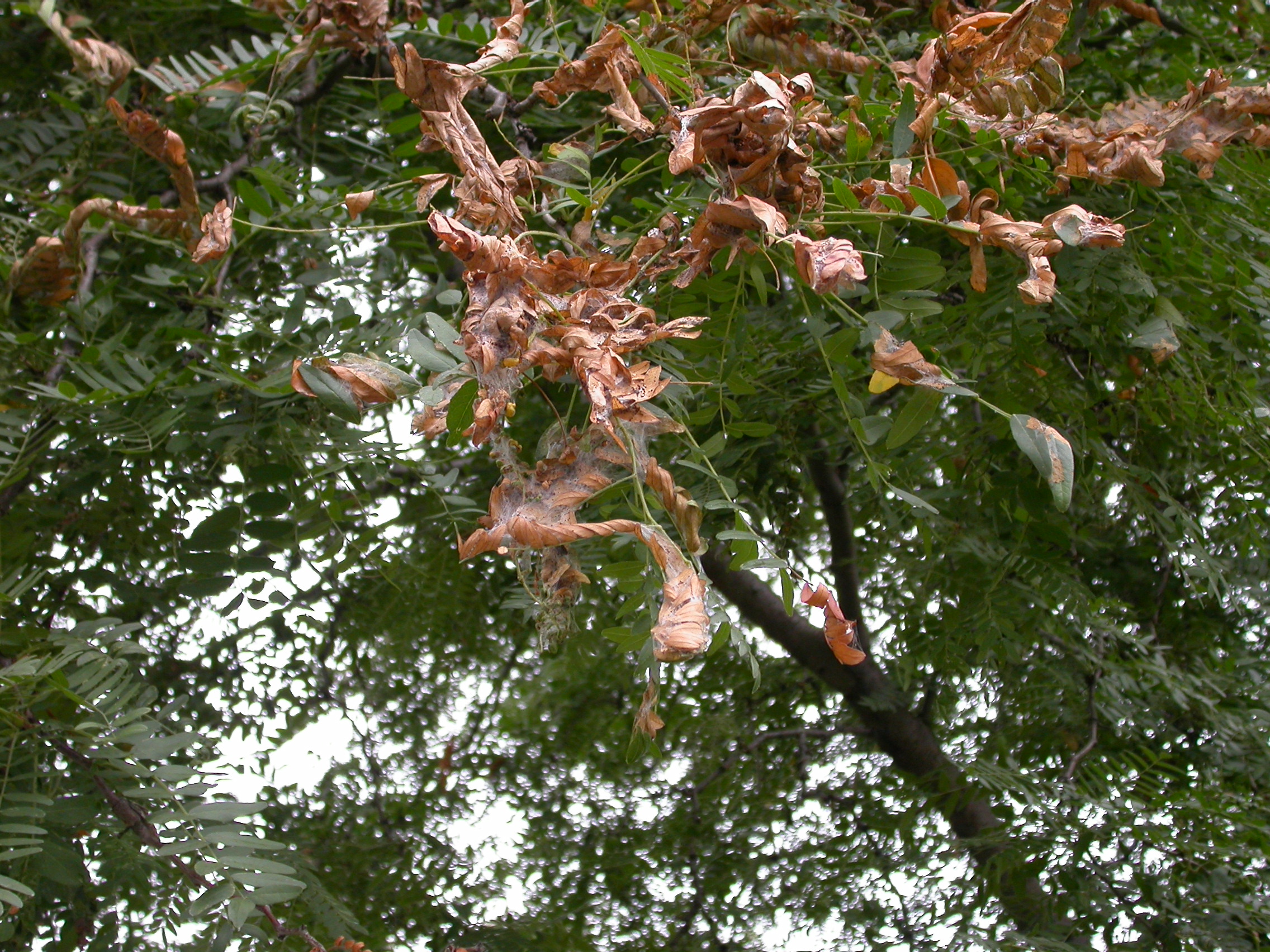 DESCRIPTION AND LIFE HISTORY
Adult mimosa webworms are small, silvery-gray moths which have wings stippled with black dots. Moths of the first generation appear in early June, while those of the second generation are seen in late July and early August. Adults lay eggs on foliage and in old webbing. Eggs are tiny, oval and at first pearly-white, but turn pink as hatching time nears. Fullgrown caterpillars are about 1 inch long and grayish-brown in color with five lime green stripes running lengthwise down the body. They have a dark head, and the body is sometimes tinged with pink.
First generation caterpillars spin their cocoons between the folded leaves that they have webbed together. Second generation caterpillars leave the tree canopy to find a site where they can spend the winter in cocoons protected from cold temperatures. In urban areas, this is often on tree trunks near buildings and paved areas or on the buildings themselves. The white cocoons resemble puffed rice and are often found in groups.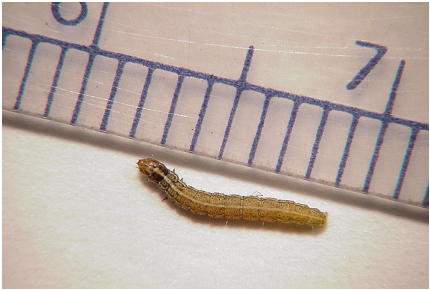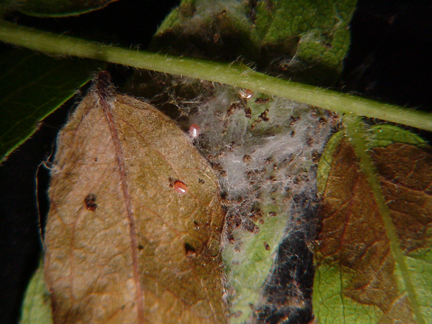 SUSCEPTIBILITY OF HONEYLOCUST
Due to their inability to survive cold temperatures, mimosa webworm tends to be a problem in urban areas. Of all thornless honeylocust clones, Sunburst seems to be the most susceptible to webworm attack. Other varieties including Shademaster, Skyline, Moraine and Imperial are less susceptible but still subject to severe injury. Mass plantings of ANY of the thornless varieties should be avoided unless the trees can be sprayed.
CONTROL RECOMMENDATIONS
In the absence of pesticide use, mimosa webworm problems occur in sheltered urban areas or along roadsides. The many insects and birds that feed on the caterpillars are likely to prevent the injury from harming tree health. To prevent unsightly amounts of webbing, trees can be sprayed with insecticides that target young caterpillars in mid-late June and in late July to early August.
When selecting one of the pesticides from the table below, it is important to consider that early season use of long lasting, broad spectrum pesticides can cause honey locust spider mites to become a problem later in the year. You can avoid this problem by using a biorational insecticide such as: acelepryn, Bacillus thuringiensis, indoxacarb, spinosad, or tebufenozide. These materials do not kill mite predators and are not likely to cause spider mite outbreaks. Use the other insecticides to rescue trees when problems are severe and webbing is more extensive.
Table 1. Pesticide List.
Insecticide (Product Names)
Formulation
Amount Per 100 Gal.
Amount Per Gal.
Suggested Use
General Use Restriction (Check Label) H=Homeowner C=Commercial
Acephate (Orthene)
75% S
15.6% EC
1/3 lb.
1 1/5 cup
1/3 tsp.
1 1/2 Tbsp.
Rescue
H, C
Acetamiprid (TriStar)
30 SG
2.7-5.3 oz.
-
Rescue
H, C
Azadirachtin (Azatrol, Azatin-o and others)
1.2% SEC
96 - 160 fl. oz.
1 - 1.6 fl. oz.
Biorational
H, C
Bacillus thuringiensis Kurstaki
(Dipel, Biotrol, others)
See label
See label
See label
Biorational
H, C
Beta-Cyflurin (Tempo)
20 WP
0.75 EC
1.9 oz.
-
-
1 Tbsp.
Rescue
C
H (Bayer)
Bifenthrin (Talstar L&T and
other site specific products)
0.7 F
5.5 - 10.9 oz.
1/3 - 2/3 tsp.
Rescue
H, C
Carbaryl (Sevin and others)
4 F
2 F
1 qt.
2 qt.
2 tsp.
4 tsp.
Rescue
H, C
Chlorantraniliprol (Acelepryn)
1.67 SC
1 - 2 fl. oz.
-
Biorational
C
Cyfluthrin (Decathalon,
Bayer Lawn & Garden)
20 WP
0.75 EC
1.9 oz.
-
-
1 Tbsp.
Rescue
C
H (Bayer)
Deltamethrin (Deltagard T&O,
Suspend SC)
4.75% EC
4 - 8 oz.
1/4 - 1/2 tsp.
Rescue
H, C
Fluvalinate (Mavrik)
2 F
5 - 10 oz.
1/4 - 1/2 tsp.
Rescue
H, C
Indoxacarb (Provaunt)
2.4 SC
1.2 - 2.5 fl. oz.
-
Biorational
C
Lambda-cyhalothrin (Scimitar, Demand)
9.7% EC
1.5 - 5 oz.
-
Rescue
H, C
Malathion
57% EC
2 - 4 pt.
2 tsp.
Rescue
H, C
Permethrin (Astro EC, Spectracide Bug
Stop, Eight)
36.8% EC
2.5% EC
4 - 8 oz.
1/4 - 1/2 tsp.
2 Tbsp.
Rescue
Rescue
C
H
Spinosad (Conserve,
Bulls-Eye Bioinsecticide,
Fertilome Borer, Bagworm, Leafminer & Tent
Caterpillar Spray)
SC
SC


6 oz.
-


1/2 tsp.
4 Tbsp.
4 Tbsp.


Biorational
C
H
H

Tebufenozide (Confirm)
25% EC
4 - 8 oz.
1/4 - 1/2 tsp.
Biorational
C
Scientific Name: Mimosa webworm - Homadaula anisocentra Meyrick
READ AND FOLLOW ALL LABEL INSTRUCTIONS. THIS INCLUDES DIRECTIONS FOR USE, PRECAUTIONARY STATEMENTS (HAZARDS TO HUMANS, DOMESTIC ANIMALS, AND ENDANGERED SPECIES), ENVIRONMENTAL HAZARDS, RATES OF APPLICATION, NUMBER OF APPLICATIONS, REENTRY INTERVALS, HARVEST RESTRICTIONS, STORAGE AND DISPOSAL, AND ANY SPECIFIC WARNINGS AND/OR PRECAUTIONS FOR SAFE HANDLING OF THE PESTICIDE.
November 2017

It is the policy of the Purdue University Cooperative Extension Service that all persons have equal opportunity and access to its educational programs, services, activities, and facilities without regard to race, religion, color, sex, age, national origin or ancestry, marital status, parental status, sexual orientation, disability or status as a veteran. Purdue University is an Affirmative Action institution. This material may be available in alternative formats.
1-888-EXT-INFO
www.extension.purdue.edu
Order or download materials from www.the-education-store.com