Western Bean Cutworm Moth Captures, 2011 – (Christian Krupke and John Obermeyer)
• Average/trap moth numbers higher than last year.
• Peak flight approximately 2 weeks later than last year.
• Finding egg masses and larva have been a challenge this year – reasons unclear.
As the western bean cutworm moth numbers dwindle for the season, our dutiful pheromone trap cooperators deserve a hearty thank you for the efforts and the information they provide in attempting to better understand this relatively new pest to Indiana. The following graph summarizes their efforts, in comparing average trap catches from 2010 to 2011. What a difference a year makes!
What seems the most surprising is that the average moth capture per trap is actually higher this year than last. Certainly one must be careful when pulling conclusions from averages. It is interesting that the in-state distribution is about the same as last year, meaning other than a slight shift to north central counties, the majority of the moths were captured in northwestern counties, specifically the areas with sandier soils. The fringe area traps, caught very few, if any, moths.
Unlike last year, egg masses were very hard to find, and subsequent damage appears to be much lower. Though we have some theories, the bottom line is that with even with more moths this year, damage to corn is reportedly way down from last year. This was becoming obvious when during peak flight, we sent crews to fields near high moth catches to harvest egg masses for field trials and came up empty each time. Similar observations were reported to us by industry agronomists. This is very good news to producers, but frustrating for researchers wanting to further study this pest.
The two-year comparison graph below shows that peak moth flight was about 2 weeks later than last year. Most can remember how advanced we were by mid-summer in heat unit accumulations in 2010. This year certainly has been a cool, slow start, with rapid advances (too much) in heat. The synchrony of corn development, moth flight, and high temperatures certainly played a big role in lowering infestations this year.
Though there are undoubtedly larvae surviving out there somewhere, it looks as though that threat will be much less in 2012. This strange season only further complicates our understanding and predictability of this insect – based on this season's reports, it's status as a significant "pest" of Indiana corn production is in doubt.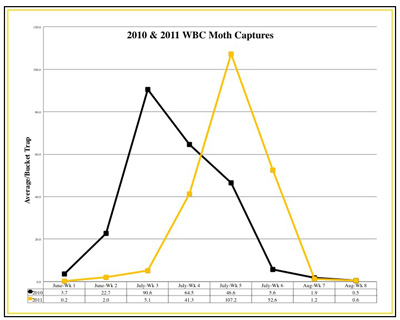 Click here to see the Black Light Trap Catch Report

Click here to see the Western Bean Cutworm Adult Pheromone Trap Report


NEWS RELEASE - Davis Purdue Ag Center Field Day, August 16 – (Daniel D. Kirtley, Extension Educator)
Agricultural research will be front and center at the Davis-Purdue Agriculture Center Field Day. The event takes place from 8:30 AM to 2 PM August 16. Registration is free and begins at 8 AM. Davis-Purdue is located five miles north of Farmland, Indiana on Indiana 1.
"We try to showcase research projects that are taking place," said Dan Kirtley, Purdue Extension Educator. "It's an opportunity for people to get out in the corn and soybean herbicide plots and see what we are doing."
Throughout the day, Purdue experts will speak about issues affecting farmers. Speakers and topics include:
Bill Johnson, Weed Specialist – Hot Topics in Weed Control, Corn and Soybean Herbicide Demonstration plots
Christian Krupke, Extension Specialist – Current Insect Pest Issues in Corn & Soybeans
Fred Whitford, Extension Specialist – Water Quality and Pesticide Efficacy
John Orick, Extension Educator – Direct Supervision of Pesticide Applicators
Bob Nielson, Extension Specialist – Evaluating Wind Damaged Corn
A free lunch will be provided. Also, St. Vincent Randolph Hospital will offer free health screenings for attendees, including blood pressure testing, tetanus shots and skin cancer screening.
"Farmers are busy and oftentimes feel as though they don't have time to see a doctor. That's why we think this program is important," said Kirtley. "This will be the seventh year for the health screenings, and we feel it's made an impact."
Field day attendees are eligible for commercial pesticide applicator Continuing Credit Hours, Continuing Education Units for crop consultants and private applicator credits. Private Applicator Credits cost $10.
For more information about the field day, contact Kirtley at (765) 584-2271 or by e-mail at dkirtley@purdue.edu. Reservations are requested by August 12.