Pest & Crop Newsletter, Entomology Extension, Purdue University


Western Bean Cutworm Flight Continues, Questions Abound – (Christian Krupke and John Obermeyer)
Peak moth flight is happening now.
As corn pollinates, eggs masses are harder to find…female moths are quite choosy!
Peak western bean cutworm moth flight has occurred at many trapping locations, but certainly not all (see following trap counts). This indicates that there are more moths to emerge, mate, and deposit eggs in fields of their choosing. A current common frustration of pest managers is determining where egg masses are being deposited once corn has begun pollinating, especially when nearby trap counts are still high. Egg deposition is preferred in pre-tassel corn, but most corn has now advanced into reproductive stages. Because female moths seem to have a strong affinity to certain hybrids (e.g., color, architecture, etc.) or situations (e.g., growth stage, soil type, stress, etc.) they may pass over nearby fields to deposit eggs. This suggests that eggs masses will be distributed in fields further away and/or clumped in an area of a field to their liking (e.g., delayed maturity). In other words, scouting will be more challenging.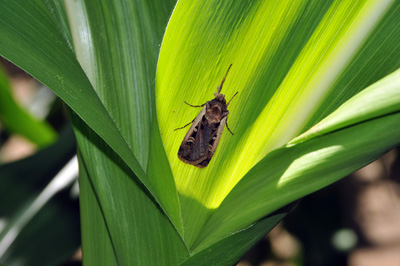 Western bean cutworm resting in the whorl
Dan Childs, Heritage Seeds, has been in the midst of the battle with western bean cutworm in the northwestern counties. He has allowed us to share the following experiences/observations that he sent to us this week. We think that these bulleted items will answer many of your questions and/or confirm your encounters. Please share with us your insights as you gain experience with trapping, scouting, and treating for this pest.
• The first week, caught many moths in the light, sandy areas of the region, but now catching moths outside this zone or the "fringe" areas or "good dirt"
• As of July 15, moth numbers have dramatically declined in previously high-catch traps.
• Sometimes find moths resting down in the whorl of a pre-tasseled plant during daytime hours
• Best chance to find egg masses is in corn that is shoulder high (tassel in whorl)
• Very few egg masses found in fields that were pollinating
• We can find white, cream, purple and hatched egg masses all in the same field
• Egg masses almost always laid on the upper leaf surface, sometimes they can be found on the sheath beneath an upper leaf
• Egg masses typically found on young leaves that are sticking upward, not fully out or mature leaves
• Egg masses typically found in groups; 3 to 4 masses in 10-15 plants, then nothing for a long length of row
• Many times will not find any egg masses in the field that contains the trap, which had very high counts, but, down the road may find egg masses in a field over threshold
• Continuous corn tends to have more egg masses, high trap counts
• In fields with corn that is tall and pollinating, may find egg masses in the end rows or areas bordering a wet hole where the corn is shorter and under more stress
• Some fields finding various predator insects, such as lady beetles, lacewings, and small flies and wasps – probably parasites of the WBC eggs, but not present in large numbers
Scarring or window-pane damage by larval feeding in the whorl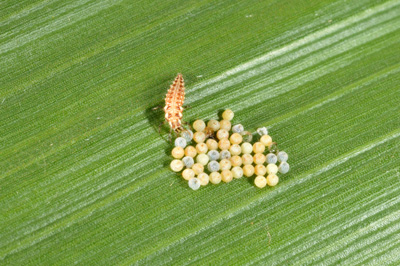 Lacewing larva feeding on eggs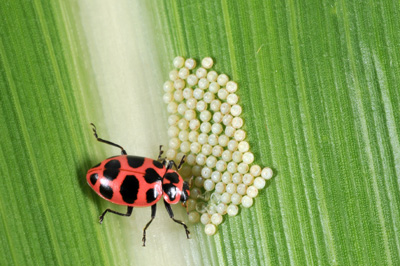 Lady beetle devouring an egg mass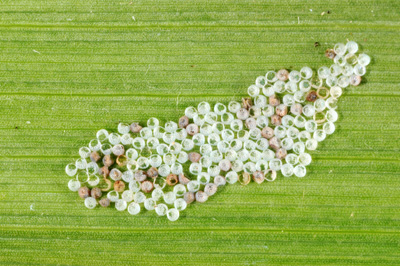 This egg mass has been eaten by a predator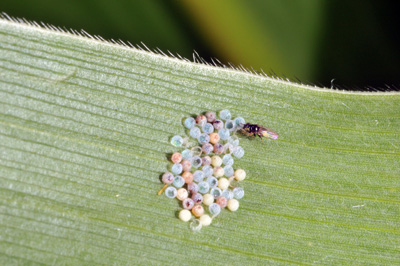 Tiny parasitic wasp on egg mass

Click here to view the Black Light Trap Catch Report

Click here to view the Western Bean Cutworm Adult Pheromone Trap Report