Purdue is involved in a multi-state project funded by the North Central Soybean Research Project to improve our understanding of the fungus that causes SDS and develop new management practices for the disease. To see how we conduct research on SDS, please view the following video: Studying Sudden Death Syndrome Management in Soybean.

Estimating Soybean Yields – (Shaun N. Casteel) -

Soybean yield potential is built on numerous factors including the genetics that have been selected, the management decisions during the season, and the weather. Yield components of soybeans are boiled down to pods, seed size, and number of seeds per pod.

When Should I Take Yield Estimates?

You need to use these factors and the understanding of your field conditions to estimate soybean yield potential prior to harvest. Soybean yield estimates can begin as soybeans enter into R5 (first seed, Figure 1). At this point, a fair portion of the pods have developed and seeds are filling throughout the whole plant. The yield potential at this point can be low or it can be high depending on the remaining 4 to 6 weeks of the growing season. Yield estimates will improve as the plants continue developing over the following ~15 days and enter R6 (full seed, Figure 2), which last another ~20 days.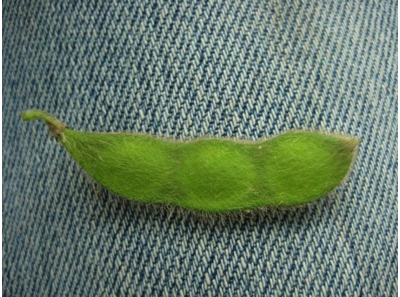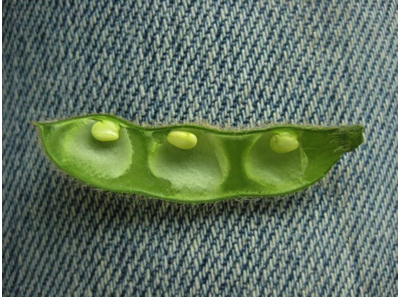 Figures 1. Soybean at R5 (first seed). Seeds are 1/8 inch long in one of the pods at the top 4 nodes.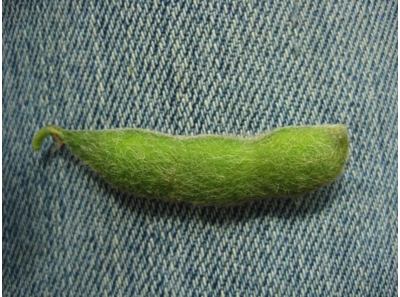 Figures 2. Soybean at R6 (first seed). Seeds filling the pod capacity in one pod at top 4 nodes


Estimating Soybean Yields
Simplified Soybean Yield Estimation. Individual plant production will vary and we must take a representative sample without being extraneous. Every field will have variations based on soils, pests, fertility, and other factors. I have simplified the process of estimating soybean yields, so that you can scout multiple areas quickly while maintaining representative estimates.
The system is based on 1/10,000th acre and the following formula:
Pods X Seeds Per Pod divided by Seed Size Factor = Estimated Bushels Per Acre
Step 1 – Pods
Count the number of pods in 1/10,000th of acre. Yes, 1/10,000th of acre! Nearly 90% of our Indiana soybean acres are planted in 30-, 15-, or 7.5-in rows, so just remember 21. You will count the number of pods in 1 row for 30-in width, 2 rows for 15-in width, or 4 rows for 7.5-in width to equal 1/10,000th acre (Figure 1). Each one of these counts will be 21 inches in length.

Figure 1. Number of rows to count to equal 1/10,000th of an acre.

We certainly have other row widths, and this simplified system can be adapted to your row width. If you have a different row width, divide 627.26 by your row width (inches) to calculate the linear length (inches) of 1 row to equal 1/10,000th acre. For example, an 18-in row width would require 34.8 inches of 1 row to equal 1/10,000th acre (627.26 18 inches).
This simplified system is more reliable when you have 8 or more plants in the sampled area, which translates to 80,000 plants per acre. If plant stands are less than 8, you should count additional areas to decrease the variability of the overall yield estimate for the field. If you want to have an idea of final plant stand, multiply the number of plants sampled by 10,000. However, you do not need plant population to estimate yield with this approach.
You will count the total number of pods in the 1/10,000th acre. You will need to use discretion to which pods you will include in the count. A good rule of thumb is to count the pods that are R5 or larger, with the knowledge that some of the smaller pods may or may not make it.

Step 2 – Seeds Per Pod
The starting point is an average of 2.5 seeds per pod, since there can be a range of 1-, 2-, 3-, and 4-seeded pods. This value is conservative since we do not know exactly how the rest of the season will finish. The soybean plants may arrest seed development on several 3-seeded pods or some pods are aborted completely. You can quickly increase or decrease the yield estimate by changing this one value. You can more confidently adjust this value because you are more likely to remember the frequency of 2- or 4-seeded pods within a few hundred pods.

Step 3 – Seed Size Factor

The starting point is seed size factor 18, which equals a fairly representative seed size of 3,000 seeds per pound. If you expect larger seeds (maybe from late season rains) you will use a smaller seed size factor such as 15 (2,500 seeds per pound). Similarly if seed fill will be limited (i.e., small seeds) due to lack of water or other late season stresses, you should use a larger seed size factor like 21 (3,500 seeds per pound).
Table 1. Seed Size Factors.

Examples:
Good soybean growth, good pod retention, and adequate late season moisture.

Good early soybean growth, fair pod retention, BUT little late season moisture.

Fair soybean growth, limited pod retention, BUT good late season moisture.


Temperature Effects for Soybean Reproduction - (Shaun N. Casteel) -

This growing season has been anything, but normal or perhaps, that is normal. The abnormally cool temperatures have been the characterizing feature until the past few days. The average temperatures in July were 4 to 6°F cooler than normal with pockets that were 6 to 8°F below normal across Indiana and Illinois. The northern half of Indiana averaged 66 to 70°F in July while the southern half averaged a couple degrees warmer (Fig. 1). We personally enjoyed this cooler weather, but questions arise regarding the effects to our crops. Corn tends to respond more favorable to warm day and cool nights (overall growth and development, pollination, etc.) than soybean.
Soybeans like it warmer in the evening so that it can "burn" (respire) the stored energy (photosynthates that are stored as starch) and grow. If the stored energy is not burned one night, it will be left in the tank for the following day. Then, the tank is already partially filled (inhibition feedback to photosynthesis) so soybean may not fully utilize the new day's supply of sunlight. A few days of this pattern is not detrimental, but it will eventually compound if the pattern persists. In other words, leaf/node development could be delayed, pod production limited, and seed fill is slowed due to low photosynthate production.
Nightly temperatures have dipped into the 50s frequently in July and August with even several nights in the mid-40s over the past few weeks. In some cases, the cooler weather has been a bit of a saving grace due to limited rainfall over the past 30 days, especially in the northern third of Indiana (Fig. 2).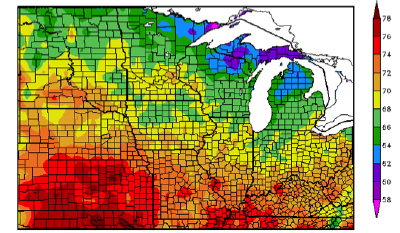 Figure 1. July 2014 average temperature (°F) across the Midwest (HPRCC, 2014).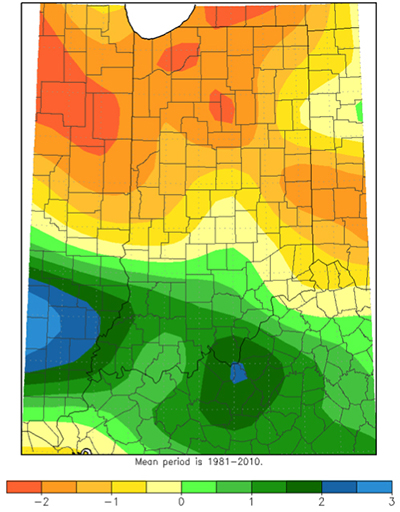 It is difficult to predict the yield impact of the cooler temperatures over the past several weeks, because of the ability of soybean to compensate among pods and seed size. However, some studies have provided insight to the response of soybean to various temperatures near reproductive development.
A chilling treatment of 50°F (constant temperature) for one week during early reproduction stages reduced pod production by increasing abortion of flowers (Musser et al, 1983). Pollen malformation, reduced pollen production, and sterility of pollen are some of the potential causes of the loss of flowers following the chilling treatment. The recovery of soybean to develop flowers was not affected by the cool temperatures when imposed early in reproduction.
Soybeans were able to recover a larger portion of their photosynthetic capacity when the cool temperatures (2 or 3 nights of 41°F) occurred at R2 (full bloom) compared to R6 (full pod) (Purcell et al., 1987). The greater recovery rate was most likely linked to more nutrient reserves in the leaves at R2. Nutrients were remobilizing from leaves to pods and seeds at R6, and thus, leaf nutrient reserves were low. In Egli and Warlaw (1980) study, normal temperatures were maintained until R5.5 then various temperature treatments were imposed until R8 (maturity). Seed fill was lowest for the cool temperature regime (64°F during day and 55°F during night), which also resulted in the smallest seeds and delayed maturity. The greatest seed growth rate was under 80/72°F regime with good seed sizes and no delay in maturity.
As previously mentioned, the cascading effects of cool temperatures on photosynthetic capacity would certainly influence the rates of pod elongation and seed fill. Slow growth rates can start to become an issue as we progress to autumn with shorter and shorter days (and temperatures continue to decrease). The past week has been much warmer with a supply of water. Soybeans will respond to the shift in weather with more emphasis on growth of pods and seeds than development of new flowers or pods. Again, soybean can compensate for the shortcomings that occurred in many fields during early to mid-reproduction provided the warmer weather continues and the soils have water to supply. Extended periods of cool temperatures during late stages of development (R5 to R6) will certainly influence seed fill and most likely yield.
References
HPRCC 2014. Midwest average temperatures for July 1 to 31, 2014. <http://www.hprcc2.unl.edu/~sorensen/u2umaps/Last1mTDataU2U.png>.

Musser, R.L., S.A. Thomas, J.F. Thomas, and P.J. Kramer. 1983. Effects of shoot chilling during floral initiation and development of "Ransom" soybeans. Plant Physiol. Suppl. 72:43.

Purcell, L.C., D.A. Ashley, and H.R. Boerma. 1987. Effects of chilling on photosynthetic capacity, leaf carbohydrate, and nitrogen status of soybean. Crop Sci, 27:90-95.

Egli, D.B. and I.F. Wardlaw. 1980. Temperature response of seed growth characteristics of soybeans. Agron. J. 72:560-564.