Pest & Crop Newsletter, Entomology Extension, Purdue University


Armyworm Look-Alike in Wheat – (Christian Krupke and John Obermeyer)
• Sawfly larvae and damage may be confused with armyworm.
• Sawflies in wheat are rarely seen, but,heavy populations could lead to head clipping.
• Quick inspections for sawfly larvae can be conducted with a sweep net, more intensive scouting is necessary with high populations.
Small, caterpillar-like larvae have been reported in East Central Indiana wheat fields just before fungicides were to be applied. These are not caterpillars at all, but are sawfly larvae, probably grass sawfly (Pachynematus sp.). Adult sawflies are insects with four wings that are distant relatives of the honey bee, but they do not have a stinger. The larvae are usually plant feeders and a few are pests of home gardens (rose sawfly, for example).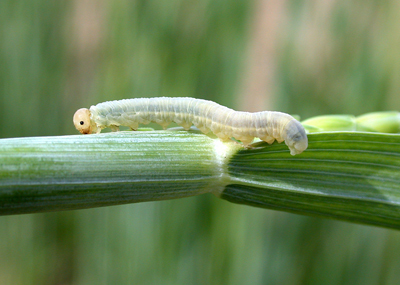 Sawfly larva on wheat
The sighting of foliage feeding sawfly larvae in wheat fields is infrequent in the Midwest. And although this species was feeding on the leaves, it was minor and economic damage is not expected. This is more of a curiosity than anything else, and an opportunity to learn the differences between different insect larval types – always fun! Full size larvae, about 1.25 inches, may feed on stems causing head clipping much like armyworm. Another closely related insect, the wheat stem sawfly, occasionally causes problems in northern regions of the United States. This species, as the name implies, feeds only in the stem causing lodging of small grains.
Unlike armyworms, which feed at night or on dark, cloudy days, sawfly larvae feed throughout the day. Another difference takes close inspection – caterpillars have three pairs of true legs just behind the head and another five pairs of prolegs on their abdomen. Sawflies also have the three pairs of true legs up front, but also have six or more pairs of prolegs further back on the abdomen. Because sawflies' coloration blends into the vegetation, a sweep net would be useful to determine their presence. If populations of 10 or more larvae per 100 sweeps are found, plants should be examined more closely. By shaking undisturbed plants in multiple locations in the field, count and calculate the number of larvae per foot of row that fall to the ground. Populations as low as 0.4 larvae/foot of row have been suggested by the University of Delaware as the treatment threshold. That is not many, but it would be very surprising if any Indiana fields topped that threshold – it's extremely unlikely that treatment will be required.
Sawfly and armyworm differentiation

Seedcorn Maggot Potential for Planted Soybean - (Christian Krupke and John Obermeyer)
• Seedcorn maggot are attracted to fields with abundant vegetation and/or animal manure.
• Winter annual weed control goes a long way in preventing infestations.
• Evaluate poor emerging areas for seedcorn maggot damage and need for replanting.
• Seed applied insecticides provide some protection.
Now that corn planting is almost complete, soybean planting activity has been at breakneck speed. Some planting occurred in fields that had less than ideal seedbeds, meaning little to no weed control had been applied. Corn and soybean seeds planted in high crop residue, weedy growth, and/or where animal manure was applied are most often subject to attack by seedcorn maggot. You are probably familiar with the many drawbacks of planting into weedy fields, such as black cutworm, but seedcorn maggot is a potentially serious pest that is often forgotten.
Seedcorn maggot damage expressed after emergence
Seedcorn maggot adults are small, extremely common flies that are found virtually everywhere and seldom noticed. They look like a housefly, but about 2/3 of the size. They are attracted to all types of decaying matter to lay eggs; maggots feed on rotting vegetation. Soils planted too wet often have open seed slots, attracting flies to climb down into the furrow and deposit eggs in decaying weeds next to the seed. Soon the yellowish-white maggots, up to 1/4 inch long, burrow into the seeds or underground portion of plants and feed. The damage they cause can serve as an entry point for a range of other pests as well, including fungal and bacterial pathogens. All of this happens beneath the soil surface, so the damage is usually first observed as skips in the row where plants do not emerge, or if they emerge, die back soon after.
Some soybean seed treated with low rates of Cruiser or Poncho will offer some protection if planted into weedy/manured fields. Should replanting be necessary, insecticide on the soybean seed (i.e., Cruiser or Gaucho) is probably not necessary, as the seedcorn maggot will probably have already pupated and soon to emerge as an adult fly, meaning the damage is done and risk of further infestations are extremely low.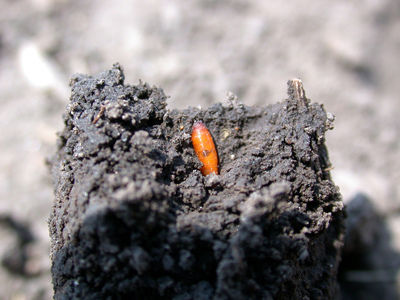 Seedcorn maggot pupa, damage is done!
Accumulated Heat Units (Base 50) for Black Cutworm Development Since April 18



Click here to see the Black Light Trap Catch Report


Weed Science Update: Herbicide Drift Samples - (Travis Legleiter and Bill Johnson) -
The Office of the Indiana State Chemist and the Purdue Plant and Pest Diagnostic Laboratory have received a large number of woody ornamental samples that have potential drift injury from nearby agronomic fields. In the last two weeks at least 20 samples of woody ornamentals from residences and landscape nurseries have been submitted that had symptoms of herbicide drift from agronomic fields. There are a couple of reasons why we have seen the large number of drift samples in the last couple of weeks.
This spring has been much less than ideal for timely burndown treatments and planting, placing increased pressure on producers to plant as much as possible while conditions allow and the calendar still says "May". No-till producers who apply burndown treatments to fields are making herbicide applications in less than ideal conditions in order to get fields ready for planting. This means burndown herbicides are likely being applied in windy conditions that are less than ideal and are more likely to drift onto non-target plants. The large rural population of Indiana and number of residences in rural areas near agronomic fields only increases the number of non-target plants that drift will affect.
While we are still receiving a few drift samples with injury from growth regulator herbicides (2,4-D and Dicamba), the larger number of samples this spring have been from tank mixes containing saflufenacil. Saflufenacil is an active ingredient in the herbicides Sharpen, Verdict, Optill, and Optill PRO. This active ingredient has been on the market for the last couple of years and is becoming a popular replacement for 2,4-D in no-till burndowns and as a component of residual herbicides used in both corn and soybean production. When applied as a burndown treatment to no-till fields, it is almost always tank mixed with glyphosate. So why is it that this particular active ingredient showing up in the majority of drift samples and not glyphosate? The biggest reason is because it is easy for most homeowners to see the injury from saflufenacil. Unlike glyphosate, which is suspected only rarely in drift cases because of it's indiscernible drift injury, saflufenacil causes obvious necrotic spotting on leaves where the drift occurs. Homeowners can easily observe this necrotic spotting, caused by this PPO-inhibiting contact herbicide, and know that the injury is due to off-site movement of a contact herbicide.
The purpose of this article is not to pick on one herbicide, but to raise awareness of drift issues that are more common when we have wet springs and field work is compressed into short periods of time. The reality of the situation is that all of the herbicides that are applied in windy conditions are drifting off-site. However, some herbicides are more likely to cause obvious injury symptoms. When plants show injury symptoms to one herbicide, whether it is saflufenacil or 2,4-D, we have to realize that since these herbicides are tankmixed with other herbicides like glyphosate, that these herbicides have drifted off-site as well and we just do not notice the injury symptoms. However, they are likely causing stress to non-target
Vegetation and exacerbating the injury caused by herbicides which elicit more obvious responses.
While we understand the pressure on producers to plant everything as soon as possible and prepare no-till fields for planting. It is important that producers who are still completing burndown applications to be aware of wind speeds and their surrounding residential neighbors who likely have many susceptible trees, shrubs, and garden plants.

A couple of examples of woody ornamentals showing the necrotic spotting caused by a PPO-inhibiting contact herbicide such as saflufenacil are shown below. (Photo courtesy: Scott Farris, IOSC)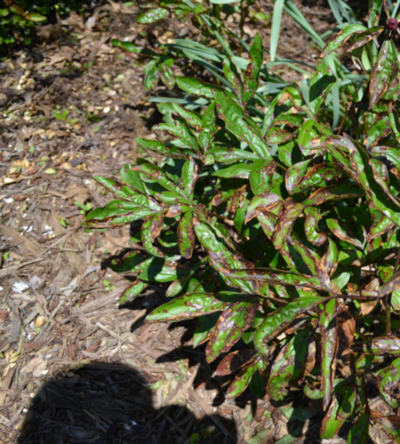 Photo courtesy: Scott Farris, IOSC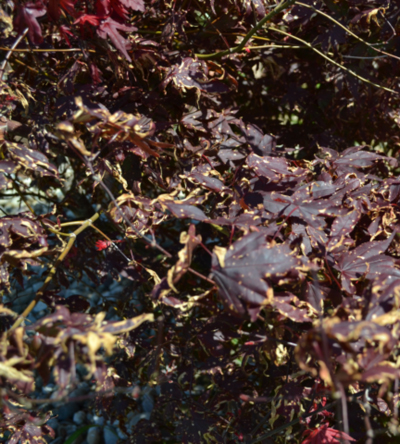 Photo courtesy: Scott Farris, IOSC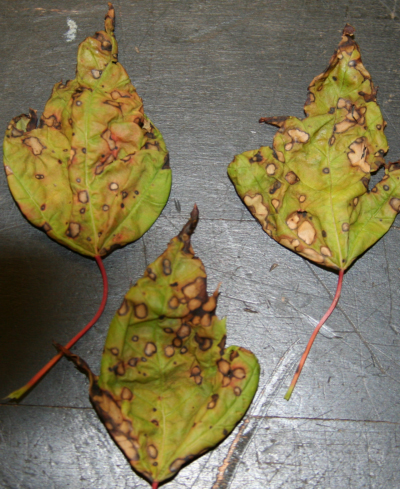 Photo courtesy: Travis Legleiter

Corn, Soybean Field Guide Now Offered as iPad App – (Jennifer Stewart, Ag Answers)
Purdue Extension's popular Corn and Soybean Field Guide is now available in an interactive iPad app format.
The app, available through The Education Store <http://www.the-education-store.com>, is based on the publication's print version but includes new multimedia elements.
"This adds depth because the app includes video clips of scouting techniques and high-quality images of plant pests, diseases and nutrient deficiencies that make it easier for a farmer to diagnose a problem in the field," said Bob Nielsen, Purdue Extension corn specialist and contributor to the guide.
The app was developed by 3iD, located in the Purdue Research Park of West Lafayette. The Purdue Crop Diagnostic Training and Research Center <http://www.agry.purdue.edu/dtc> provided all of the research-based content.
DTC Director Corey Gerber said he and the rest of center's team wanted to be leaders in developing digital tools, not followers.
"We developed the app to help farmers and crop professionals," he said. "The printed edition of the guide is and will continue to be a great resource, but consultants and growers are increasingly plugged in to the latest technology. We wanted to create an app that would continue to be essential and useful to those who carry their mobile devices into the field."
The guide's corn and soybean management sections provide information about planting, growth and development, nutrient recommendations and nutrient deficiencies. They also include scouting information and management recommendations for insects, diseases, nematodes and vertebrate pests.
The app currently is available only in iPad format, but an iPhone version will be available later this year. To download it, visit <http://www.the-education-store.com> and search for ID-179-APP. The cost is $12.99.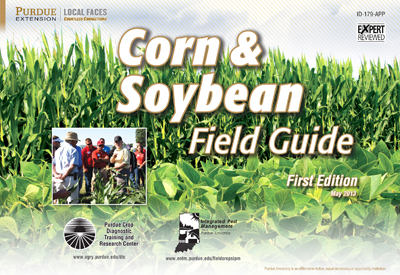 Corn & Soybean Field Guide Application

Weather Outlook by NWS OHRFC – (Jim Noel, NOAA/NWS/Ohio River Forecast Center) –
The weather pattern will transition to above normal temperatures and about normal rainfall in the north and below normal in the south over the next 2 weeks. This should allow most planting to get completed.
The latest two week rainfall totals can be seen at <http://www.erh.noaa.gov/ohrfc/HAS/images/NAEFS16day.pdf>.
The focus of the heavy rainfall will shift into the Great Lakes back into the western half of the corn and soybean belt over the next few weeks as a big storm forms in the West and a large high pressure forms in the Southeast.
Over the next 4 weeks the following climate and weather can be expected:
The latest climate models are suggesting warm weather will return the last week of May after a cool Memorial Day weekend:
<http://origin.cpc.ncep.noaa.gov/products/people/sweaver/cfs_fcst/images1/
wk1.wk2_20130522.NAsfcT.gif>.
The warm weather will likely last into early June before cooler weather returns by mid June:
<http://origin.cpc.ncep.noaa.gov/products/people/sweaver/cfs_fcst/images1/
wk3.wk4_20130522.NAsfcT.gif>.
Some wet weather will clip northern Indiana the next week or so but will likely turn drier over much of the state by early June:
<http://origin.cpc.ncep.noaa.gov/products/people/sweaver/cfs_fcst/images1/
wk1.wk2_20130522.NA.gif>.
After drier weather in early June, wetter weather may return by mid-June:
<http://origin.cpc.ncep.noaa.gov/products/people/sweaver/cfs_fcst/images1/
wk3.wk4_20130522.NA.gif>.
Overall, the next 4 weeks will sum up to be above normal temperatures with rainfall not too far from normal (potentially normal or slightly above north and normal of slightly below in the south).