Pest & Crop Newsletter, Entomology Extension, Purdue University


Sudden Death Syndrome and Brown Stem Rot in Soybean – (Kiersten Wise) -
Sudden death syndrome, or SDS, has been observed in soybean fields in Indiana over the last week. The fungus that causes SDS, Fusarium virguliforme, infects soybean early, and symptoms are typically expressed later in the growing season. Many soybeans throughout Indiana emerged from wet soils this spring, and growers should be watching for symptoms of SDS in fields over the next few weeks.
Symptoms of SDS are expressed as interveinal yellowing and necrosis (Figures 1 and 2). Veins of symptomatic leaves will remain green. Leaflets will curl or shrivel and drop off with only the petiole remaining. The disease brown stem rot (BSR) has also been identified in a few fields in Indiana. Foliar symptoms of this disease can resemble foliar symptoms of SDS and it is important to split the lower stem of symptomatic plants to determine which fungal disease is present. BSR can cause internal stem browning, resulting in a dark brown discoloration of the pith at the lower nodes of the plant. The pith of plants affected by SDS will remain white, while the tissue below the epidermis will have brown to gray discoloration present.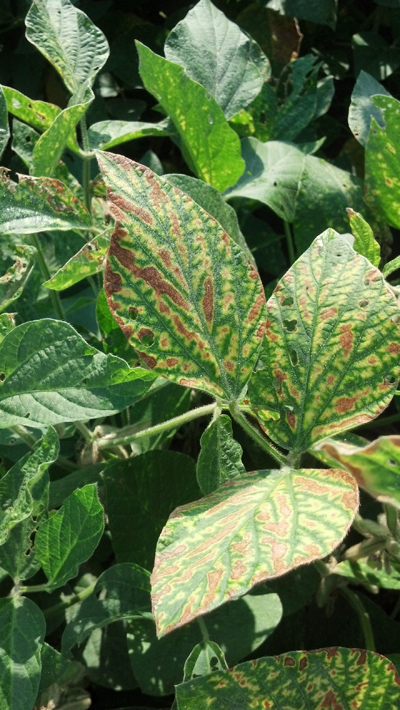 Figure 1. Foliar symptoms of sudden death syndrome (SDS) on soybean leaves.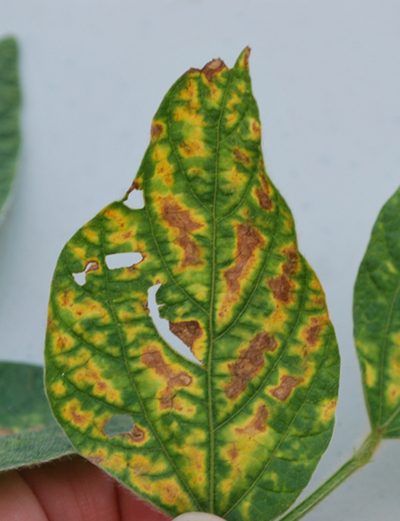 Figure 2. Foliar symptoms of sudden death syndrome (SDS) on soybean leaves.
SDS and BSR are diseases best managed through preventative methods. Producers are encouraged to plant varieties that are less susceptible to SDS and BSR in fields with a history of the disease. However, varieties that are resistant to SDS may not be resistant to BSR, so it is important to properly diagnose plants in each field. SDS is typically more problematic in early-planted soybeans, although if soil and weather conditions are favorable for infection, later planted soybeans are also at risk for disease development. Other factors such as soil compaction and high soybean cyst nematode populations may increase severity and impact of these diseases. Foliar fungicide applications are not recommended for management of SDS or BSR.
Purdue is involved in a multi-state project funded by USDA-NIFA to improve our understanding of the fungus that causes SDS and develop new management practices for the disease. This year, we are looking to sample SDS from soybean fields across Indiana. If you know of a field that has SDS, please contact Kiersten Wise at kawise@purdue.edu, or 765-496-2170.


Foliar Disease Update for Soybean – (Kiersten Wise) -
A variety of foliar soybean diseases have been observed in Indiana over the last two weeks, and I have received many questions about when and where fungicide applications are warranted for disease control. It is important to properly identify diseases before deciding on a fungicide application, as some diseases cannot be controlled by a fungicide application.

Brown Spot vs. Bacterial Blight
Growers that are concerned that the fungal disease brown spot (caused by Septoria glycines; Figure 1) has spread to the upper canopy of soybeans should check to be sure that the symptoms are not caused by another common foliar disease, bacterial blight. I have visited many fields where bacterial blight is the primary disease in the upper canopy, and brown spot is still confined to the lower canopy.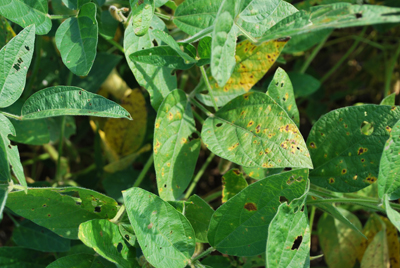 Figure 1. Symptoms of brown spot on soybean.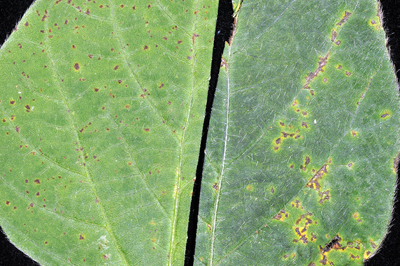 Figure 2. Comparison of brown spot (left) and bacterial blight (right) foliage symptoms.
How do we distinguish between these two diseases (Figure 2)? Leaves infected by Pseudomonas sp. bacteria have brown angular lesions that are surrounded by a yellow ring or halo, that may have a water-soaked appearance. As lesions age, they turn dark brown and fall out of the leaf tissue, giving leaves a tattered appearance (Figure 3). Bacteria survive on soybean residue and in seed, and enter plants through stomates and wounds caused by equipment or other mechanical damage, or from weather events such as heavy rains, wind, and hail. Long periods of leaf wetness and cool weather favor infection. Hot, dry weather will limit disease development. Yield loss may occur if disease is severe and plants defoliate. However, most fields in Indiana exhibiting symptoms of bacterial blight are only lightly to moderately affected by the disease and we would not expect to see yield loss due to this disease in these fields.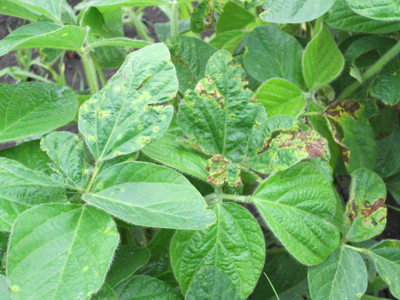 Figure 3. Angular lesions with a yellow halo and tattered leaves in the upper canopy are symptomatic of bacterial blight.
Symptoms of brown spot are typically observed in the lower canopy first, and are characterized by brown to black spots on upper and lower leaf surfaces (Figure 4). Lesions may or may not have the yellow halo of bacterial blight lesions, but leaves with lesions can turn yellow due to senescence. Research from the University of Illinois indicates that if upper leaves are not affected by brown spot, yield reduction from this disease will be minimal.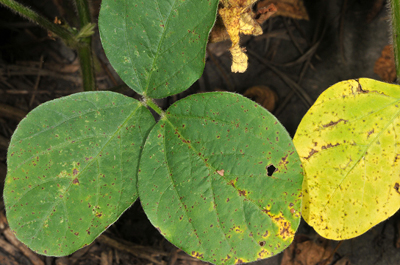 Figure 4. Lower leaves with brown spot symptoms, yellowing due to senescence.
Preventative management options for both diseases include crop rotation, tillage, and planting less susceptible varieties. These methods can lower the risk of disease developing in the subsequent soybean crop.
Frogeye Leaf Spot
Frogeye leaf spot is also present in fields across Indiana. Symptoms of frogeye include brown to gray circular lesions on leaves that are surrounded by a purple halo (Figure 5). This foliar disease of soybean is caused by the fungus Cercospora sojina, and there is great concern about the impact of this disease on yield, especially due to recent reports of severe disease levels in Kentucky: <http://www2.ca.uky.edu/agcollege/plantpathology/extension/kpn/current.html>.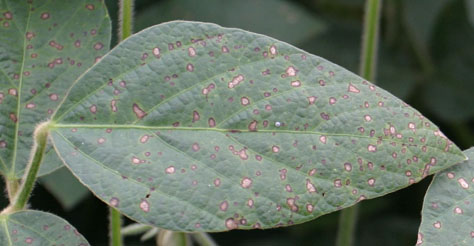 Figure 5. Symptoms of frogeye leaf spot of soybean.
Scouting reports have indicated that the disease is not at epidemic levels in Indiana, but it is important to continue to monitor soybean fields for disease development. We see low levels of frogeye leaf spot in most years without experiencing yield loss, so it is important to consider several factors before applying fungicides. This disease develops most quickly during periods of wet weather. Periods of cool, dry weather will limit disease development and spread. Also, lesions can form on varieties with moderate resistance, but disease development and spread will likely be limited in these varieties.
Foliar fungicides can be used to manage the disease, however, thresholds for fungicide applications have not yet been established, and profitability of a fungicide application will depend on timing of disease onset, level of disease within a field, variety susceptibility, growth stage, and economic factors. If disease is uniformly present throughout a field and at concerning levels, the optimum application timing would be R3 (beginning pod), but If disease is currently limited and sporadic in the field, a fungicide application may not be warranted. It is important to continue to monitor the field for disease development. If disease remains limited and the crop approaches pod-fill (R6), a fungicide application would not be expected to be beneficial.
Growers interested in applying fungicides for frogeye management should NOT apply products with a solo strobilurin mode of action. These would be products such as Aftershock®, Aproach®, Evito® Headline®, and Quadris®. The fungus that causes frogeye leaf spot is resistant to strobilurin fungicides in several states in the Midwest, and we want to decrease the selection pressure on this fungus in Indiana. Fungicides that have a triazole mode of action, or a strobilurin and triazole combination should be used for frogeye leaf spot management. A list of products and their efficacy against foliar diseases on soybean can be found here: <http://www.extension.purdue.edu/extmedia/BP/BP-161-W.pdf>.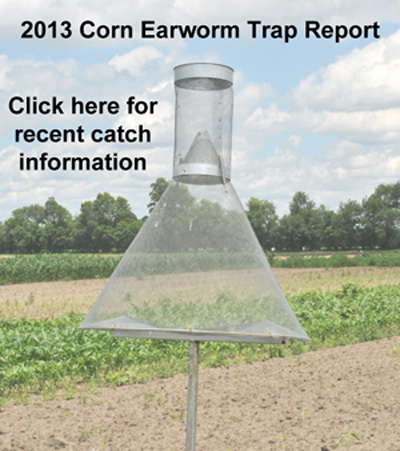 Click here to see the Black Light Trap Catch Report


Western Bean Cutworm Adult Pheromone Trap Report


Tassel-ears in Corn – (Bob Nielsen) -

Seems like every year about this time some fellow walks into the Chat 'n Chew Cafe carrying an odd-looking tassel that is part tassel and part ear to show off to the guys over at the corner table. Much discussion always ensues over the causes of tassel-ears, but the usual consensus is that it falls into the general category of corny oddities and is rarely a yield-influencing factor.

The male and female reproductive organs of a corn plant are contained in physically separate unisexual flowers (a flowering habit called "monoecious" for you trivia fans.) The tassel represents the male flower on a corn plant, while the ear shoots represent the female flowers. Interestingly, both reproductive structures initiate as perfect (bisexual) flowers, containing both male and female reproductive structures. During the normal course of development, the female components (gynoecia) of the tassel and the male components (stamens) of the ear shoots abort, resulting in the unisexual flowers we come to expect.

Once in a while, the normal development of the tassel alters such that it becomes partly or mostly female reproductive structures, often resulting in actual kernel development. The physiological basis for the survival of the female floral parts on the tassel is likely hormonally-driven, but the environmental "trigger" that alters the hormonal balance is not known.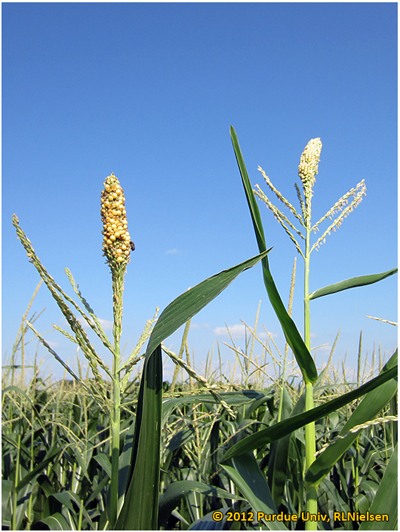 Odd looking tassel that is part tassel and part ear.
A "tassel-ear" is an odd-looking affair and is found most commonly on tillers or "suckers" of a corn plant along the edges of a field or in otherwise thinly populated areas of a field. It is very uncommon to find tassel-ears that develop on the main stalk of a corn plant.
Tassel-ears on tillers of corn.
Without a protective husk covering, the kernels that develop on tassel-ears are at the mercy of weathering and exposed to hungry birds. Consequently, harvestable good quality grain from tassel-ears is rare.

Some folks lump the tassel-ear symptom into the same category as the malformed tassel symptom of the so-called "crazy top" disease. These two odd tassel symptoms are not related and, in fact, look totally different. The "crazy top" disease is caused by infection of young corn plants during ponding events by the soil-borne fungus Sclerophthora macrospora that eventually expresses itself by altering normal tassel development) into a mass of leaf tissue.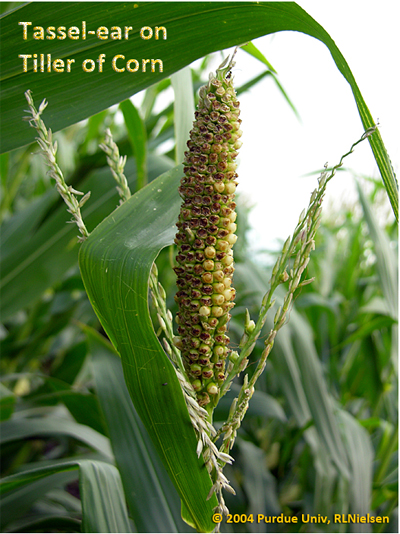 Tassel-ear on tiller of corn.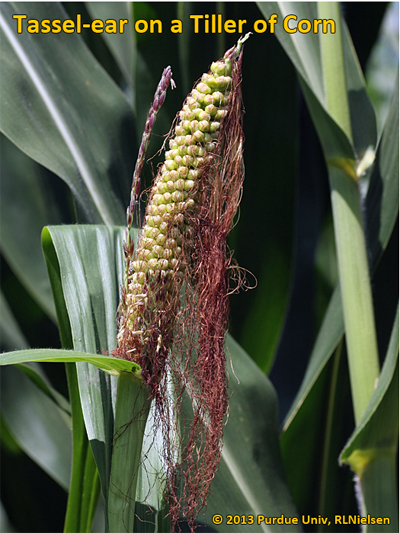 Tassel-ear on a tiller of corn.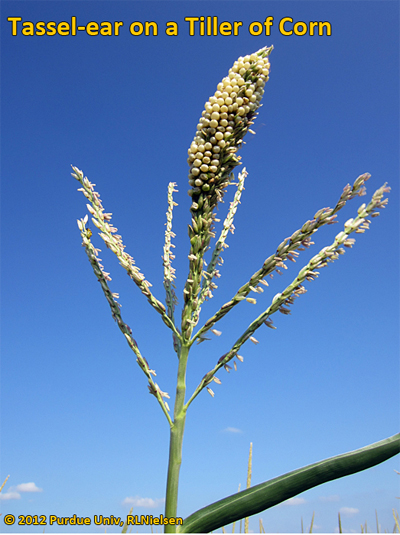 Tassel-ear on a tiller of corn.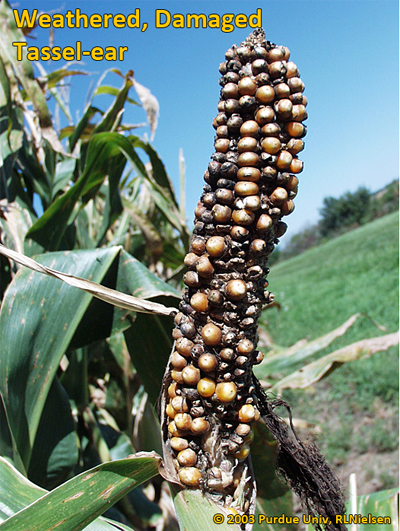 Weathered, damaged tassel-ear.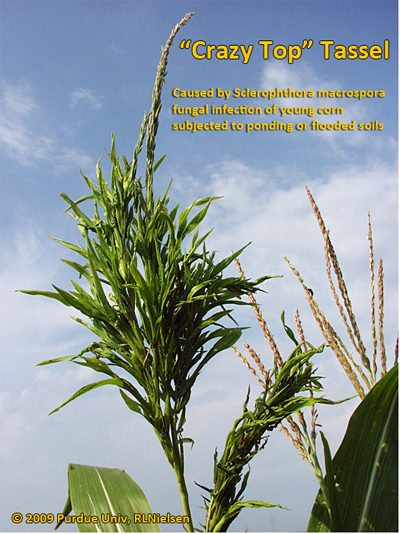 Crazy top tassel caused by Sclerophthora macrospora fungal infection of young corn subjected to ponding or flooded soils.
Related Reading
Iriarte, Fanny and Alison Robertson. 2009. Signs of Crazy Top in Corn. Integrated Crop Management News, Iowa State Univ. Extension. online at
<http://www.extension.iastate.edu/CropNews/2009/0706robertsoniriarte.htm>. [URL accessed Aug 2013].

Lipps, Pat and Dennis Mills. 2001. Crazy Top of Corn. Ohio State Univ. Extension publication AC-0034-01. [online] <http://ohioline.osu.edu/ac-fact/0034.html>. [URL accessed Aug 2013].

Nielsen, R.L. (Bob). 2003. Tillers or "Suckers" in Corn: Good or Bad? Corny News Network, Purdue Univ. [online] <http://www.kingcorn.org/news/articles.03/Tillers-0623.html>. [URL accessed Aug 2013].

Sweets, Laura. 2011. Crazy Top of Corn. Integrated Pest & Crop Management, Univ of Missouri Extension. online at <http://ipm.missouri.edu/ipcm/2011/5/Crazy-Top-of-Corn>. [URL accessed Aug 2013].

Thomison, Peter. 1995. Corn Growth and Development - Does Tillering Affect Hybrid Performance? Ohio State University Extension publication AGF-121-95 [online] <http://ohioline.osu.edu/agf-fact/0121.html>. [URL accessed Aug 2013].