Pest & Crop Newsletter, Entomology Extension, Purdue University


Western Corn Rootworm Beetles Emerging - (Christian Krupke and John Obermeyer)
• Western rootworm adults have been spotted in west central Indiana.
• Beetles should not be a concern until fields are pollinating.
• Late planted/replanted fields could be a "trap crop" for beetles and egg laying.
Western corn rootworm beetles are beginning their annual emergence from the soil in Indiana. The male beetles are generally first to emerge and feed for several days until females begin emerging a few days later. Females mate, then feed and disperse, sometimes over long distances.
After emerging, beetles will begin to feed on corn leaves if pollen is not available. Leaf feeding damage is of no economic importance. However, pollinating plants with high beetle populations could suffer economic losses from the beetles clipping silks prior to the completion of pollination. Pest managers should watch their fields for this type of feeding activity when pollination begins.
Adult beetles survive for several weeks and are consistently attracted to pollen sources throughout their lifespan. Therefore, late-planted fields are particularly susceptible to silk-clipping. Fields with uneven growth and/or replanting may be more vulnerable than most. These delayed areas should be closely watched for silk clipping. For rootworm beetle control products, see Extension Publication E-219-W, Corn Insect Control Recommendations - 2013, which can be viewed at <http://extension.entm.purdue.edu/publications/E-219.pdf>.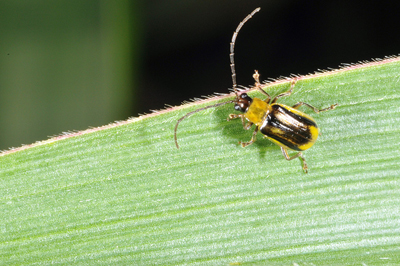 A lonely male western corn rootworm beetle

Nematode Updates - Corn Parasitic Nematodes - (Jamal Faghihi, Betsy Bower, Christian Krupke and Virginia Ferris) -
• Weather conditions should have been favorable for Needle nematode this spring.
• Stunted corn with stubby roots on sandy soil may be symptoms of Needle or Lance nematodes damage.
• Sampling for corn nematodes is best done about 4-6 weeks after corn germination.
Weather-wise, this relatively cool and wet spring should have been favorable for Needle nematodes. However, based on samples that we have received in nematology laboratory, and it has been plenty, we saw only few samples with Needle nematode. We contribute this to the 2012 drought, as needle nematodes are very sensitive to low moisture and high temperature. In 2012 we started a collaborative study with CERES Solutions on a weekly sampling of a cornfield in southern Indiana with high infestation of various corn parasitic nematodes. We are continuing this project in 2013. Results of this study should provide us a better understating of population dynamics of different corn parasitic nematodes.

Needle nematodes, the most yield-limiting nematodes in Indiana's corn, need a cool, wet spring and sandy soil to increase in population to economically damaging levels. Other nematodes, like Lance and Lesion nematodes, do not require those conditions to be a problem. While Needle nematode is parasitic to corn only, Lance and most Lesion nematodes can parasitize corn and soybean.
Symptoms
Under high nematode pressure from Needle or Lance nematodes, roots do not develop normally. The roots are truncated and resemble root inhibitor (dinitroaniline) herbicide injury. Lesion nematodes, however, will not cause the described root symptoms. But, symptoms for most plant parasitic nematodes are stunted corn, usually in patches and do not follow a uniform pattern in the field.
Sampling
The time window for sampling for Needle nematode is probably past, unless you are still experiencing cool and wet conditions. But, you can still sample for Lance and Lesion nematodes. When sampling for corn parasitic nematodes, we strongly advise inclusion of roots with the soil sample, as Lance and Lesion nematodes are mostly inside the roots. You need to send the entire root system with adjacent soil to the Nematology Laboratory, address below, at Purdue University for analysis. Samples should be kept as cool and moist as possible, and recommend shipping early in the week.
The procedures for sampling soil are similar for most plant parasitic nematode species. Soil samples must be taken to a depth of 6-8 inches, as close as possible to the plant roots. A more detailed sampling procedure and sample form can be found on the following website: <http://extension.entm.purdue.edu/nematology/services.html>
Processing fees
Processing fees are determined by the number and complexity of procedures required to determine the total number of plant parasitic nematodes in each sample. The processing charge continues to remain at $10/procedure, however, when both roots and soil samples are submitted, we have to follow two completely different extraction procedures to determine the final nematode counts ($20/sample). For soybean, the cost of processing soil samples to extract cysts and count cysts and eggs from the soil is typically one procedure ($10/sample). We have to process corn samples as quickly as possible because root decay might effect nematodes inside the roots thus we give priority to the corn samples this time of the year.
Additional information and sampling form can be downloaded and completed in excel format from our Nematology website: <http://extension.entm.purdue.edu/nematology/services.html>.
We will be able to respond much quicker if you provide your email address.
If you have any questions about plant parasitic nematodes, you can contact Jamal Faghihi at 765-494-5901 or send an email to jamal@purdue.edu. Soil samples for nematode analysis can be sent to: Nematology Laboratory, Department of Entomology, Purdue University, Smith Hall, 901 W. State Street, West Lafayette, IN 47907-2089.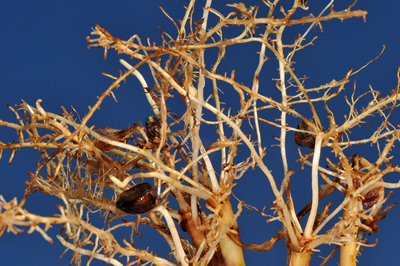 Damaged corn roots from needle nematode



Click here to see the Black Light Trap Catch Report - Report for this week is unavailable at this time.

Western Bean Cutworm Adult Pheromone Trap Report


2013 Respect the Rotation Plot Tours – (Bill Johnson and Travis Legleiter) –
The 2013 Respect the Rotation Plot Tours field day is in Twelve Mile, IN on July 11 at Bayer's Twelve Mile Research Plot, Intersection of CR 900 E and 800 N, Twelve Mile, IN, 46988, GPS coordinates of 40.87745, 86.20647. Registration begins at 9:30 AM and the tour should end by noon and lunch will be served.
The focus of this will be glyphosate resistant Palmer Amaranth and how to manage this one weed using various herbicide tolerance traits, rotations, and multiple modes of actions in corn and soybean. Populations are very high.
This site is well known for its populations of Palmer Amaranth. Our plots will focus on a broad spectrum, multiple MOA approach to control this aggressive weed, among others.
Please RSVP by Monday, July 8 to David Lamore 419-236-4407. CCA points will be available.
Speakers will be Dr. Bill Johnson, Professor, Weed Science, Purdue, Dr. Christy Sprague, Assoc. Prof, MSU, Dr. Ford Baldwin, Practical Weed Consultants, Formerly U of Arkansas.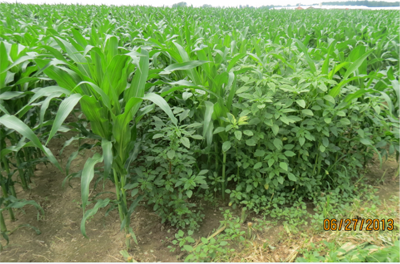 New Resources Available to Help Manage White Mold in Soybean - (Kiersten Wise) -
Farmers in northern Indiana may be concerned about white mold in soybean this year. The disease, caused by the fungus Sclerotinia sclerotiorum, is not common every year, but farmers that have battled the disease in the past will now want to assess the risk of white mold development in those fields.
White mold development is favored by cool, cloudy, wet, and humid weather at flowering. The disease is more problematic in soybeans with high plant populations, narrow row spacing, and an early-closing canopy. No single management strategy is 100% effective at eliminating white mold, and in-season options for at-risk fields are limited.

There are several resources available to help farmers and agribusiness personnel manage white mold. Extension plant pathologists across the North Central Region have developed a publication in collaboration with the North Central Soybean Research Program to describe the disease and optimal management strategies. This publication, entitled, "Management of White Mold in Soybean" is available at the following site: <http://www.planthealth.info/pdf_docs/WhiteMold_NCSRP.pdf>.
This group also developed a podcast series to facilitate learning about white mold on-the-go. This series can be accessed at this site: <https://itunes.apple.com/us/podcast/management-white-mold-in-soybeans/id545266741>.
There are fungicides available for in-season management of white mold, however not all commonly used fungicides are labeled for use against white mold in soybean. For information on which fungicides are labeled for disease control and recommendations on fungicide efficacy, please access the following table: <http://www.extension.purdue.edu/extmedia/BP/BP-161-W.pdf>. If using fungicides for white mold management, keep in mind that efficacy may be based on the ability of the fungicide to penetrate into the canopy, and the timing of the fungicide application. Fungicides may be most useful on fields where susceptible varieties are planted in a field with a history of white mold.


Nitrogen Loss 2013 - (Jim Camberato) -
Once again abundant rainfall has corn growers asking about nitrogen (N) loss and its potential impact on grain yield. In the 30 days prior to July 2 much of Indiana received 8+ inches of rainfall (Fig. 1). Excess rainfall causes N loss via nitrate (NO3-) leaching in sandy soils and by leaching and denitrification of NO3- in silt loam and heavier-textured soils. Ammonium-N (NH4+) is subject to loss by leaching in only the very sandiest soils. More detail on N loss can be found in: N Loss Mechanisms and Nitrogen Use Efficiency. Handout for 2006 Purdue Nitrogen Management Workshops. <http://www.agry.purdue.edu/ext/pubs/2006NLossMechanisms.pdf>.
Although the majority of fertilizer N is applied in the NH4+ form (ammonium nitrate or ammonium sulfate) or becomes NH4+ in the soil (anhydrous ammonia or urea), all NH4+ is readily converted to NO3- by microbes in warm moist soil, thus rendering it subject to these loss mechanisms. Despite nitrification inhibitors such as nitrapyrin (found in Instinct and N-Serve) and dicyandiamide (found in some Agrotain formulations and several other products) initially slowing the conversion of NH4+ to NO3- they eventually become ineffective and allow NO3- to be formed.

Fig. 1. Observed rainfall for June 2 through July 2, 2013. Data from: National Weather Service <http://water.weather.gov/precip/>.
Unfortunately, it is difficult to estimate N loss, thus soil sampling and analysis of NO3- and NH4+ are suggested: Assessing Available Nitrogen from Fall- and Spring- Applied Nitrogen Applications. <http://www.agry.purdue.edu/ext/corn/news/timeless/AssessAvailableN.html>.

Fortunately, N-deficient corn has the capacity to respond to supplemental N applications. The magnitude of a grain yield response is dependent on the overall health of the crop, the level of N deficiency, post-application weather, and likely several other factors. Research results outlined in: Response of Corn to Late-season Nitrogen Application <http://www.kingcorn.org/news/timeless/CornRespLateSeasonN.html> and also obtained in 2011 suggest there is considerable potential to increase yield of N-deficient corn under favorable conditions.

Grain yield increases of 64 bu/a (2007-V13 application), 100 bu/a (2010-V15 application), and 125 bu/a (2011-V12 application) occurred with injected or dribbled 28% urea ammonium nitrate solutions in these studies. Comparable results would likely have been achieved with broadcast urea.

Unfortunately N loss appears to be a regular occurrence in Indiana and the more information we gather on response of N-deficient corn to late-applied N the better we can make decisions in the future. If you decide to make supplemental N applications please consider leaving several strips of unfertilized corn throughout the field to determine the impact of the N application on grain yield.