Pest & Crop Newsletter, Entomology Extension, Purdue University


Armyworm Moths Aplenty, Implications for High-Risk Fields - (Christian Krupke and John Obermeyer)
Early armyworm captures in black light traps are reason for concern.
Because of the extended spring, moths have likely been active laying eggs for several weeks. Varying sizes of worms may be active in high-risk fields.
High-risk crops are those corn fields associated with grasses, especially rye cover crop.
Some Bt corn may suppress but not control armyworm. Seed-applied insecticides offer no help.
Because of the mild March temperatures, we've been quite anxious to get our black light trapping network up and running to determine what moths have been active at night. Turn your attention to the "Black Light Trap Catch Report," and look at the armyworm moth captures for the last week, especially in northeastern Indiana. This is an amazing number, equaling the catches we had back in 2001: "the year of the armyworm." Many may remember the armyworm outbreak that spring. Now, the "sky is not falling," but hopefully we've gotten your attention so that you're able to concentrate your scouting efforts in high-risk fields! Remember that moth catches are a generally reliable (but not guaranteed) predictor of larval populations.
Though most of the armyworm moths are blown here from southwestern states, much like black cutworm, a percentage will overwinter in the Midwest if winters are mild. We know that moths have been active before our April 17 start date of the black light traps. Doug Johnson, University of Kentucky entomologist, has reported moth captures in their pheromone traps for multiple weeks, with minor reports of small larvae feeding in corn. We've also received reports of armyworm moths being flushed from grass while mowing in March. It is impossible to know at this time how many, and how active, the moths/larvae have been in Indiana during the warm weeks of March and early April. Some good news: current cooler temperatures, a.k.a, normal, are slowing down the larval growth and development. But based on when we first saw moths flying around the area, it is likely that we have not only moths actively mating and egg laying, but larvae up to 3/4" feeding in areas of Indiana.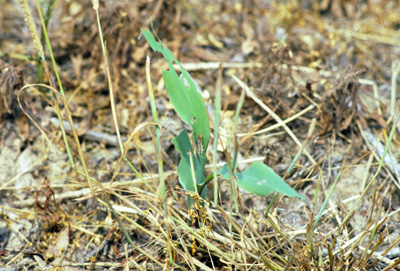 Armyworm feeding within whorl of damaged plant
High-risk crops are those where dense grassy vegetation (e.g., wheat, grass hay, grass cover crops) still exist have generally been burned-down for planting. Corn that has been no-tilled into a grass cover crop (ESPECIALLY ANNUAL RYE) should be inspected immediately for armyworm feeding. We've been made aware of some wheat fields being converted to corn because of freeze damage, these too should be considered high-risk. Hatched larvae will move from the dying grasses to emerging/emerged corn. There is nothing quite like armyworm feeding at this time of year - armyworm feeding gives corn a ragged appearance, with feeding extending from the leaf margin toward the midrib. Depending on the armyworm population, most of the plant can be consumed. This damage is often compared to pencils sticking out of the ground. In wheat, concentrate your scouting efforts where growth is dense. Once flag leaves have unfurled, look for notching on the leaves. Unless it is overcast, armyworm larvae will generally feed only at night. This makes finding them a challenge, carefully uncover crop residues or clods on the soil surface and look for the curled-up larvae.
With armyworm moths still abundant, and eggs and larvae already in the fields, this situation may exist for several weeks, meaning that crops should be monitored multiple times. Don't be complacent with traited-corn, as high armyworm infestations will still cause significant damage before the proteins (Bt) reduce their feeding. Seed-applied insecticides, even high-rates, will NOT control armyworm. In short, there is no in-plant or on-seed solution that will allow you to avoid scouting on this one. Remember, once armyworm get to an inch or more in length, they eat a tremendous amount of foliage in a short period of time and become harder to kill. Meaning that areas of fields seem to disappear over night. Sweet dreams and happy scouting!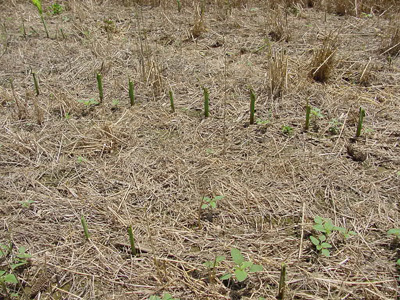 "Corn pencils," severe armyworm feeding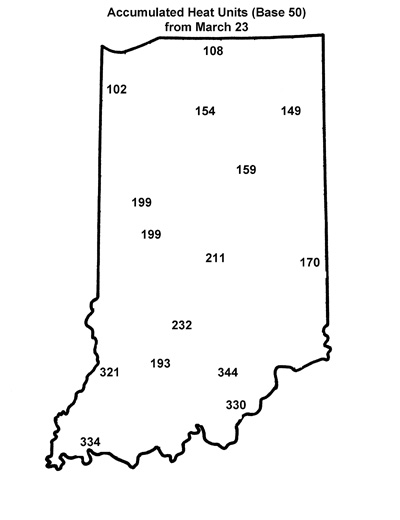 As temperatures have cooled, so has the anticipated black cutworm growth and development. When 300 (base 50°F) heat units have accumulated from an intensive moth flight (March 23), larvae are large enough to cut cornplants. Southern Indiana, be alert...Happy Scouting!

Click here for the Black Cutworm Adult Pheromone Trap Report

Click here for the Blacklight Trap Catch Report
Bug Scout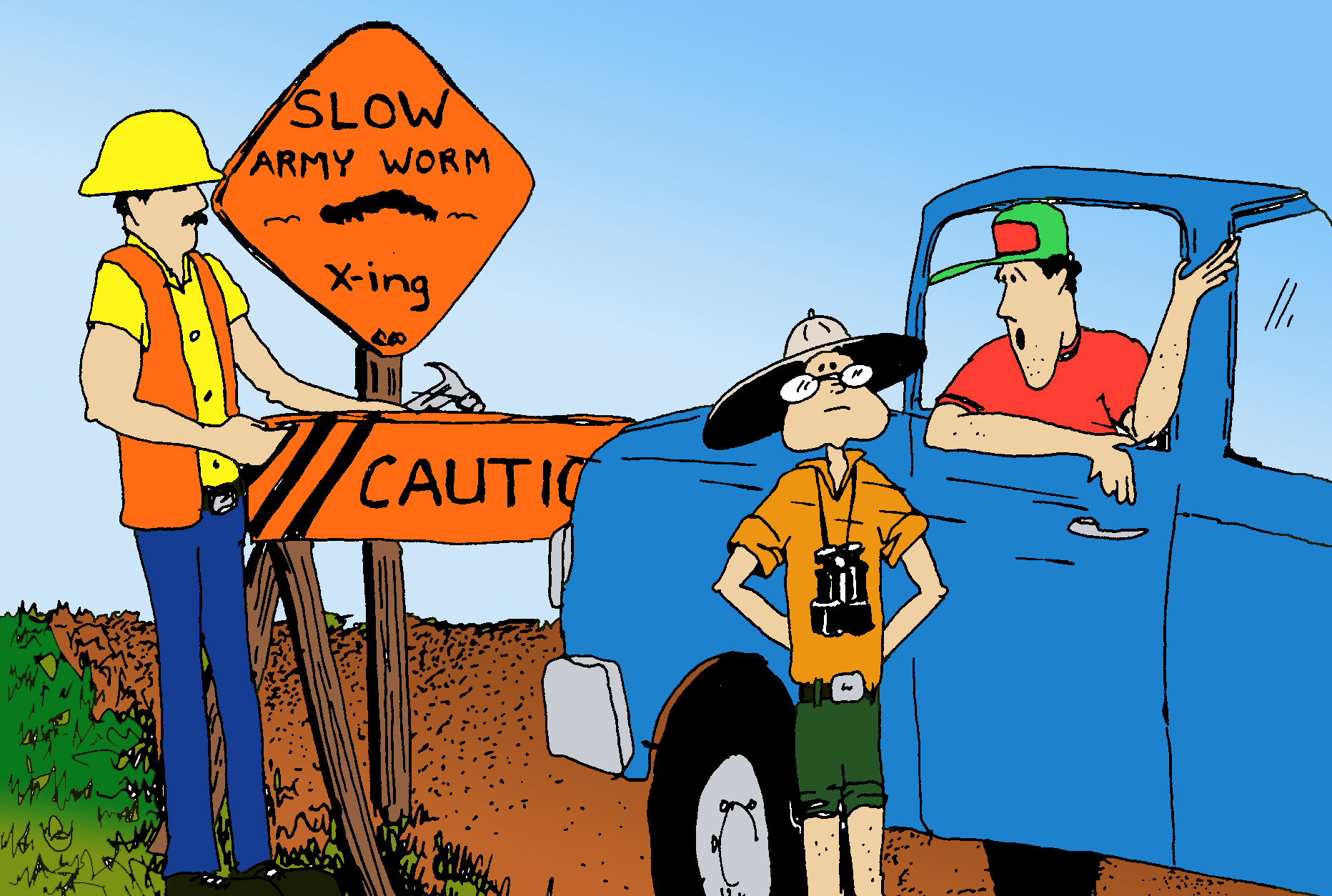 Don't you think that's carrying the "Protect Your Wildlife

Wheat Disease Update – (Kiersten Wise)
Wheat growth stages vary across the state, but many fields are flowering or beginning to flower in areas of southern Indiana. These regions are at low risk for Fusarium head blight (FHB) development, however the intermittent rains and cool temperatures will likely increase stripe rust development. This disease has been reported in several counties in southern IN. In susceptible varieties, rust pustules are present on the flag leaf. Stripe rust identification and management were discussed in the 3rd issue of the Pest and Crop newsletter which can be accessed at the following link: <http://extension.entm.purdue.edu/pestcrop/2012/issue3/index.html#rust>. Fields should be scouted for stripe rust prior to the decision to make a fungicide application. Stripe rust has not been confirmed in central or northern IN yet, but may develop and coincide with the timing of a fungicide application for FHB suppression in these areas. Fungicide applications to manage FHB need to be made at Feekes 10.5.1, or early flowering. The fungicides available for Fusarium head blight control, are also effective at managing stripe rust, should the need arise. Foliar fungicides available for control are listed in the following table developed by the North Central Regional Committee on Management of Small Grain Diseases or NCERA-184 committee: <http://www.ppdl.purdue.edu/ppdl/wise/NCERA_184_Wheat_fungicide_table_2012.pdf>

The foliar disease Septoria/Stagonospora leaf blotch (Figure 1) has been observed in fields throughout the state, but is still at relatively low levels in most of Indiana due to dry weather. Symptoms of this disease are now visible on the leaves just below the flag leaf in areas in southern Indiana. Fungicides applied at flowering for FHB suppression will also provide some level of protection from foliar disease on the flag leaf. Producers in northern IN who are considering a foliar fungicide application for Septoria/Stagonospora leaf blotch control through boot stage should keep in mind that applications made prior to flowering will NOT suppress FHB or the associated mycotoxin deoxynivalenol, or DON. If the risk for FHB increases after foliar fungicide applications are made, it may be necessary to make another application at flowering for FHB suppression.
Producers in central and northern IN should carefully monitor the Fusarium head blight risk map over the coming weeks as wheat is beginning to flower: <
http://www.wheatscab.psu.edu/
>. If temperature and humidity increase, the risk for disease development could increase in other northern and central counties in the state and fungicide applications to suppress disease may be necessary.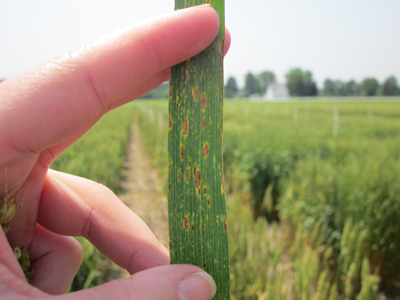 Figure 1. Symptoms of Septoria/Stagonospora leaf blotch on wheat