Pest & Crop Newsletter, Entomology Extension, Purdue University


Click here for the Blacklight Trap Catch Report

Click here for the Western Bean Cutworm Trap Report

Herbicide Rotation Restrictions for Cover Crops and Fall Forages – (Travis Legleiter, Bill Johnson, and Keith Johnson)
The current drought conditions in Indiana have either caused complete crop losses or are only a few weeks away from complete loss if significant rainfall is not received. Producers experiencing these complete losses may be looking for an alternative for their fields to try and salvage the last half of the growing season. Alternatives that have been brought to our attention include growing cover crops to help reduce erosion following destruction of crop or a fall forage crop to help alleviate the feed shortage that is likely to occur due to the drought.
When considering planting cover crops or fall-seeded forages, something producers need to keep in mind is the crop rotational restriction of herbicides that were applied in the current crop that was destroyed. A majority of herbicide labels do not specifically list the species that are used for cover crops or fall forages and thus these species often fall under the other crops listed section at the maximum restriction period. As mentioned in a Purdue Weed Science article last year <http://www.btny.purdue.edu/WeedScience/2011/CoverCrops11.pdf>, these restrictions are meant to protect the rotation crop, end consumer, and livestock consuming the harvested crop. Cover crops that are not harvested do not particularly fall under this crop category and can be planted after any herbicide, but the grower assumes the risk of crop failure. If in doubt, keep in mind the herbicide label is still a legal document meant to protect the grower from him or herself and protect the company if a cover crop fails to germinate or is injured by herbicide residues. There is still insignificant data available for the appropriate rotational restrictions for many of the popular cover crops and commonly used corn and soybean herbicides. Table 1 summarizes many of the commonly used corn and soybean herbicides and the rotation restriction for species producers may be considering for use following destruction of drought loss crops according to the herbicide labels. Many labels also require a field bioassay following restriction timing if the species is not listed. Always read the label for further details prior to planting of the rotational crop.
Click here to view Table 1
Pre-harvest Intervals of Fungicide Applications for Crops Cut for Silage/Forage– (Kiersten Wise)
Farmers across Indiana may be cutting corn for silage or stover and considering cutting soybeans for forage or hay. If any of these fields were treated with a fungicide it is important to remember that there are restrictions in the amount of time that must pass between the fungicide application and when these crops can be used for feed. These intervals vary for fungicide products. Pre-harvest intervals for some of the fungicides marketed for use in corn and soybean are listed in Table 1. This is not a comprehensive list of pre-harvest intervals for all fungicides labeled for use in corn and soybean. Restrictions can typically be found on the fungicide label for forage, hay or stover uses. If there are questions or concerns about pre-harvest intervals for crops harvested for these purposes, please contact Purdue Extension or your local chemical representative for clarification PRIOR to harvest and feeding.
Table 1. Preharvest intervals (PHI) for corn and soybean harvested for grain or silage/stover/forage/hay.
Fungicide
Corn PHI
Soybean PHI
Grain
Silage/Stover
Grain
Forage/Hay
Headline AMP
20 days
Forage/Silage: 7 days Grain stover: 20 days
Headline AMP is not labeled for use in soybean
Headline
7 days
7 days
21 days
Forage: 14 days
Hay: 21 days
Piriaxor
21 days
Do not harvest for forage within 7 days of last application
21 days
Forage 14 days
Hay: 21 days
Quadris
7 days
No harvest restrictions
14 days
May be applied day of harvest to soybeans for forage/hay
Quit Xcel
30 days
30 days
Do not apply after R6
No harvest restrictions
Stratego YLD
14 days grain/fodder
May harvest same day of application
21 days
DO NOT graze or feed soybean forage or hay

Preparing for Aspergillus Ear Rot in Corn Grain and Silage– (Kiersten Wise and Charles Woloshuk)
Weather conditions have been favorable for Aspergillus ear rot disease development and although no symptoms of the disease have yet been observed in Indiana in 2012, there is concern about the potential for this fungus to develop in corn grain and silage. This ear rot is caused by the fungus Aspergillus flavus, which produces a mycotoxin known as aflatoxin. Aflatoxin is a very toxic carcinogen, and livestock that consume contaminated grain or silage may be at risk for many health problems. Several questions have been posed in recent weeks that we will address in this article.
How and when does Aspergillus ear rot occur?

A. flavus survives as sclerotia and mycelium in soil and residue and each year the fungus produces many spores that are dispersed in the wind. Although this fungus is very common in nature, it prefers high temperatures to colonize silks and infect developing kernels. The fungus invades corn through silks, and studies indicate that high temperatures (86 to 100°F) and silk age are critical factors in predicting the amount of disease that will develop. Silks inoculated with A. flavus 2 to 3 weeks after silk emergence resulted in more infected kernels than when silks were inoculated one week or 4 weeks after silk emergence. Additional studies show that more infected kernels result from spore germination on yellow-brown silks than green silks or very brown/dry silks.


When can we see the symptoms of Aspergillus ear rot in fields?

Typically, Aspergillus ear rot symptoms appear near the end of the season as corn reaches dent and stunted ears that have an olive-green dusty mold are observed by peeling back husks. (Figure 1). This year presents a unique challenge for producers since corn may be cut for silage and many fields have poorly pollinated plants and limited kernel set. Growers have asked questions about assessing the potential for Aspergillus ear rot and aflatoxin to occur in these fields. The fungus needs kernels on an ear for sporulation to occur. If ears have NO kernels, or there is no ear, Aspergillus ear rot and aflatoxin should not be a problem. However, if any ears with kernels exist in a field, it is important to determine if aflatoxin is present. Sporulation, or the olive-green dust on the ear, is usually associated with kernel formation and visible in milk through maturity, and sporulation is linked to aflatoxin formation and accumulation. However, we would recommend that silage be tested for aflatoxin even if sporulation is not visible on ears with kernels.



Figure 1. Aspergillus ear rot of corn. (Photo by Burt Bluhm)



How do I prepare a sample of silage or grain for aflatoxin analysis?

It is important to test silage for mycotoxins, such as aflatoxin, since chemicals such as nitrates can cause similar animal symptoms to those caused by mycotoxins. Mycotoxins can be assessed by using several different chemical and immunocapture technologies, but analyzing mycotoxins in silage can be a challenge due its complex nature. If proper protocols are not followed, interfering compounds can be extracted from the silage leading to false positives for the presence of mycotoxins. This is especially true for the enzyme linked immunosorbant assays (ELISA). ELISA tests are useful for screening samples and to indicate which samples warrant further attention. It is best to have positive results verified by other chemical methods. For this reason, samples should be sent to professional laboratories for analysis. The Purdue Animal Disease Diagnostic Lab (ADDL: <https://www.addl.purdue.edu/>) routinely screens samples for mycotoxins such as aflatoxin. Private companies may also test for mycotoxins.

Sample collection and preparation are extremely important to get an accurate test for mycotoxins in silage or grain. A sample submitted for analysis should be made up of several samples combined and taken from different areas within the silage mass or grain. Mycotoxin production will occur in the area of silage exposed to air, so samples from moldy silage should also be submitted for analysis. If sampling moldy silage for analysis, it is important to take a separate sample from an area that is not moldy and submit that also. Care should be taken with handling samples to assure that mycotoxins do not accumulate in the sample during shipping. Drying the sample below 15% moisture will slow fungal growth and mycotoxin production. Freezing the sample and shipping on ice by a one-day delivery service is another option.


What are the restrictions on aflatoxin in grain and silage?

The USDA has set levels of how much aflatoxin can be in the finished feed of livestock (Table 1). Aflatoxins are of concern to dairy producers in particular because the FDA regulations require aflatoxin residues in milk to be less than 0.5 ppb. To prevent the carry over of aflatoxins into milk, silage and other feed components should not contain greater than 20 micrograms aflatoxin per kilogram (20 ppb).



Table 1. U.S. FDA action levels for aflatoxin contaminated corn. Source: FDA Regulatory Guidance for Toxins and Contaminants. <www.ngfa.org/files/misc/Guidance_for_Toxins.pdf>
Action Level (Parts Per Billion)
End Use Of Grain
20
Corn for animal feed and feed ingredients for dairy animals
20
Corn for human consumption
100
Corn grain for breeding cattle, swine and mature poultry
200
Corn grain intended for finishing swine of 100 lbs or greater
300
Corn grain intended for finishing beef cattle



How can Aspergillus ear rot and aflatoxin be managed in grain and silage?

At this point in the season, there are no management strategies for reducing ear rots in fields that will remain for grain production. Producers should scout fields prior to harvest and determine the level of incidence of the disease in the field. If any Aspergillus ear rot is observed in a field, affected areas should be harvested early and grain segregated to avoid aflatoxin contamination of non-infected grain. Silage and grain harvested with suspected Aspergillus ear rot should be dried to below 15% moisture. If grain or silage (with kernels present) is kept above this moisture content, aflatoxin can continue to accumulate in grain. All grain contaminated by any ear rot fungus should be stored separately from good grain, and stored below 13% moisture to prevent further growth of fungi.
More information about this disease can be found at: <http://www.extension.purdue.edu/extmedia/BP/BP-83-W.pdf>.
Thanks to Tom Isakeit, Texas A&M University, for consultation in writing this article.
Excerpts from this article from: Kuldau, G.A., and Woloshuk, C.P. Screening for Mycotoxins in Silage.
References:
Diener, U.L., Cole, R.J., Sanders, T.H., Paynes, G.A., Lee, L.S., Klich, M.A. 1987. Epidemiology of aflatoxin formation by Aspergillus flavus. Ann. Rev. Phytopathology. 25:249-270.
Jones, R.K., Duncan, H.E., Payne, G.A., Leonard, K.J. 1980. Factors influencing infection by Aspergillus flavus in silk-inoculated corn. Plant Dis. 64:859-863.
Payne, G.A., Thompson, D.L., Lillehoj, E.B. 1981. Effect of silk age and incubation temperature on kernel infection by Aspergillus flavus in silk inoculated corn. Phytopathology 71:898.

VIDEO: Sampling Corn & Soybean Leaves for Potassium Deficiency – (Jim Camberato)

When crop plants don't appear healthy, yellow, striped, spotted or just growing slowly, nutrient deficiencies may be to blame. Tissue sampling and nutrient analysis is the best way to definitively identify a nutrient deficiency. Proper sampling technique for corn and soybean is shown in this video.


Drought Severity Comparisons between 2012 and 1988 for Indiana Corn – (Tony J. Vyn)
One of the most common questions from farmers, consultants and reporters is if corn yield losses in 2012 (as a per cent reduction relative to the trend line expectation of 163 bushels per acre) will be greater than they were in 1988.

Although all corn yield formation processes and corn yield consequences are local (i.e., specific to the soil, climate, hybrid, and crop/soil management factors from field to field, as well as within fields), a few general comparisons with 1988 may be helpful.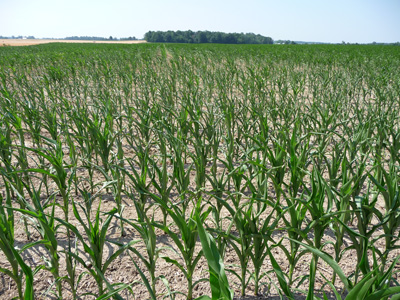 The low yield fate of some Indiana corn was already sealed well before flowering, as in this field on June 21, 2012 near Columbia City, IN
Precipitation patterns (timing, frequency, and intensity relative to corn growth stages) are the main factor affecting yield in non-irrigated fields. Total average rainfall amounts in Indiana from March 1 to July 16 were just slightly more in 2012 than they were in 1988 (Figure 1). It is interesting to note that average precipitations in both March and April of 1988 exceeded that in 2012. In fact, both March and July rainfalls in 1988 were near normal (when averaged for the state as a whole from the 9 reporting districts). Cumulative rainfall received in Indiana from the beginning of March to mid-July was only slightly lower (0.91" lower) in 1988 than they were in 2012 (Figure 1). Total precipitation for that period was 52% of normal in 1988, and 57% of normal in 2012.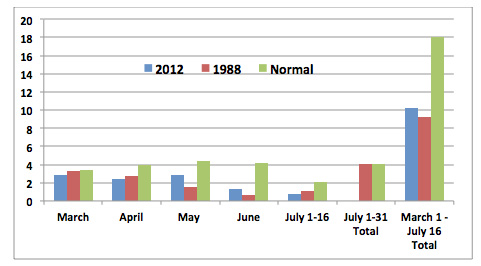 Figure 1. Average rainfall (inches) per month received in Indiana between March and July of 2012 relative to 1988 and the 30-year normal. (Data are courtesy of Ken Scheeringa and the Indiana State Climate Office.)
Air and soil temperatures are just as important as precipitation is to evaporation and transpiration processes and final corn yield response. Mean temperatures during this same March-July time interval were substantially higher in 2012 than in 1988 (Figure 2). In fact, average daily mean temperatures were 13.8°F warmer in March, 1.8°F warmer in April, 3.8°F warmer in May, and 3.4°F warmer in July than they were in 1988. Thus in 4 of these 5 months, 2012 mean air temperatures were higher than those in 1988. Mean air temperatures have been consistently above normal in 2012. These high temperatures, plus related factors like low humidity levels and high wind speeds, meant that evaporation of soil moisture was almost certainly higher in 2012 than in 1988. Soils were already dry at planting in 2012, whereas in 1988 soil moisture reserves in early spring were probably higher than they were in 2012.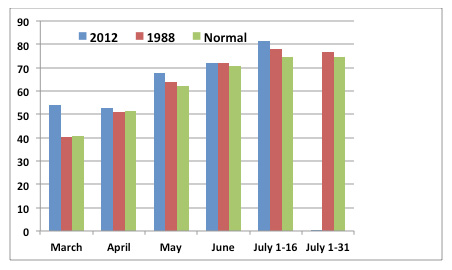 Figure 2. Average temperatures (°F) per month in Indiana between March and July of 2012 relative to 1988 and the 30-year normal. (Data are courtesy of Ken Scheeringa and the Indiana State Climate Office.)
Because the temperatures were so warm, both corn planting and corn flowering occurred much earlier in 2012 than in 1988. Since the majority of Indiana corn flowered at least 2 weeks earlier than normal, and right in the period of highest temperatures and least soil moisture availability, it is entirely possible that there was less water for plant transpiration during the critical period bracketing silking (about 10 days before to 14 days after silk emergence) in 2012. Both planting and flowering occurred substantially later in 1988, and it is entirely possible that the 1998 corn crop in Indiana benefited much more from the rains in the last half of July that year. In fact, it is interesting that July rainfall in 1988 ended up being near normal. Thus far in July of 2012, consecutive days of maximum temperatures near 100°F and night-time temperatures of over 70°F on corn that was already under water stress caused several damage to ear development as well as to the leaf production factory itself (Figure 3). I have never witnessed such a rapid decline in corn crop conditions in mid-season.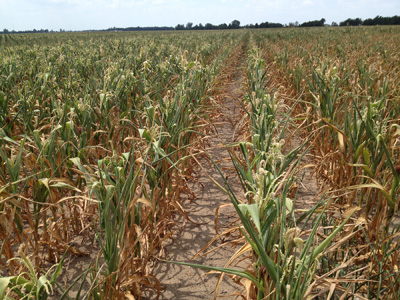 Figure 3. Severely drought-stressed corn on July 18, 2012 near Reynold, IN.
Corn yield recovery from rains received after mid-July in 2012 are much less likely than what likely happened in 1988 simply because corn plants are that much further developed in 2012, and that many more days past the flowering period. Rainfall received 2 weeks after the end of the "critical period" will not do anything for the pollinated kernels that were aborted during the stressful periods of high temperature and water deficits in 2012. Rainfall will certainly help to prevent further leaf death, and hopefully will be able to allow the non-aborted kernels to be filled to perhaps near normal kernel weights, but the yield damage to the 2012 corn crop in Indiana is irreversible.
Some of the big differences between 2012 and 1988 are that Indiana farmers planted their crop much earlier with more stress-tolerant hybrids and at higher plant populations. Some of the genetic advantages of 2012 hybrids versus 1988 hybrids, in terms of plant coping with drought stress, may be constrained by the additional water stress experienced at high plant populations. Time will tell just what the final yield impacts across the state are going to be, but the prognosis for 2012 corn yields is for a trend-line yield reduction that may exceed the percent yield reduction experienced in 1988.
A few regions in Indiana have received very timely rains that helped the corn plants transpire sufficient water to keep the leaves cool and meet the corn plant photosynthetic needs for ear growth and plant respiration during the very warm days and nights of the past few weeks. But for most farmers, the combination of very low rainfall amounts and high temperatures occurring at the time of peak ear demand for sugars has severely curtailed corn yield prospects. The 2012 weather constraints, not the individual farmer management decisions, are mostly to blame for the yield loss (just as it was in 1988).
Purdue University Crop Extension specialists will provide more analyses over the next several months on what we can learn from this drought. However, all farmers and crop specialists alike are humbled by being on the receiving end of a climate that is beyond our control.

Diverse Crops Provide Opportunity Following Corn Forage Harvest– (Keith D. Johnson) –
Many acres of drought-damaged corn harvested as forage.
Much of the growing season remains.
"Midwest Cover Crops Field Guide" a valuable decision-making resource.
Read herbicide labels to evaluate risk of carryover.

There are areas in Indiana where drought-damaged vegetative corn has been or will be harvested as forage. These fields will be vulnerable to erosion and nutrient loss when rainstorms return. For many individuals, there still will be a need for a greater amount of forage in inventory to feed livestock.
If available soil moisture level improves to support plant growth, there are several crops that could be seeded in August to provide forage before the growing season ends, or even later in the summer or early fall that could provide a feed resource next spring. These crops will help reduce soil erosion and keep nutrients in place, too.
For the August seeding, an excellent consideration would be spring oat that will be harvested by machine, or a combination of spring oat and forage turnip if grazed by livestock. Spring oat will not survive the winter, although forage turnip in Purdue University research did survive the mild 2011-2012 winter. Annual ryegrass is another candidate, but has a high weed potential if allowed to set seed. The expectation with an early seeding of annual ryegrass is to have a fall harvest and that it would provide a spring harvest, too.
Carefully selected varieties of small grains such as soft red winter wheat, winter cereal rye, and winter triticale are adapted across the state of Indiana. These crops can be lightly grazed in the fall if weather conditions favor growth and there is an expectation to produce more abundant forage the following spring. Some individuals have indicated an interest in winter barley, but it is considered to not be as winter hardy as the grains mentioned in the previous sentence.
The "Midwest Cover Crops Field Guide" (Purdue Extension publication ID-433) is a recently released resource that discusses the different attributes and management of many crops adapted to the Midwest USA region. If the crops are used as forage, and not just to provide cover, I would suggest seeding at the earlier timeframes noted in the publication for most success. This guide can be purchased by visiting or by asking for The Education Store by calling (888) EXT-INFO.
Lastly, it is imperative to review the labels of herbicides used on the corn crop that will be followed by a forage or cover crop to make sure that residual herbicide does not damage the seeding.