Pest & Crop Newsletter, Entomology Extension, Purdue University


Western Bean Cutworm Moths…Already! – (Christian Krupke and John Obermeyer)
• Moths emerging from soil 3 weeks early, soon mating and egg laying will begin.
• Scouting for egg masses in the tallest corn should commence once moth captures are increasing daily (this will be soon in many areas).
• Most Bt corn is protected, but don't forget the refuge.
On June 4, Brad Rocke, Agri-Management Solutions, near Wanatah (LaPorte County) alerted us that he had captured two western bean cutworm moths in a pheromone trap near his home. This is about three weeks ahead of "normal," the trend for insect biology this season – not surprising at all, considering the heat units we have accumulated since the record-breaking March we had! Brad wasn't the only one catching moths, as Daryl Moyer, Moyer Seed Sales, captured 19 moths in one of his Lake County traps, and most interesting was Mike Shrack, Ran-Del Services recorded 3 moths from his east central Indiana trap. Fortunately, these and other cooperators throughout the state got their traps out early this year, we will begin publishing their counts in next week's Pest&Crop. So if you have not already done so, it is definitely time to get those traps out and baited with pheromone.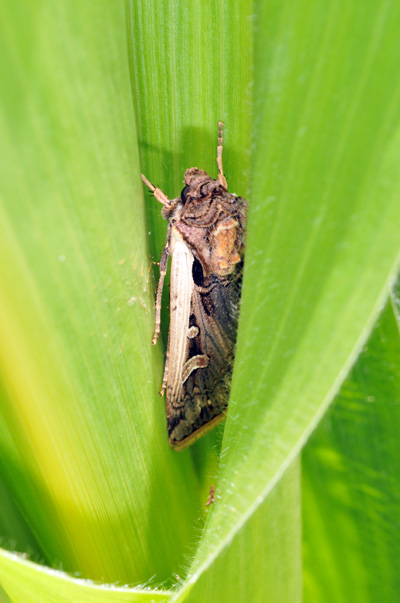 WBC moth resting in corn whorl
What do extremely early catches mean? Simply the beginning of an extended moth emergence and flight, with their peak presence expected in late June. These early-emerging moths, from overwintering earthen cells up to 15" below the surface, will begin mating and then will seek corn that is just about to pollinate for egg-laying (pollen is a key food source for newly-emerged larvae). Obviously these types of fields will be scarce for the next couple of weeks or so, given the stage of most corn plants out in the WBC hotbed of northern Indiana. We have observed oviposition and larval feeding on whorl stage corn, though their rates of survival until the protein-rich pollen rains down are relatively low. Damage from early-instar larvae, as they feed deep in the whorl (attacking the tassel to get at pollen), will resemble corn borer or fall armyworm damage and is not economically important. As moths continue to emerge over the coming weeks, the peak or late flights will find corn stages more to their liking. Those in high-risk areas, i.e., sandy soils, high moth flight and WBC history, should be gearing up for field scouting of vulnerable cornfields.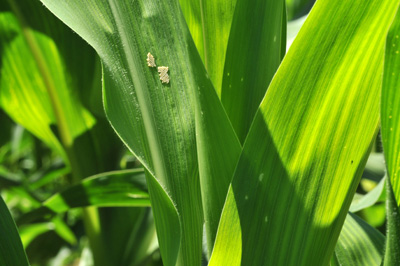 Fresh egg mass, with larval leaf feeding on whorl stage corn
Numerous WBC larvae, with leaf feeding, exposed after unrolling whorl
Bucket trap, pheromone lure, and kill strip, used in WBC moth monitoring
Scouting of high-risk fields should begin once moths are being captured nightly. In five different areas of a field, inspect 20 consecutive plants for egg masses which are laid on the upper surface of the top leaves of corn and/or larvae that may have hatched and crawled to the whorl and begun to feed. Usually the newest, still-vertical leaf is the best place to look of egg masses. Initially larval damage will be subtle and not economically important, as the larvae grow so will their mouthparts and appetite. Because the proteins expressed in Herculex, Smartstax, and Viptera has shown to be very effective in suppressing this pest, scouting should not be necessary in those fields, except for the refuge corn - obviously it is not protected.

Japanese Beetle Season Begins…Already! - (Christian Krupke and John Obermeyer)
• Yes, another pest, weeks earlier than normal!
• Grub feeding is mostly over, now it's beetle time
• Watch for activity on soybean, and later on corn silks
Locally, we've seen Japanese beetle adults over the past weekend, the 2nd of June. We continue to be amazed at the early emergence, usually 2-3 weeks ahead of schedule, of insects this year…the Japanese beetle being no exception. Many areas in the state are now likely seeing this notorious pest in crops and around the home.
This year's adults are the result of eggs that were laid by female beetles last summer. After these eggs hatched, the grubs immediately begin to feed on a wide variety of roots and decaying organic matter in the soil. This feeding is typically not noticed and not economic. They continue feeding until cold temperatures prompt them to move deeper in the soil profile to overwinter. Early in spring, the surviving grubs return to near the soil surface to feed, and this is when they cause the most problems in field crops, turfgrass and other crops. Fortunately, we have heard of no Japanese beetle grub problems in field crops this year.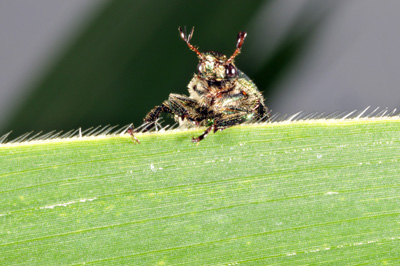 Japanese beetle peering over corn leaf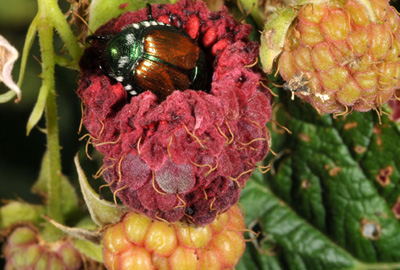 Japanese beetle feeding on red raspberry, one of its hundreds of hosts
Japanese beetles are generalists both as adults and larvae and will feed on more than 350 different species of plants. As adults they are especially fond of roses, grapes, smartweed, soybeans, corn silks, flowers of all kinds, and overripe fruit. Beetle damage to cultivated crops is often minimal and defoliation (leaf removal) on soybean typically looks much worse than it is, and is often most severe along borders, where "drive-by scouting" tends to occur. The beetles often congregate in several areas of a soybean field, feeding on and mating in the upper canopy. The beetles' iridescent, metallic color also frequently catches the attention of those doing "windshield" field inspections. Closer inspection will often reveal that weeds (e.g. smartweed) have made fields even more attractive to the beetles. It has been years since we heard of treatable levels of adults in corn or soybeans, but stay vigilant. The mild winter certainly did not hurt their chances of survival at all. Happy Scouting!

Click here for the Blacklight Trap Catch Report

Holcus Leaf Spot of Corn in Southern Indiana – (Kiersten Wise) -
Corn fields in southern Indiana are exhibiting symptoms of holcus leaf spot, a disease caused by the bacterium Pseudomonas syringae pv. syringae. Infected plants will have round, discrete lesions that are initially pale yellow to white and then enlarge and turn gray or brown. Lesions have a water-soaked halo and on certain hybrids, the margin of the lesion may appear brown or purple (Figure 1). Lesions are typically distributed from the center to the tips of leaves (Figure 2). Holcus leaf spot can easily be confused with symptoms caused by herbicide drift or injury. To determine if the symptoms are caused by disease or an abiotic disorder, it may be necessary to submit a sample to a diagnostic lab where it will be checked for the presence of the bacterium.
Holcus leaf spot development is favored by warm temperatures (mid 70s-to mid-80s) and rainy, windy weather. Although rain has been scarce in Indiana, most symptoms appeared after rains that occurred at the end of May. The bacterium enters the plant through wounds or through stomates, and is not known to spread from infected leaves to healthy leaves. The bacterium will overwinter in infected residue, and also on other grass species, including weeds.
Holcus leaf spot is not a common disease in Indiana, and is not known to limit yield. Although the disease may cause concern based on symptom appearance, no in-season treatment is available or necessary. Fungicide applications will not have efficacy against this bacterial disease.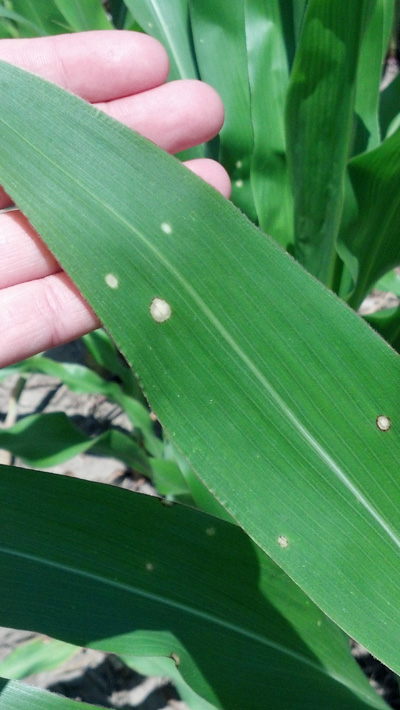 Figure 1. Yellow and white lesions with a water-soaked halo are indicative of holcus leaf spot in corn.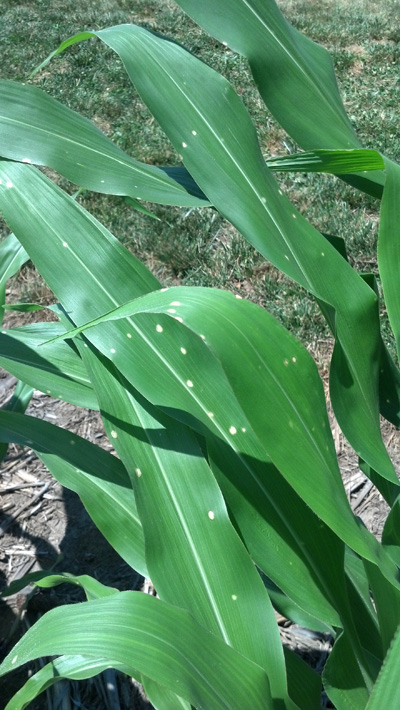 Figure 2. Holcus leaf spot observed on centers and tips of leaves.