Pest & Crop Newsletter, Entomology Extension, Purdue University

2010 Pest&Crop Reader Survey
- Only your input can help us improve this publication! We would appreciate you taking a few moments to answer some questions concerning the
Pest&Crop
Newsletter. The following survey is voluntary and anonymous. All information collected is confidential and no hidden tracking of individual responses is being used.
Click here to begin the survey.


Western Bean Cutworm, 2010 in Review – (Christian Krupke and John Obermeyer)
Moth flight was early and impressive this year.
Scouting for egg masses was a necessary follow-up to pheromone trapping.
Foliar insecticides are effective in controlling economic levels when times correctly.
Larvae and damage, in low levels were found in east central counties.
Without question, the western bean cutworm receives the insect pest of the year award for field crops in 2010. This dubious honor is bestowed not so much for its economic damage, but rather its surge in numbers and spread in its short existence in Indiana. This pest's eastward migration from the western Corn Belt within the last decade has amazed and baffled many, certainly forcing us into a steep learning curve. We are indebted to many who have helped with moth trapping and/or field reports over the last five years, no doubt this has been a team effort!
Pheromone trapping for adults in 2010 began with a flurry. Our first catch was in LaPorte County on June 17, ten days earlier than previous years. In just a week's time, nearly 1500 moths had been captured and reports were coming in of egg masses being found in pre-tassel corn. Initially western bean cutworm activity was highest in areas of lighter soils and continuous corn in the northwestern counties. This likely is due to their success in overwintering, as larvae must burrow below the frost line to survive our winters. Within a couple weeks, moth numbers increased beyond these areas into crops on heavier soils, indicating that a significant amount of adult dispersal occurs. Being strong fliers certainly supports their ability to migrate to new counties/states potentially finding suitable food and overwintering habitats.
Peak moth flight occurred during the first week of July. Many reports of egg masses were being received at this time from northern counties. A very important finding was that high moth captures were an indication of their activity in an area, but often not predictive of infestations in adjoining fields. Pest managers quickly found that scouting all fields was necessary, especially those soon to tassel. Female moths are very discriminating about which plants are chosen for egg deposition. To complicate matters, fields with plants at different stages of growth (due to uneven emergence or excessive moisture) created clumped distributions of egg masses throughout fields. Those scouting for egg masses often found fields well below the 5% infested plants threshold, yet returned weeks later to find a high percentage of ear tips infested. When one considers that egg laying occurs over four or more weeks, with 20 or more larvae emerging, it becomes obvious that fields need to be scouted multiple times, ideally at intervals of less than a week.
Scouting programs for western bean cutworm were implemented by several agribusinesses in northwestern and north-central counties of the state. Not only did scouts monitor for adult flights with pheromone traps, but they usually followed up with frequent sampling for egg masses and larvae. Multiple fields were found to be at or above treatment threshold and were treated on a timely basis, being before larvae entered the ear. Foliar insecticides (primarily pyrethroids) did an excellent job of controlling western bean cutworm. These successful programs provide an alternative to utilizing Bt traited corn expressing the Cry1F protein (i.e., Herculex 1, Herculex XTRA, and SmartStax) or Agrisure's Viptera, all of which provide good but not 100% control – slight damage is often found on kernels of these traited hybrids.
Perhaps the biggest surprise of the season was the range of damage found in east central Indiana and west central Ohio. Conducted by Harvest Land Co-op, and coordinated by Steve Dlugosz, personnel from participating retailers sampled 198 client's fields for presence/absence of western bean cutworm larvae in ear tips. Of the 18 Ag Centers scattered throughout this region, 11 of them found larvae and ear tip damage. Although overall damage was minor, this effort certainly gave us a clearer understanding of the potential of this pest to expand beyond the northern counties. Whether or not this pest overwinters and establishes in these areas and builds to threatening levels will become clear next season and beyond.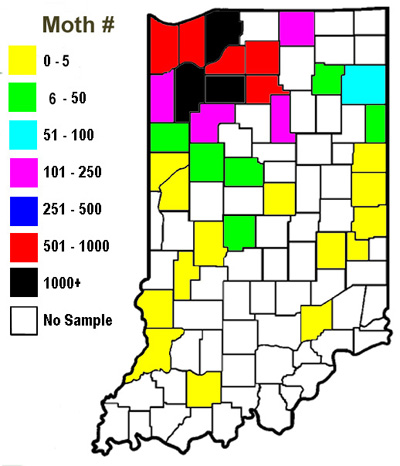 Western bean cutworm moth captures 2010
(High trap count by county)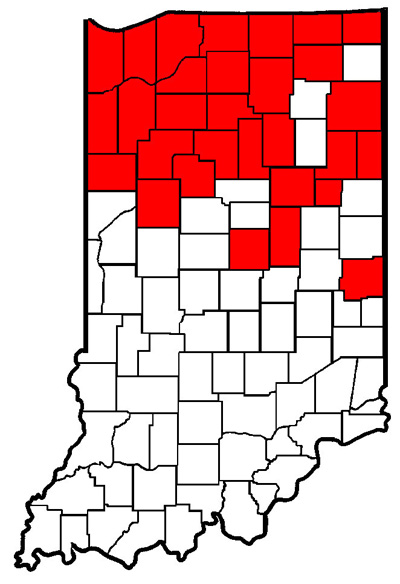 Western bean cutworm larval damage 2010
(*Confirmed, not necessarily economic)

Request for Help Evaluating the Wheat Fusarium Head Blight Prediction System – (Kiersten Wise)
Fusarium head blight (FHB) of wheat has been an important problem in Indiana with regional disease outbreaks occurring in 2009 and 2010. The disease causes significant yield loss and damaged grain is often contaminated with the mycotoxin deoxynivalenol (DON), commonly known as vomitoxin. The disease is best managed through a combination variety resistance, and timely application of fungicides when weather conditions elevate the risk of disease development. In recent years, there has been considerable effort to predict the risk of FHB and the need for fungicide applications in wheat.
The web-based prediction tools <http://www.wheatscab.psu.edu/riskTool_2010.html> provide daily estimates of disease risk for 25 states east of the Rocky Mountains. This multi-state effort requires considerable resources to maintain, and scientists involved in the project would like to gather some input to justify continued investment of time, computing resources and funds needed to sustain the effort.
If you have used these tools during the 2010-growing season, we would like to hear from you. Please take a few minutes to complete this on-line survey that will help us evaluate, improve, and maintain the system.
The link to the survey is: <http://www.hostedsurvey.com/takesurvey.asp?c=2010Us121326>.
Fusarium Head Blight Risk Assessment Tool 2010

Storing Corn from the 2010 Harvest: Aerate and Monitor - (Matt Roberts, Grain Quality Extension Specialist and Richard Stroshine, Professor, Agricultural and Biological Engineering Department)
The 2010 corn harvest season has been almost the exact opposite of the season producers experienced in 2009. In 2010 growers and researchers reported almost no field molds and harvest moistures were considerably lower than in years past. Based on conversations with growers around the state, some who started harvesting early had moistures around 25%, while the bulk of the corn was harvested at moistures between 14% and 18%. Although grain drying was not much of a concern for many producers this year, it is still important to minimize the chances of spoilage by applying the basic principles of grain storage, which include aeration and monitoring. There have already been reports of grain in storage going out of condition and in many cases this can be attributed to ignoring those principles.
Aeration: Aeration of grain in storage helps to equalize not only temperature differences, but also moisture differences throughout the grain mass. It is especially important to aerate grain that was taken out of the field and placed directly into storage. While the field average may have been 14% or 15% moisture, there may have been pockets of 16% or 18% moisture grain in the harvested corn. Aeration will help to cool this corn and may move some of the moisture out of those wetter pockets.
This year the temperature of a large portion of the corn was put in the bin at temperatures between 70 and 80 degrees. At such high temperatures there is greater risk that the corn will spoil. Corn at 16% moisture with a kernel temperature of 70 degrees can begin to spoil in approximately 30 days. Therefore as soon as corn is placed in the bin, it should be aerated and, if it was above 70 degrees, the first cooling cycle should begin when the average outside air temperature (average of the daily high and low temperatures) drops by about 10 degrees. Cooling should continue in a stepwise process throughout the fall months and into the winter. A new cooling front should be moved through the bin when the average outside air temperature has dropped another 10 to 15 degrees. Ideally, corn should be cooled to just above freezing using two or three aeration cycles. Grain temperature near the top surface of the grain mass can be determined by placing a thermometer (such as a metallic oven thermometer with a long stem) 1 to 1.5 to feet under the surface of the grain where it is left for about 5 minutes before the reading is taken. If the cooling front has moved through the bin, the temperature of the grain below the upper surface should be the average temperature when aeration was begun. Length of time for an aeration front to move through a grain mass can vary greatly depending on bin and fan size. For a small bin with a large fan it may take only a day for the cooling front to move through the bin. For a tall bin with a smaller fan it may take several weeks for the cooling front to reach the top surface.
Air takes the path of least resistance. Therefore it is important to "core" the bin by pulling a load of the grain out of the bin to level the top of the grain mass. Because of the lower harvest moistures and particularly if combine cylinder speeds were higher than necessary, there may have been higher percentages of broken kernels in the corn. Broken kernels tend to accumulate near the center of the bin and reduce airflow through that part of the grain mass. Coring the bin removes the corn with higher fines. In larger bins it may be necessary to take several loads from the bin to reduce the concentration of fines in the center of the bin.
After aeration is completed for the year the fans should be covered to prevent entrance of outside air and to keep out rodents and pets.
Monitoring: It is necessary to check a bin for signs of spoilage at least once every two weeks during the winter and weekly in the fall and spring when the outside air temperatures are warmer. The suggested way to do this is to climb to the eave door, look inside and smell for any signs of spoilage. Also, observe the roof for any frost or current or past signs of condensation. Turning on the fans during this time will assist in detecting musty odors associated with spoilage. If an observer is present it may also be useful to enter the bin and walk around on the top of the grain to determine if grain has started to spoil and clump together.

2011 Crop Mangagement Workshops ...Mark Your Calendar - (John Obermeyer)
The Purdue Pest Management Program is offering a series of Crop Management Workshops (CMWs) to be held at five locations throughout Indiana. The topics of these meetings are adapted from the previous cropping year, new technologies, questions asked by agribusiness personnel, and suggestions from past CMWs. Certification credits for Indiana's commercial (CCH) and private (PARP) pesticide applicators and Certified Crop Advisors (CEU) will be awarded to attendees. Credits for Ohio applicators have been requested.
Brochures will soon be mailed to all Indiana commercial pesticide applicators and Certified Crop Advisors. Online registration will be available at that time.
Locations and Dates

Angola
Monday, January 24, 2011
Pokagon State Park
Potawatomi Inn & Conference Center
6 Lane 100A Lake James
Angola, IN 46703
(260) 833-1077
<www.in.gov/dnr/parklake/inns/potawatomi/>
Hartford City
Tuesday, January 25, 2011
Lake Placid Conference Center
397 S. 200 E.
Hartford City, IN 47348
(765) 348-4342
<www.indianachristianretreats.org/planning/about/directions.html>
Shelbyville
Wednesday, January 26, 2011
Maxim Events (behind The Fiddlers Three)
1415 E. Michigan Rd.
Shelbyville, IN 46176
(317) 392-4371
<www.thefiddlersthree.com>
Vincennes
Thursday, January 27, 2011
Vincennes University
Robert E. Green Activities Center
120 W. Harrison St.
Vincenes, IN 47591
<http://www.vinu.edu/cms/opencms/future_students/visit_us/campusmap.html>

West Lafayette
Friday, January 28, 2011
Beck Agricultural Center
Agronomy Center for Research and Education
4540 US 52 West
West Lafayette, IN 47906
(765) 583-0590
<www.ag.purdue.edu/beck_ag_center/Pages/default.aspx>
Topics and Credits
(same for all locations)
Topics:
(1) Straight Poop About the New Fertilizer Applicator and Distributor Rule
Joe Becovitz

(2) 2011 Weed Management Update
Bill Johnson

(3) Insect Pests and Bt Corn, the Challenges Continue
Christian Krupke/John Obermeyer

(4) Arrested Ears: The 2009-2010 Story
Corey Gerber

(5) Predicting the Future of Disease Management in Field Crops
Kiersten Wise

(6) Growin' Good Corn: Rocket Science or Common Sense?
Bob Nielsen

(7) Game On: Bringing It All Together
Corey Gerber

(8) Abuse It and Lose It, How to Stay Hitched
Fred Whitford
Schedule
(Times listed are Eastern Time)
8:30 a.m. - 9 a.m. Registration
9 a.m. - 12 p.m Morning Presentations
12 p.m. - 12:45 p.m. Lunch Provided
12:45 p.m. - 4:20 p.m. Afternoon Presentations
4:20 CCH/CED Forms
Topics (for each location)
Disease, Insect, and Weed Control Strategies, Regulations, and Pesticide Transportation
Sponsored by the Purdue Pest Management Program in cooperation with the Departments of Agronomy, Botany and Plant Pathology, and Entomology
Additional Information contact John Obermeyer at 765-494-4563, obe@purdue.edu
Brochures soon to be mailed to all Indiana commercial applicators and Certified Crop Advisors..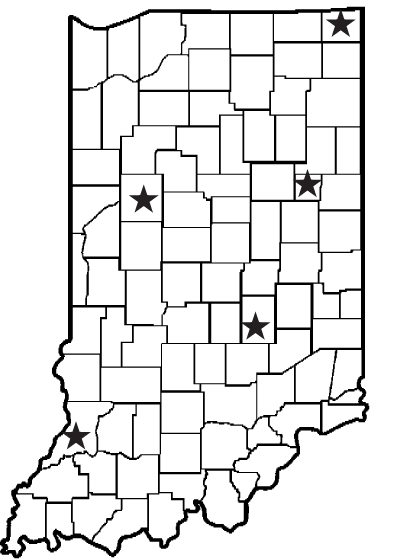 INSECTS, MITES & NEMATODES
Alfalfa Caterpillar
Yellow Butterflies Plentiful – 20
Alfalfa Weevil
Alfalfa Weevil Scouting Should Begin in Southern Indiana – 3
Don't Forget the Alfalfa Weevil Scouting – 4
Alfalfa Weevil Control Products - 5
Armyworm
Insect Damage to Whorl Corn, Who Done It? - 11
Bean Leaf Beetle
Overwintering Survival of Insects: Was It Too Cold For Them? - 3
Black Cutworm
Pheromone Traps Have Detected Black Cutworm Arrival – 3
Black Cutworm Adult Pheromone Trap Report – 3,4,5,6,7
Cutworms May Be Feeding Now, But Not Black Cutworm – 4
Black Cutworm Moth Captures Up Slightly – 5
Black Cutworm Arrival and Development – 6
Thanks to the Black Cutworm Pheromone Trap Cooperators! - 7
Black Light Catch Report
Black Light Trap Catch Report – 5,6,7,8,9,10,11,12,13,14,15,16,17,18.19, 20, 21,22,23,24,25
Brown Marmorated Stink Bug
Brown Marmorated Stink Bug: Potentially Serious Pest Found in Indiana - 26
Corn Earworm
Corn Earworm Moths Captured Extremely Early – 10
Insect Damage to Whorl Corn, Who Done It? – 11
Corn Earworm Moth Flight Quite Impressive - 21
Corn Flea Beetle
Winter Temperatures, Corn Flea Beetle Survival, and Potential for Stewart's Wilt - 2
European Corn Borer
Insect Damage to Whorl Corn, Who Done It? – 11
Little Corn Borer Like Moths Flying at Night – 18
Fall Armyworm
Fall Armyworm Target Late Growing Crops - 23
Hessian Fly
Hessian Fly Still a Concern in Wheat Growing States – 24
Insects (Miscellaneous)
Dupont/Pioneer's Refuge in the Bag (OAM1) Approved – 6
Caterpillars and Butterflies, Most Nice, Some NOT - 23
Japanese Beetle
Japanese Beetle Season Begins – 12
Millipede
Critters Feeding on Dead/Dying Seedlings Often Falsely Accused of Being the Culprit – 9
Nematodes
Nematode Updates – Corn Nematodes – 4
Nematode Update: Needle Nematodes on Wheat – 6
Nematode Updates - 22
Rootworms
Forgot Insecticide for Planted Bt Refuge Acres? Options are Limited – 5
Corn Rootworm Development: Fireflies and Bt Corn - 6
Corn Rootworm Hatch Beginning in West Central Indiana – 10
Curious About Rootworm Damage, Now's the Time to Check – 12
Video: Sampling for Corn Rootworm Larvae - 12
Western Corn Rootworm Beetles Emerging – 13
Western Corn Rootworm Beetle Numbers Unimpressive, Likely Good News for Next Year's Corn – 17
VIDEO: Western Bean Cutworm, A Tale of Two Differently Treated Fields - 22
Seedcorn Maggot
Seedcorn Maggot Potential for Planted Soybean – 8
Slugs
Are Slugs Sliming Your Crop? – 8
Slug Damage in Corn Video – 9
Slug Damage Reports Continue - 10
Soybean Aphid
Soybean Aphid, A New Beginning for 2010 – 7
Soybean Aphid Update – 18
Soybean Aphid Look-Alikes - 19
Spider Mites
Yellow Beans, Many Possibilities - 20
Stalk Borer
Insect Damage to Whorl Corn, Who Done It? - 11
Stink Bug
Insect Damage to Whorl Corn, Who Done It? - 11
Western Bean Cutworm
Western Bean Cutworm Season Begins With a Flurry – 13
Western Bean Cutworm Flight Intensifying, Egg Hatch is Underway – 14
Western Bean Cutworm Adult Pheromone Trap Report – 13,14,15,16,17,18,19,20
Video: Western Bean Cutworm Early Scouting – 15
Video: Western Bean Cutworm Eggs and Hatching Larvae – 15
Western Bean Cutworm Flight Continues, Questions Abound – 16
VIDEO: Scouting Western Bean Cutworm Post-Whorl, Possible But Tedious – 17
Western Bean Cutworm Damage a Surprise in Some Northern Indiana Fields – 18
VIDEO: Western Bean Cutworm Ear Damage – 19
Help Us Identify Western Bean Cutworm Damage Range – 21
VIDEO: Assessing WBC Damage to Field Corn – 24
WEEDS
Control
Methods to Control Volunteer Roundup Ready or Glyphosate-Tolerat Corn in a Corn Replant Situation – 7
Nitrogen Accumulation by Annual Grass Weeds in Corn – 7
Big Corn and Big Weeds – 13
VIDEO: Giant Ragweed Glyphosate Resistance – 14
Volunteer Corn Competition and Control in Soybeans – 14
Glyphosate Resistant Waterhemp in Indiana - 17
Herbicides
2010 Herbicide Update - 1
A Little Burndown Madness - 1
Considering Your Burndown - 2
Herbicide Update Revisited – 2
Glyphosate and Foliar Fertilizers - 3
Other
The Formation of an Indiana State Invasive Species
Council – 2
Quick Check for Calibration – 4
Wild Garlic – 5
Dame's Rocket – 8
Is This a Giant Dandelion? – 12
Scouringrush Encroaching on Agricultural Turf – What We Know So Far – 18
Harvest Aids In A Not So Cooperative Year – 19
Is The Beefsteak Plant (Perilla Mint) a New Pasture Issue in Indiana? - 26
PLANT DISEASES
Corn
Safety First! Tips for Safely Handling Moldy Corn – 1
Early Fungicide Applications in Corn – 8
Wet Soils Favor Seedling Blights in Corn and Soybean – 8
Conditions Favorable for Gray Leaf Spot in Corn – 13
VIDEO: Corn Diseases and Hot, Humid Conditions in July – 15
Fungicide Applications to Manage Corn Diseases – 15
Bacterial Stalk Rot of Corn – 17
Diplodia Ear Rot Appears Early in Indiana – 19
Southern Corn Rust Confirmed in Indiana - 21
Soybeans
Soybean Disease Monitoring in 2010 –-3
Wet Soils Favor Seedling Blights in Corn and Soybean – 8
Update on Fungicides for Soybean Rust Management – 10
Sudden Death Syndrome in Soybean – 18
Soybean Disease Update – 21
Sudden Death Syndrome and Brown Stem Rot in Soybean – 23
VIDEO: Sudden Death Syndrome – 23
U of I Confirms Soybean Pathogen's Resistance to Fungicides - 26
Wheat
The New Edition of the Wheat Disease Compendium is Off the Press – 2
Scout Wheat Fields for Virus Diseases – 3
Fungicide Applications for Foliar Wheat Disease Management – 4
Will Fusarium head Blight (Scab) Be A Problem in Indiana Wheat? – 5
More on Fusarium Head Blight in Indiana Wheat – 6
Wheat Disease Update – 7
Wheat & Barley Producers Can Sign Up for Scab Alerts – 7
Monitor Fusarium Head Blight Risk in Northern Indiana Wheat – 8
Scab Strike Again in Indiana Wheat – 12
Dealing with DON in Wheat - 14
Request for Help Evaluating the Wheat Fusarium Head Blight Prediction System - 27
AGRONOMY TIPS
Corn
Glyphosate – Manganese Interactions And Impacts On Crop Production: The Controversy – 3
Requirements for Uniform Germination and Emergence of Corn – 4
The Emergence Process in Corn – 4
Root Development in Young Corn – 5
Frosty Corn, Toasted Plants – 5
Effects of Flooding or Ponding on Young Corn – 6
Determining Corn Leaf Stages – 7
Heat Unit Concepts Related to Corn Development – 7
Corn And The Ugly Duckling – 7
Prevalent Purple Plants Perennially Puzzle Producers – 8
A Compendium of Biotech Corn Traits – 9
Wrapped and Twisted Whorls in Corn – 10
Some Ugly Ducklings Grow Up to be Ugly Ducks, Not Beautiful Swans – 10
"Safe" Hybrid Maturities for Late Corn Planting in Indiana – 11
Notched Leaf Edges in Corn – 13
Soil Sampling for Assessing Plant Available N Following Excessive Rain or Flooding – 13
Death by Drowning – 14
Tassel Emergence & Pollen Shed – 15
Silk Development and Emergence in Corn – 15
Navigating Through the Grain Fill Period – 17
Grain Fill Stages in Corn – 17
Excessive Heat and Humidity Not Ideal for Corn – 19
Popped Kernels and Silk Cut – 22
Corn Grain Yield Estimation: The Kernel Weight Factors – 22
Tassel-Ears in Corn – 22
Field Drydown of Mature Corn Grain – 23
VIDEO: Crop Stress, Grain Fill and Corn Maturity – 23
Yield Monitor Calibration: Garbage In, Garbage Out – 23
Early Corn and Harvest Harvest: Should Wheat Be Planted Early? – 25
Fall Tillage Decisions in 2010 - 25

Misc.
Information on Flood/Water Damage to Field Crops and other Tidbits – 12
Dry Weather Can Affect Some Soil Tests, But Do Not Stop Soil Sampling - 26

Soybeans
Soybean Planting: Warm Temperatures and Itchy Trigger Fingers – 3
Soybean Seeding Rates to Achieve Target Stands at Harvest – 6
Soybean Survival from Spring's Cold Snap – 7
Late Soybean Planting: Switch Maturity Groups – 11
Soybean Early Reproductive Growth Stages – 15
VIDEO: Soybean Full Seed (R6) Growth Stage – 21
VIDEO: Soybean Late Season Stresses – 21
Estimating Soybean Yields – 23
Green Soybean Stems and Dry Grain – 24
Early Corn and Soybean Harvest: Should Wheat Be Planted Early – 25
Fall Tillage Decisions in 2010 - 25
Wheat
Keep An Eye Open For Sulfur Deficiency in Wheat – 3
Early Corn and Soybean Harvest: Should Wheat Be Planted Early – 25

BITS & PIECES
Extension Specialists Listing - 1
Storing Corn from the Fall 2009 Harvest - 1
Grain Storage Problems Are Increasing Dangers to Farm Operators – 1
2010 Popcorn Agri-Chemical Handbook – 2
2010 Purdue Weed Day - 8
Storing Corn from the 2010 Harvest: Aerate and Monitor - 27
2011 Crop Management Workshops...Mark Your Calendar- 27
In This Issue - 27
Weather Update
Appears in most issues