Pest & Crop Newsletter, Entomology Extension, Purdue University



Western Bean Cutworm Flight Intensifying, Egg Hatch is Underway - (Christian Krupke and John Obermeyer)
Many more moths captured this week, counts are quite variable from trap to trap.
First eggs detected, and hatching is occurring.
Scouting for egg masses and hatched larvae, in high-risk areas, should be underway. .
The brisk start to the western bean cutworm (WBC) trapping season continues, with many more moths captured this week. Not too surprising that counts are surging – our recent weather of clear nights with light breezes are absolutely perfect for moth flight, mate-finding and egg-laying and a welcome relief from the seemingly endless storms and torrential rains of past weeks. In case you are curious, the response of moths (and most other flying insects) to the last few week's onslaught of rainy weather was the same as ours – namely getting under cover and waiting it out. Well the wait is over, and it's party time for WBC.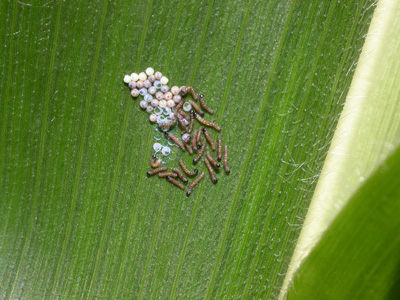 Hatching western bean cutworm larvae (Photo Credit: Jeff Nagel, Ceres Solutions)
Some have wondered whether flooded fields could suffocate the WBC pupae that have not yet emerged deep within the soil. While that is certainly possible, their risk is limited by the fact that they tend to occur in very sandy soils that drain extremely quickly. Insects' pupae can withstand short periods of water immersion fairly well – it's a relatively common event for most organisms that live beneath the soil for part of their lifecycle. So hoping for drowning out the WBC probably won't be fruitful in this instance.
We are likely entering the key period for egg-laying, as a large percentage of this year's eggs will be laid this week and next. Use this year's trap catches (see following trap report) and recent history as your guide for prioritizing scouting areas. As you view the "Western Bean Cutworm Adult Pheromone Trap Report" from the last two week's catches, notice the tremendous variability of moth captured, even within close proximity of each other. Although the relationship between trap catches and damage is not particularly strong (i.e., high trap counts does not always mean high damage), traps are a good timing mechanism and presence/absence indicator. Areas/fields with damage last year will likely be at risk this year, while trap catches provide information about risk of infestation in new areas. As we've said during the winter, we expect more counties to be affected this year than last and more damage in counties where the pest was seen previously.
Thanks to reports from Jeff Nagel of Ceres Solutions, Dan Childs (Heritage Seeds) and Brian Roberts (Pioneer Hi-Bred), we know eggs are present in several fields in northwestern Indiana. There will be many more deposited over the next little while, so scouting is essential in high-risk areas of the state, this zone includes most of the counties in the northern part of the state (especially northwestern counties), sandy soil areas are particularly at risk.

Scouting is a matter of walking fields and looking for egg masses, generally laid on the top surface of the plant's upper leaves. If more than 5% of plants surveyed have egg masses, treatment is advised. This was covered in detail in last week's issue of Pest&Crop. Although fungicide applications are going on soon, don't feel tempted to put some insecticide in the tank without at least one scouting trip through the field beforehand. Again, consider the variable moth captures, suggesting variable egg laying from field to field (even with a field). If needed, early insecticide applications are better than late ones – pyrethroid insecticides will offer enough residual activity in most cases for several days of killing hatching larvae as they travel on their way into the plant's whorl or leaf axils. Once they get inside the whorl/ear of the plant they cannot be contacted with insecticides.
We expect WBC to be the headliner for the next couple of weeks of pest activity… stay tuned and keep the reports coming!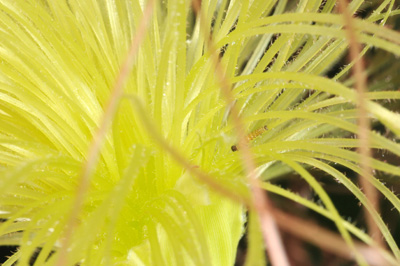 Recently hatched larva heading down the silk channel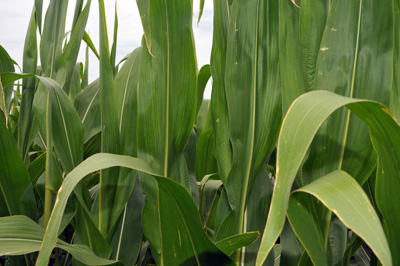 The scouting challenge is on...find the egg mass (hint, it is in the middle of the picture)

Click here to view the Western Bean Cutworm Adult Pheromone Trap Report

Click here to view the Black Light Trap Catch Report
VIDEO: Giant Ragweed Glyphosate Resistance - (Glenn Nice and Bill Johnson)
Although herbicide resistance is not new, we have been dealing with it almost as long as we have been using herbicides; resistance to glyphosate is big news. This is because glyphosate is one of the most used herbicides worldwide. In the world of weed control glyphosate's value is substantial. So when resistance occurs it is a problem and a cause for concern. Giant ragweed is a troublesome weed that can be controlled by glyphoate, but cases of glyphosate-resistant giant ragweed have been reported throughout the mid-west. Although the mechanism for resistance is not well known or reported, this unique time-laps video from the Departments of Botany and Plant Pathology and Entomology shows quit a unique response to glyphosate between a susceptible biotype and glyphosate-resistant biotype of giant ragweed.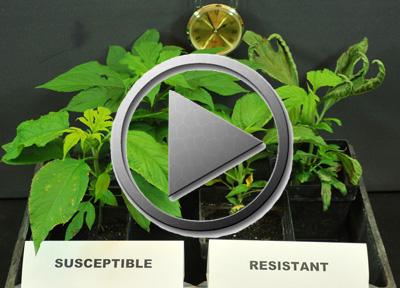 Click the photo to see the YouTube video.

Volunteer Corn Competition and Control in Soybeans – (Bill Johnson, Paul Marquardt, and Glenn Nice)
We have observed a lot of soybean fields with volunteer corn over the last several years. In fact a recent survey of weed control talks in the North Central Weed Science Society proceedings shows that volunteer corn is the 5th most common weed found in titles of talks given at the annual conference (Table 1). This indicates that volunteer corn has reemerged as a major weed in Midwest soybean and corn cropping systems.
The purpose of this article is to review our data on the competitiveness of volunteer corn in soybean and go over the control options. To evaluate the competitiveness of volunteer corn with soybean, field trials were conducted just south of Lafayette, Indiana in 2008 and 2009. Soybean was planted in 7.5 inch rows and volunteer corn (from ears collected the previous fall) was seeded on the same day as corn was planted. See Figure 1 for an idea of what the different densities looked like in the middle part of the growing season.
Figure 1. Volunteer corn densities within the study
In 2008 densities of 2 or more plants per square meter caused significant yield reductions. In 2009, 4 or more plants per square meter caused significant yield reductions. Densities as high as 16 plants per square meter reduced yields 40 to 45% The results indicate that soybean can tolerate some competition from volunteer corn, but if densities exceed 2-4 plants per square meter, treatment measures should be implemented.
It is important to note that volunteer corn emerges at the same time soybeans do, yet we typically do not treat until the second treatment of glyphosate is applied to the soybean field. In the past we have typically thought that volunteer corn is a late emerging weed. However, in this study, we attempted to establish volunteer corn densities at the V3 stage of soybean growth and found that plants that emerged by V4 soybean or later, did not survive until the end of the growing season. So, by the time the second postemergence treatment of glyphosate is applied to soybean we are likely 6-8 weeks into the growing season and significant amount of competition has occurred since we are treating plants that emerged at the same time soybean emerged.
Volunteer corn can be controlled in soybean with postemergence grass herbicides that were used on a widespread basis until we had Roundup Ready soybean (Table 2). In Roundup Ready or non-GMO soybeans, any type of volunteer corn can be controlled by inclusion of Assure II/Targa, Select Max, Fusion, Fusilade or clethodim in postemergence herbicide programs. Activity of these herbicides is maximized by use of COC or MSO, plus AMS. Control can be more variable when applied in a mixture with a glyphosate product that contains surfactant, in the absence of COC or MSO. Generic clethodim is often less effective than the other products listed here in mixtures with glyphosate, unless COC or MSO is included in the mixture.
Table 1. Most common weeds mentioned in North Central Weed Science Society titles from 1948 to 2007.
Rank
1948
1955
1967
1977
1987
1997
2007
1
Canada
thistle
Canada
thistle
Field
bindweed
Common
milkweed
Canada thistle
Common sunflower
Lambs-quarters
2
Field
bindweed
Field
bindweed
Western
ironweed
Field
bindweed
Downy
brome
Common
waterhemp
Common
waterhemp
3
Leafy
spurge
Large
crabgrass
Wild
buckwheat
Johnson-
grass
Musk
thistle
Giant
foxtail
Giant
ragweed
4
Perennial
sow thistle
Leafy
spurge
Wild oak
Wils
buckwheat
Johnson-
grass
Palmer
amaranth
Horseweed
5
Russian
knapweed
Quackgrass
Yellow
nutsedge
Yellow
nutsedge
Velvetleaf
Velvetleaf
Vol corn
Grasses
0
2
2
2
2
1
1
Broadleaves
5
3
3
3
3
4
4
Annuals
0
1
2
1
2
5
5
Biennials or Perennials
5
4
3
4
3
0
0
Table 2. Postemergence herbicides for control of volunteer corn in soybeans
Product
Volunteer Corn Size
Rate/Acre
Select Max
Less than 12 inches
12 to 24 inches
6 oz.
9 oz.
Clethodim (Arrow/Section)
4 to 12 inches
12 to 12 inches
4 oz.
6 oz.
Assure II/Targa
10 to 12 inches
12 to 18 inches
18 to 30 inches
4 oz.
5 oz.
8 oz.
Fusilade DX
Less than 12 inches
12 to 18 inches
4 oz.
6 oz.
back to top

Dealing with DON in Wheat – (Kiersten Wise and Charles Woloshuk)
Wheat harvest is underway in central Indiana and with high levels of Fusarium head blight (scab) in many fields this year, it is no surprise that we are receiving reports of wheat contaminated with the mycotoxin deoxynivalenol, also known as DON or vomitoxin. DON is produced by the fungal pathogen that causes Fusarium head blight, and it is especially toxic to swine, but consumption of high levels of the toxin can impact the health of many animals. Reports vary on the DON levels in wheat, but we have been informed that some buyers are docking grain when contamination levels reach 2 ppm DON.
If wheat fields have not been harvested yet, check fields to determine if scabby grain is present. If the disease is present, increasing the fan speed on the combine at harvest can blow out the lighter scab-infected kernels, which contain most of the DON. There are many questions about how to handle and market scabby grain with high levels of DON, and we have attempted to answer the most frequently asked questions in this article.
1. What is DON or vomitoxin?
DON is a toxin produced by the fungus that causes scab. The toxin is referred to as deoxynivalenol and vomitoxin. The occurrence of scab does NOT automatically mean that DON is present, but high levels of scabby kernels in the harvested grain should be suspect. DON can affect the health of animals that consume contaminated grain. DON also can affect flavors in foods and baking quality.
2. How does DON affect livestock?
DON causes feed refusal and poor weight gain in livestock. Hogs are most sensitive to DON, even at one part per million (1 ppm) contamination of hog feed. Cattle, sheep and poultry are more tolerant of DON. Diluting scabby wheat with normal quality grain may be a logical method of feeding wheat safely to on farm livestock.
3. What are safe levels of DON?
The Food and Drug Administration has established DON advisory levels as follows:
1 part per million for finished grain products for
human consumption.
Swine: 5 ppm (not to exceed 20 percent of ration
with finished feed = 1 ppm).
Ruminating beef and feedlot cattle, over 4 months
old: 10 ppm (not to exceed 50 percent of diet with
finished feed = 5 ppm).
Poultry: 10 ppm (not to exceed 50 percent of diet,
with finished feed = 5 ppm).
All other animals: 5 ppm (not to exceed 40 percent
of diet).
4. How can I determine if grain has DON?
The presence and amount of DON from infected grain can only be verified through chemical analysis. There are a variety of commercial laboratories and quick test kits for mycotoxin analysis. Romer Labs <http://www.romerlabs.com> and Neogen <http://www.neogen.com/> sell test strips for toxin analysis. For information about DON and other commercial laboratories visit the links at NC1025: Mycotoxins: Biosecurity and Food Safety <http://www.btny.purdue.edu/NC1025>. Testing facilities in Indiana that analyze grain for DON are listed in the Extension bulletin: Diseases of wheat: Fusarium head blight <http://www.extension.purdue.edu/extmedia/BP/BP-33-W.pdf>.
5. Will drying and/or storage reduce scab or DON levels in grain?
NO. DON is a stable mycotoxin and drying and/or storage will not reduce DON levels in the infected grain. If handled properly, DON levels will NOT increase once grain is harvested and stored. The fungus requires 22 to 25 percent moisture content to grow. At moisture levels below 18 percent, the scab fungus will not continue to grow. Moisture content of scabby grain going into storage should be below 13 percent. There is no evidence of DON from scabby grain continuing to increase, if grain is stored at appropriately low moisture.
6. How should DON-contaminated grain be stored?
When storing scabby grain, try not to mix it with good quality wheat. The light, thin kernels caused by scab tend to accumulate in the center of a storage bin, and hot spots may occur if higher moisture fine material is present in the core as well. Using a cleaner to remove fines from the wheat before binning and a grain spreader to distribute scabby kernels more evenly will minimize spoilage risks. If a cleaner and a spreader are not available, the wheat should be cored as soon after binning as possible.
Fields being double cropped with soybeans could be at higher moistures at harvest than in normal years. If the grain is being dried in-bin with unheated air, the grain moisture at harvest should be below 18 percent. With scabby grain, it may be necessary to increase the rate of air flow to decrease the drying time. This can be achieved by reducing the depth of grain in the drying bin below normal levels. For example, a grain depth reduction by 25% from 12 ft to 9 ft will increase the airflow through wheat from a 10 HP fan by 50%. If the harvest moisture is above 20 percent, it will be necessary to use heated air in either bin or column dryers.

Death by Drowning - (Bob Nielsen)

Intense rainfall accompanying severe thunderstorms can quickly fill up the "ponds" or low-lying areas within crop fields that may not drain for days, especially if drainage ditches themselves run full for days after the storm. The common question in the coffeeshops the morning following such a "toadstrangler" event centers around how many days a corn crop can tolerate ponded conditions. The cynical answer to that question is "...until it dies."
When air temperatures are high, the crop well within the rapid growth period, and the plant's photosynthetic "machinery" is operating at full capacity following a ponding event, oxygen deprivation in the root zone quickly takes its toll on root health and the tissue begins to die quickly. The plants literally drown.
An early symptom of significant root death due to ponded or saturated conditions is the appearance of orange-yellow lower leaves on the corn plant. This discoloration often begins within a day after the ponding or saturation occurs and is distinct from the more common nitrogen deficiency symptom of yellow leaves. The photos that follow do not faithfully reproduce the vividness of the orangish cast to these lower leaves, but you should get the general idea.
With high temperatures, more serious deterioration of the crop can also occur within a day or two of stress by saturated soils. Once root function fails, the plants can no longer acquire enough moisture to fulfill the needs of photosynthesis. Wilting begins to occur and very much resembles that which you expect from a field under very severe drought stress. The wilting plants are most often obvious around the perimeter of the ponded or saturated area of the field.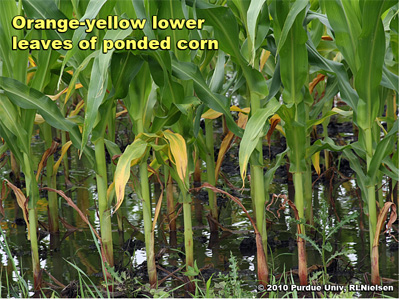 Orange-yellow leaves; typical symptom related to root death by drowning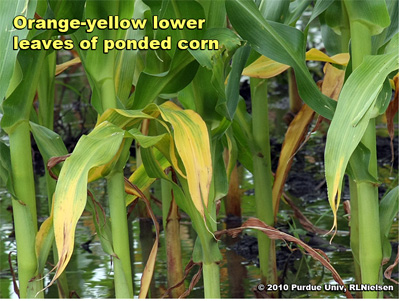 Orange-yellow leaves; typical symptom related to root death by drowning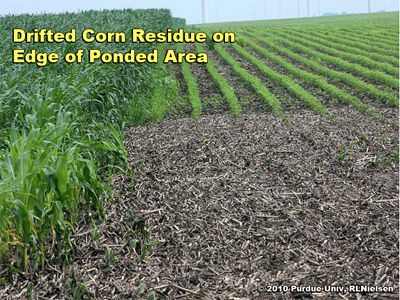 Drifted corn residue resulting from water flow following deluge of rain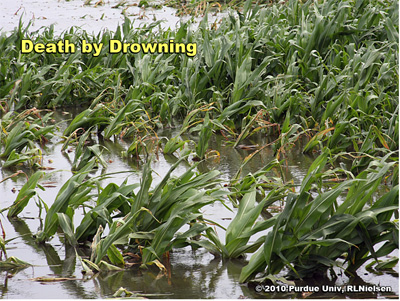 Nearly submerged corn plants, less than 48 hrs after deluge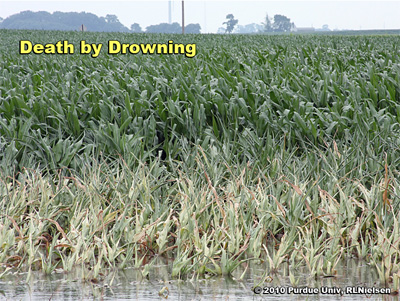 Wilted and dying corn plants around perimeter of ponded area, less than 48 hours after rain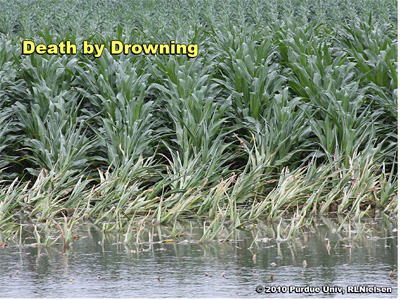 Wilted and dying corn plants around perimeter of ponded area, less than 48 hours after rain
Dead and dying corn plants, about 1 week after deluge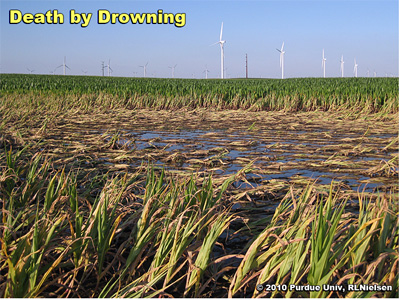 Dead and dying corn plants, about 1 week after deluge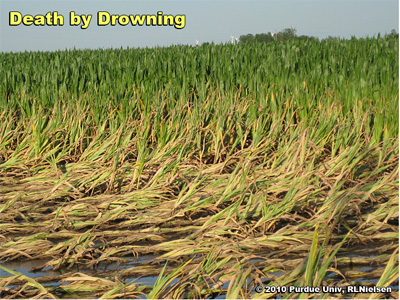 Dead and dying corn plants, about 1 week after deluge
Related Reading
Nielsen, RL (Bob). 2009. Flood Damage to Corn Near Pollination or Beyond. Corny News Network, Purdue Univ. [online] <http://www.kingcorn.org/news/articles.09/FloodDamage-0807.html> [URL accessed June 2010].
Nielsen, RL (Bob). 2010. Effects of Flooding or Ponding on Young Corn. Corny News Network, Purdue Univ. [online]
<http://www.kingcorn.org/news/timeless/PondingYoungCorn.html> [URL accessed June 2010].
Other articles that address flood-damaged crops is available online at <http://www.agry.purdue.edu/ext/corn/cafe/flood/index.html> [URL accessed June 2010].