Pest & Crop Newsletter, Entomology Extension, Purdue University


Grubs Found During Planting – (John Obermeyer)
Early planting and cool soils increase the likelihood of grub damage.
Soil type is another important variable.
No rescue treatments are available for economic populations.
Insecticides labeled for grub control or protection in corn are listed below.
Indiana Agricultural Statistics estimates that 11% of Indiana's corn was planted the week of April 21, and I know much more has gone in this week. Already we have received a grub call from a producer while planting corn, fortunately for him he was applying a labeled soil insecticide. Grub complaints typically increase in frequency with the earliest planted crop. Obviously there's more to it than just planting date. Factors such as the field's grub populations and soil type, coupled with spring growing conditions all play a part.
Seed already planted will likely be subjected to cooler soils and extended germination/emergence. If corn is slow to emerge and grubs are found nearby, it is often assumed that they are feeding on the seed/seedling. However, the reason for slow germination and emergence is usually cool soil temperatures, and not grub activity. Grubs may or may not be damaging the crop, remember that they too are less active in cool soils. Once soils warm up, grubs may begin feeding on roots, although they also feed on organic matter (O.M.) in the soil. The length of the feeding period and grub population will largely dictate whether economic damage will occur. In other words, the longer a grub is near the seedling, the greater the likelihood of damage. As indicated above, the chances of this interaction increase as soil temperatures decrease.
Japanese beetle is the predominant grub species found in field crops in Indiana. Eggs laid in the soil during late summer and early fall hatch into grubs that feed on living and decaying plant matter. Grubs overwinter as partially developed larvae 4 to 6 inches deep in the soil. Little is known or understood about their ability to withstand extremes in soil temperature, moisture, and freezing/thawing action through the winter months. But they certainly survived quite well in portions of my garden!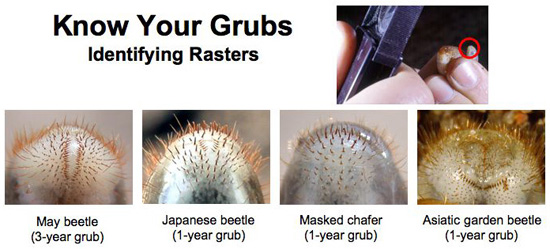 Japanese beetle grubs feed on both living and dead plant material when they crawl to the upper soil profile in the spring. Soils low in O.M and crop residues will encourage grubs to move more horizontally in the soil profile until suitable food sources are found. Corn or soybean roots that they encounter will be fed upon. Should you scout a field suspected to have grub damage, be certain to inspect the soil between rows for grub presence, particularly in areas with high O.M. soil. However, grubs in low O.M. sandy or timber soils will concentrate in root zones because alternate food sources are scarce.
Since rescue treatments are not available for corn or soybean, the most effective way to control grubs is to apply protection at planting (see table below for corn). If an economically damaging grub population is observed in a field that has already been planted and the stand is threatened, a soil insecticide/insecticide treated seed could be used as part of a replant operation. Replanting, however, is not recommended unless a critical level of plants is being significantly damaged or destroyed by grubs. Remember that a number of factors can cause stand reductions. Be certain that the grubs are the primary cause of damage, and are actively feeding on the roots before making a replant decision.
Corn Insecticides Labeled for Grubs at Planting*
Product

Label Claims

Additional Label Notes
Aztec 2.1 & 4.67G

control

Capture LFR

control

Cobalt

control

Counter 15G

control

Cruiser

protection

Early season protection
Force 3G & CS

control

Use higher label rate in-furrow for heavy infestations.
Fortress 2.5 & 5G

control

In-furrow application
Lorsban 4E

control

Lorsban 15G

control

Control at 1.5X rootworm rate for severe infestations.
Poncho

protection

Aid in the protection of seeds and seedlings against injury
Regent

control

*Products labeled for grubs often do not perform satisfactorily under heavy infestations. If grubs are causing economic damage in fields where products labeled for "control" are used, producers should be contacting their dealer and/or sales representative for a performance evauation. Producers should be cautious using products labeled "protection" where higher grub pressure is expected. Be sure to read the label for use and application information.

Alfalfa Weevil Management Guidelines and Control Products – (John Obermeyer and Larry Bledsoe)
Pest managers in southern Indiana should now be scouting their alfalfa for leaf feeding from weevil larva. Last week we found evident "pin-hole" feeding in south central Indiana. This pest is often overlooked during the early spring planting season.
Producers can manage this pest most effectively by utilizing heat unit accumulations data (base 48°F) to determine when sampling should begin and when an action should be taken, The management guidelines listed below should be used to determine when alfalfa weevil should be controlled in southern Indiana. Refer to the following heat unit map to track weevil development in your area.
Alfalfa Weevil Management Guidelines, 2008
Southern Indiana

Heat units

% Tip feeding

Advisory

200

Begin sampling. South facing sandy soils should be monitored earlier

300

25

Re-evaluate in 7-10 days using the appropriate HU or treat immediately with a residual insecticide if 3 or more larvae are noted per stem and % tip feeding is above 50%.

400

50

Treat immediately with a residual insecticide.

500

75

Treat immediately.

600

75+

If cutting delayed more than 5 days, treat immediately.

750

If harvested or harvesting shortly, return to the field in 4-5 days after cutting and spray if 1) there is no regrowth and weevil larvae are present OR 2) feeding damage is apparent on 50% of the stubble and weevil larvae are present.
Insecticides For Alfalfa Weevil Larval Control

Insecticide

Formulation and Amount Per Acre

Harvest Or Pasture Restriction

carbofuran (Furadan)1,2

1/2 pt. 4F
1 pt. 4F
2 pt. 4F

7 days
14 days
28 days

chlorpyrifos (Lorsban)1,2

1 pt. 4E
2 pt. 4E

14 days
21 days

cyfluthrin (Baythroid XL)1,2

1.6 - 2.8 fl. oz. EC

7 days

gamma-cyhalothrin (Proaxis)1,2

2.6 - 3.8 fl. oz. EC

1 day-forage
7 days-hay

lambda-cyhalothrin (Warrior )1,2

2.6 - 3.8 fl oz. CS

1 day-forage
7 days-hay

permethrin
(Ambush)1,2
(Pounce)1,2

12.8 oz. 2 EC
8 oz. 3.2 EC

14 days
14 days

zeta-cypermethrin (Mustang Max)1,2

2.2 – 4.0 fl. oz. EW

3 days

1Restricted use pesticide.
2Highly toxic to bees.

Alfalfa Weevil Development

Armyworm and Cutworm Moth Flights - (John Obermeyer and Larry Bledsoe)
Kentucky reporting large numbers of armyworm moths.
Black cutworm moths continue to trickle into Indiana.
Crop scouting will be emphasized for the next several weeks!
Armyworm pheromone traps monitored by the University of Kentucky have been catching an impressive early moth flight the last couple of weeks. Doug Johnson, UK Extension Entomologist, has been helpful in disseminating this information to alert of the potential impact this may have on hay, small grain, and corn crops. Our black light trapping at the Purdue Agricultural Research Centers, which began last week, doesn't have us nearly as excited (see "Black Light Trap Catch Report"). If 2001 is our guide to determine a major armyworm outbreak, the next several weeks of black light catches will be important to watch. In the meantime, grassy crops in extreme southern Indiana should be monitored in a couple weeks for leaf defoliation and small armyworm larvae hiding under the soil surface residues during the day. This is especially true where grass-hay and wheat are thick and lush, a favorite egg-laying location for moths.
As mentioned in last week's Pest&Crop, black cutworm moths are being captured by our pheromone trap cooperators throughout the state, albeit somewhat low numbers. We have yet to record an intensive captures (9 or more moths captured in 2 consecutive nights) which signals the beginning of heat unit accumulations to predict the beginning of cutting. Certainly this next week's captures will be something to watch.
It seems as though the storms that have moved through the Midwest in the last few weeks have brought more armyworm than black cutworm moths from the Southwest United States. What this means to our crops will unfold in the next several weeks. Stay tuned and happy scouting!

Click here to view the Black Light Trap Catch Report

Click here to view the Black Cutworm Pheromone Trap Report

Nitrogen Accumulation by Annual Grass Weeds in Corn - (Bill Johnson and Glenn Nice)
It is anticipated that adoption of Roundup Ready and Liberty Link corn will continue proceed at a fairly rapid pace over the next couple of years in the eastern cornbelt. We have observed that many growers are making adjustments to their weed control programs which include reduced reliance on soil-applied acetamide-atrazine premixes and more reliance on postemergence glyphosate in Roundup Ready corn or glufosinate (Liberty) in Liberty Link corn. So, we are going from a system which was largely devoid of early-season weed pressure to a system where early-season weed infestations will be common and require broadspectrum postemergence herbicides for effective control and protection against yield loss. It is important to understand that weeds are just like crop plants and will utilize soil nutrients in a similar manner to grow and reproduce. What is not well understood is how much nitrogen is utilized by weeds and the effect of nitrogen use by weeds will have on crop yields. Over the past several years, I have had a couple of my graduate students conduct research projects that involved nitrogen accumulation by weeds in corn and impact on corn yield. In the next couple of articles I will summarize the results of these projects.
The first project I will discuss was an evaluation of annual grass weed interference and nitrogen accumulation in no-till, Roundup Ready corn. The objective of this project was to determine the interactive effects of grass weed interference and side-dressed N applications on corn and weed growth and N content and corn yield. The experiment was conducted in 1999 and again in 2000 on a silt loam soil with 2.5% organic matter. The experimental area was a no-till site. Soil-applied broadleaf herbicides were applied to control broadleaf weeds and allowed grass weeds to emerge with the corn. The grass weeds present in this study consisted of giant foxtail, barnyardgrass, and large crabgrass and a combined density of approximately 30 plants per square foot. Ammonium nitrate fertilizer was surface applied at 100 lb N/A just prior to planting. We utilized a relatively low or "threshold" rate of nitrogen in an attempt to tease out the effects of N accumulation by grass weeds on corn growth and yield.
The grass weeds emerged at about the same time or slightly later than the corn and were controlled with glyphosate when they were either 3, 6, 9, or 12 inches tall. After the grass weeds were controlled at the specific timings, the plots were kept weed-free for the remainder of the growing season. To determine if side-dress nitrogen could be utilized to overcome the effects of early-season grass weed competition, the weed removal timing treatments were duplicated and an additional 40 lbs of N/A was applied to those plots when corn was 2 feet tall. Corn and grass weed tissue samples and soil samples (2 feet deep) were collected from weedy and weed-free plots at each grass control timing and at corn harvest. Plant samples were analyzed for total Kjeldahl N and soil samples analyzed for nitrate and ammonium content. The experimental design was a randomized complete block with four replications each year.
The results showed that grass weeds accumulate quite significant amounts of nitrogen on a per area basis. At the 3 inch removal timing, grass weeds contained similar amounts of N on a per area basis as corn. By the time grass weeds are 12 inches tall, they had 50 to 63 lbs of N/A in 1999 and 16 to 32 lbs of N/A in 2000. This amounts to about 3 times as much N as contained in corn biomass in 1999 when the grass weeds emerged with the corn, and about ½ as much N in corn biomass in 2000, when corn emerged about 10 days before the weeds emerged.
The main effect of weed removal height on corn yield was similar in both years. Corn yield and N content of corn biomass were similar to the weed-free controls with grass interference up to 6 inches in height before control measures were implemented. Yields were lower in treatments with grass weed interference until 9 inches or greater in height and there was less N in the corn biomass than the weed-free controls. Side-dress N had a positive effect on recovery of corn yield due to weed interference in 2000 when adequate late season precipitation was available, but had no effect on corn yield in 1999 when late-season precipitation was limited.
In summary, when grass weeds at a density of 30 plants per square foot emerge at the same time as corn, they should be controlled before reaching 6 inches in height to avoid excess N accumulation and crop yield loss. Surface-applied ammonium nitrate as a side-dress treatment was effective in overcoming the competitive effects of early-season weed interference in corn in a year with adequate late-season precipitation, but was not effective in a dry year. The best opportunity for utilizing side-dress N to recover yield due to weed interference will be to inject the N into the soil after postemergence weed control measures are conducted to minimize the amount tied up by microbes as they decompose the weed biomass on the soil surface.
Recommendations
To minimize the influence of grass weeds on N accumulation and corn yield, use residual herbicides in Roundup Ready, Glyphosate Tolerant, or Liberty Link corn. Many of these can be applied to emerged corn, so if you have already planted, you can still apply residual herbicides by themselves or as a tankmix with glyphosate or Liberty. Always check the label or with your retailer or sales rep to see which ones can be applied to emerged corn and can be tankmixed with foliar herbicides.
Reference
Hellwig, K. B., W. G. Johnson, and P. C. Scharf. 2002. Grass
weed interference and nitrogen accumulation in no-tillage corn (Zea mays L.). Weed Sci. 50:757-762.

The Benefits of Preemergence Herbicides in Roundup Ready Soybean - (Mark Loux and Jeff Stachler, Horticulture and Crop Science, The Ohio State University and Bill Johnson and Glenn Nice, Weed Specialists, Purdue University)
When Do Weeds Start To Reduce Soybean Yield?
•Weed-crop competition reduces soybean yield if weeds are not controlled early.
•To maximize soybean yield, apply postemergence (POST) glyphosate when weeds are no more than 6 inches tall.
•In this example, weeds emerged with soybeans. Applying glyphosate when weeds were 9 or 12 inches tall resulted in 6 or 10% yield loss due to weed competition prior to
control.
Data from eight studies conducted in west central OH in 2000-01.
PRE Herbicides Add Flexibility to The POST Application Window
•PRE herbicides reduce early-season weed density and slow weed growth, which results in more flexibility in POST application timing.
•Smaller weeds are less competitive and easier to control!
Data from two studies conducted in west central OH in 2000-01
PRE Herbicides Can Maximize Roundup Ready Soybean Yields
•PRE herbicides reduce early-season weed competition and improve control of tough weeds such as lambsquarters, waterhemp, and giant ragweed.
•PRE herbicides protect yield when weather or workload delays POST applications.
•In this example, use of PRE herbicides prior to POST glyphosate increased yield by 4 to 9 bushels/A, compared to POST glyphosate alone.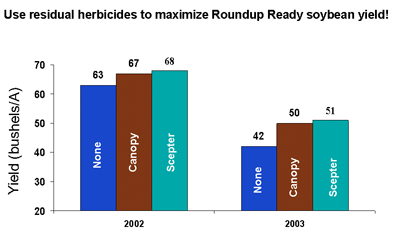 Data from two studies conducted in west central OH in 2002-03. Weeds were less than 6 inches tall at the time of POST glyphosate applications, with the exception of giant ragweed which was up to 10 inches tall in 2003.
PRE Herbicides Improve Control of Tough Weeds
Lambsquarters
•Control with POST glyphosate can be affected by weed size, age, environmental conditions, and inherent sensitivity of the lambsquarters population.
•Lambsquarters is easily controlled by many PRE soybean herbicides.
•The example at right is from field research with lambsquarters populations with reduced sensitivity to glyphosate. POST glyphosate did not adequately control lambsquarters (>90% control), except where PRE herbicides were applied.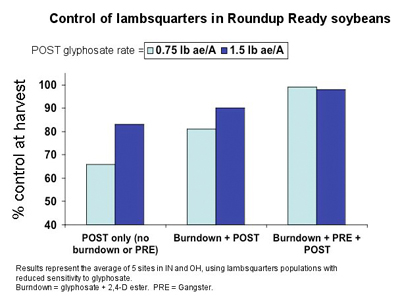 Giant ragweed
•Grows extremely fast, very competitive with soybean, and emerges well into the season.
•It is nearly impossible to time one POST glyphosate application to get season-long control and avoid early- season weed competition.
•In the example at right, use of PRE herbicide in combination with one POST glyphosate application resulted in control and yield comparable to two POST glyphosate applications in 2002, 2004-05.
•In 2003, PRE herbicide followed by one POST application was much more effective than one POST application of glyphosate (glyphosate was applied POST only once in 2003).
The Economics of PRE Herbicides in No-Tillage Roundup Ready Soybean
Tough and late-emerging weeds such as giant ragweed, waterhemp, and morningglory usually require two POST glyphosate applications or a combination of PRE herbicide followed by one POST glyphosate application. A late POST application (weeds greater than 6 to 8 inches tall) of glyphosate can result in yield loss of approximately 10%, or 4 to 6 bushels/A, and a loss in income of $48 to $72 per acre (assumes $12/bushel soybeans). PRE herbicides protect against yield loss from early-season weed competition, potentially improving net return by $36 to $60/A after cost of PRE herbicide ($12/A)
If the cost of a second POST glyphosate application is $10 and the cost of the PRE herbicide is $8 to $12, the cost of a PRE is about the same as the cost of a second POST glyphosate application. There is essentially no additional application cost for PRE herbicide use in no-till, since most fields are already treated with preplant burndown herbicides, and the PRE reduces the need for a second POST glyphosate application.
Bottom line - You can't afford not to use PRE herbicides!
For Free Herbicide Labels Go to <www.cdms.net> or <www.greenbook.net>.
Information listed here is based on research and outreach Extension programming at Purdue University, Ohio State University, and elsewhere. The use of trade names is for clarity to readers of this publication and does not imply endorsement of a particular brand nor does exclusion imply non-approval. Always consult herbicide labels for the most current and up-to-date precautions and restrictions. Copies, reproductions, or transcriptions of this document or its information must bear the statement "Produced and prepared by Purdue University or Ohio State University Extension Weed Science" unless approval is given by the author.

Fungicides on Wheat - (Gregory Shaner)

Fungal foliar diseases have yet to develop
The high price of wheat has stimulated interest in use of fungicides to protect yield. Whether a fungicide application will be profitable depends on disease pressure. We have been closely monitoring wheat at the Purdue Agronomy Farm (ACRE) and the Southeast Purdue Ag Center (SEPAC, Jennings County). There is virtually no foliar disease at either of these locations. Also, we have seen little or no fungal disease on wheat samples submitted to the Plant & Pest Diagnostic Lab.

There is still plenty of time for disease to develop. Wheat is lagging behind normal in development. At both ACRE and SEPAC, wheat is still at the jointing stage (Feekes 6), but getting close to the 2-node stage (Feekes 7). Phil Walker reports from NEPAC (Whitley County) that wheat has not yet jointed. Based on observations at ACRE over many years, it takes an average of 32 days for wheat to progress from jointing (Feekes 6) to beginning flowering (Feekes 10.51). That interval may be somewhat shorter this year, because once weather warms up, wheat will develop faster than normal.

The Septoria/Stagonospora leaf blotch complex is a common problem on wheat in Indiana. These fungi require 2 to 3 days of overcast, rainy weather to infect. At the same time, night temperatures must remain above 45°F. An epidemic can develop when there are several such weather events during April and May. After a couple of cool days right now (April 28 and 29), daily low temperatures are predicted to be above 45°F. The 6 to 10-day forecast is for normal temperatures and above normal rainfall for Indiana. As wheat nears the head emergence stage, conditions could be more favorable for leaf blotch. The absence of infections on lower leaves, however, means there is not much inoculum to start an epidemic. At this stage all we can do is look closely at lower leaves (2nd leaf below the flag leaf and lower) for signs of infection. If weather becomes more favorable for disease and lesions begin to appear, a fungicide application may be beneficial. Application at flag leaf emergence (Feekes 8 to 9) is generally most effective.

If the next couple of weeks are wetter than normal, Fusarium head blight (scab) could be a problem. There is a good weather-based risk model for this disease, available on the Web at <http://www.wheatscab.psu.edu/riskTool.html>. This model uses weather data for a week prior to initiation of flowering (Feekes 10.51) to predict the risk of severe disease, so it will not be relevant for Indiana for at least a couple of weeks. As wheat in Indiana gets closer to flowering, I will post commentary on the head blight risk model to help users assess what the risk is in Indiana.

In issue #2 of Pest&Crop I wrote an article about fungicides labeled for use on wheat. There may be a couple of additional fungicides registered soon. In that article I pointed out that most of the products are effective against leaf blotch, but only one is effective against Fusarium head blight.

Several wheat samples submitted to the Plant & Pest Diagnostic Lab have tested positive for viruses: wheat spindle streak mosaic virus, soilborne wheat mosaic virus, or barley yellow dwarf virus. Fungicides will have no effect on these diseases.
back to top

Indiana Farmers Changing to No-Till - (Contacts: Barry Fisher, Conservation Agronomist, NRCS, (317) 230-3200, ext. 350 and Mike McGovern, Public Affairs Specialist, NRCS, (317) 290-3200, ext. 324)
Data from the 2007 Indiana Cropland Tillage Transect Survey has been tallied and shows more Hoosier farmers are shifting to no-till farming. Final results indicate that no-till corn jumped from 19% in 2004 to 27% in 2007. No-till soybeans went from 61% in 2004 to 69% in 2007. Estimated soil loss reduction from the increase in no-till systems alone is more than one million tons annually in Indiana.
"Thanks to our many partners across Indiana who participated in the survey, we now have an accurate assessment of how we are managing our farms and protecting our natural resources," said Lt. Gov. Becky Skillman. "This information will help us continue Indiana's progress in conservation tillage."
"No-till and strip-till farming can have a huge impact on controlling erosion and building organic matter," said Barry Fisher, Natural Resources Conservation Service (NRCS) state agronomist and former Indiana Conservation Tillage Initiative Coordinator. "The survey confirmed for us that farmers are willing to make changes and adopt new management systems if we put technical support and program support within their reach. The transects show more no-till adoption in areas where the local Conservation Partnership staffs have made assistance and information available through no-till workshops, field days, EQIP, and partnerships and grants in watershed efforts like the St. Joseph watershed in the northeast, Sand Creek watershed in the southeast, Upper Eel River watershed in the southwest, and Tippecanoe watershed in the northwest."
By compiling the tillage data, the Indiana Conservation Partnership can tell how much progress is being made in adoption of Conservation Tillage systems, and where further adoption can help protect soil and water resources. Conservation tillage is not just no-till, but includes any system that leaves 30% or more residue coverage on the soil surface in crop fields when measured in the spring before planting.
"These are significant changes," says NRCS State Conservationist Jane Hardisty. "In the short term, reducing soil erosion by a million tons is making the water cleaner in our lakes, streams and rivers. That water is used by people for drinking and recreation. It also affects aquatic habitats here in Indiana, and every place it touches all the way to the Gulf of Mexico. In the long term, the change adds names to an ever-increasing list of farmers who are saving time, saving energy, and saving money. At the same time they improve soil and water resources in their communities and beyond."
A transect is a survey of randomly selected farm fields, used to compile statistics on just what types of tillage systems Indiana farmers use. The transects were initiated because conservation tillage systems have more potential than anything else to affect soil erosion, water quality and long term productivity of soils in the intensive cropping systems that are prevalent in Indiana agriculture.
The Cropland Tillage Transects began in 1990 as a joint effort of the Indiana Conservation Partnership members. The surveys are done by teams made up of staff from:
• Local Soil and Water Conservation Districts,
• USDA's Natural Resources Conservation Service,
• Purdue University's Cooperative Extension Service, and
• Division of Soil Conservation - Indiana State Department of Agriculture (DSC-ISDA).
The data is compiled by DSC-ISDA and is available on their Web site at <http://www.in.gov/isda/2355.htm>.
More than half of the land of the state is used for intensive crop production. Only one state has a higher percentage of prime farmland soils than Indiana's 66%, and that is Illinois at 67%. Among Indiana's most valuable resources, prime farmland soils are those designated as most productive and with the fewest limitations for growing crops.
Fisher adds, "The more Conservation Tillage there is, the more protected our soil resources are, the less soil erosion we'll have, and the cleaner our surface waters will be. Reducing erosion becomes more important when you realize that soil particles can also have fertilizer and other farm chemicals attached to them. These crop inputs are increasingly more expensive and are best kept on the land where they can be used by crops. Too much sediment will damage and disrupt the biology of streams, lakes, and rivers. We want to do all we can to keep sediment out of the water and keep topsoil on the land where it is productive."