Pest & Crop Newsletter, Entomology Extension, Purdue University


Japanese Beetle Season Begins - (Christian Krupke, John Obermeyer, and Larry Bledsoe)
Scattered reports of Japanese beetle adults indicate that their presence will soon be felt. Within two weeks, most areas in the state should be seeing this notorious pest in crops and around the home. The good news is that the grub stage of this species has, or soon will, stop feeding.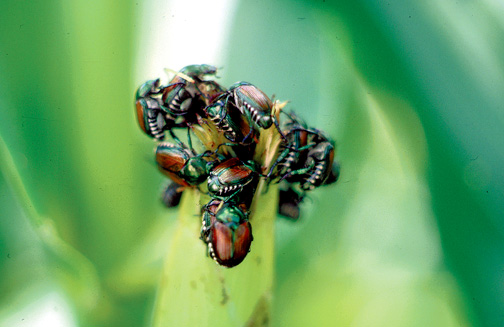 Japanese beetles "party" on ear tip.
This year's adults are the result of eggs that were laid by female beetles last summer. After these eggs hatched, the grubs immediately began to feed on a wide variety of roots and decaying organic matter in the soil. They continued feeding until cold temperatures prompted them to move deeper in the soil profile to overwinter. Early this spring, the surviving grubs returned to near the soil surface to feed. Spring root feeding by the grubs can result in serious damage to early-planted crops, especially corn. Fortunately, we have heard of very few grub problems this year.
Japanese beetles on top of the canopy attracting attention.
Japanese beetles are generalists both as adults and larvae and will feed on more than 350 different species of plants, but are especially fond of roses, grapes, smartweed, soybeans, corn silks, flowers of all kinds, and overripe fruit. Beetle damage to cultivated crops is often minimal and defoliation (leaf removal) on soybean typically looks much worse than it is, and is often most severe along borders, where "drive-by scouting" tends to occur. The beetles often congregate in several areas of a soybean field, feeding on and mating in the upper canopy. The beetles' iridescent, metallic color also frequently catches the attention of those doing "windshield" field inspections. Closer inspection will often reveal that weeds (e.g., smartweed) have made fields even more attractive to the beetles. Look for more on this pest in future issues of Pest&Crop.

Thinking of Adding Insecticides to "Clean Up The Field?" - (Christian Krupke, John Obermeyer, and Larry Bledsoe)
Fungicide applications, to both corn and soybean, are being planned for many fields throughout the state. Scouting to determine the need for a fungicide in the crop beforehand is unlikely, but there is a significant incentive to spray now and hope for yield boosts later. From the insect side, there is are concerns associated with adding an insecticide to the spray mix just to "clean up" any insects that may be present.
Lurking in every corn and soybean field, all season long, are low numbers of various species of spider mites and aphids. We rarely notice these insects when conditions remain "typical." However, treating fields with an insecticide may tip the balance in the favor of potential pest arthropods. This is because natural enemies recover more slowly from broad-spectrum insecticides compared with mites and aphids, which have an extremely rapid generation time.
Dry conditions exacerbate crop damage from mites and aphids. One major reason for this is because pathogens, that cause insect diseases, do not flourish. Just as crop diseases are more likely during wet/high humid conditions, so are insect diseases. An epizootic is quite impressive, as potentially damaging populations of mites/aphids are quickly and thoroughly wiped out. Fungicides sprayed for crop diseases also control these beneficial pathogens. This is one reason why high-value crops, e.g., fruits and vegetables, receiving prophylactic (calendar sprays) of fungicide and insecticide often have spider mite flare-ups.
Lastly, it must be emphasized that insecticides do NOT increase yield, they only preserve it. Any yield enhancing claims with insecticides are not only misleading but against the law. This one fact alone should make producers wary and monitor fields before treatments are made. Happy scouting and be informed!

Asiatic Beetle Grub Update - (Christian Krupke, John Obermeyer, and Larry Bledsoe)
We thank the pest managers that have reported to us Asiatic beetle grub infestations. Brian Willard, Crop Tech Consulting, not only found the original infestation in northern Elkhart County but has since found damaged corn from this "aggressive" grub in the southern portion of the county. Kevin Harner, Pioneer Hybrid, returned to a suspicious grub damaged field in eastern Noble County to confirm that this species was causing significant damage. Mary Gumz, Golden Harvest, also reported her find of this grub causing problems in a western Noble County field. There are also unconfirmed reports of grub activity in Kosciusko county.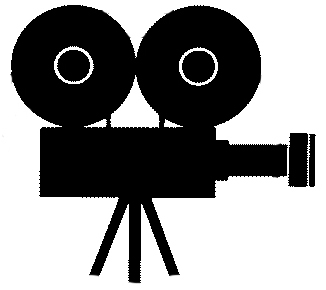 VIDEO: Watch a short video of the Asiatic beetle's damage, identification, and aggresive behavior.

Numerous Moths Flying, Likely Armyworm – (Christian Krupke, John Obermeyer, and Larry Bledsoe)
We've observed and received several reports of many moths flying at night, especially around lights. Folks have also kicked them up while mowing ditches, etc. These light brown or buff-colored moths are probably armyworm adults. The second-generation adults are seeking nectar (linden trees have been a popular choice around homes) from flowering plants for nourishment before/during mating and egg-laying. Although the moth numbers may be impressive at this time, larvae during the summer have never been documented causing problems to our crops. A similar but more widespread moth flight occurred in 2001, after the "great" armyworm invasion. No reports of damage were received that year after the inundation of second-generation moths. In short, the eggs laid by these moths are unlikely to cause us any problems.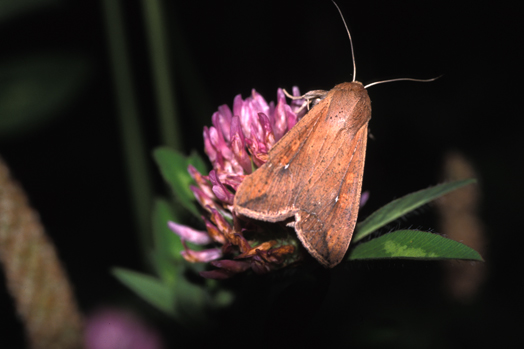 Armyworm moth feeding on clover at night

Nematode Updates: Announcing New Website for Nematology – (Jamal Faghihi, Christian Krupke and Virginia Ferris)-
Last year we had an ideal year for needle nematodes in corn. It was cold and wet, just the way needle nematodes like it. However, this year the conditions were not favorable to needle nematodes. We found no needle nematodes in the samples that we have received so far this year. It is safe to assume that the season to find corn nematodes has probably passed. The dry conditions along with high temperatures are lethal for this nematode. If these nematodes were a problem and now they have begun to disappear, plants in infested fields should be on their way to recovery and re-establishing themselves. But, even though corn might appear to be recovered, some yield damage most likely will occur.
Soybean cyst nematode (SCN) might be a different story as the high temperatures earlier in the spring caused many growers to plant soybeans early when nematodes were ready to attack. The nematodes will come out of their cysts and move in the soil when soil temperatures reach 50°F, even if soybeans are not yet present. As soon as susceptible soybean seeds have germinated, nematodes are prepared to invade the young soybean seedlings. As the soil temperature moves upward, we anticipate heavy damage to susceptible soybean from SCN, especially in sandier soils. The extent of the damage will depend on the amount of rainfall we will receive the rest of the season, because damage by SCN is more pronounced when the plants are under stress from drought. The first generation of SCN that attacked early soybean plantings should have completed their life cycle and white females should start appearing on the roots. If you have not sampled for SCN recently or have used resistant soybean cultivars for several years, you need to sample for this nematode. We will continue to emphasize the importance of sampling for SCN, as this is the only real way to monitor the SCN populations in your fields. You can sample for SCN anytime of the year regardless of the current or previous crops. Soil samples taken from a depth of 4-6 inches can be sent to our laboratory for analysis.

We just launched the Nematology website in order to provide you with current information on most of the important nematodes in Indiana. We encourage you to visit this website and hope that you will provide us with feedback on how we can improve it. The website address is <http://www.entm.purdue.edu/nematology/>
If you have any question about these or any other kinds of nematodes, you can contact Jamal Faghihi at 765-494-5901 or send an email to <jamal@purdue.edu>. Soil samples for nematode analysis can be sent to: Nematology Laboratory, Purdue University, Department of Entomology, Smith Hall, 901 W. State Street, West Lafayette, IN 47907-2089.

Click here to view the
Black Light Trap Catch Report - (John Obermeyer)