Pest & Crop Newsletter, Entomology Extension, Purdue University


Several Reports of Hessian Fly Damage in 2006 – (Sue Cambron)
Hessian fly damage reported in Tippecanoe and Vigo counties.
Planting after the fly-free date is a key management strategy for reducing Hessian fly problems.
Destruction of volunteer wheat helps rduce insect reservoir to avoid spring infestations.
Rather severe damage was reported in yield plots by wheat breeders in both Tippecanoe and Vigo counties. Spring infestation resulted in yield loss due to lodging caused by Hessian fly larval feeding. Wheat stubble and volunteer wheat are being left in an area of the Tippecanoe county plots to allow for collection of fly pupae from the fall brood to analyze population composition. This will allow for determining what Hessian fly resistance genes are effective in this area of Indiana.
The Hessian fly is present in wheat-growing areas throughout Indiana and often survives, although in lower numbers, in wheat stubble or grasses during the summer. There is potential for rapid increase of fly populations as a result of weather conditions or cropping practices that favor survival of eggs and young larvae in the fall.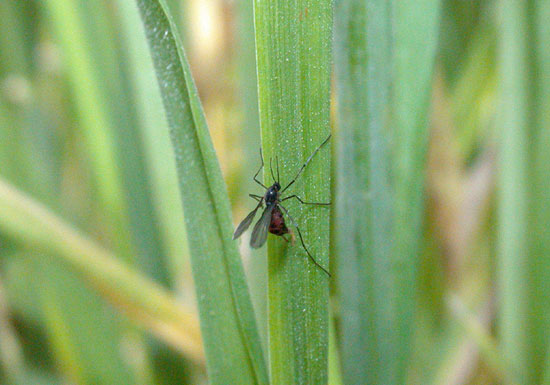 Hessian fly laying eggs on volunteer wheat.
A low fall infestation often goes unnoticed due to the tillering of the wheat plant. Much of the fall fly population can be avoided by planting after the fly-free date. This is key to avoiding subsequent infestation by the spring brood. Additionally, it has been shown that following the fly-free date will help reduce wheat disease problems and reduce winter-kill from excessive growth. Crop rotation, where wheat following wheat is avoided, also is one of the key management strategies for reducing Hessian fly problems.
The Hessian fly passes the summer in the stubble of the current wheat crop. Plowing the stubble results in the destruction of the pest. Volunteer wheat germinates and begins growing just in time for the fall emergence of the Hessian fly. These plants are readily infested resulting in a rapid build-up of the population. Removal of volunteer wheat before the emergence of the fall brood greatly reduces the insect reservoir for a spring infestation.
If weather conditions this fall are mild there could still be an infestation of flies that survive on surrounding grasses, so following the fly-free dates for planting is always recommended.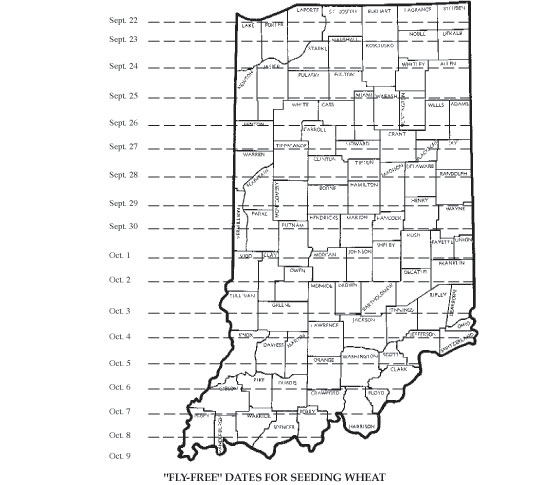 Bean Leaf Beetle Pod Feeding - (John Obermeyer, Christian Krupke, and Larry Bledsoe)
Late maturing soybean may attract bean leaf beetle.
Pod damage may result in poor seed quality.
Green pods are more attractive than yellow ones.
Management threshold depends on several factors.
Soybeans grown for seed, especially those late planted or later maturing, should be monitored for bean leaf beetle damage as leaves begin to yellow and pods remain green. Bean leaf beetles scar the surface of pods, but only occasionally feed through the pod to the developing beans. During pod maturation, this scar often cracks leaving an entry hole for air borne plant pathogens that may cause discolored, moldy, shriveled, and/or diseased beans.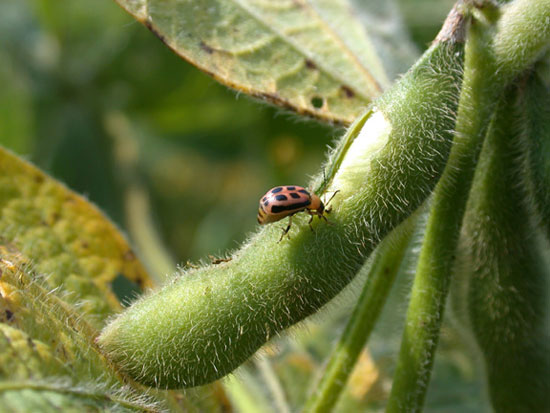 Bean leaf beetle feeding on pod.
It is important for pest managers to be able to predict whether economic damage will occur based on the types and numbers of beetles that are present and the stage of pod development (i.e., green, yellow, yellow-brown, or brown pods). Once the pods turn yellow to yellow-brown, they become less attractive and less susceptible to damage. Control is normally not warranted from this point on (see the following table).
Randomly select 2 plants in each of 5 areas of the field and count the number of pods per plant and the number that show damage (10 total plants). Figure the percentage of damaged pods per plant for the field as a whole. Note if the pods are green, beginning to turn yellow, or are yellow/brown. Also determine the number of beetles per sweep using an insect sweep net. Take 5 sets of 20 sweeps in the field. Determine the number of bean leaf beetles per sweep. Additionally, note whether beetles are still actively feeding while surveying the field.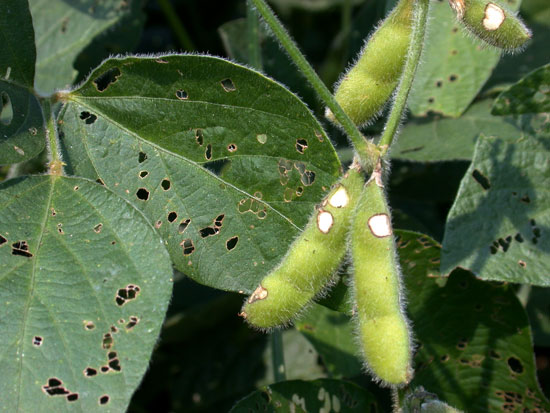 Scarred pods and leaf defoliation.
There has been considerable interest in bean leaf beetle and its association with bean pod mottle virus. Bean leaf beetle is one of major beetle-vectors of this disease. They spread the virus by feeding on infected plants, ingesting the virus with plant tissue, and then regurgitating gut content after moving to and feeding on an uninfected plant. Bean pod mottle virus symptoms at harvest include green stem and hilum bleeding. Treatment for bean leaf beetle to reduce bean pod mottle virus this time of the year is not recommended, as most disease transmission occurs early in the season.
Use the following table to determine when a treatment may be necessary.


Pod Injury Level

No. of beetles per sweep in 30 inch (7 inch) row spacing

Less than 4(3)

4(3) to 7(5)

More than 7(5)

0 to 8%
Discontinue sampling
Sample again in 5 days

Control (preventive) if pods still green

8 to 12%
Sample again in 5 days
Control if pods are still green
Control if pods are green to yellow
Over 12%
Control if pods are still green and beetles are present
Control unless pods are completely dry

Control unless pods are completely dry

Table modified from the University of Illinois.

Nematode Updates: Latest on Soybean Cyst Nematode (SCN) – (Jamal Faghihi, Christian Krupke, and Virginia Ferris)
Last year we reported some disturbing observations that current cultivars thought to be "resistant" to SCN were not quite so resistant after all. These observations were based on sampling tours of fields in northern Indiana. We did a follow-up sampling tour in the same general area again this year with similar observations. We found that several of the resistant cultivars planted in these SCN infested fields showed signs of susceptibility, such as patches of yellow stunted soybeans and presence of white and yellow females on the roots. We still don't know whether changes are occurring in the behavior of the SCN populations toward the common source of resistance (PI 88788) found in most of the currently available resistant cultivars or whether the varieties themselves are not as resistant as they used to be.
Based on these observations, we proposed a collaborative regional research project in three states; Indiana, Illinois, and Tennessee plus the province of Ontario, Canada. With funding from the North Central Soybean Research Program (NCSRP), we are studying the reaction of many field populations of SCN toward PI 88788. Up to this point, the Indiana preliminary studies indicate that 27% of the SCN populations in Indiana are capable of reproducing on PI 88788. These fields were chosen at random throughout Indiana and we do not know whether the numbers reflect a change in the behavior of the SCN populations. We plan to research the history of the fields and their past reaction toward PI 88788. When we compile data from other states we should be able to provide a more definitive response to this question.
As for the effect of SCN on yield this year, we did not have a stressful soybean year in most of Indiana. So, the direct effect of SCN on soybean yield might be less severe compared with last year. However, SCN can contribute to and magnify other problems such as SDS. Besides, SCN reproduces more and produces healthier cysts with better root growth of soybean, thus creating more inoculum for future soybean crops.
SCN is a perennial soybean problem that needs constant monitoring. We should not assume that because we may have less yield loss this year, that the following years will be problem free. This nematode can survive many years in soil without soybean and produce major soybean damage when we least expect it. We have had a huge drop in the number of samples that we have received for SCN analysis so far this year. As we have indicated in the past, you must continue to monitor the SCN populations in your fields, regardless of the types of soybean cultivars you plant. If you have not sampled for SCN in the past, or have used resistant cultivars for several years, you need to sample for this nematode. Soil samples should be taken from a depth of 4-6 inches in a random pattern throughout the field with a soil probe. Taking more sub-samples will increase the likelihood of determining a more representative population of SCN in the field. We require a pint of soil to do the analysis. There is a $10/sample charge for nematode analysis.
If you have any questions about SCN or any other kinds of plant parasitic nematodes, you can contact Jamal Faghihi at 765-494-5901 or send an email to jamal@purdue.edu. Soil samples for nematode analysis can be sent to: Nematology laboratory, Purdue University, Department of Entomology, Smith Hall, 901 W. State Street, West Lafayette, IN 47907-2089.
Bug Scout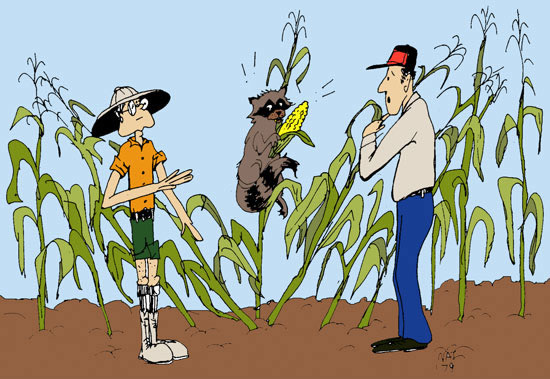 I guess we can rule it out as western bean cutworm damage!

Click for Table.
Black Light Catch Report.


Grant Funds Help Make Room For New Ideas Around the Farm and Ranch – (North Central Region – sustainable Agriculture Research and Education Program)
Any farmer or rancher will tell you that there is always room to implement a new idea to improve their operation. The problem is that those ideas usually require money. Now there is a solution to help match funds with the most innovative ideas. The North Central Region Sustainable Agriculture Research and Education (NCR-SARE) Program is currently accepting applications for their 2006 Farmer Rancher grant program.
NCR-SARE awards grants to farmers and ranchers for on-farm research, demonstrations, and education projects. By providing funds ranging from $6,000 per individual grant to up to $18,000 for grants awarded to groups of three or more, NCR-SARE helps facilitate essential agricultural research and development.
The Bauman family of Garnett, Kansas, recently received a grant through NCR-SARE to help assist in funding their new livestock management system. This system will allow the Bauman's to rotate different types of animals through the same enclosed pastures called paddocks.
"With SARE assistance, we will be able to trench water from our barns to the pastures," said John Bauman. "We will have the cattle move through the paddocks first as they don't graze as thoroughly as the sheep. The pasture will have a chance to rest before the sheep will be grazed a few paddocks behind the cows, getting everything the cows missed. The slower-moving poultry will be the last over the ground as they forage the least, but distribute their manure most evenly. The grass will then have the chance to utilize this nitrogen-rich fertilizer with a candy-green flush of grass that the cows will move back onto, and start the cycle again."
The Bauman's grant is just one example of the wide range of projects that NCR-SARE has funded over the years. Other funded topics include pest and disease management, soil conservation, local marketing, public education, waste management, agri-tourism, crop diversity, aqua-culture, and many others.
NCR-SARE grants are awarded based on the applicants ability to describe how their project will be sustainable in terms of having long-term profitability, being good for the environment, producing healthy foods, being socially responsible and supporting their community.
Last year NCR-SARE funded 47 grants totaling $414,489. This year farmers and ranchers throughout the North Central Region will once again have the opportunity to apply for roughly $400,000 in grant assistance. The 12 states that comprise the North Central Region are Illinois, Indiana, Iowa, Kansas, Michigan, Minnesota, Missouri, Nebraska, North Dakota, Ohio, South Dakota, and Wisconsin. The NCR-SARE program receives its funding through the United States Department of Agriculture.
Grant proposals are due in the NCR-SARE office by December 1, 2006. Interested applicants may contact NCR-SARE at 1-800-529-1342 or ncrsare@unl.edu. The current Farmer Rancher Grant Call for Proposals application can be found on the NCR-SARE web site at http://www.sare.org/ncrsare/prod.htm. Previous project reports are made available through the national SARE web site at http://www.sare.org.