Pest & Crop Newsletter, Entomology Extension, Purdue University


Soybean Aphid Numbers Back Down Again – (Christian Krupke)
After a spike in aphid numbers about 10 days ago, we are back down to single digits aphids/plant in most areas. At this point it is highly unlikely that aphids will make a 2006 "run" and build the populations sufficient to necessitate treatment. It is useful to note that although we had aphid numbers in the low to mid 100's/plant in some fields, followed by favorable "aphid weather" (temperatures in the 80's, low relative humidity) we did not have any of these fields reach threshold. This is an example of the importance of scouting when it comes to these pests, and of the folly of "spraying early." Growth curves of soybean aphid populations are difficult, if not impossible, to predict and the best bet is sticking to weekly counts and treating only at threshold. We will have another update on soybean aphid numbers later this month.

Harvest Restrictions for Soybean Insecticides - (John Obermeyer and Christian Krupke)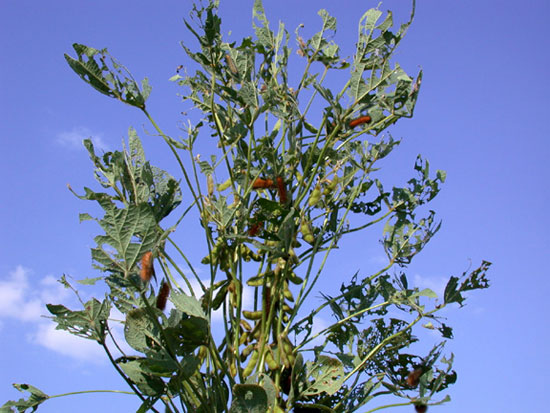 Severe woollybear caterpillar feeding.
Fortunately soybean aphid has not developed as much of a threat this year. However, defoliating insects such as bean leaf beetle, woollybear caterpillars, or grasshopper may be on the rise in some fields. The following listing includes some of the many insecticides registered for soybean insect control, including rate per acre and harvest restrictions. Refer to the label for insects controlled and specific rates and application information.
Product

Rate and Formulation

Days Before Harvest

carbaryl (Sevin)

2/3 lb. 80WSP
1-2 pt. 4F, XLR+

21
21

chlorpyrifos (Lorsban)*

1pt. 4E

28

cyfluthrin (Baythroid 2)*

1.6-2.8 oz. 2EC

45

deltamethrin (Delta Gold)*

1.5-1.9 fl. oz. 1.5EC

21

dimethoate (Dimethoate)

1 pt. 400, 4EC

21

esfenvalerate (Asana XL)*

5.8-9.6 oz. 0.66EC

21

gamma-cyhlothrin (Proaxis)*

1.9-3.2 oz. 0.5EC

45

lambda-cyhalothrin (Warrior)*

1.9-3.2 oz. 1CS

30

permethrin (Ambush)*
(Pounce)*

3.2-6.4 oz. 2EC
2-4 oz. 3.2EC

60
60

zeta-cypermethrin (Mustang Max)*

2.8-4.0 oz. 1.5EW

21

*Restricted Use Pesticide

Click for Table.
Black Light Catch Report.