Pest & Crop Newsletter, Entomology Extension, Purdue University


Winter Temperatures and Field Crop Insects – (John Obermeyer, Christian Krupke, and Larry Bledsoe)
Temperature is just one factor that impacts an insect's winter survival.
Spring temperatures and moisture generally have a greater influence on insect numbers and subsequent crop damage.
Production practices, such as date of planting, tillage type, and herbicide application, are often what makes or breaks an insect infestation.
We've had a cold and snowy December, mild January, but February has been a roller-coaster ride. Will this equate to more/fewer insects and greater/reduced crop damage this coming season? As you probably already guessed…it depends! Although we can't tell you for sure what will happen with these critters coming out of this winter, we can give you some information on insect/environment/crop interactions that might clear the picture somewhat.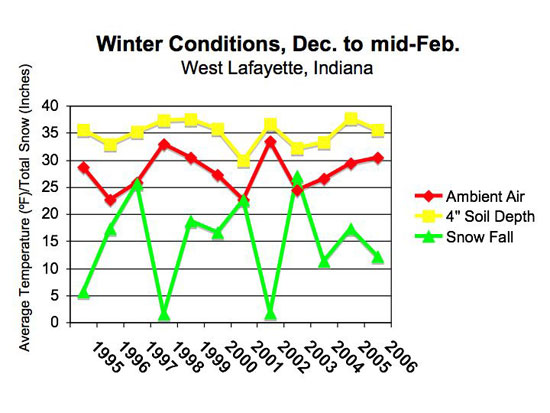 Overwintering insects utilize various behavioral and physiological mechanisms to keep them from dying during the long winter months. Survival tactics include, but are not limited to: lowering metabolic rates, chemical changes in bodily fluids, and finding "cozy" microenvironments.
Predictive models for some overwintering insects exist but it is impossible to measure all of the environmental variables that individual insects are subjected to in their overwintering locations. The graph below compares ambient air and 4"soil depth temperatures with snowfall recorded at the Agronomy Research Center in West Lafayette for twelve winters. This depicts how soil temperatures tend to follow air temperature trends. However, as snowfall amounts decrease, the temperature differential is less between the air and soil (e.g., 2002, 1998). It comes as no surprise that snow cover provides an insulating blanket for overwintering insects at or below ground level. Though the differences may seem minor to us, to a small, cold-blooded insect, it may make the difference between life and death.
Above Ground Insects:
Bean Leaf Beetle
Overwintering stage – adults under leaf litter, grass clumps, etc

Expected overwintering success – moderate to good depending on snow cover

Crop damage increases with early planted/emerging soybeans. Early in the spring beetles will feed on wild and cultivated legumes. Bean leaf beetle will then colonize the first emerging soybeans.

Concerns – besides potential reduced stands from damage to hypocotyls, cotyledons, and unifoliolate leaves, this beetle is a vector of the bean pod mottle virus. Early season inoculation with this disease will have the greatest impact on yield.
Considerations – beetle numbers were relatively low going into overwintering sites.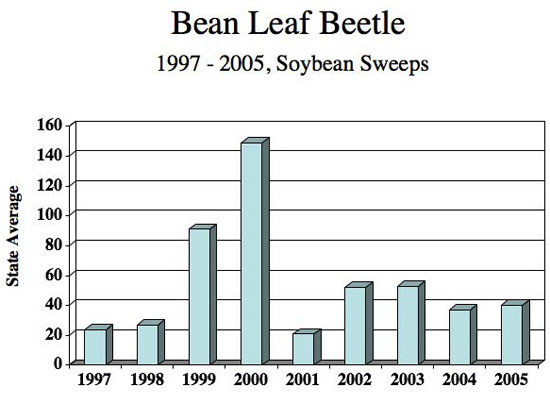 Corn Flea Beetle
Overwintering stage – adults in grassy areas or woodlots

Expected overwintering success – poor to excellent (more details in next month's Pest&Crop)

Crop damage increases with early planted/emerging corn. Early in the spring beetles will feed on grasses. Corn flea beetle will then colonize the earliest emerging corn. Some corn hybrids and inbreds are more susceptible than others.

Concerns – besides potential reduced stands from damage to emerging seedlings, this beetle is a vector of Stewart's disease. Stewart's disease is a greater threat to certain inbred lines of corn, some pop/sweet corn varieties, but rarely a concern in yellow dent corn.
Considerations – beetle numbers were relatively low going into overwintering sites.
European Corn Borer
Overwintering stage – larvae in corn stalks and possibly stalks of weed residue

Expected overwintering success – good

Crop damage increases due to first generation corn borer with – early planting and the tallest corn within an area, usually around the first week of June.

Concerns – high yielding/fast growing hybrids ("race horse") planted early in highly productive soils are often targeted by first generation egglaying moths.

Considerations – Overall populations going into overwintering were relatively low. A mild, moist spring may encourage corn borer pathogens that could drastically reduce numbers of overwintering larvae. Rainy, stormy weather during the mating and egg-laying period is detrimental to the moths. Second generation corn borer will typically cause the most damage, this has very little to do with the overwintering larvae but more to do with late-season growing conditions.
Black Cutworm
Overwintering stage – doesn't overwinter in the Midwest

Crop damage increases with large moth flights into Indiana. Moths are carried into the state on storm fronts from the southwestern United States and Mexico.

Concerns – winter annuals growing on agricultural lands are targeted egg laying sites for arriving female moths. Burn-down herbicides applied during or shortly after planting will force hatching black cutworm larvae to move from the dying weeds to emerging crops.

Considerations – a hard freeze after egg laying may reduce black cutworm survivorship. Timing and number of moths arriving into the state is quite variable from year to year. Clean fields are less likely to have problems. Early corn planting followed by favorable growing conditions during seedling establishment may out-compete larvae attempting to establish in a field.
Alfalfa Weevil
Overwintering stage – adults under crop residue and eggs in stems

Expected overwintering success – highly variable, depends on freezing/thawing cycles.

Crop damage increases with unseasonably warm early spring temperatures

Concerns – mild spring temperatures will accelerate egg hatch and adult egg laying. This will increase the number of weevil larvae feeding over a longer period of time. However, extreme spring temperatures can kill exposed adults and newly hatched larvae and can decrease concerns.

Considerations – a hard freeze after early spring growth may reduce early hatching larval populations.
Below Ground Insects: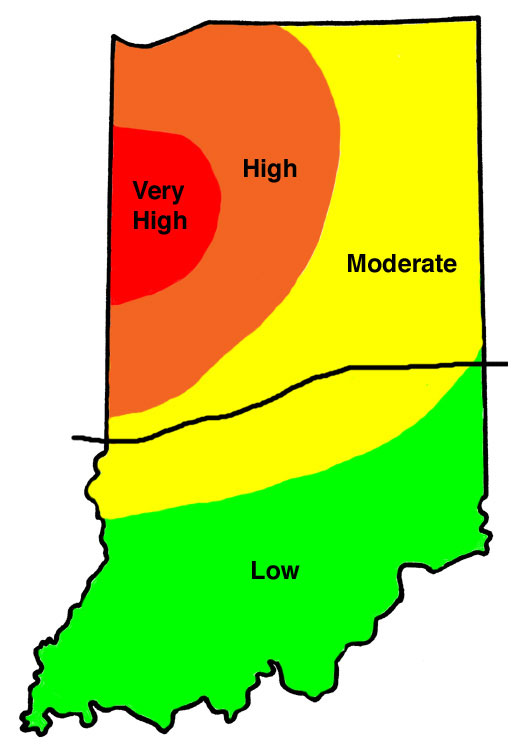 Western Corn Rootworm

Overwintering stage – eggs in the soil (from just below the soil surface to a depth of 12-15")

Expected overwintering success – good
Crop damage increases with where rootworm beetles laid numerous eggs in previous year's corn, soybean, or alfalfa crop and the field will be planted to corn in 2006.

Concerns – significant numbers of western corn rootworm beetles were observed in soybean fields last summer in northwest and west central counties (see map of "Perceived First-Year Corn Rootworm Risk Areas")
Considerations – soil insecticides applied during very early corn planting may have reduced efficacy by the time the rootworm eggs hatch in late May to early June. Cold winter temperatures have little effect on rootworm egg survival.
White Grubs
Overwintering stage – larvae/grubs in the soil

Expected overwintering success – moderate to good

Crop damage increases with early planting. Delayed crop emergence and growth will increase the opportunity for grubs to come into contact with and feed-on seedling roots.

Concerns – Japanese beetle is the predominant grub species in cultivated cropland in Indiana. Areas that experienced high numbers of Japanese beetles last year potentially have a higher risk of grub damage this spring.

Considerations – beetle numbers were relatively low last year. High organic matter soils may sustain large grub populations without significant crop damage since grubs can feed on dead and/or decaying plant matter.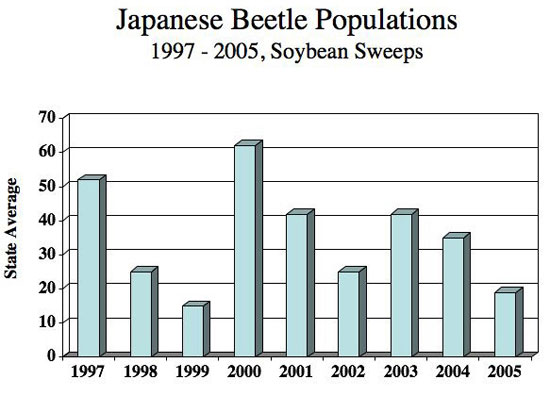 Rootworm Insecticide Classifications and Consistency of Performance - (Christian Krupke, Larry Bledsoe and John Obermeyer)
The following table lists registered rootworm soil insectticides by chemical class.
Follow label uses and restrictions.
Many factors should be considered before selecting a product.
See the following table "Factors to Consider when Choosing a Product for Corn Rootworm Protection".

Nematode Update- Seed and Soil Testing Available for Soybean Cyst Nematode - (Jamal Faghihi and Virginia Ferris)
Some SCN resistant soybean may no longer be effective in infested fields.
Testing the field's soil for SCN and resistance of intended cultivars is available at a nominal fee.
Samples submitted soon can be completed before 2006 planning.
As we eagerly wait for another planting season to begin, most producers have decided on what soybean cultivars they are going to plant. Where problems have occurred with soybean cyst nematode (SCN) in the past, they have probably chosen one or more of the "cyst-bean" cultivars to plant. Our recent field observations have shown that some of these cultivars may no longer be as effective as desired. To allow producers to check this situation and to make prudent SCN management decisions, we provide a service to check in the greenhouse the degree of resistance for these resistant cultivars.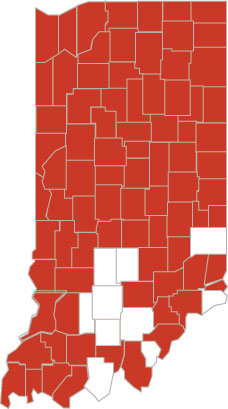 Shown in red are counties with confirmed infestation of soybean cyst nematode in Indiana.
The test requires about a gallon of infested field soil and about 100 seeds from each cultivar intended to be planted in a given field, we then expose those seeds to SCN extracted from the field soil and provide the resistance data. If there are enough SCN in the soil that you provide, this process will take about 6 weeks to complete and cost about $50 for up to five soybean cultivars. We charge $10/each additional cultivar. We also perform a race test, for an additional $50/test.
There is still time to perform any of these tests for the upcoming growing season, assuming we are able to extract enough SCN from your soil to conduct the test. If SCN are lacking in your field soil sample, we have to increase them in the greenhouse. This additional task will add another 6 weeks time to the process and add $20 cost/sample.
The best way to manage SCN is to monitor populations by sampling each field at least every 4 years. You can observe the white or yellow females on the roots only during the growing season, but you can sample the soil anytime of the year and get an accurate account of the SCN population. This is a very crucial step in SCN management and should not be neglected. As we mentioned in our articles late last year, the Indiana Soybean Board has decided to no longer pay for the soil processing fee as of January 1, 2006. However, we will continue to provide this service to growers at the cost of $10/sample, for which the submitter will receive an invoice unless we are instructed otherwise.
Click here to see table:
Factors to Consider When Choosing a Product for Corn Rootworm Protection

Can Proactive Herbicide Resistance Management Pay? – (Chris Boerboom, Ext. Weed Scientist and Paul Mitchell, Ext. Ag. Economist, University of Wisconsin)
Additional cases of glyphosate-resistant weeds in the Midwest should have Wisconsin growers thinking about management options to delay or prevent resistance. However, most growers probably think the options will cost more money compared to using low cost glyphosate in Roundup Ready crops. They might be right. But on the other hand, a glyphosate-resistant weed might be expensive to control in the future too. So in regards to resistance management, the question is: Is it more profitable to pay now or to pay later?
Another way to consider this question is to ask if a grower wants to wait until a resistant weed problem develops and react at that time by adding another herbicide or switching to a different herbicide. Reactive management is like "using a tool until it breaks, then finding a new tool". It is reasonable to assume that the cost of weed control will increase after resistance develops because an additional herbicide will be needed or weed control may not be as good. In addition, yield losses may occur during the year or two when glyphosate fails to control the weed and other herbicide options are applied too late to achieve adequate control.
Alternatively, a grower could be proactive and use options to delay resistance. This would be like "using a tool carefully so it doesn't break". Proactive management likely increases the current cost of management if the tactics used to delay resistance include herbicide tank mixtures or preemergence herbicides. Even herbicide rotations may increase short-term costs depending on the herbicide programs used. However, this increased short-term cost comes with the benefit of lower costs in the long run because resistance does not develop.
The economic choice between these two strategies depends on the number of years that it takes for resistance to develop, the cost of the options, the cost of controlling the resistant weed after it develops, and the interest rate. With this information, the most profitable choice can be calculated. Reactive management is most profitable if resistance is not likely to occur for a long time into the future. However, investing in proactive management makes sense if the cost of controlling a herbicide resistant weed is high.
Examples of these economic choices are summarized in the following table based on a paper by Mueller and others (2005). Consider these examples.
If it costs $10/a for a more expensive herbicide rotation to be proactive and it only costs an extra $2.50/a to add a tank mix partner to control a glyphosate-resistant weed, proactive management would never pay.
If the proactive option only costs an extra $2/a and the extra cost to control the glyphosate-resistant weed is only $2.50/a, the resistance would have to happen very soon (within 3 years) for the proactive management to pay.
If the proactive option only costs an extra $2/a, but the extra cost to control the glyphosate-resistant weed is very expensive ($20/a), the extra $2/a would be money well spent even if the glyphosate-resistant weed didn't develop for 29 years.
Proactive management pays if resistance occurs before the number of years listed in the table.
Additional annual cost to conrol the glyphosate- resistant weed

Additional annual cost for proactive management

$2/a

$4/a

$6/a

$8/a

$10/a

$2.50/a

3 yr

-

-

-

-

$5/a

11 yr

3 yr

-

-

-

$10/a

20 yr

11 yr

6 yr

3 yr

-

$20/a

29 yr

20 yr

15 yr

11 yr

9 yr

This example assumes a discount rate of 8%.
This suggests that weeds that are currently difficult or expensive to control without glyphosate , such as waterhemp, giant ragweed, and perhaps common lambsquarters, may be the best targets for proactive management.
Perhaps a more realistic way to consider these options and costs is to use an example with glyphoste-resistant waterhemp. In the next table, we outlined weed management programs with four levels of resistance management that ranged from none to quite high. These examples suggest that glyphosate-resistant waterhemp may be one of those weeds that could be very expensive to control. Plus, we think it suggests that there are cost effective, proactive options that can be used such as using preemergence herbicides or rotating glyphosate with other herbicide modes of action. (Note that no additional costs are included to control volunteer RR corn in the soybeans if required.)
Cost of weed management programs considering potential glyphosate-resistant waterhemp.
Cost/a

Low cost program that has high risks for selecting glyphosate-resistant weeds and high risk of yield loss because of poorly timed applications; not recommended

RR corn/glyphosate/application
RR soybean/glyphosate/application
Average accross rotation


$20
$12
$16
Program that reduces risks of resistance and yield loss by adding a pre herbicide in corn
RR corn/Harness/glyphosate/2 applications
RR soybean/glyphosate/application
Average accross rotation
$42
$12
$27
Program that further reduces risk of resistance by rotating herbicide modes of action in the corn year
Conv. corn/Lumax/application
RR soybean/glyphosate/application
Average accross rotation
$45
$12
$28.50
Program with the most proactive management; herbicide rotation plus a pre herbicide before glyphosate in soybean
Conv. corn/Lumax/application
RR soybean/Valor/glyphosate/2 applications
Average accross rotation
$45
$29
$37
Program that may be required to control glyphosate-resistant waterhemp in Roundup Ready crops
RR corn/Harness/glyphosate+Clarity/2 applications
RR soybean/Valor/glyphoste+Cobra/2 applications
Average accross rotation
$52
$37
$44.50
Prices assumed. The herbicides and prices are just used as an example. You can adjust the prices and herbicides based on your situation to make more accurate comparisons.
Roundup Ready corn (extra $20/bag)
Roundup Ready soybean (used in all examples)
custom application
preemergence Valor at 2 oz/a
preemergence Harness at 1.5 pt/a
preemergence Lumax at 3 qt/a
postemergence Clarity at 1 pt/a
postemergence Cobra at 8 oz/a
$8/a
$0/a
$7/a
$10/a
$15/a
$38/a
$10/a
$8/a
Source: Mueller, T. C., P. D. Mitchell, B. G. Young, and A. S. Culpepper. 2005. Proactive versus reactive management of glyphosate-resistant or –tolerant weeds. Weed Technol. 19:924-933.
Telephone, E-mail Addresses and Specialty

Entomology
Yaninek, Steve
(765) 494-4554
yaninek@purdue.edu
Head, Dept. of Entomology
Bledsoe , Larry
(765) 494-8324
lbledsoe@purdue.edu
Field Crop Insects
Hunt, Greg
(765) 494-4605
hunt@purdue.edu
Bee Specialist
Krupke, Christian
(765) 494-4912
ckrupke@purdue.edu
Field Crop Insects
Lam, Frankie
(812) 886-0198
wkflam@purdue.edu
Insect Pest Management, SWPAC
Loven, Judy
(765) 494-8721
loven@purdue.edu
USDA, APHIS, Animal Damage
Mason, Linda J.
(765) 494-4586
lmason@purdue.edu
Food Pest Mgmt. & Stored Grain
Obermeyer, John L.
(765) 494-4563
obe@purdue.edu
Field Crop Insects & IPM Specialist
Tammy Luck
(765) 494-8761
luck@purdue.edu
Administrative Assistant

FAX: (765) 494-2152

Dept. Web Site: http://www.entm.purdue.edu/entomology/ext/index.htm

Agronomy
Beyrouty, Craig
(765) 494-4774
beyrouty@purdue.edu
Head, Dept. of Agronomy
Brouder, Sylvie
(765) 496-1489
sbrouder@purdue.edu
Plant Nutrition, Soil Fertility, Water Quality
Camberato, Jim
(765) 496-9338
jcambera@purdue.edu
Soil Fertility
Conley, Shawn
(765) 494-0895
conleysp@purdue.edu
Soybeans, Small Grains, Specialty Crops
Gerber, Corey
(765) 496-3755
gerberc@purdue.edu
Director, Diagnostic Training Center
Joern, Brad
(765) 494-9767
bjoern@purdue.edu
Soil Fertility, Waste Mgmt.
Johnson, Keith D.
(765) 494-4800
johnsonk@purdue.edu
Forages
Mansfield, Charles
(812) 888-4311
cmansfie@purdue.edu
Small Grains, Soybean, Corn
Nielsen, Robert L.
(765) 494-4802
rnielsen@purdue.edu
Corn, Sorghum, Precision Agriculture
Steinhardt, Gary
(765) 494-8063
gsteinha@purdue.edu
Soil Mgmt., Tillage, Land Use
Vyn , Tony
(765) 496-3757
tvyn@purdue.edu
Cropping Systems & Tillage
West, Terry
(765) 494-4799
twest@purdue.edu
Soil Mgmt. & Tillage
Lisa Metts

(765) 494-4783


lmetts1@purdue.edu
Extension Secretary

FAX: (765) 496-2926

Botany and Plant Pathology
Bauman, Tom T.
(765) 494-4625
tbauman@purdue.edu
Weed Science
Johnson, William
(765) 494-4656
wgj@purdue.edu
Weed Science
Nice, Glenn
(765) 496-2121
gnice@purdue.edu
Weed Science
Rane, Karen
(765) 494-5821
rane@purdue.edu
Plant & Pest Diagnostic Lab
Ruhl, Gail
(765) 494-4641
ruhlg@purdue.edu
Plant & Pest Diagnostic Lab
Shaner, Greg
(765) 494-4651
shanerg@purdue.edu
Diseases of Field Crops
Westphal, Andreas
(765) 496-2170
westphal@purdue.edu
Soil-borne Diseases
Whitford, Fred
(765) 494-4566
fwhitford@purdue.edu
Purdue Pesticide Programs
Woloshuk, Charles
(765) 494-3450
woloshuk@purdue.edu
Mycotoxins in Corn
Amy Deitrich
(765) 494-9871

amymd@purdue.edu
Extension Secretary

FAX: (765)494-0363

Agricultural & Biological Enginerring
Engel, Bernie
(765) 494-1162
engelb@purdue.edu
Interim Head, Dept. of Ag. & Bio. Engr.
Ess, Daniel R.
(765) 496-3977
ess@purdue.edu
Precision Ag., Ag System Mgmt.
Frankenberger, Jane
(765) 494-1194
frankenb@purdue.edu
GIS and Water Quality
Maier, Dirk
(765) 494-1175
maier@purdue.edu
Post Harvest Engineering
Mack, Strickland R.
(765) 494-1222
strick@purdue.edu
Precision Farming Appl.
Carol Glotzbach
(765) 494-1174

glotzbac@purdue.edu
Extension Secretary

FAX: (765) 496-1356