Pest & Crop Newsletter, Entomology Extension, Purdue University


Seed-Applied Insecticide for Soybean – (John Obermeyer, Larry Bledsoe, and Christian Krupke)
Cruiser seed insecticide labeled for soybean.
Insecticide is systemic throughout the seedling.
Bean leaf beetle numbers are low and of little threat to the 2005 crop.
Soybean aphid numbers typically build after the Cruiser has diminished.
Some planting/field conditions may benefit from seed-applied insecticide/fungicide treatments.
Early this winter, EPA approved the use of Cruiser 5FS insecticide for use on soybean seed. Cruiser (thiamethoxam) is not a stranger to the Midwest, as it has been used in low and high rates on corn for several years. Cruiser 5FS is applied at 1.28 fluid ounces per 100 pounds of soybean seed by specialized application equipment. Just as with Cruiser and Poncho for corn, producers must order their seed with this product pre-applied.
Cruiser on soybean seed is labeled to "provide early season protection of seedlings" against injury by bean leaf beetle, seedcorn maggot, wireworm and soybean aphid. Thiamethoxam is a member of the nicotinoid class of insecticides. These products, when applied to the seed, are translocated throughout growing seedlings to protect the above and below ground portions of the plant from insects. Cruiser® Maxx® Pak includes the fungicides mefenoxam and fludioxonil to protect seedlings from early-season diseases. Because the estimated cost per acre for this combination of pesticides is around 10 to 12 dollars, producers should put some serious consideration into the use of this product.
University field trials with bean leaf beetle have shown considerably less seedling feeding where Cruiser is compared to an untreated check. Most research showing significant feeding/yield differences have come from the western Corn Belt where bean leaf beetle populations have been consistently higher. Bean leaf beetle, especially the overwintering adult that feeds on seedlings, has shown to be a vector of bean pod mottle virus (BPMV). BPMV has been weakly implicated in causing green stem of soybean plants at harvest, which has baffled seed company agronomists for years. The following graph shows that bean leaf beetle numbers have been unimpressive in Indiana over the last several years. A dramatic rebound in numbers is certainly not expected for the 2005 season. In a few weeks we will run a temperature model that predicts winter mortality of bean leaf beetle, it likely will project a 50-70% winter kill.
Since the soybean aphid was detected in the United States in 2000, this pest has reared its ugly head every odd year (i.e., 2001 and 2003). The anticipation for this pest in 2005 has been high, although not to the degree as soybean rust. Some variables, such as a significant fall aphid flight to its wintering host buckthorn and lower aphid predator numbers this spring are known. However, a sequence of several more variables must yet occur (e.g., summer migration from high density areas, cooler temperatures, etc.) before soybean aphid threatens our crop this season. Cruiser, having soybean aphid on the label, has caught the attention of many producers. Remember, the label states it will "provide early season protection of seedlings." A University of Minnesota lab bioassay showed that Cruiser provided about a month of protection from the date of planting. This would be of benefit if soybean aphid is a major threat early in the season. However, in 2001 and 2003, it was always a late July to August aphid migration from the upper Midwest to Indiana fields that caused our high and damaging populations. In other words, fields treated with Cruiser will have no protection by mid-season and will need to be treated with a foliar insecticide if the economic threshold of 250 aphids/plant is reached.
Until we see significant and consistent yield advantages to Cruiser seed treatments on soybean, we cannot recommend this product for all commercial soybean fields. No-tilling into fields with high amounts of green or animal manure may benefit from insecticide protection where seedcorn maggot is a greater threat. As well, early planting into fields that are poorly drained may increase the likely hood of early season diseases and the need for proven fungicides included with the Maxx Pak. Too, soybean grown for seed production, where quality is rewarded, will likely have an economic return where this product is used. Lastly, double-crop soybeans may benefit from late season aphid protection, but the economics of increased cost of treated seed and smaller yields from late planted beans should be considered.

Rootworm Insecticide Classifications and Consistency of Performance - (John Obermeyer, Larry Bledsoe, and Christian Krupke)
The following table lists registeredrootworm soil insecticides by chemical class.
Follow label uses and restrictions.
Many factors should be considered before selecting a product.
Click for table.
Factors to Consider when Choosing a Product for Corn Rootworm Protection.

Christian Krupke, New Field Crops Entomologist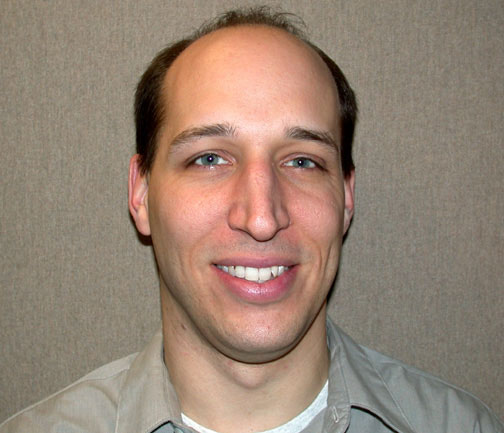 Christian H. Krupke , PhD, has accepted the position of Assistant Professor in Field Crops Entomology at Purdue University, effective January 18, 2005.
Christian completed his undergraduate degree in Biological Sciences at the University of Guelph, Canada in 1995. He then received a Masters degree with an emphasis in pest management from Simon Fraser University in 1999, and completed his Ph.D. with Vince Jones and Jay Brunner of Washington State University in 2004, where his dissertation research focused on the pheromone response and mating behavior of the consperse stink bug.
Christian's field crops program will focus on how emerging pest management strategies such as genetically-modified crops may affect insect behavior and ecology in order to make predictive hypotheses about how to best utilize these new tools. Insect movement is poorly understood in general, and has obvious and far-reaching implications in transgenic field crops where a detailed knowledge of dispersal and mating is necessary when planning appropriate resistance management strategies (i.e., size and design of non-transgenic refugia).
Christian currently lives in Lafayette with his wife, Jennifer and 2-year old daughter, Linnaea. They will welcome their second child in mid-August of this year, so if he does not answer the phone around that time, you now know why. Christian can be reached at 765-494-4912.


Wheat Tiller Number and Spring Nitrogen Recommendations – (Shawn P. Conley, Peter Scharf, Charles Mansfield, and Ellsworth Christmas)
The target population for an optimal stand of winter wheat in the fall is between 30 and 35 plants per foot. Generally environmental conditions in the fall allow winter wheat seedlings to produce an additional 2 to 3 fall tillers; however due to delayed wheat planting and cool wet environmental conditions last fall, tiller number may be reduced. Therefore, to increase tiller number and crop yield it may be beneficial to apply nitrogen at greenup in 2005.
In wheat, nitrogen serves two important functions. Nitrogen fertilizer may be used to manipulate the population (increase tiller number) as well as supply the nutritional needs of the crop to produce protein. Therefore, wheat tiller number is an important indicator of nitrogen application timing. Research indicates that if tiller number is greater than 70 per square foot it may be beneficial to delay nitrogen application until just prior to jointing. The advantage of a delayed nitrogen application is an increase in nitrogen use efficiency and a potential yield increase, however if tiller number is less than 70 per square foot it is recommend to apply nitrogen at greenup in order to increase the effective plant population.
Generally when wheat follows soybean 90 to 100 pounds of nitrogen per acre in the spring is enough to support vigorous stem elongation and head development. However, the amount of nitrogen needed is often more variable for wheat following corn. Nitrogen variability following corn is related to the environmental conditions that both the corn and wheat crop have been exposed to. If environmental conditions were conducive to maximize corn yield then very little residual nitrogen may be available, however if environmental conditions were dry and corn yield was low then residual nitrogen may be much greater. Therefore, when wheat follows corn a tissue test to predict the optimal amount of N needed may prove beneficial.
Table 1. Guidelines for nitrogen used based on plant tissue test.

Plant N %

N Recommendation lb/ac

2.3
2.7
3.2
3.6
4.0

100
80
60
40
20
Plant samples for a tissue test should be taken just prior to jointing. It is important to take representative samples and avoid areas of the field that look different than the field as a whole. Plants should be cut approximately ½" off the ground and any soil or dead leaf tissue removed. Place samples in a paper bag and ship immediately to the lab; never put samples in a plastic bag. Please refer to Table 1 for N recommendations based on plant tissue test.

Planter Maintenance: Less Down Time, More Yield
-
(Bob Nielsen)
The days are getting longer and temperatures are slowly rising. That can only mean that corn planters will soon be running in fields across Indiana. If you haven't taken the time to go over your planter or have it inspected and serviced by your local dealer, please take the time to do so before planting begins.
A well-maintained planter will lessen the risk of down time and ensure a timely finish to planting this spring. Another benefit to a smooth-running planter will be a greater likelihood of uniform stand establishment; an important factor for achieving maximum yields (Doerge et. al., 2002; Nielsen, 2001; Nielsen, 2004).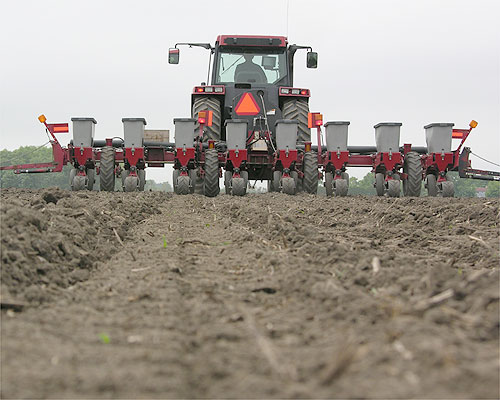 Several seed companies plus a number of planter dealers offer planter unit testing with the use of several planter test stands on the market. One of the more popular test stands being used is called the Meter Max™, manufactured by Precision Planting™ http://precisionplanting.com. This type of planter test stand not only measures the accuracy of seeding rate, but can also give you an idea of the uniformity of the seed drop by virtue of the seed dropping onto a horizontal seed belt.
Check out the related references below for links to service support Web pages at Case-IH, Deere, and Kinze. Here are some general guidelines and tips for planter maintenance and adjustments.
Clean the planter inside and out. This should have been done at the end of last year's planting season before the planter was 'put to bed' for the off-season. Check for old seed left in the hoppers, mouse nests, and anything else that may interfere with the operation of the seed meter or seed drop tubes.
Check and replace all worn out parts.
Ensure that coulters and disc openers are aligned accurately.
Replace worn seals and check trueness of fit of seed drum (Case IH Cyclo™).
Replace worn rubber seals on JD vacuum seed discs.
Adjust or replace worn disc openers.
For finger-pickup type planters, check finger-pickup back plates for rust buildup, seed treatment residues, and worn down 'dimples'. Check and adjust finger tension.
Check condition of seed conveyor belt. Age + seed treatment = brittleness. Also check condition of belt drive sprocket teeth.
Replace worn chains. Lubricate or replace chain links.
Inflate tires to their correct pressure.
Clean seed tubes and monitor sensors to ensure accurate monitoring of seed flow.
Replace seed tubes if excessively worn at bottom.
CALIBRATE THE PLANTER!
For air or vacuum planters:
- Calculate & record the seed weight for each seed lot you intend to plant.
- Identify & record the correct pressure (air or vacuum) for the calculated seed weight.
- Identify & record the correct seed disc (or drum) for the calculated seed weight.
Double-check the operations manual and identify the correct transmission setting for the desired seeding rate.
Calibrate actual seed drop against ...
- Planter transmission settings
- Planter monitor readouts
Calibrate at normal planting speeds and seeding rates.
- Calibrate in as close to field conditions as possible.
- Don't calibrate the planter in the farm lane.
Calibrate pesticide and fertilizer planter attachments at same time because application rates can easily change from year to year.
Check that the planter toolbar is parallel to ground when planter is in use because this affects disc opener depth, press wheel efficiency, & seed to soil contact.
Related References
Case-IH. 2004. Parts & Service. Available online at www.caseih.com/parts/parts.aspx?navid=123&RL=ENNA [URL verified 2/21/05].
Deere & Co. 2004. John Deere Services and Support. Available online at http://www.deere.com/en_US/ag/servicesupport/index.html [URL verified 2/21/05].
Doerge, Tom, Tom Hall, and Doug Gardner. 2002. New Research Confirms Benefits of Improved Plant Spacing in Corn. Crop Insights Vol. 12, No. 2. Pioneer Hi-Bred Int'l, Johnston, IA. Available online at http://www.pioneer.com/usa/agronomy/corn/1202.htm [URL verified 2/21/05].
Kinze Manufacturing. 2004. Kinze Product Service. Available online at http://www.kinzemfg.com/service.html [URL verified 2/21/05].
Kinze Manufacturing. 2004. Kinze Finger Pickup Corn Meters: Repair, Maintenance and Adjustments. Available online at http://www.kinzemfg.com/pdf/servicepdfs/cmeterfact-020101.pdf [URL verified 2/21/05].
Kinze Manufacturing. 2004. Kinze Row Unit and 3000 Series Planter Maintenance Reference Guide. Available online at http://www.kinzemfg.com/pdf/servicepdfs/rum1000.pdf [URL verified 2/21/05].
Nielsen, R.L. (Bob). 2001(rev). Stand Establishment Variability in Corn. Agry-91-01. Purdue University Agronomy Dept. Available online at http://www.agry.purdue.edu/ext/pubs/AGRY-91-01_v5.pdf [URL verified 2/21/05].
Nielsen, R.L. (Bob). 2004. Effects of Uneven Plant Spacing on Corn Grain Yield. Corny News Network Research Updates. Purdue University. Available online at http://www.kingcorn.org/research/psv/Update2004.html [URL verified 2/21/05].
Don't forget, this and other timely information about corn can be viewed at the Chat 'n Chew Café on the Web at http://www.kingcorn.org/cafe. For other information about corn, take a look at the Corn Growers' Guidebook on the Web at http://www.kingcorn.org.