Pest & Crop Newsletter, Entomology Extension, Purdue University

Dear Pest&Crop Readers:
We need your HELP. We want the Pest&Crop to better serve your needs. Please take a couple minutes now for this confidential, online survey. Thank you for your time! Click the following link:
<
http://tinyurl.com/kz65egl
>

Post Harvest Update and Recertification Workshop - (Linda Mason) The Post Harvest Update and Recertification Workshop will be held December 16, 2013 at the Beck Agricultural Center, Purdue Agronomy Center for Research and Education, 4540 U.S. 52 W., West Lafayette, IN 47906. Pre-register and save money, $95.00 by Dec. 9 and $110.00 after. Registration is limited.
The schedule of the day:

8:30 AM Registration, Coffee & Donuts
9 AM - 12 PM Sessions
12 - 1 PM Catered Lunch Provided
1 - 4 PM Sessions
4 PM Complete Certification Forms

CCH's applied for: 1 (6 CCH's); 4 (4 CCH's); 7A (6 CCH's)' 7D (5 CCH's); RT (4 CCH's). Watch for more detail on our Post Harvest and Grain Quality Website: <http://extension.entm.purdue.edu/grainlab/content/pdf/postharvest.pdf>.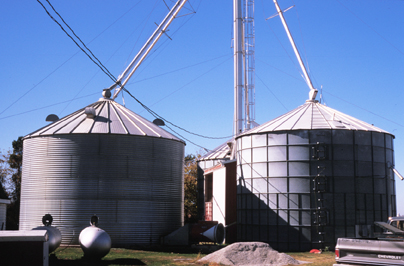 Announcing the 2014 Crop Management Workshops– (John Obermeyer)
The Purdue Pest Management Program is offering a series of Crop Management Workshops (CMWs) to be held at five locations through Indiana. Here are the locations and dates:
Monday – January 27, 2014 – Plymouth, Swan Lake Resort
Tuesday – January 28, 2014 – Bluffton, Wells County
Community Center
Wednesday, January 29, 2014 – Batesville, Walhill Farm,
The Barn
Thursday, January 30, 2014 – Huntingburg, Huntingburg
Event Center
Friday, January 31, 2014 – West Lafayette, Beck Agricultural
Center
The Schedule is (Times listed are Eastern Time)
8:30 AM – 9 AM Registration
9 AM – 12 PM Morning Presentations
12 PM – 12:45 PM Lunch Provided
12:45 PM – 4:30 PM Afternoon Presentations
This year's topics include:
Complaints, Inspections, and Other RegulatoryRevelations - Joe Becovitz
Pigweeds, Hogweeds, and Marestail...Oh My! - Bill Johnson and Travis Legleiter
Fertilizers and Lime: What Do I Really Need? - Jim Camberato
Update on Soybean Cyst Nematode - Jamal Faghihi
Emerging Field Crop Disease Issues - Kiersten Wise
Insect IPM and the Swiss Army Knife: Multiple Tools Work Better - Christian Krupke
Set the Table for High Corn Yields with Successful Stand Establishment - Bob Nielsen
The Science and Reality of Adjuvants: Are They Needed for Herbicides? - Fred Whitford
The topics of these meetings are adapted from the previous cropping year, new technologies, questions asked by agribusiness personnel, and suggestions from past CMWs. Certification credits for Indiana's commercial (CCH) and Private (PARP) Pesticide Applicators and Certified Crop Advisors (CEU) will be awarded to attendees. Credits for Ohio applicators have been requested.
Brochures will soon be mailed to all Indiana Commercial Pesticide Applicators and Certified Crop Advisors. On-line registration, and a PDF brochure will available on Monday, November 25 at <http://www.conf.purdue.edu/crop>. Click on the Crop Management Workshop you want to attend. Looking forward to seeing you there!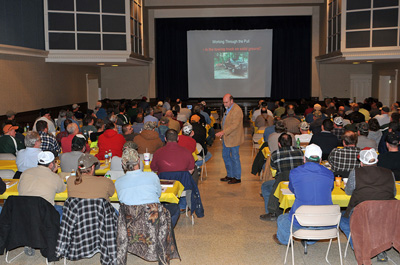 INSECTS, MITES & NEMATODES
Alfalfa Weevil
Alfalfa Weevil Starts to Emerge; Growers Need to Scout Fields – 3
Aphids
Aphids in Wheat – 2
Armyworm
Armyworm Look-Alike in Wheat – 8
Insect Pest Update: Mostly Good, Some Surprises - 20
Asiatic Garden Beetle
Smattering of Insect Damage Reports – 10
Black Cutworm
Black Cutworm Adult Pheromone Trap Report – 2, 3, 4, 5, 6, 7
Black Cutworm Moths Blowing Into Indiana – 3
Will Insect Pest Pressure Be "Normal" This Year? – 5
Black Cutworm Moth Catches Increasing – 6
Black Cutworm Development May Coincide With Emerging Corn - 7
Black Light Catch Report
Black Light Trap Catch Report – 5, 6, 7, 8, 9, 10, 11, 12, 13, 14, 15, 16, 17, 18, 19, 20, 21
Brown Marmorated Stink Bug
Brown Mamorated Stink Bug Making Its Presence Known – 24
Corn Earworm
Corn Earworm Pheromone Table Link – 15
2013 Corn Earworm Trap Report – 16, 17, 18, 19, 20, 21
Corn Flea Beetle
Winter Temperatures, Corn Flea Beetle Survival, and Potential for Stewart's Wilt - 1
Corn Rootworm
Corn Rootworm Hatch Has "Officially" Begun in West Central Indiana - 10
Corn Rootworm Resistance: Latest News and What it Means for Indiana Producers - 15
Insects (Miscellaneous)
Handy Bt Trait Table – 1
VIDEO: Soybean Vein Necrosis Virus Research at IPFW - 24
Japanese Beetle
Japanses Beetles Emerging – 12
Millipede
Innocent Insects Feeding on Dead/Dying Seedlings Often Falsely Accused! – 9
Nematodes
Nematode Updates – Corn Parasitic Nematodes – 14
VIDEO: Soybean Cyst Nematode Plot Time-Laspe - 24
Potato Leafhopper
Sweep Net Time for Potato Leafhopper – 12
Potworms
Innocent Insects Feeding on Dead/Dying Seedlings Often Falsely Accused! – 9
Seedcorn Maggot
Seedcorn Maggot Potential for Planted Soybean – 8
Slugs
Slugs Reported in Cover Crops Before Planting – 6
Soybean Aphid
Soybean Aphid: Something to Consider in Future Weeks – 16
Soybean Aphid Update – 17
Soybean Aphid Activity Picking Up – 18
Insect Pest Update: Mostly Good, Some Surprises - 20
Spider Mites
Will Insect Pest Pressure Be "Normal" This Year? – 5
Spider Mites Appearing in Dry Soybean Fields - 21
Springtails
Innocent Insects Feeding on Dead/Dying Seedlings Often Falsely Accused! – 9
Western Bean Cutworm
Managing Western Corn Rootworm Resistance to Bt on the Fringe – 4
Western Bean Cutworm Moth Flight Begins - 13
Western Bean Cutworm Adult Pheromone Trap Report – 13, 14, 15, 16, 17, 18, 19, 20
Western Corn Rootworm Beetles Emerging – 14
Western Bean Cutworm Flight Intensifying - 17
Wireworm
Detecting Wireworms Prior to Planting: It's Easy and Fun – 1
VIDEO: Wireworm Solar Bait Trap Sorting - 1
VIDEO: Wireworm Flour Bait Trap Sorting - 1
WEEDS
Control
Using Your Water Quality Test Results to Determine How Much AMS to Add to Your Spray Mixture – 1
Spring Burndown Applications To Weeds and Cover Crops – 3
Control of Dandelion in No-till Corn and Soybean – 7
Scout and Identify Pigweed Species Now – 9
VIDEO: Palmer Amaranth Identification – 9
Palmer Amaranth Update – 13
VIDEO: Identifying Palmer Amaranth in The Fiend - 16
Herbicides
How to Effectively Use the Corn and Soybean Herbicide Chart – 4
Weed Science Update: Herbicide Drift Samples – 8
Use Fall Herbicide Treatments for Marestail (Horseweed) - 24
Other
Stunted, Burned, and Crinkled Soybean Plants – 11
2013 Respect for Rotation Plot Tours - 14
PLANT DISEASES
Corn
Distinguishing Spots on Corn; Holcus Leaf Spot vs. Gramoxone Drift - 10
VIDEO: Spots on Corn: Disease or Drift? – 11
Conditions Favorable for Foliar Diseases of Corn – 15
Managing Rotten Corn: An Overview of Corn Ear Rots – 22
VIDEO: Gibberella Ear Rot - 22
Soybeans
New Resources Available to Help Manage White Mold in Soybean – 14
Soybean Vein Necrosis Virus Confirmed in Indiana – 17
Sudden Death Syndrome and Brown Stem Rot in Soybean – 19
Foliar Disease Update for Soybean – 19
Are Late-planted Soybeans at Risk for Soybean Rust? - 21
Wheat
Wheat Virus Diseases Prevalent in Indiana Fields – 2
Time to Monitor Risk of Fusarium Head Blight (Scab) in Wheat – 6
Update on Fusarium Head Blight and Stripe Rust of Wheat – 7
Fusarium Head Blight (Scab) Present in Indiana - 12
AGRONOMY TIPS
Corn
The Planting Date Conundrum for Corn – 3
Plentiful Winter and Spring Precipitation – Nitrogen Carryover Unlikely for Most of Indiana – 4
Hybrid Maturities for Delayed Planting – 5
The Pace of Corn Planting Progress Over Years: Another Conundrum – 6
Consider Injury from Pop-up Fertilizer When Troubleshooting Corn – 9
Root Development in Young Corn – 9
Sulfur Deficiency in Corn – 10
Delayed in Planting Soybean? – 10
Effects of Flooding or Ponding on Young Corn – 11
Prevalent Purple Plants Perennially Puzzle Producers – 11
Purple Corn & Red Flags – 11
Striped Corn – Potential Nutritional Deficiencies – 12
Damage to Corn Plants by Strong Winds – 15
When Will My Corn Crop Mature? – 18
Tassel-ears in Corn – 19
Unseasonable Cool Weather: Good or Bad for Corn During Grain Fill? – 20
Grain Fill Stages in Corn – 21
Corn Yield, Frosting, & Cake – 22
Field Drydown of Mature Corn Grain – 22
Corn Stalk Nitrate – Research Update - 23
Misc.
Nitrogen Loss 2013
Soybeans
Double Crop Soybean Planting Decisions – 15
Estimating Soybean Yield Potential – 22
VIDEO: Estimating Soybean Yields – Simplified - 22
BITS & PIECES
2013 Popcorn Agri-Chemical Handbook - 1
Extension Specialists Listing – 1
Corn, Soybean Field Guide Now Offered as iPad App – 8
Davis Purdue Ag Center Field Day August 27 – 20
Announcing the 2014 Crop Management Workshops - 25
Post Harvest Update and Recertification Workshop - 25

WEATHER UPDATE
Appears in most issues