2012 Crop Management Workshops… Mark Your Calendar
– (
John Obermeyer
)
The Purdue Pest Management Program is offering a series of Crop Management Workshops (CMWs) to be held at five locations through Indiana. Here is the locations and dates:
Monday – January 23, 2012 – Porter Co. Expo Center, Valparaiso, IN
Tuesday – January 24, 2012 – Wells Co. Community Center, Bluffton, IN
Wednesday, January 25, 2012 – Holiday Inn, Columbus, IN
Thursday, January 26 - Huntingburg Event Center, Huntingburg, IN
Friday, January 27 – Beck Agricultural Center, West Lafayette, IN
Schedule: (Valparaiso is Central Time – Other Sites are Eastern Time)
8:30 AM – 9 AM Registration
9 AM – 12 PM Morning Presentations
12 PM – 12:45 PM Lunch Provided
12:45 PM – 4:30 PM Afternoon Presentations
The topics of these meetings are adapted from the previous cropping year, new technologies, questions asked by agribusiness personnel, and suggestions from past CMWs. Certification credits for Indiana's commercial (CCH) and Private (PARP) Pesticide Applicators and Certified Crop Advisors (CEU) will be awarded to attendees. Credits for Ohio applicators have been requested.
Brochures will soon be mailed to all Indiana Commercial Pesticide Applicators and Certified Crop Advisors. On-line registration is available at <http://www.conf.purdue.edu/crop>. Click on the Crop Management Workshop you want to attend. Looking forward to seeing you there!
State of Indiana marked with stars showing the counties where the meetings will be held)

Post Harvest Update and Recertification Workshop - (Linda Mason)
The Post Harvest Update and Recertification Workshop will be held December 5, 2011 at the Beck Agricultural Center, Purdue Agronomy Center for Research and Education, 4540 U.S. 52 W., West Lafayette, IN 47906.
Pre-register and save money $95.00 by Dec. 1 and on-site is $110.00. Registration is limited. The schedule of the day:
8:30 AM Registration, Coffee & Donuts
9 AM - 12 PM Sessions Begin
12 - 12:30 PM Catered Lunch Provided
1 - 4 PM Sessions Continue
4 PM Complete Certification Forms
CCH's have been applied for. Watch for more detail on our Post Harvest and Grain Quality Website: <http://extension.entm.purdue.edu/grainlab/>.
The registration is handled by the Agribusiness Council of Indiana. Contact Emmalee Hinton, PH: 317-454-8055 or email: ehinton@inagribiz.org.

Good Bye And Good Luck to Glenn Nice - (Amy Deitrich)
After serving as the Botany & Plant Pathology Department Weed Science Professional Assistant for 10 years, Glenn Nice recently left to head up the pesticide program at University of Wisconsin-Madison.
Glenn was a true "team player" and was an excellent resource and asset for the Purdue Weed Science program and the crop production group at Purdue. In addition to co-authoring multiple publications and newsletter articles, he designed and maintained the Purdue Weed Science web pages, gave hundreds of talks at PARP and DTC events, and provided plant identification and herbicide injury diagnosis to the Plant & Pest Diagnostic Lab.
Glenn always answered his telephone and email and gave advice and counsel to untold numbers of growers in Indiana and surrounding states. We wish Glenn the best of luck at Wisconsin!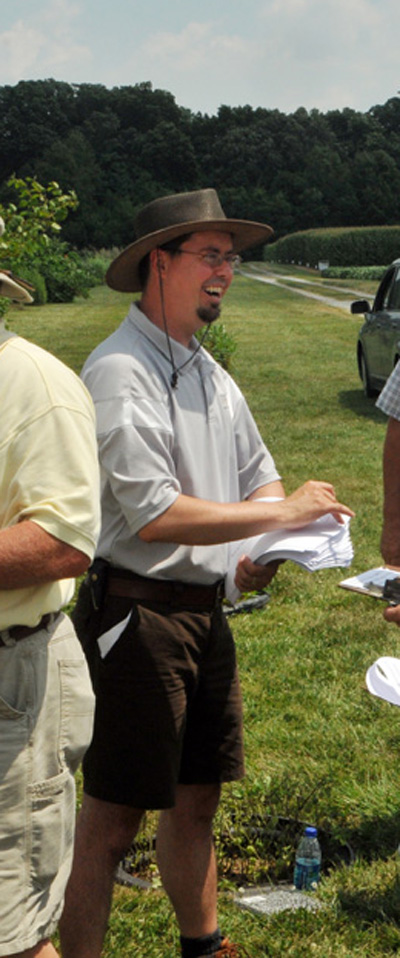 Good bye Glenn Nice!

Congratulations to Kiersten Wise - (John Obermeyer)

Kiersten was the recent recipient of the Purdue University Cooperative Extension Specialists (PUCESA) early career award for her outstanding program efforts in field crop's plant diseases. As you know, Kiersten has been a regular contributor to the Pest&Crop, providing disease updates through articles and videos. Way to go Kiersten...well deserved!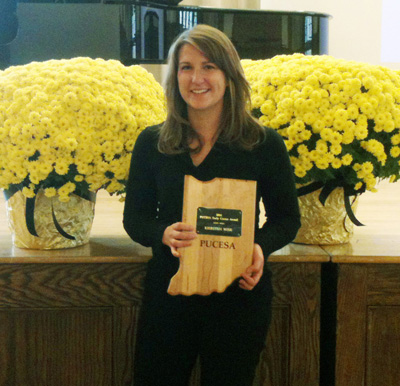 Kiersten Wise received the PUCESA early career award