Asian Soybean Rust Found in U.S. - (Gregory Shaner, Shawn Conley, and Ellsworth Christmas)
The USDA reported Nov 10 that the Asian soybean rust fungus, Phakopsora pachyrhizi, was found on soybean plants in Louisiana. This is the first report of the fungus in the continental U.S. Soybean rust was first detected in the Western Hemisphere in 2002, in Paraguay and southern Brazil. Since then it has spread throughout Brazil, and into Argentina and Bolivia. Earlier this year, it was detected in Colombia. It is not yet known how the rust made its way into the U.S., but possibly the strong tropical storms and hurricanes of the late summer carried fungus spores from South or Central America into the southern U.S. Hurricane Ivan may have been the storm responsible.
Now that the disease is here, what does this mean for Indiana soybean producers? At this time it is impossible to predict whether the disease will reach Indiana in 2005, and should it do so, how widespread and severe it might be. Several things contribute to this uncertainty. First, it is not yet known how widespread the fungus is in the South. It is unlikely that the rust found in research plots in Louisiana is the only occurrence. If spores were carried into the U.S. by tropical storms, there may be infections throughout the South. At this time, there are few green soybeans there, but the soybean rust fungus has a broad host range. Phakopsora pachyrhizi has been found in nature on about 35 species of legumes other than soybean. About 50 additional species have been susceptible when inoculated with the fungus. Most of these host species are tropical or subtropical, but several occur in the U.S., including the Midwest. Among these are yellow sweet clover (Melilotus officinalis), butter bean and lima bean (Phaseolus lunatus), kidney bean and green bean (Phaseolus vulgaris), and kudzu (Pueraria lobata). Rust fungi do not persist in crop residue. They require a living host for growth and production of spores. Any host species whose leaves remain green during the winter can serve as an overwintering site for the fungus. Spores produced on these plants in the spring can initiate disease on soybean in the spring. If the disease becomes severe on soybean crops in the South, then abundant spores may be transported by wind into the Corn Belt during the early summer of 2005. Conversely, if little rust develops in the South next spring, then it is less likely that large numbers of spores will reach Indiana early in the summer.
A major unknown factor in the epidemiology of soybean rust in the U.S. is the weed kudzu. Kudzu is susceptible to soybean rust and supports abundant fungus sporulation. This perennial vine is a native of Japan and was introduced into the southeastern U.S. for erosion control and as forage. It has subsequently become an invasive weed, and extends into southern Indiana. Kudzu may be an important overwintering host for Phakopsora pachyrhizi in the Deep South. Most likely, the soybean rust fungus will only survive the winter where temperatures are mild enough for host plants to retain green leaves. The actual area where the fungus will survive in North America remains to be seen, but best current estimates include southern Florida, south Texas, Mexico, and islands in the Caribbean.
Another uncertainty is weather. Phakopsora pachyrhizi does not require unusual weather conditions to thrive—moderate temperatures and frequent dews are sufficient. If the 2005 growing season is dry, then an epidemic is unlikely, even if rust spores reach Indiana. However, if we have well-spaced rains and long periods of dew most nights, rust could develop rapidly. Sustained favorable weather is important because rust is a polycyclic disease. When rust first arrives in a field, there are typically only a few infections. These infections mature into sporulating pustules in about 7 days. Wind disperses the spores produced in these pustules throughout the field, where they can cause more infection. Several infection cycles are required for rust to reach damaging levels.
All soybean varieties in the U.S. are essentially susceptible to rust. There may be differences in degree of susceptibility, but as far as is known, no variety has an effective degree of resistance. Therefore, if weather conditions are favorable and rust spores arrive in Indiana during June or early July, there is a good chance that a severe epidemic will develop. If spores do not arrive until late July or August, the epidemic would probably not be as severe.
During the past 3 years Brazilian farmers have learned a lot about controlling soybean rust with fungicides. Several fungicides are very effective against this disease if used appropriately. Brazilian farmers have found that control is best when fungicide is applied as rust first begins to develop. Currently, only two fungicides effective against rust are registered for use on soybean in the U.S. These are chlorothalonil (Bravo) and azoxystrobin (Quadris). In anticipation of soybean rust's arrival in the U.S., plant pathologists in most soybean-producing states submitted applications to the U.S. Environmental Protection Agency (EPA) for emergency registration (Section 18 registration) of 10 additional products. There were two reasons for doing this.
First, Quadris appears to be the more effective of the two currently labeled fungicides. However, it has a very specific mode of action against the fungus. Experience with other plant pathogenic fungi suggests that repeated use of this fungicide can lead to development of resistance to Quadris. To avoid development of resistance in Phakopsora pachyrhizi to Quadris, farmers should have available fungicides with different modes of action.
Second, supply is a concern. There is not enough of any one fungicide to treat the large soybean acreage that is vulnerable to rust. A greater number of fungicides registered for use against soybean rust considerably increases the supply of effective products. As of now, the EPA has approved Section 18 registrations for propiconazole (Tilt, Propimax, Bumper), myclobutanil (Laredo), and tebuconazole (Folicur). As fungicides are approved under Section 18 registrations, the Cooperative Purdue Extension Service will make this information known. Information on progress of registration of fungicides can be found at www.ipmcenters.org/NewsAlerts/soybeanrust/quarantine.cfm.
Little can be done about soybean rust in U.S. soybean-producing areas at this time. Next spring we will be monitoring the progress of rust in southern states through contacts with other plant pathologists. Once soybeans are planted in Indiana, we will monitor fields for first appearance of rust. Growers and other people involved in crop production should also be looking closely at fields. The more people we have scouting, the more likely we are to detect rust when it first arrives in Indiana.
Initial infections of soybean rust are difficult to recognize. Moreover, there are other soybean foliar diseases that may be mistaken for rust. Finding spots on soybean leaves does not mean rust is present. It is critical that any plants suspected of having rust be sent to the Purdue Plant and Pest Diagnostic Laboratory to confirm the diagnosis. A downloadable pdf file that contains instructions for submitting samples to the PPDL can be found at: www.ppdl.purdue.edu/ppdl/pubs/IN_soybeanrust_collection.pdf
A pictorial guide containing images of soybean rust and some "look-alike" diseases can be found at: www.ppdl.purdue.edu/ppdl/pubs/ soybean_rust_symptoms_web.pdf
Some questions about cultural practices and their impact on soybean rust are already circulating:
Will early planting reduce the risk of rust? No, early planting will have little effect on rust. It will, however, increase the risk of soil borne soybean diseases such sudden death syndrome and Phytophthora rot, two problems that are widespread in Indiana.
Will switching to an earlier maturity group soybean reduce the damage from rust? No, when early-maturity varieties are substituted for full-season varieties, yield potential is often decreased. This is primarily due to an increased risk of negative environmental factors, e.g., inability of the soybean crop to capture late August rains to compensate for drought. It is in the grower's best interest to plant a full season soybean variety to maximize yield potential. Then, if we get rust, manage the disease with fungicides.
Should I reduce my planned soybean acreage for 2005? No, research indicates that continuous corn systems will lead to decreased yield potential when compared to corn/soybean rotations. See "Rethinking Rotations: More Corn and Less Soybean in the Corn Belt?" www.entm.purdue.edu/Entomology/ext/targets/p&c/P&C2004/P&C26_2004.htm.

Northern Corn Leaf Blight – (Gregory Shaner)
Why did this corn disease make such a dramatic appearance this year?
Northern corn leaf blight was widespread and severe in Indiana this year on some hybrids. A fungus, Exserohilum turcicum, causes the disease. The disease has a long history in Indiana and other states of the eastern Corn Belt. A. J. Ullstrup, a corn pathologist at Purdue, reported that the disease was widespread and severe from 1939-1943. He speculated that the reason farmers became so aware of this disease was because they were particularly observant of the condition of their corn during this time. This was when many of them were first trying hybrid corn, and they wanted to be assured that the crop raised from purchased seed was indeed worth the extra investment. Resistant hybrids have largely brought this disease under control, but in most years we see some northern corn leaf blight in a few fields. This year the disease was severe on some hybrids. Initial infections established early. There was significant defoliation by the early grain filling period.
On susceptible hybrids, the disease is fairly easy to diagnose. Lesions are large (often 3 to 6 in. long), tapering at each end. Unlike lesions of other common leaf blights, the major veins in corn leaves do not restrict the lateral expansion of northern corn leaf blight lesions, so they may be an inch or more at the widest point. Lesions are gray-green when weather is humid. This is the result of abundant production of spores on the leaf surface by Exserohilum turcicum.
Northern corn leaf blight is a polycyclic disease. Initial infections arise from spores produced on corn residue from the previous year. Once these initial infections develop into lesions, the fungus produces spores on this necrotic tissue. Wind and rain disperse these spores. Those that land on healthy leaf tissue infect and produce more lesions. Because the lesions are so large, only a few infections on a leaf can kill a large percentage of the leaf area. As lesions spread up the plant, killing more leaf tissue, the plant's photosynthetic capability is compromised and yield suffers. Research done from the 1940s through 1960s showed that susceptible hybrids could sustain substantial loss of yield if the disease became established in the crop within 2 or 3 weeks after silking.
In the years following the initial outbreaks of northern corn leaf blight, plant pathologists searched through corn germ plasm to find resistance to this disease. Some inbreds proved to have quantitative resistance. Hybrids made from these resistant inbreds developed little northern corn leaf blight in the field. The fungus could infect these lines, but the disease was slow to spread. Little leaf tissue was destroyed by the time the grain matured, and yield reduction was minimal. Later, another type of resistance was found. This was conferred by any of three single genes (Ht, Ht2, or Ht3) and was designated "chlorotic lesion" resistance. Exserohilum turcicum can infect plants that carry any of these genes, but instead of a large necrotic lesion, a chlorotic lesion develops. The fungus produces few or no spores in these chlorotic lesions, so the resistance virtually eliminates secondary inoculum production.
The outbreak of northern corn leaf blight this year teaches an important lesson about field crop diseases. Plant pathologists often use the "disease triangle" metaphor to emphasize that three conditions are necessary for a severe disease outbreak: a susceptible host, a virulent pathogen, and favorable weather. What happened this year with northern corn leaf blight has happened recently with two other "old" diseases: Diplodia (Stenocarpella) ear rot and anthracnose stalk rot. The lesson these diseases teach is that old pathogens never disappear. For years, we may see very little of them, but when conditions are right, susceptible hybrids can be hit hard.
Northern corn leaf blight thrives when there are long dew periods at night and temperatures are in the range of 64 to 80?F. It is likely that the development of severe northern corn leaf blight this past summer on susceptible hybrids was due in part to the cool weather. Data from the Midwestern Climatological Center (kindly provided by Ken Scheeringa) show that this past summer was the third coolest in Indiana since 1895. For these comparisons, a "climatological summer" is used—June 1 through August 31.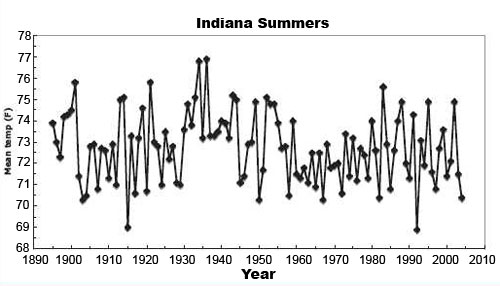 If this year's northern corn leaf blight epidemic was largely influenced by cool weather during the summer, what are the prospects for a problem next year on susceptible hybrids? The graph below depicts the average climatological summer temperature for each year since 1895. The summer of 2004 was the second year of a downward trend in temperature. Examination of the graph shows only a couple of periods when a cooling trend persisted more than 2 years: 1921 through 1924, and 1952 through 1958. In that latter period, the mean temperature did not decrease every year. The summers of 1953 and 1954 had the same mean temperature, and the summer of 1957 was 0.1°F warmer than the summer of 1956. Given the historical pattern of year-to-year variation in summer temperature, it seems more likely that the summer of 2005 will be warmer than the summer of 2004. How much warmer is another matter. The graph shows that sometimes the reversal was pronounced. See, for example, 1958 to 1959, 1982 to 1983, and 1992 to 1993. In other cases, the reversal was modest, for example, 1902 to 1903, 1945 to 1946, and 2000 to 2001. If next summer is much warmer than last, we may see little northern corn leaf blight. If it is only slightly warmer than the summer of 2004, we could still have favorable conditions for northern corn leaf blight. This, plus the surviving inoculum that will be produced on residue from the 2004 corn crop could mean extra northern corn leaf blight pressure next year.
So, what's a grower to do? Corn breeders have worked for many years to incorporate resistance to many diseases into their hybrids. Resistance ratings can be found in seed catalogs or Web sites. Resistance is often quantitative, so rather than describe a hybrid as "resistant" or "susceptible" to some disease, the seed company assigns a number that reflects the best assessment of the hybrid's relative resistance. These ratings are commonly on a 10-point scale. For some companies, the higher the number, the greater the degree of resistance. For other companies, the lower the number, the greater degree of resistance, so look at the fine print. The lesson from recent outbreaks of anthracnose, Diplodia ear rot, and northern corn leaf blight is that if a farmer grows a susceptible hybrid, and if weather conditions are favorable for a disease, a severe epidemic can develop that will take away a lot of potential yield and income. Therefore, a farmer should consider disease resistance ratings as well as to yield potential, standability, dry down, and other agronomic traits when choosing a hybrid. It's not necessary to go after the highest possible resistance to all diseases (few hybrids have a resistance package this complete), but one can reduce risk by avoiding hybrids that have poor ratings to one or more diseases.