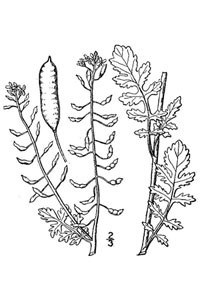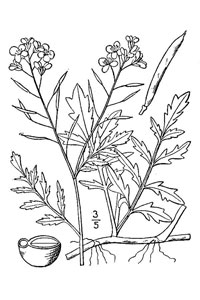 Figure 2. Yellow Water-cress: Britton and Brown (1970) taken off the USDA plant data base web site (2004)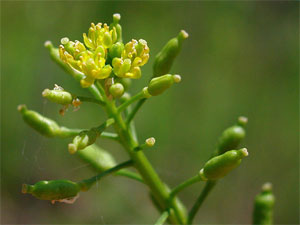 Creeping Yellow Water-cress and Yellow Water-cress – (Glenn Nice)
Recently, I have been asked to identify some mustards that I have not had to deal with in the past. Not surprising since I have only been in Indiana for just over three years. Over the span of three weeks, I have seen three specimens that have turned out to belong to the cress group of mustards. As I became acquainted with these plants I found that they were two different plants.
The two plants I have dealt with, according to An Illustrated Flora of the Northern United States and Canada (Britton and Brown, 1970), were creeping yellow-cress (Radicula sylvestris [L]), Figure 1, and yellow water-cress (Radicula palustris [L.] Moench.), Figure 2. However, in the USDA Plant Data Base, the same two plants are referred to as being in the Rorippa genus. Plants often are placed in new genera as the plant's categorization changes through time, sometimes making identification and reference tricky.
The predominant difference between these two plants is that creeping yellow water-cress is a perennial and yellow water-cress is annual or biennial when the environment allows.
Both plants have small yellow flowers with four petals. Yellow water-cress flowers (4-6.4 mm* wide) are slightly smaller than creeping yellow water-cress (6.4-9 mm* wide). Both plants bloom from May to August. Both plants have leaves that are deeply lobed, ranging from 7.5 to 112 cm* in creeping yellow water-cress and 7.6 to18 cm* in yellow water-cress. Both plants have pods; however, creeping yellow water-cress generally has pods that are linear where yellow water-cress can have pods linear to oblong (Figure 3).
I don't see many of these plants, because they generally don't interfere with soybean and corn production. They tend to grow in wet places. In An Illustrated Flora of the Northern States and Canada, 1970, Britton and Brown report creeping yellow water-cress growing from Ontario, Canada, to Virgina. The USDA reported creeping yellow water-cress in most Eastern US states. Yellow water-cress can be found throughout the US. In 1940, C. Deam reported yellow water-cress being found in almost every county in Indiana. It appeared in 1940 to be fairly evenly distributed throughout Indiana. Dean also reported creeping yellow water-cress in 24 Indiana counties throughout Indiana. Yellow water-cress is native to the US, but creeping yellow water-cress is introduced.
The floods we experienced last year in certain areas may have deposited seed in areas that are not flooded out this year. This may have increased peoples awareness of these two plants this year.
*1 inch = 25.4 mm and 1 inch = 2.54 cm.
Sources:
Deam, C.C. Flora of Indiana 1940. Department of Conservation, Division of Forestry Indianapolis, Indiana. 494 and 1052.
Britton N. and A. Brown. 1913. An Illustrated Flora of the Northern United States and Canada Vol. 2. Dover Publications, Inc., New York. 1970. 3 vols. 160-161.

New Publication from University of Wisconsin Discusses Sources of "Puckered Soybean Leaves" – (Bill Johnson and Glenn Nice)
Weed Scientists at the University of Wisconsin have developed an excellent publication that discusses potential sources of puckered soybean leaves. This issue is quite common in Indiana every year and information in this publication would be very pertinent to soybean grown in this state.
"Dicamba Injury to Soybeans" is a new publication that discusses the three most common sources of dicamba exposure to soybeans, symptoms of dicamba exposure on soybeans and the potential for yield loss. This publication contains a photo gallery of dicamba injury symptoms and dicamba injury mimics on soybean. It is available from the Nutrient and Pest Management Program at (608) 265-2660. Or you can check it out on the web at http://ipcm.wisc.edu/.

2004 Purdue Weed Day – (Tom Bauman, Bill Johnson, Glenn Nice, Mike White, and Reece Dewell)
You are invited to attend the 2004 Purdue Weed Day sponsored by the Department of Botany & Plant Pathology, Purdue University. The 2004 Weed Day tour is scheduled for Tuesday, June 29, 2004. The program will begin at 8:30 AM Eastern Standard Time (Central Daylight Time) at the Purdue University Agronomy Research Center (located 7 miles NW of West Lafayette on US 52 W). Parking will be at the main entrance of the farm. Come a little early and have coffee and a doughnut with us. Water and soft drinks will be available during the tour.
Even with this being a wet spring we have everything planted and all the soybeans, popcorn and corn have emerged. Weed pressure is quite good and early post treatments will soon be applied.
The herbicide plots will give a look at "What's Coming" and a comparison of some new herbicides. You will be able to compare new corn, popcorn and soybean herbicides with those commonly used, and evaluate the effects of adjuvants on herbicide performance. Graduate students will be available to discuss their research plots.
In the afternoon several of the Purdue staff will be around to visit and review in more detail the research plots seen during the morning tour. See the agenda for a look at the day's activities www.btny.purdue.edu/weedscience/.

The Purdue weed scientists that will be present include: Tom Bauman, Mike White, Bill Johnson , Reece Dewell, and Glenn Nice.
For those attending the 2004 Purdue Weed Day, we have applied for CCH's for category 1A.
Please note there will not be a lunch this year, so please plan your day accordingly.
Several motels are available in the West Lafayette-Lafayette area. A few are listed for your convenience.
Budget Inn (St. Rd. 26 East), Phone: 765-447-7566

Hilton Garden Inn (St. Rd. 26 East, W. Laf.), Phone: 765-743-2100

Holiday Inn Select (St. Rd. 26 East), Phone: 765-423-1000

Radisson (St. Rd. 26 East), Phone: 765-447-0575

Ramada Inn (St. Rd. 26 East), Phone: 765-447-9460

Red Roof Inn (St. Rd. 26 East), Phone: 765-448-4671

Signature Inn (St. Rd. 26 East), Phone: 765-447-4142

University Inn (U.S. 52 N. at Cumberland, W. Laf.), Phone: 765-463-5511
Please return the enclosed attendance form www.btny.purdue.edu/weedscience/2004/WeedDayAtt04 .pdf, if possible, to allow us to maintain a mailing list and to estimate coffee, doughnuts, and soft drinks needs for the Weed Day.
AGENDA - PURDUE WEED RESEARCH FIELD DAY
8:30 AM - 12:00 PM Purdue Agronomy Research Center (U.S. 52 North)
Corn weed management- New herbicides, expanded look at available herbicides, combination treatments, etc.
Soybean weed control- New herbicides, expanded look at available herbicides, combination treatments, etc.
No Till weed management in corn and soybeans (three trials)
Compare the performance of weed management systems in conventional and herbicide resistant corn hybrids.
Popcorn tolerance to several herbicides
Interactions of stalk boring insects and glyphosate on giant ragweed
Giant ragweed interference in corn
Interactions between winter annual weeds and SCN
Update on glyphosate resistant marestail