Crazy Top of Corn– (Gregory Shaner)
Flooded corn may be infected by Sclerophthora macrospora.
Crazy top is a disease of corn that gets its name from a conspicuous symptom on the tassels. Instead of producing tassels, infected plants produce a proliferation of small leaves. The disease is normally more of a curiosity than a real problem in Indiana. Sometimes a few plants in low-lying areas show symptoms, but it is unusual to see large numbers of diseased plants. This year we may see more of the disease. This is because many fields planted in late April had large ponded areas for several days in early May, after the corn had emerged.
A fungal-like organism named Sclerophthora macrospora causes crazy top. Overwintering spores (oospores) of this organism germinate in saturated soil and produce a second type of spore (zoospore) that swims for short distances. Zoospores that land on a corn plant attach themselves and then infect. Saturation of soil for 24-48 hours is sufficient for spore production and infection. One common avenue of infection may be through the whorl of young leaves when corn is under water for a day or two.
Once inside the plant, Sclerophthora macrospora invades the growing point and produces several bizarre symptoms. Infected plants may tiller excessively. Upper leaves may be rolled, twisted, and leathery. The most conspicuous symptom is the replacement of the tassel with a mass of small leaves, a symptom termed phyllody. Ears may also show phyllody.
If many plants are infected, yield may be significantly reduced. There is no remedy that can be applied to plants once they are infected, so the only recourse would be replanting. However, this decision should be based on knowledge that a substantial number of plants in a flooded area were infected. Unfortunately, by the time symptoms appear it may be too late for replanting.
Sclerophthora macrospora has a wide host range. It infects wheat, oat, green foxtail, and barnyard grass, as well as many other grasses. Thus, the organism is probably widespread and common throughout Indiana.

Leaf and Glume Blotch of Wheat– (Gregory Shaner and Andreas Westphal)
Recent wet weather will give these diseases a boost.
The wet weather during the first third of May was ideal for leaf and glume blotch of wheat. Two different fungi – Septoria tritici and Stagonospora nodorum – cause these diseases. They thrive when there are prolonged periods of leaf wetness.
Septoria and Stagonospora survive between wheat crops in wheat residue. Primary infection probably occurs in the fall, but these infections don't produce visible lesions until the spring. In the spring, dead spots appear on the lowest leaves. Fruiting bodies of the fungi develop in these dead spots. The fruiting bodies (pycnidia) are tiny, flask-shaped structures embedded in the leaf with an opening just beneath the leaf stomata. They contain spores that are dispersed when water drops strike them.
Both Septoria leaf blotch and Stagonospora leaf blotch are polycyclic diseases. Severity (the amount of leaf area showing blotch symptoms) increases during the growing season as the result of repeated cycles of infection. Lesions on lower leaves are the source of spores that cause infection on upper leaves. When there are only a few infections on a leaf, each spot may be somewhat isolated, but as the number of infections increases, large, irregular dead areas (leaf blotch) develop.
Rains in early May splashed spores from lower leaves to upper leaves. These spores require long periods of leaf wetness to infect. Although it did not rain continuously during early May, wheat foliage was wet for long periods. This, coupled with temperatures favorable for the fungi, created ideal conditions for leaf blotch.
Wheat in many Indiana fields had reached the stage of flag leaf emergence by early May, when the wet weather system moved into the state, so leaves all the way to the top of the canopy may have been infected during recent periods of warm wet weather. Heads of wheat in southern Indiana may have already been infected.
When long periods of moisture on leaves occur during warm weather, Stagonospora nodorum is much more likely to cause leaf blotch than Septoria tritici, which is a cooler-season pathogen. Stagonospora nodorum can also infect heads, giving rise to glume blotch. Septoria tritici is confined to leaves.
There are differences in the symptoms produced by Stagonospora nodorum and Septoria tritici, but sometimes the differences are subtle and reliable diagnosis is only possible by examination of infected tissue under the microscope. The classical symptom of Septoria blotch is a brown lesion containing numerous, tiny dark spots (these are the pycnidia). Except on the lowest leaves, lesions caused by Septoria tend to be straight-sided. The classical Stagonospora lesion is lens-shaped, tan at the edges with a dark center. Although Stagonospora also produces pycnidia, they are not as dark as those produced by Septoria, so they usually cannot be seen as black specks in the lesion unless the tissue is viewed under a microscope. Even an experienced diagnostician can be fooled by lesion appearance. A lesion that looks like Septoria will sometimes prove to be Stagonospora (or vice versa) when spores are examined under the microscope. Because of the similarity of symptoms, because both diseases are favored by similar weather conditions, and because both diseases may be found on the same plant or even the same leaf, the disease complex is often referred to as leaf blotch, as though it were a single disease.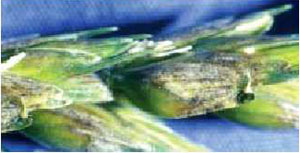 At this time, lesions caused by Septoria or Stagonospora may still be no higher than the third leaf below the flag leaf (F-3). However, this may change rapidly if Stagonospora is present in a field. The incubation period (the time from infection to the development of a visible lesion) for this pathogen is quite short under warm conditions. There could have been a lot of infection during the past week that has not yet incubated. This week we are experiencing cooler temperatures, so lesions may not appear on upper leaves until mid May or later.
There are several fungicides registered for use against Stagonospora and Septoria leaf blotches. Some of these can be applied after full flag leaf emergence, under provisions of the standard label or of a section 24(c) label. These may provide some protection against the disease, but only if application can be made very soon.
Wheat varieties differ in susceptibility to both pathogens. No variety has a high degree of resistance to Stagonospora, but the upper two leaves of the most resistant varieties will remain green for 7 to 10 days longer than those of susceptible varieties. This prolongation of photosynthetic capacity of the flag and flag-1 leaves will help protect yield and test weight.

Seedling Blight on Corn and Soybean– (Gregory Shaner and Andreas Westphal)
Heavy spring rains can result in poor stands.
The stressful conditions created by wet soils, compaction, or crusting can lead to seedling blight problems. Seedling blight is caused in corn and soybean by any of several common fungi in soil. Under good conditions for seed germination and seedling growth these fungi are not a problem, but they can infect young plants when they are under stress, and retard seedling growth once conditions improve. Seedling blight can thin stands below acceptable limits in corn and soybean.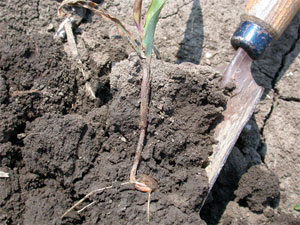 The dry, warm days of mid April encouraged many farmers to plant corn and even some soybean well in advance of the optimal planting date. Although seedlings in many of these fields have emerged, the wet weather of early May impeded their growth. Leaves of plants that emerged before the heavy rains may now be pale-green to yellow. Several species of fungi that cause seedling blight thrive in wet soil. The combination of stress on seedlings created by saturated soils and the greater activity of seedling blight fungi in these wet soils means that seedling blight will likely show up on many fields. Also of concern are fields that were planted just before the heavy rains. While soil remains wet, young seedlings can emerge, but rapid surface drying can lead to soil surface crusting that will delay or prevent seed emergence. The stress of emerging through crusted soil also increases the risk of seedling blight.
Virtually all corn seed is treated with fungicides, but effectiveness of these fungicides diminishes with time. It's a good idea to check planted fields, once it is possible to walk in them, to see if stand thinning is occurring. In extreme cases, replanting might be necessary. Guidance in making a replant decision can be found in AY-264-W (Estimating Yield and Dollar Returns from Corn Replanting), available through the Purdue Cooperative Extension Service or accessible online at http://www.agry.purdue.edu/ext/corn/cgg2/search.shtml.
Soybean seed and seedlings are also vulnerable to seedling blights. Poor-quality seed is always at greater risk of seedling blight, but even high-quality seed is at risk under severe stress. Fungicide seed treatment can provide protection against seedling blight. Because fungicide seed treatment is not a standard practice for soybeans, many seed dealers are reluctant to treat seed except on demand. There are several fungicides registered for use on soybean seed, including some designed for on-farm application either as a hopper box treatment or for application to seed as it is augured into the planter. If a soybean stand is reduced by seedling blight, consider carefully the economics of replanting. Guidelines for making a replant decision can be found in the Corn & Soybean Field Guide (ID 179) beginning on page 67 of the 2003 edition.