Plant Cutting This Early Not Likely Black Cutworm– (John Obermeyer and Larry Bledsoe)
There are many species of cutworms.
Black cutworm is the most common and damaging species.
The dingy cutworm is a foliar feeder and rarely cuts plants.
The dingy cutworm overwinters as a partially grown larva.
Proper ID between black and dingy cutworms is important, see the aides below.
Many cutworm species look alike and identification is often confusing. Proper identification is critical because the black cutworm can be an economic threat to corn, whereas other species may not. We already know from its name, the black cutworm will cut or burrow into plants that can ultimately kill corn and cause stand losses. The black cutworm is our most commonly found species, but some fields will have a mixed bag of dingy, claybacked, and variegated cutworms.
Black cutworm do not overwinter in the Midwest, that of course is why we monitor their arrival every spring with pheromone traps. Once they arrive in large numbers (intensive captures) we begin predicting their development and subsequent damage with heat unit accumulations. There have not been enough heat units accumulated this spring for black cutworm to get 1/2 to 3/4 inches long, that being the size where they cut plants. Certainly pest managers in extreme southern Indiana counties could be seeing some leaf feeding from small black cutworm larvae. Refer to the "Weather Update" and the HU50 accumulations for your location.
The dingy cutworm, probably the second most common species, is primarily a leaf feeder and will rarely cut plants, and if it does, the cutting is above the ground. Because the corn plant up to 5-leaves can withstand severe defoliation without a yield loss (compare it to frost damage), treatment for the dingy cutworm is rarely justified. To confuse the issue, there are many other species that one may find while scouting. For example, the claybacked cutworm is not as common as the black and dingy, and its damage is a mix of leaf feeding and plant cutting. The dingy and claybacked cutworms overwinter as partially grown larvae, therefore finding cutworms 3/4 of an inch or more at this time would likely point to these species.
Below are some morphological characteristics that may help differentiate the black and dingy cutworm species.
Identification Features:
do not use color!

skin textures are different (black = grainy, dingy = smooth)

tubercle (black bumps) size on the top center of the body segments are different: the black's outside pair are about twice the size of the inside pair, the dingy's are all about the same size. Refer to the following diagram.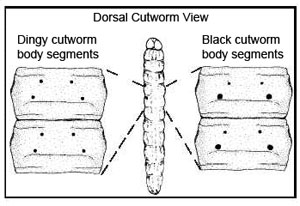 Cutworm-Like Critters in the Soil– (John Obermeyer and Larry Bledsoe)
Several bug-like creatures will be found while digging in the soil, most are non-economic.
Millipedes, ground beetle adults and larvae, crane fly larvae, and "baby" earthworms are addressed below.
Pest managers need to be able to recognize pests and their damage.
Often when pest managers are in hot pursuit of black cutworm larvae they dig up a variety of critters, most being innocuous. There is no comprehensive picture journal to reference these "bugs," although the Field Crops Pest Management Manual (IPM-1) http://www.entm.purdue.edu/entomology/
ext/fieldcropsipm/b/ONECP.HTM covers many of them. The difficulty is that there are many animal species that may utilize the soil of a cornfield for all or a short period of their life. Most, having nothing to do with the corn being grown. Listed below are some possibilities as you dig this spring.
Millipedes: These wireworm-like arthropods, having two pair of legs per body segment, have become more prevalent with the advent of no-till. When found, their numbers are often high. Millipedes typically feed as scavengers, feeding on dead or decaying materials. Occasionally they have been documented as a pest of corn. If very dry conditions exist early in the season, millipedes will feed on corn seedlings, apparently seeking moisture.
Ground beetles: If it's fast moving and shiny, chances are that you've seen a ground beetle scurry by. These beetles range in size from about 1/4 to 1 inch long. Their color is typically light brown to black. The darker colored beetles will appear bright green to blue as the sunshine reflects off their wing covers. Fortunately, nearly all ground beetles are beneficial, feasting on many critters in the field. One exception, the seedcorn beetle, will feed on corn seed and seedlings. Usually this is only a problem when the seed sits for long periods of time in cold, wet soils before emerging.
Ground beetle larvae: Yes, these are the immatures of the ground beetle. They are often confused with wireworm. However, unlike the wireworm they move quickly on the ground and through the soil. Closer inspection, if you are fast enough to catch one, will reveal well developed and sharp mouth parts. Yes, you guessed it again, these larvae are beneficial, feeding most often on soft bodied insects. Even the immature of the seedcorn beetle is beneficial.
Crane fly larvae: Often referred to as "leatherjackets," these strange looking, overgrown maggots are often confused with the black cutworm. They are the immatures of the crane fly, the one often misidentified as "giant mosquitoes." Pest managers can easily distinguish them from cutworms by their legless bodies. These maggots are harmless to the corn. They feed on decaying plant matter in the soil.
Juvenile earthworms: Experienced and inexperienced field personnel alike are not surprised to find earthworms in the soil. However, when one sees "baby" earthworms for the first time it can be confusing. Small, skinny, and almost translucent, these juvenile earthworms are often referred to as "giant nematodes." Where there is one, there are often many. Obviously, their presence is a sign of good soil health.
This list could go on. The important thing for pest managers is not so much that they can identify the obscure critters, but rather pests and their damage. Happy Scouting!

Aphids in Wheat– (John Obermeyer and Larry Bledsoe)
Numerous aphids being observed in some SW Indiana wheat.
Transmission by aphids mainly occurs in the fall.
Watch for aphids accumulating on wheat heads.
Charles Mansfield, southwest Indiana Purdue Agronomist, alerted us to the presence of aphids in wheat fields. The good news is that aphids at this time aren't likely to infect and spread Barley Yellow Dwarf Virus (BYDV). Plants infested with aphids in the fall are more likely to be infected with BYDV and severely damaged. Insecticide applications applied after wheat reaches Feekes growth stage 4.0 does little good to prevent the transmission of BYDV (refer to "Feekes Growth Stages for Wheat" in Pest&Crop, #3, April 4, 2003).
The bad news is that aphid population may increase as wheat heads begin to emerge and fill. The aphids injure developing heads by sucking plant juices. An average of 50 or more aphids per head indicates that an insecticide treatment should be considered. Normally when aphid numbers build to 10 or more per plant, it is not uncommon for predators and parasites to increase rapidly in response to this increased source of food. Lady beetles (adults and larvae), syrphid fly larvae, lacewing larvae, and several species of parasites are probably now or shortly will be numerous in most fields. These natural control agents should help reduce aphid numbers.

Alfalfa Weevil Update – (John Obermeyer and Larry Bledsoe)
Ron Blackwell's alfalfa weevil survey this week in west central Indiana shows that feeding activity continues northward in the state, but far below the previous years' devastating damage. Most fields in the last couple week's surveys have been below treatment threshold. This indicates that winter temperatures did negatively impact the weevil's overwintering eggs. Most spring laid eggs should hatch around 400 heat units (48?F base), that will be a critical time to assess for tip feeding.
County (fields) Sampled

Stem Height (in.)
% Tip Feeding
Fountain 1

13.8

16%

Fountain 2

16.5

8%

Parke 1

20.9

28%

Parke 2

19.8

44%

Parke 3

22.4

8%

Parke 4

14.7

52%