Bean Leaf Beetle Winter Survival and Early Season Damage– (John Obermeyer and Larry Bledsoe)
Bean leaf beetle over winters as an adult.
Beetle numbers are expected lower this spring.
Beetles are vectors of BPMV disease.
BPMV has been a greater threat to yield and seed quality in the western Corn Belt.
Don't attempt to treat for beetles and weeds at the same time.
Planting date is a risk factor for beetle feeding.
Bean leaf beetle may feed on soybean cotyledons, foliage, and pods. For an animation depicting the bean leaf beetle biology and damage, go to the web site http://www.entm.purdue.edu/entomology/ext/fieldcropsipm/flash/blb14.html. Occasionally, beetle numbers and damage warrant insecticide treatments to protect soybean stands, yield, and/or seed quality. Recently there's been a renewed interest with this pest in the seed industry because of its propensity to vector the bean pod mottle virus (BPMV). Whereas BPMV is a major concern in the western Corn Belt, little of this disease has been seen in Indiana.
BPMV was first identified in the Midwest in the 1950s, and bean leaf beetle was quickly implicated as a major vector of this disease. It is believed that the virus over winters in wild and cultivated legumes (e.g., clovers). When the over wintering bean leaf beetle "awakens," early in the spring, it begins to seek leguminous plants in which to feed. Should a plant be infected with BPMV, the bean leaf beetle will likely carry it to its next feeding site in its mouthparts. If soybean plants are emerging nearby, the bean leaf beetle may spread the virus to them when they colonize that field. Initial research studies from Nebraska and Iowa show that this early infection is most detrimental to soybean yield and seed quality.
Why BPMV incidence appears to be low and sporadic in Indiana is not understood. Logic tells us to look at the major vector…the bean leaf beetle. Bean leaf beetle numbers have been high in Iowa and Nebraska, and they expect large numbers again this season. Whereas the beetle numbers in Indiana have been relatively lower the last couple seasons, see Graph 1. Winter temperatures have an impact on the survival of several field crop insects (see Pest&Crop #1, February 21, 2003). Frankie Lam, Regional IPM Specialist in southwestern Indiana, while at Iowa State University developed a winter survival model for the bean leaf beetle. Graph 2 shows the expected mortality of bean leaf beetle, from temperatures gathered at West Lafayette, Indiana. Should the model be correct, bean leaf beetle numbers are expected to be low this spring.
| | |
| --- | --- |
| Graph 1. Bean Leaf Beetle, Soybean Sweeps, Indiana Regions, 1997-2002 (number/100 sweeps) | Graph 2. Percent Expected Mortality of Over Wintering Bean Leaf Beetle. |
| | |
Some have suggested that controlling the beetle while applying post-emergent herbicides will "kill two birds with one stone." Given the current situation with the bean leaf beetle and BPMV, we certainly don't recommend prophylactic insecticide applications. More importantly, the timing of bean leaf beetle feeding activity and herbicide application do NOT coincide. The tried and true approach is to use timely field scouting and economic thresholds based on research. For cotyledon- and unifoliolate-stage soybean, refer to the following threshold values:
Crop Value ($/bu)

Control Cost, $/acre

6.00

8.00

10.00

12.00

16.00

Beetles per Plant

5.00
3
4
5
6
8
6.00
3
4
5
5
7

Table modified from the University of Nebraska.
Another management option for the bean leaf beetle is planting date. Avoiding an early planting date for soybean grown for seed should avert over wintering beetles flocking to the field. Rather, they will infest the first emerging soybean fields in the area. This is not suggesting "late" planting, because later maturing fields in the fall are prone to second generation beetle damage to the pods. Pod scarring may lead to discolored and shriveled seed from disease organisms other than BPMV. The key seems to be timely planting of soybeans to lower the incidence of bean leaf beetle feeding and BPMV disease!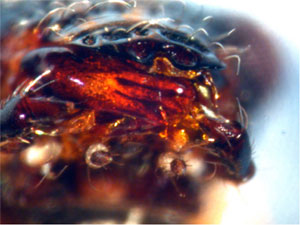 Time to Think Like a Black Cutworm Moth– (John Obermeyer and Larry Bledsoe)
Black cutworm moth arrival is right on time.
Moths are seeking weedy fields to lay their eggs.
Early herbicide applications can help manage this pest.
Look at his week's "Black Cutworm Adult Pheromone Trap Report." You can see that several moths have been trapped by our dutiful cooperators; this is quite normal for this time of year. Sometime in the next week or two we will begin our heat unit accumulations to predict cutting, published in future Pest&Crop, "Weather Update." We still await the moth arrivals of later April, which usually account for our crop damage in May and early June.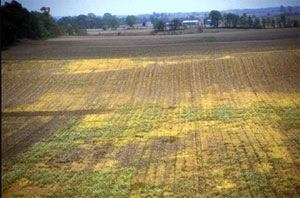 The important point now is .... will pregnant black cutworm moths arriving in the Hoosier state, find your fields attractive to lay eggs in? Moths are particularly attracted to winter annuals, such as chickweed and mustards. Fields that are showing plenty of green are at highest risk for cutworm damage. Remember, corn is one of the black cutworms least favorite foods, it just so happens it is the only plant remaining by the time larvae have emerged and weeds have been killed. Research has shown that cutworm larvae starve if weeds are treated with tillage or herbicide 2-3 weeks before corn emergence. Something to be said for controlling weeds in order to manage this insect pest. More later!

County (fields) Sampled

Stem Height (in.)
% Tip Feeding
Lawrence 1
11.5
4%
Lawrence 2
11.2
4%

Lawrence 3

9.8
20%
Lawrence 4
12.1
12%
Orange 1
11.8
12%
Orange 2
12.0
0%

Click for Table.
Black Cutworm Adult Pheromone Trap Report.