Soybean Sudden Death Syndrome- (Gregory Shaner and Andreas Westphal)

The disease situation in soybean appears similar to that in 2002. As in 2002, the progress of planting soybeans this spring was delayed and sudden death syndrome is once again developing later than we normally expect to see it. The late planting, coupled with cool weather during June and July, slowed plant development. Blooming, pod set, and seed development lagged behind the 5-year average. Whereas the late appearing SDS symptoms would normally not cause concern about yield and quality of the crop, the later than normal plant development this year may make the soybean crop vulnerable to significant yield loss. Yields of plants affected after pods are well developed may still be reduced due to the production of only small seed.

First SDS symptoms were spotted at the end of July. A little more SDS was seen in the early August, but over the past couple of weeks, more and more soybean fields in Indiana have shown symptoms. In affected plants, leaf tissue between the major veins turns yellow, then brown. Soon, the leaflets die and shrivel. In severe cases they drop off, leaving the petioles (leaf stalks) attached. Brown stem rot may cause similar foliar symptoms, but the leaflets tend to remain attached to the petioles and symptoms in the plant stem are different. When the lower stem and tap root is split, a plant with SDS will exhibit a dark cortex, but the pith will be white. In contrast, the pith of a plant with brown stem rot is dark, but the cortex is not much discolored. If a plant with SDS is dug up when soil is moist, there may be small, light-blue patches on the surface of the taproot. These are spore masses of the SDS fungus. As the plant dries, this color will fade, but when it is seen, in conjunction with the other symptoms mentioned above, a diagnosis of SDS is strongly indicated.

SDS-affected areas may be extensive in a field, or confined to a few patches. The disease is most likely to show up earlier and be more severe in areas with soil compaction. With the planting problems this spring, compaction is a greater problem than normal, and this has probably contributed to the development of SDS. Often the areas of SDS run parallel to the edge of the field on the turn row. Because of higher traffic in spring, these are areas are likely to be compacted.

Growers should make note of which fields show SDS and map the locations of affected areas. This can be useful information for future planting decisions in those fields. Where SDS is a problem, growers should avoid early planting of soybeans (That apparently did not always work this year!) and use a variety with some resistance to the disease. It's also a good idea to make note of varieties that show severe symptoms of SDS. Susceptible varieties should be avoided when planting a field that has any history of the disease. Planting date, soil condition, weather pattern, and field history have a strong influence on disease severity.

It is difficult to identify resistant varieties. If one field, planted with a particular variety, has SDS, but a nearby field, planted with another variety, has little or no SDS, one cannot necessarily conclude that the variety with little or no SDS is resistant. The best (and only) way to determine if a variety has resistance is to test it in replicated yield trials in several locations and years under severe and uniform SDS pressure. Scott Abney, with the USDA-ARS at Purdue, has been conducting such tests for several years and has identified several varieties that have a useful degree of resistance.

More information about sudden death syndrome of soybean can be found at <http://www.btny.purdue.edu/Extension/Pathology/CropDiseases/Soybean/
Soybean.html#suddendeathsyndrome> or in Purdue extension publication BP-58 Sudden Death Syndrome in Soybeans.

Soybean in Rotation with Watermelon- (Gregory Shaner, Daniel S. Egel, and Andreas Westphal)
Crop rotation is a good thing- but what about the plant-parasitic nematodes?
The beginning of fall is the time for some soil-borne diseases to show. In soybean, one of the late season diseases is sudden death syndrome (SDS) (see companion article by Shaner and Westphal). Whereas SDS is strongly weather-dependent, other soil-borne problems are always present and oftentimes damage crops. Plant-parasitic nematodes are a constant threat. Some nematodes have a restricted host range, e.g., the soybean cyst nematode primarily infects soybean, but does not infect other crops widely grown in Indiana. In contrast, root knot nematodes have much wider host ranges and can infect several of Indiana's agricultural and ornamental crops.


Drought conditions during August were a stress factor for many fields. In southern Indiana, plants were under drought stress on light soils because of the limited water holding capacity of these soils. In a drought, any debilitation of the root system can interfere with root functions and has potential to be detrimental to plant growth and reduce yield. Growers are well aware of the soybean cyst nematode that feeds on soybean roots and know that the selection of a variety resistant to the nematode population present in a particular field will mitigate yield loss. Root knot nematodes of the species Meloidogyne, have long been recognized as problem in soybean in southern states. Limited attention has been given to these nematodes in the North Central region, possibly because of the overwhelming importance of the soybean cyst nematode. Currently there is no indication that cyst nematode resistance has any correlation with root knot nematode resistance.

Figure 1. Soybean field. Note the "wavy" uneven plant canopy height.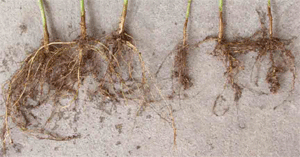 Figure 2. Soybean roots. Healthy roots with copious Rhizobium nodules on the left, and root knot nematode induced galling on the right.
Recent damage surveys of soybean diseases did not associate extensive damage with root knot nematodes. However, in isolated regions of Indiana the situation might be different. Westphal and Egel observed root knot nematodes in a southern Indiana field. The field is in a cucurbit-field crops rotation and root knot nematode damage was detected on watermelon roots in 2002. In 2003, this field had the typical wavy appearance (Fig. 1) often seen with soil-borne problems. Nematode damaged plants are stunted and lack vigor compared to healthy plants. Above-ground symptoms can be confused with other soil-borne problems. Examination of the roots of symptomatic plants revealed several root knots. Roots of symptomless plants were devoid of nematode-induced galls, and had copious nodulation (Fig. 2). Nematode-induced galling can be distinguished from the beneficial Rhizobium nodules. Nodules, typically 1/8-1/4 of an inch in diameter, develop on the surface of the root. Root knot nematode galls are integrated into the root structure and can result in pronounced deformation. Soybean cyst nematodes were also present in this field. Thus plant damage was probably not solely associated with root knot nematodes, but the root knot nematode likely contributed to plant stress and damage.

While the damage to soybean from root knot nematodes might be tolerable, rotation of watermelon with soybean may be unfortunate. Root knot nematode populations can be maintained in the "non-watermelon" years and can potentially increase and so enlarge the problem in future cucurbit crops. A careful monitoring of fields for root knot nematodes will allow the growers to learn more about pressure of soil-borne diseases and will help in making good management decisions to avoid "surprises" of root knot nematodes in highly valuable melon crops in coming years.