Western Corn Rootworm Beetles Emerging– (John Obermeyer and Larry Bledsoe)
Western corn rootworm beetles can now be seen.
Beetles should not be concern until fields are pollinating.
Isolated pollinating fields could be a "trap crop" for beetles.
A male western corn rootworm beetle was trapped at the Throckmorton Agricultural Research Center, Tippecanoe County, on July 2. It is likely that these beetles have been emerging throughout southern Indiana for over a week. Generally the first beetles to emerge are males, female emergence begins a few days later. Once the females emerge, feed, and mate, they may disperse to other fields. Beetle emergence will continue for several weeks to come.
After emerging, beetles will begin to feed on corn leaves if pollen is not available. This leaf feeding damage is usually of no economic importance. This year's staggered planting will cause some fields to pollinate much sooner than others. These fields will act as "magnets" for the beetles and need to be watched for silk clipping. If beetles are present and feeding on corn silks, an insecticide application should be considered only if 50% of the silks are being cut off to less than 1/2 inch before 50% pollination has taken place. Note, this threshold is NOT based on beetles per plant.

It's That Time for Corn Lodging– (John Obermeyer and Larry Bledsoe)
Recent storms have revealed rootworm damage.
Evaluations must be made soon, root re-growth will mask damage.
Thanks to Dwain Rule, Midland Co-op, and Steve Dlugosz, Agriliance, for calling and sharing about their recent rootworm digs. Just over a week ago rootworms were difficult to find; now it seems as though the warmer weather has not only spurred corn growth but rootworms as well. Dwain and Steve found a mix of rootworm sizes and damage in the dug roots. Typically around July 4th, a mix of rapid plant growth, rootworm feeding, and rain storms with gusty winds combine to topple corn plants with reduced roots. Damage is typically spotty in fields and is often associated with the lower, darker soils. If damage isn't seen in the end-rows to bring attention to the situation, producers may have a surprise for them this fall as they harvest. Now would be an optimal time to walk and inspect fields.
Corn plants that have tilted or lodged should be dug, not pulled, and then inspected for root feeding scars. Pay particular attention to the nodes of roots just below and above the soil surface, these may have been completely destroyed. Those producers that used full rates of rootworm insecticides should be contacting their dealer or manufacturer's representative for further investigations. Fields with significant root damage may also have a tremendous number of beetles as they emerge from the soil.

Corn Blotch Leafminer or Why Are Corn Leaves Turning White?– (John Obermeyer and Larry Bledsoe)
this normally obscure insect is appearing in a few fields.
Yield losses from the leaf mining damage are low.
Attempts to control this insect are not recommended.
Admittedly it's been a slow season for insect problems. Devoting a whole newsletter article to an obscure insect such as corn blotch leafminer may be interpreted as desperation for a story. However, it has been said that our legislatures consider an item of extreme importance if three or more letters/calls are received. Applying that same logic to insect pests in Indiana, corn blotch leafminer is being seen with enough frequency to warrant the following information.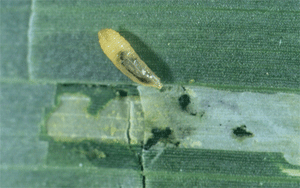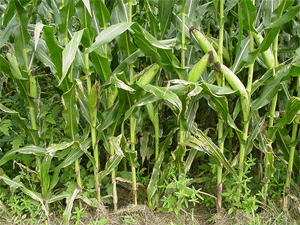 Corn blotch leafminer, Agromyza parvicornis, is a leaf-feeding insect normally considered "occasional or non-economic." The adult is a gray to brown fly 1/4 inch in length. In the early spring, adults insert eggs in either the upper or lower leaf surface of corn. The larva, or maggot, is yellowish and about 1/4 inch long when full grown. The larva pupates in a damaged leaf, or in the soil. Although there are several generations in a season, damage to only certain corn leaves indicates that infestations occur once per season. Larvae eat out the leaf interior leaving a transparent area or "mine." Often many mines appear and sometimes merge on a single leaf. This can be quite an eye catcher, as leaves may appear completely bleached resembling herbicide damage.
There are no sampling methods or economic thresholds for corn blotch leafminer. The damage from this pest is believed to be of little economic importance as only a few leaves per plant are usually damaged. It has been suggested by colleagues at the University of Nebraska that the hail adjuster's charts can be used to estimate potential losses from the leafminer damage. This data is available on pages 27-28 of the Corn and Soybean Field Guide, 2003 Edition (ID 179). From this chart, in order to expect a 5% yield loss, it would require 70% leaf defoliation (mining) in 7-leaf corn. In 10, 12, or 15-leaf corn it would require 45, 40, and 30% mining respectfully for a 5% yield loss.
Even if a control were attempted, it would likely fail because the larvae are protected within the corn leaves. Treatments would have to target the adult flies, which would be difficult with one insecticide application. It is possible that foliar insecticides may worsen the damage. An early investigator of this insect, W. J. Phillips wrote in 1914: "With such a host of ... constantly on the watch, we need not concern ourselves seriously with remedies so long as conditions continue as they are now. In the event that a combination of circumstances should occur that would restrain the parasites and give free rein to their host, the blotch miner would undoubtedly prove a pest very difficult of control. This species seems to furnish an instance in which only the barrier of parasites stands between the farmer and what may easily become temporarily at least, a very serious pest." Speculation as to why there is an "outbreak" of corn blotch leafminer points to either unique environmental conditions, which includes many variables, or practices that are inhibiting the natural parasites (e.g., multiple broadcast pesticide applications).

Click for Table
Black Light Trap Catch Report