Weed Control Timing Isses in Roundup Ready Soybeans- (Bill Johnson, Glenn Nice, and Tom Bauman)
Postemergence weed control operations in soybean should be well underway in most of Indiana. With over 85% of our soybean acres planted to Roundup Ready soybean, we have seen the use of postemergence weed control products shift from photosynthetic inhibitors (Basagran), diphenylethers (Cobra, Blazer/Status, Reflex/Flexstar) and ALS inhibitors (Scepter, Pursuit, Classic, Synchrony, etc.) to glyphosate-based products. Although we are shifting use patterns, we must still use sound judgment in selection of controllable spray application variables.

As with most herbicides, the labels of glyphosate-based products contain information designed to maximize the efficacy of this product on target weeds. With contact herbicides such as diphenylethers and photosynthetic inhibitors, we typically recommended spraying weeds when they were small (3 inches or less) and using higher pressure (psi) and spray volume (gpa) to ensure thorough coverage. This is done since foliage that is not contacted by these herbicides will not be effectively controlled. Since the glyphosate (Roundup) products are translocated to active sites in the plant, complete foliage coverage is less important, and success with lower spray volumes has been achieved on a regular basis in the scientific literature and in the real world.

Obviously, weed management strategies have shifted with the use of the Roundup Ready technology. Before Roundup Ready soybean, weed control programs consisted of utilizing either 1) soil-applied herbicides plus early-post (weeds less than 3 inches tall) treatments for broadleaves and/or mid-post (weeds 3 to 6 inches tall) treatments for grasses or 2) utilizing total-post programs targeted at a mid-post application timing.

Broad adaptation of the Roundup Ready soybean system has resulted in a shift in weed management philosophy. Most glyphosate labels state that the "best" results will be obtained with a 1-quart application (or 22 oz/A of Roundup Weathermax) on 4- to 8-inch-tall weeds, with sequential applications as needed. While we feel that as a general rule, this strategy will be successful, it will be tempting to push the technology envelope and allow weeds to get larger than 8 inches before the first application is made. For that reason, we would suggest targeting the first application to 4- to 6-inch-tall weeds, regardless if one is in a total-post system or a soil-applied followed by post system, and make sequential applications as needed. This strategy will help reduce early season weed competition and result in fewer nonperformance issues.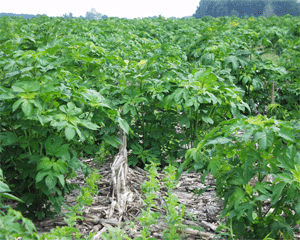 Unfortunately, my observations are that we are pushing the limits of the technology by making the first glyphosate application on weeds 8 to 16 inches tall (or taller – see photo). In discussing this with growers and consultants, it appears that the mindset is to make the application as close to crop canopy as possible to take advantage of the crop canopy in suppressing additional weed regrowth. When the herbicide is effective at controlling the large weeds, these programs have resulted in very clean fields. However, a clean field in August doesn't mean that it will yield as high as it could have if the weeds had been controlled in a more timely manner early in the season. Our research has repeatedly shown that in a total postemergence Roundup Ready soybean system with moderate to heavy weed infestations, an initial weed control operation must be done according to one of the three criteria to minimize yield losses due to weed competition. These criteria consist of either 1) controlling weeds by 4 to 5 weeks after planting, 2) controlling weeds before they reach 6 to 9 inches in height, or 3) controlling weeds before soybean reaches the V3 stage of growth. Environmental conditions and weed densities and variety can slightly shift optimal management times in either direction for any of the criteria, but using one of these as a general rule of thumb will be the best way to minimize risk of yield loss.

VC stage soybean and big giant ragweed. Although these weeds have just been sprayed (see yellowing in terminals), the timing of this spray application was a bit off in our estimation. We recommend against using this strategy. Photo was taken this year in Indiana by Dr. Bob Nielsen, Department of Agronomy. The name and location of the area are not given to protect the innocent.

Investigate Giant Ragweed and Marestail for the Presence of Stalk Boring Insects- (Bill Johnson, Eric Ott, John Obermeyer, Tom Bauman, Glenn Nice)

A lot of attention is being devoted to weeds that appear to be escaping glyposate (Roundup, Touchdown, Glyphomax, others) treatments. While we do have pockets of glyphosate-resistant marestail in southeast IN, we are becoming more concerned about giant ragweed plants that do not appear to be controlled by glyphosate. In some cases, when the plant stems are split open with a knife, stalk boring insects and their tunnels are observed, particularly on plants 18 inches tall or larger. In some cases, I have split open small (less than 12 inch tall plants) and have not been able to find insect boring. By and large though, most of the escapes are large plants and in almost every instance, a stalk boring insect is present.

In response to this issue, we initiated greenhouse studies to look at the influence of stalk boring insects on glyphosate efficacy in giant ragweed. We have completed a couple of runs of this experiment and I wanted to share some of our findings to date.

Methods:
Giant ragweed seedlings (cotyledon to 2-leaf stage) were collected from the Purdue University ACRE Farm near West Lafayette and brought into the greenhouse. Individual plants were placed in plastic pots and watered as needed to bring them back to health after transplanting. European corn borer larvae were obtained from a commercial source and 2-4 larvae were placed on the plant leaves when the plants were 4 inches tall. When the plants were either 6 or 18 inches tall, Roundup Weathermax was applied at 16, 22, or 44 oz/A to these plants with a track sprayer. At 3 weeks after herbicide treatment, plants were harvested at the soil surface and the length of tunnels measured and dry weights recorded.

Preliminary Results:
Insect tunneling was observed in all plants infested with ECB larvae. Unfortunately, these insects are somewhat mobile and tunneling was also observed in non-infested plants. So, we made the decision to plot plant dry weight versus the length of tunnel on a graph. On plants treated with glyphosate when they were 6 inches tall, we observed no correlations between tunnel length and glyphosate efficacy. On plants treated with glyphosate when they were 18 inches tall, we observed a negative correlation between tunnel length and glyphosate efficacy on plants treated with 16 oz/A of Roundup Weathermax. We did not observe any relationships between tunneling and herbicide efficacy on plants treated with higher rates of Roundup Weathermax.

We are planning to continue to work on this issue and have also initiated field studies to study this interaction with natural insect infestations. Stay tuned for more details.

In the meantime we are interested in these interactions in production fields and developing an informal database. If you are interested in how to collect data for this database, contact Bill Johnson, John Obermeyer, or Ron Blackwell. We would like to get a feel for both the number of escapes and plants controlled by glyphosate that contain stalk boring insects.