Too Late to Seed Coo-Season Grasses and Legumes for Forage?– (Keith Johnson)
More risk with a late seeding.
We are at the point of the season that a forage producer has to seriously ask whether the cool-season grass and legume forages intended for a late March or April seeding should be kept in the seed bag until August 2002 or late March/April 2003.
What stresses increase with a late seeding?
Weed control can be more challenging in a young forage stand as warm-season annual grass and broadleaf weeds are sprouting, too. Labeled herbicide choices are none or slim for grass weed control in seedling stands of cool-season grasses and for control of weeds in most forage crop species. Spring oats has been a traditional companion crop that can reduce weed encroachment in forage seedings; however, the oats or uncontrolled weeds in the stand could prove detrimental to young seedlings if soil moisture does become limiting in the next month or two.
Scouting for potato leafhopper in all alfalfa fields is important, but especially critical when a young alfalfa seedling emerges late in the spring season only to find that it has hungry leafhoppers in line waiting to "suck the sap" out of your young existence. The experience of many producers also suggests that even potato leafhopper resistant alfalfa varieties are at risk to the stress of leafhopper feeding when seeded at a later than desired date. I recall from a multi-state research project where potato leafhopper feeding had much less negative impact when the seeding was in early April in Indiana as compared to a delayed mid-May seeding in Ohio because of wet soil conditions.
If summer does not provide above average rainfall, young seedlings will be subject to drought stress. Young root systems that are located in a very dry upper soil profile cannot keep above ground growth in good water status.


If seed is on hand and you do delay seeding, store seed in a good environment. High heat and high humidity are not conducive to good long-term seed quality. You should contact the seed vendor to see if he has good seed storage facilities if you do not. Seed tags should be checked to see if legume seed was preinoculated with rhizhobia and when the expiration date occurs. Preinoculated seed that has expired can be reinoculated at the time of seeding by applying "fresh" inoculant. Individuals seeding "friendly endophyte" tall fescue should also be advised that this endophyte dies with time in storage, as does the unfriendly endophyte responsible for fescue toxicosis.

Delayed Planting & Hybrid Maturity Decisions– (Bob Nielsen)
Delayed planting shortens the available growing season for corn.
Fortunately, corn hybrids adjust to shortened growing seasons.
Adapted hybrid maturities can be planted in Indiana until late May.
After a weekend of wonderful drying weather, the rainfall that began again Monday morning threatens to delay corn planting throughout the state even further. One of the obvious decisions that farmers need to be considering as planting is further delayed is whether or when to switch from their normal "full season" hybrid maturities to earlier maturity ones in response to the ever-shortening growing season.
Table 1. "Normal" adapted hybrid maturities for geographic areas of Indiana and their corresponding approximate GDD ratings from planting to kernel black layer

Area of Indiana

"Normal" adapted CRM

Approx. GDDs to black layer

NW

109

2632

NC

109

2632

NE

109

2632

WC

112

2707

C

112

2707

EC

109

2632

SW

116

2807

SC

113

2732

SE

113

2732

Hybrid CRM (Comparative relative maturity) values and GDD ratings correspond closely with those used by Pioneer Hi-Bred International, Inc.
That decision is somewhat murky because the definitions for "full season" maturity vary from one farmer to the next. The definitions that I use are listed in Table 1 on the geographic basis of USDA Crop Reporting Districts. The hybrid maturities are described both in terms of 'comparative relative maturity' (CRM) and growing degree days (GDDs). As a reference point, the CRM values and associated GDDs correspond most closely with those used with Pioneer™ brand hybrids.
Some will look at the hybrid maturity values in Table 1 and wonder where on earth I come up with some of the definitions for "full season" maturities for parts of the state. In particular, growers in the northern and east central areas of Indiana often plant hybrids with later maturities than those listed in Table 1 in an attempt to capture higher yields with fuller season hybrids. Such later maturities, though, 'push the envelope' in terms of their riskiness for maturing safely before a typically-occurring first fall frost. The values listed in the table more closely address a goal with normal planting dates for grain maturation to occur about two to three weeks prior to the average first fall frost (32°F).
By contrast, some growers in southern Indiana may wonder why the hybrid maturities listed in Table 1 are so 'early'. Indeed, the available GDDs in southern Indiana would allow the use of hybrid maturities that are five to ten days CRM later than what are listed in the table. Over the years, though, growers have discovered that the earlier maturity hybrids will yield as well as the true 'full-season' hybrids, but will dry down earlier in the season.
Given the "full season" maturities listed in Table 1 for normal late April – early May plantings, when should earlier maturities be substituted as planting is delayed? Some years ago, Peter Thomison (Ohio State Univ.) and I collaborated on field research that investigated the effects of delayed planting on the GDD needs of different hybrid maturities.
That research, conducted by former graduate students Greg Brown and Tony Halter, indicated that delayed planting decreases hybrid GDD requirements from planting to maturity. In fact, as planting is delayed beyond about May 1, the number of GDDs from planting to kernel black layer (physiological maturity) decreases by about 6.8 GDDs per day of delayed planting. The consequence of this research is that adapted "full season" maturities can be planted much later than previously thought and still mature safely prior to the average date of a killing freeze in the fall.
Based on our research, we can more accurately determine when to "pull the trigger" for switching from fuller season to earlier season hybrid maturities with delayed plantings. The good news is that hybrid maturities adapted for Indiana (Table 1) will mature safely when planted throughout most of the month of May. Once planting is delayed further, the ever-shortening growing season (measured by estimated available GDD) finally exceeds the fuller-season hybrids' abilities to adjust their developmental GDD needs.
Table 2. Approximate 'safe' hybrid relative maturities for delayed plantings throughout Indiana. Shaded values indicate hybrid maturities that are earlier than normally used for that area of the state (Table 1).

Area of Indiana

CRM Appropriate for plantings no later than:

May 27

June 3

June 10

NW

109

106

103

NC

107

104

101

NE

107

104

101

WC

112

112

111

C

112

112

109

EC

108

105

102

SW

116

116

116

SC

113

113

113

SE

113

113

113

Hybrid CRM (Comparative relative maturity) values correspond closely with those used by Pioneer Hi-Bred International, Inc.
Table 2 lists the hybrid relative maturity values that should safely mature prior to a fall frost (32°F) when planted from late May through early June in Indiana. These 'safe' hybrid maturities were estimated for the various Crop Reporting Districts according to the available length of growing season for each planting period, the average date of the first fall frost (32°F), and adjustments based on the hybrid GDD response to delayed planting.
BEAR IN MIND that these estimates of safe hybrid maturities are aimed at achieving grain maturation no later than the average (50% probability) date of the first light freeze (32°F) in the fall. Such frost events normally injure corn leaves, but do not kill the corn plant. These dates generally range from the first through the third weeks of October from northern to southern Indiana. Also recognize that northern Indiana farmers who already 'push the envelope' by planting 113-day CRM maturities or greater should begin switching to more adapted maturities of about 109-day CRM maturities by about May 20.

Interpreting Hybrid Maturity Ratings– (Bob Nielsen)
Hybrid maturity ratings have always been a sort of mystery to farmers and consultants alike. One factor that contributes to the mystery is that your definition of 'maturity' may not be the same as my definition.
Agronomists usually refer to 'maturity' as that point in time when maximum weight per kernel has occurred. The usual term for this is 'physiological maturity' and is often associated with the development of the black layer at the tip of the mature kernel. Grain moisture content at the onset of physiological maturity ranges between 25 and 35 percent.
Another definition of 'maturity' is that point in time after physiological maturity when a hybrid can be safely harvested with minimal harvest loss, either by kernel loss or kernel damage. My term for this is 'harvest maturity' and is usually associated with a grain moisture content of around 25 percent.
The traditional method for rating hybrid maturities (i.e., 'days to maturity') is based on comparisons among hybrids near the time of 'harvest maturity', with the assumption that grain moisture loss in the field is about 0.5 percentage point per day. For example, if the grain moisture content of a new hybrid is two percentage points wetter than that of a 'standard' hybrid with an assigned relative maturity value of 110, the new hybrid is assigned a relative maturity value of 114.
Historically, folks have added the word 'days' to this hybrid maturity rating value (i.e., 114-day hybrid), but it is important to recognize that this value does not refer to actual calendar time between planting and harvest maturity. Consequently, traditional relative maturity ratings of hybrids are of little help in determining whether a hybrid will safely mature before a killing fall frost.
The other common method for assigning relative hybrid maturities is based on the thermal time between planting and physiological maturity. Terms used to describe thermal time include 'growing degree days' (GDD), 'growing degree units' (GDU) and 'heat units' (HU). GDD values represent the amount of heat accumulated over a period of time. Since this method depends on actual measurement of thermal time, there is no need to compare hybrids in order to assign maturity rating values. Common values for such maturity ratings range from about 2500 (earlier maturity hybrids) to 2800 (later maturity) for hybrids commonly grown in Indiana.
The relationship between these two maturity rating methods is close but not always exact because each is based on a different definition of 'maturity', the difference being the time period between physiological and harvest maturity. If hybrids vary for rates of grain moisture loss, their comparative maturity values may differ between the two maturity rating methods. Neither method is perfect, either, because of the influences of climatic conditions and plant stress on the grain maturation process.
Another 'fly in the ointment' is the fact that there are no agreed upon standards within the seed industry for the application of either method for assigning relative hybrid maturities. Minor differences in methodologies among seed companies often result in the farmer's frustration in comparing maturity values among different brands of hybrids.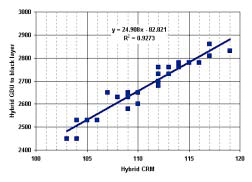 Figure 1. Relationship between hybrid comparative relative maturity (CRM) and hybrid growing degree units (GDU) from planting to kernel black layer for a group of Pioneer™ brand corn hybrids 1. (Source of data: Pioneer Hi-Bred International sales literature, 2001.)
Unfortunately, the lack of industry standardization can make it difficult for growers who need to make a hybrid maturity decision for late planting situations based on remaining GDD availability (see my related article). Fortunately, one of the larger seed corn companies rates their hybrids according to GDD accumulations from planting to kernel black layer. Consequently, we can describe the relationship between their relative hybrid maturity ratings and growing degree days to kernel black layer (Figure 1.)
One can use this relationship to estimate the GDDs from planting to black layer for other companies' hybrids of similar relative maturities. For example, if the relative maturity of a hybrid is comparable to a 112-day (CRM) Pioneer™ brand hybrid maturity, then Figure 1 suggests that the GDDs from planting to black layer would be approximately 2700. With this estimate in hand, growers can then begin the process of determining safe hybrid maturities for late planting situations.
Don't forget, this and other timely information about corn can be viewed at the Chat 'n Chew Café on the World Wide Web at <http://www.kingcorn.org/cafe>. For other information about corn, take a look at the Corn Growers' Guidebook on the World Wide Web at <http://www.kingcorn.org/>.

1 Reference to commercial brand names does not constitute an endorsement by Purdue University.

Minimizing Compaction in a Wet Spring– (Tony J. Vyn)
As the calendar days in May pass with very little of the corn or soybeans planted in Indiana, the temptation mounts to do tillage or planting operations when soil conditions aren't fit. The planting that has been completed thus far has been on fields that dried faster earlier, so the waiting now becomes even more challenging. Does the recommendation for acceptable soil moistures for field operations change between late April and mid-May or late May? In short, the answer is "No". Here are ten guidelines on how to avoid or minimize soil compaction in a wet spring.
The risk of yield loss resulting from compaction at the time of tillage or planting does not decline with time in spring. Crop yield loss after soil compaction is most likely when hot and dry weather conditions add to rooting stresses encountered in the first 60 days after planting. The latter weather conditions are more likely after late versus early planting. Regular rains of 1 inch per week from June to August would markedly help corn and soybean response to compaction at planting, but it is not good management to presume such a rainfall distribution will follow an untimely field operation this month.

Even in mid-May, potential yield loss from compaction is still greater than that from delayed planting. Waiting two more days for that tillage or planting operation will reduce corn yields by 3% or less, whereas potential yield losses from spring compaction could be as high as 40%.

The easiest test to determine soil suitability for tillage is still the "roll" test. Take soil from the one-inch zone around the intended depth of tillage (or seeding) and roll it carefully back and forth between the palms of your hands. If you can form a 4-inch long "worm" of soil with a diameter of 1/8 inch, the decision should be to wait for additional drying.

Never do two secondary tillage passes under marginal soil moisture conditions. The second pass will only add to the compaction load from the tractor and the implement. For those that choose tillage (instead of no-till or stale seedbed planting), wait just long enough after that operation to have friable conditions in the seedbed zone and then plant. Use harrows or other firming devices behind field cultivators to reduce clod size in the first pass.

Avoid the use of tandem disks where possible because of the additional compaction load (pressure) below disk blades, compared to that under the cultivator sweeps. Creating "tillage pans" (layers of increased soil density just below the depth of tillage) restricts both root growth (and water drainage if the rains should continue).

Keep the tillage depth as shallow as possible. Soil moisture levels (and potential for soil smearing) increase rapidly with depth after periods of heavy rain when drying soil below field capacity is predominantly by evaporation drying from the surface. There is no inherent yield gain for tillage any deeper than an average of 3 inches.

Consider limiting planting and tillage operations to those portions of the fields where soil conditions are "acceptable". Come back and plant those wetter areas later. Yield reductions associated with "mudding" the crop in are still much higher than those resulting from waiting on the wet areas for an additional week.

Try to minimize the compaction from the tractor itself. Use a tractor with a lower axle load if it is capable of doing the field operation. Adjust inflation pressure to as low as is appropriate for the tire type. Don't feel compelled to leave duals or even triple tire combinations on the tractor if they are not providing a clear benefit in flotation or in enabling an overall reduction in depth of secondary tillage (e.g. to loosen soil in the wheel tracks). In spring tillage operations, compaction from tractor wheel tracks is often the worst offender in restricting subsequent root elongation.

Flexibility surrounding the margins of "acceptable" soil moisture ranges for tillage and planting operations is dependent on overall soil organic matter levels and crop rotation history. Fields with high organic matter and good soil structural stability are less likely to experience yield loss from tillage or planting operations under less-than-optimum conditions. Fields with a history dominated by soybeans or other low-residue producing crops are those that are most susceptible to crop yield loss associated with compaction. Fields with a recent history dominated by perennial forages, grain corn, cover crops and (or) manure are less susceptible to compaction damage even when tillage occurs at similar soil moisture contents.

In delayed planting situations, pre-plant ammonia application should be avoided for compaction reasons as well as for the extra time requirement before corn planting. Aside from the wheel-track compaction and smearing alongside the anhydrous knives, increased concentration of ammonia in the knife zone may enhance the risk of injury to corn plants when the soil dries.
In summary, the advancing calendar is generally not sufficient justification to work soils that are too wet, or to "mud" the crop in. Minimizing compaction is just as important in mid-May as it was in late April. Patience is a necessity!