Weevils Wreaking Widespread Woes- (John Obermeyer, Rich Edwards, and Larry Bledsoe)
Scout alfalfa NOW!!!
Warm temperatures have accelerated larval development and activity
Use highest labeled insecticide rate for longest possible residual control.
If a second application is necessary, adhere to product rate restrictions.
Surveys of west central and northwestern Indiana alfalfa fields this past week (see "Alfalfa Weevil Larval Survey") reveal that weevil feeding has reached high levels in many fields. Weevil damage and subsequent populations continue to progress faster than anticipated with the given heat unit accumulations. This should be a warning to growers throughout northern Indiana counties.
Many pest managers have or will soon apply insecticides to suppress this feeding frenzy. If possible, insecticides should not be applied until 400 heat units (base 48∞F) have accumulated (see "Weather Update"). At this level, most weevil eggs have hatched and the majority of larvae can be controlled. If treatments are necessary before this time, use products and/or rates that will give long residual control while carefully considering the harvest restrictions. Refer to the recommended insecticides for alfalfa weevil larval control in Pest&Crop #4, April 12, 2002.
Alfalfa Weevil Larval Survey
4/15/02 & 4/17/02
(Ron Blackwell)

County (Fields) Sampled

Stem Height (in.)

% Trip Feeding

Lawrence

80%

Lawrence

100%

Parke

8.9

88%

Parke

8.1

52%

Parke

7.2

100%

Parke

6.6

92%

Aphids In Wheat – (John Obermeyer, Rich Edwards, and Larry Bledsoe)
Yellow wheat could be Barley Yellow Dwarf Virus which is vectored by aphids.
Transmission by aphids mainly occurs in the fall.
Later on, watch for aphids on wheat heads.
A caller this week from southwest Indiana was concerned about the presence of aphids on wheat and disease potential. Barley Yellow Dwarf Virus (BYDV), which is transmitted by aphids, causes yellowing of wheat. BYDV usually is observed in late spring, at about jointing, and usually occurs in patches of varying sizes. Plants infested with aphids in the fall, usually more likely in early plantings, are more likely to be infected with BYDV and severely damaged. Insecticide applications applied after wheat reaches Feekes' 4.0 does little good to prevent the transmission of BYDV (refer to "Feekes Growth Stages for Wheat" in Pest&Crop, Issue #1).
Watch for aphid population increases as wheat heads begin to emerge and fill. The aphids injure developing heads by sucking plant juices. An average of 50 or more aphids per head indicates that an insecticide treatment should be considered. Normally when aphid numbers build to 10 or more per plant, it is not uncommon for predators and parasites to increase rapidly in response to this increased source of food. Lady beetles (adults and larvae), syrphid fly larvae, lacewing larvae, and several species of parasites are probably now or shortly will be numerous in most fields. These natural control agents should help reduce aphid numbers.

Showers, Flowers, and Black Cutworm – (John Obermeyer, Rich Edwards, and Larry Bledsoe)
Recent fronts have brought us many cutworm moths.
Timing of scouting can be improved by tracking heat unit accumulations.
Scouting fields and treating when necessary makes more sense than the prophylactic applications of insecticides.
Several intensive captures (9 or more moths caught over 2-nights) have been recorded by our dutiful cooperators throughout the state, see "Black Cutworm Adult Pheromone Trap Report." This recent flush of moths is attributed to warm wind currents from the Gulf Coast States and southwestern portions of the country.
Significant moth captures at this time, along with the use of heat units to predict the beginning of larval activity, gives us an indication of potential severity of the problem and locations of concern. Thus, we are able to predict with some degree of accuracy when and where crop damage is likely to occur based on these data. Watch for future P&C articles concerning this pest.
Should one treat for black cutworm before or at planting? The tried, true, and economic approach to black cutworm management is to scout fields, determine infestation and damage levels, and use a rescue treatment, if needed. Scouting, treatment thresholds, and control information will be provided in future Pest&Crop newsletters.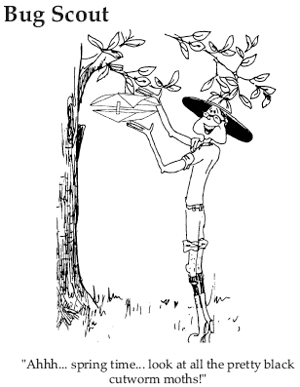 Black Cutworm Adult Pheromone Trap Report

Armyworm Moths Also Arriving – (John Obermeyer, Rich Edwards, and Larry Bledsoe)
Armyworm pheromone traps in Kentucky and one keen observer in Orange County Indiana have confirmed that this dreaded pest from the 2001 season has made its annual arrival into the Midwest. Watch for our black light trap catch reports beginning in next week's Pest&Crop and subsequent newsletters before jumping to conclusions about this pest in 2002.