Alfalfa Weevil Management Guidelines and Control Products - (John Obermeyer, Rich Edwards, and Larry Bledsoe)
Reports from southern Indiana indicate that alfalfa weevil are quite active.
Use damage and heat unit accumulation information as a guide in making management decisions.
Last week's sampling results and pest manager reports from southern counties point to the possibility that alfalfa weevil damage my equal or even exceed last year's tremendous levels. As mentioned in last week's Pest&Crop, their development and damage is ahead of the heat unit model that normally accurately predicts weevil activity. This is especially true on south facing slopes or fields with sandier soils.
The management guidelines listed below should be used as a guide in determining when alfalfa weevil should be controlled in southern Indiana. The times for sampling and the need for and timing of controls are based on accumulated heat units (HU) at a base temperature of 48∞F and percentage tip feeding. Refer to HU information in each week's Pest&Crop "Weather Update." This HU information will help one determine when management steps should be taken.
Alfalfa Weevil Management Guidelines, 2002 Southern Indiana
Heat units
% Tip Feeding

Advisory*

200

Begin sampling.

300

25%

Re-evaluate in 7-10 days using the appropriate HU or treat immediately with a residual insecticide if 3 or ore larvae are noted per stem and % tip feeding is above 50%.

400

50%

Treat immediately with a residual insecticide

500

75%

Treat immediately

600

75+%

If cutting delayed more than 5 days, treat immediately

750

If harvested or harvesting shortly, return to the field in 405 days after cutting and spray if 1) there is no regrowth and weevil larvae are present OR 2) feeding damage is apparent on 50% of the stubble and weevil larvae are present.
Insecticide For Alfalfa Weevil Larval Control 1,2
Insecticide

Formulation and Amount per Acre

Harvest or Pasture Restriction

Remarks

Carbofuran
(Furadan)1,2

1/2 pt. 4F
1 pt. 4F
2 pt. 4F

7 days
14 days
28 days

Use only on pure stands of alfalfa. Use higher rate where residual control is needed. Do not make more than one application per season.

chlorpyrifos
(Lorsban)1,2

1 pt. 4E
2 pt. 4E

14 days
21 days

Some yellowing may be observed on young, rapidly growing alfalfa. Alfalfa will outgrow the yellowing and no yield loss should occur.

cyfluthrin
(Baythroid 2)1

1.6-2.8 fl. oz. EC

7 days

Use higher rates for heavy populations. Do not use on alfalfa grown for seed.

cyhalothrin
(Warrior)1

2.56-3.84 fl. oz. EC

1 day-forage
7 days-hay

Use higher rates for increased residual control. Avoid application when bees are actively foraging.

permethrin
(Ambush)1
(Pounce)1


12.8 oz. 2EC
8 oz. 3.2EC


14 days
14 days

Avoid application when bees are actively feeding. Do not apply more than 12.8 ounces (2EC) or 8 ounces (3.2EC) per acre per cutting. Do Not use in fields with more than 2 larvae per stem and before 600HU (base 48°F) have accumulated.

zeta-cypermethrin
(Mustang)1

2.4-4.3 fl oz. EW

3 days

Use higher rates for increased residual control.

1 Restricted use pesticide.
2 Highly toxic to bees.

What About Seed Attacking Insects? – (John Obermeyer, Rich Edwards, and Larry Bledsoe)
Early planting and slow germination increases seed damage from insects.
High residue and cool, wet field conditions may warrant the use of seed protectants
Seed protectants most often only protect the seed, not the roots.
Don't use both a seed treatment containing an insecticide and a soil insecticide at planting
Most of our attention to soil insects is given to corn rootworm, what about those other critters? Wireworms, grubs, maggots and seedcorn beetles occasionally damage seed and seedlings. Obviously, the longer that germination is delayed, the greater the chance for insect damage to occur. How about the seed that will be planted during the next window of opportunity, should it receive a seed treatment to protect from these occasional pests? The following discussion is for these other soil insects, NOT ROOTWORM.
Planting in fields with less than adequate drainage, in set-aside acreage (such as CRP land), or fields with high crop residue or where high rates of manure have been applied, the use of a seed protectant may be a good investment against seed attacking insects. Seed protection will be critical if our cool weather pattern continues and soil temperatures remain at less than ideal levels for rapid seed germination and plant growth.
Planter box seed treatments, such as Kernel Guard Supreme and KickStart VP are registered for both corn and soybean. The insecticide permethrin, same active ingredient in the foliar insecticides Ambush and Pounce, in these seed treatments should provide adequate control of seed maggots and beetles. In limited trials, permethrin has shown some protection from wireworms. Because seed treatments do not protect the plant once it sprouts, there is no control of white grubs, cutworms, rootworms, or high populations of wireworms.
Pre-applied insecticide seed treatments are now available for corn producers. Industry and university trials have shown some promising results with Gaucho, Prescribe, and ProShield against wireworms and seedcorn maggot. As well, the systemic activity of Gaucho and Prescribe provides some early suppression/control of corn flea beetle. Certainly the biggest question for producers and researchers is how effective these products are against white grubs. Limited trials have shown a mixed bag of results. Most likely there will be some suppression of grubs, but not control.
Where rootworm soil insecticides are applied at planting, the use of a planter box or pre-applied seed treatment is not necessary.

Black Cutworm, They're Here – (John Obermeyer, Rich Edwards, and Larry Bledsoe)
Moths making their annual arrival into the Midwest
Impregnated moths are seeking weedy fields to lay their eggs.
Early weed control goes a long way in suppressing this pest.
Several black cutworm intensive captures, 9 or more moths caught over a 2-nights, have been captured during the week of April 8 (see "Black Cutworm Adult Pheromone Trap Report" and "2002 Black Cutworm Pheromone Trap Locations"). This correlated well with the warmer temperatures from the Southwest that swept across the Midwest and brought black cutworm moths from Mexico and Texas. The timing of their arrival is normal, the moth flights of mid to later April are usually the ones we carefully monitor.
New arriving moths are looking for the perfect place, i.e., winter annuals, for egg laying. Fields that are now covered in chickweed, mustards, etc. are at highest risk for cutworm damage. Remember, corn and soybean are not the black cutworm's food of choice. These are normally the only plants remaining by the time larvae have hatched and weeds are dead. Research has shown that cutworm larvae starve if weeds are destroyed 2-3 weeks before corn emergence. This says something for early burn-down herbicides in the management of this pest. Look for updated pheromone trap captures and heat unit tracking of cutworm development in future issues of the Pest&Crop.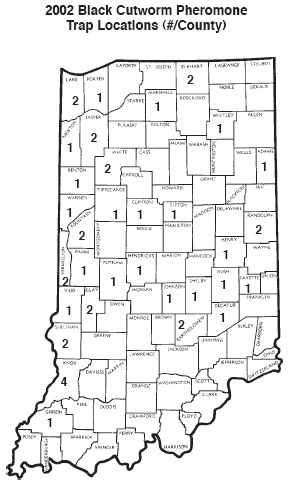 Black Cutworm Adult Pheromone Trap Report

Southwestern Corn Borer Spring Survey – (Ric Bessin, Lee Townsend, Wayne Mattingly, and Mike Smith, University of Kentucky)
Southwestern corn borers spend the winter as larvae in galleries at the base of corn stalks. Stubble in cornfields can be checked during early spring for damaged plants and surviving borers. This can provide an indication of what the first generation may be like for 2002. A survey of southwestern corn borer damage and larval survival was conducted in Caldwell, Daviess and Henderson counties on March 14 and 15. These counties were selected because of the past infestation history. The purpose was to estimate the extent of SWCB damage, as evidenced by basal stalk girdling. In addition, we wanted to estimate the survival of the overwintering larvae in the crowns of these damaged plants. In each county, three to five non-Bt corn fields were evaluated. Within each field, 10 to 12 groups of 10 plants were examined for girdling damage and presence of live SWCB larvae. An additional 50 damaged plants were examined for the presence of live SWCB larvae.
This is the fourth year that we have conducted such a survey. In comparison to the previous winters, we had the lowest levels of girdled plants and survival of overwintering larvae. Fewer girdled stalks were to be expected, because planting conditions in April 2001 were excellent. This allowed growers to get their corn crop in the ground on time and enabled early harvest. Delayed harvest allows SWCB time to migrate to the bottom of the stalk and girdle the plant. Early planted corn may also be less attractive for lateseason egg laying.
Observed levels of survival in the girdled crowns was surprising. Survival this spring is less than what would have expected considering the relatively mild winter. Of the girdled crowns sampled this spring, a large proportion had evidence of bird activity with the larva having been removed. Relatively few crowns had dead larva remaining in the overwintering chamber. The number of live SWCB larvae per stalk is a small fraction of what we estimated in other years. This survey indicates that there are potentially fewer SWCB moths to begin the season as compared with the past three years.
| | | | |
| --- | --- | --- | --- |
| Year | Girdled Stalks (%) | Survival/girdled stalk (%) | Overall Survival/Stalk (%) |
| 2002 | 11.78 | 5.31 | 0.63 |
| 2001 | 40.58 | 9.66 | 3.92 |
| 2000 | 20.73 | 26.85 | 5.57 |
| 1999 | 35.89 | 10.14 | 3.64 |
Keep in mind that overwintering survival is just one of the variables that will, in part, determine the potential for SWCB problems in 2002. Historically, the date of planting of individual fields has been a key variable contributing to the potential for late season SWCB damage. Although early season numbers seem to be very low, favorable conditions, may allow SWCB numbers to rebound by the second and third generations. Typically, fields planted after May 10 have an increased potential for this type of damage.
What we can conclude:
Despite a mild winter, we found low survival levels of SWCB larvae in each of the counties surveyed.
Birds seem to feed heavily on SWCB larvae during the winter.
Winter conditions were not sufficient to eliminate SWCB larvae.
We expect low first generation SWCB pressure for those areas surveyed.
Date of planting is still important. Corn planted after May 10 could be at risk to late season SWCB activity.
Reprinted from Kentucky Pest News, Number 943, March 18, 2002.