Survey of Overwintering European Corn Borer and Management Considerations for 2003- (John Obermeyer, Rich Edwards, and Larry Bledsoe)
2002 statewide corn borer activity about the same as last 3 years.
Next year's corn borer threat cannot be accurately predicted at this time.
Early-planted corn may attract first generation moths.
Second generation corn borer generally attacks late planted/pollinating fields.
Return on investment with Bt corn may depend on planting date along with other production practices/inputs.
Implement an ECB resistance management program if using Bt corn.
Ron Blackwell's survey of overwintering European corn borer (ECB) is complete and statewide corn borer numbers are somewhat the same as those observed over the last four years (see accompanying graphs and table). Compared to 42 years of survey data, 2002's overwintering population is about average. Breaking the numbers down by state regions show that higher numbers of stalk cavities and borers were present in northwestern, northeastern, and southwest-central counties when compared to the other regions. What does this mean for 2003?
ECB larvae are now either nestled in crop residue or in the stalks of yet to be harvested corn and will form the bulk of next year's threat to Indiana corn. However, environmental factors during the growing season, more than anything else, will determine whether this insect becomes an economic threat in 2003. Entomologists are cautious when making predictions since it is very difficult to accurately predict if an insect such as ECB will reach its biotic potential. Under optimal conditions, each female moth can produce over 400 eggs spread in masses among many plants and fields!
What about using Bt corn for 2003? A major drawback with using this excellent pest management technology, if it cost more than non-Bt lines, is that producers must anticipate economic corn borer damage before the corn crop is even planted. As stated above, the previous year's infestations and overwintering survey information won't accurately predict next year's population and damage. Therefore, in order to benefit from using Bt corn, it is best to assess the potential field risk to ECB moth attraction, egg laying, and subsequent larval damage.
First brood females are generally attracted to the tallest, greenest corn for egg laying – normally early-planted corn. This, coupled with conventionally tilled and rotated fields and adequate soil fertility levels increase the risk of first generation attack. Many producers traditionally plant certain fields first, e.g., fields close to the farmstead, well drained fields, etc. If these fields are ahead in their growth and development compared to neighboring corn during the first week in June, then there is a greater likelihood of return on investment in Bt corn.
Predicting second or even third generation populations and damage is impossible due to an extensive list of variables. Our advantage when dealing with second generation ECB is that we understand the pest's behavior enough to know that these later flights are most attracted to actively pollinating corn – thus late-planted or late-maturing corn. For late-planted fields, the investment in Bt corn could pay good returns.
Producers who grow Bt corn must implement a resistance management program that includes the planting of a corn borer refuge(s) of non-Bt corn. Refuges should be planted within a half-mile (0.5) of Bt corn at approximately the same time and with a similar maturity corn. Academic, industry, and producer organizations support the EPA requirement of a 20% refuge for the 2003 growing season. Neighbors planting non-Bt corn cannot be considered as providing the refuge for another producer. Without these refuges, which preserve genetic diversity of the corn borer population, this technology will likely be short lived. More specific information on resistance management is available from seed company agronomists.

Region *
Borer Entries/ Tassel1,2
Bore Entries/ Above Ear Zone1,2
Borer Entries/ Ear Zone1,2
Borer Entries/ Below Ear Zone1,2
Borer Entries/ Ear Shank1,2
Total Borer Entries/ Plant1
Over-wintering Larvae/ Plant3
SW
0.00
0.23
0.18
0.18
0.08
0.67
0.12
SE
0.04
0.11
0.24
0.22
0.08
0.69
0.54
SWC
0.09
0.59
0.85
0.53
0.23
2.28
0.80
SEC
0.01
0.08
0.15
0.08
0.05
0.37
0.20
WC
0.00
0.31
0.43
0.21
0.13
1.08
0.37
C
0.03
0.33
0.35
0.27
0.06
1.03
0.42
EC
0.00
0.12
0.24
0.13
0.08
0.7
0.38
NW
0.00
0.43
0.97
0.56
0.22
2.18
0.68
NE
0.01
0.44
0.62
0.31
0.13
1.50
0.67
Avg.
0.02
0.29
0.45
0.27
0.12
1.15
0.46

* Six fields were surveyed in all regions except SE (5 fields surveyed).
1Counts made on 20 plants/field.
2Plant zones are as follows: Tassel; Ear Zone, includes 2 nodes above and 2 nodes below primary ear; Above Ear Zone, includes all nodes between tassel and ear zone; Below Ear Zone, includes all nodes between ground and ear zone; Ear Shank, includes primary ear only.
3Numbers based on 10 plants dissected/field.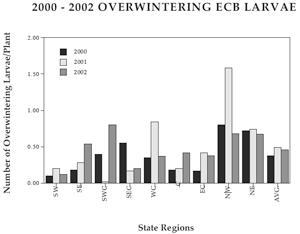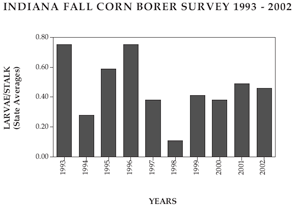 Estimated Economic Losses from European Corn Borer in 2002- (John Obermeyer, Rich Edwards, and Larry Bledsoe)
The following chart is an attempt to estimate the economic losses to Indiana's corn from European Corn Borer (ECB) in 2002. This uses the 2002 fall ECB survey information. Because many assumptions (and best guesses) are built into the calculation, there is some trepidation in releasing this information. It simply is an attempt to make plant entry data from the fall survey more meaningful to Indiana's producers. Hopefully this shows the wide range of levels of ECB damage that occurred within and throughout areas of the state.
The dollar losses below are calculated from estimated physiological stresses due to ECB larvae boring into the plant. It cannot be stressed enough that corn hybrids differ greatly in their reaction to ECB damage. The estimated dollar loss then should be compared to the expense of preventing or lowering ECB damage with Bt corn or insecticides. From the data below, many infestation levels in 2002 didn't warrant preventive measures unless on the high end of the damage range. If nothing else, this data supports the need for scouting and determining infestation levels in each field.
2002 Estimated $ Loss/Acre from ECB Damage

Region
Number of Fields
Mean $ Loss/Acre1
$ Loss Range/Acre1
SW
6
2.81
0.00-7.13
SE
5
3.68
0.34-5.45
SWC
6
10.37
0.65-24.622
SEC
6
1.87
0.34-4.43
WC
6
7.01
0.90-12.66
C
6
5.88
2.98-11.48
EC
6
3.03
0.68-10.46
NW
6
15.64
4.94-34.11
NE
6
7.23
2.41-14.80
Avg.
53
6.63
0.00-34.11

1Assumes a 3% yield loss for each ECB entry.
Only stalk entries at or below the ear are considered affecting yield.
Includes first and/or second generation ECB damage
Uses Preliminary District Yield Estimates from Indiana Agricultural Statistics Service
Uses $2.25 market price for corn.
2White corn, which tends to be very susceptible to ECB infestation.

Earworm Damage this Fall- (John Obermeyer, Rich Edwards, and Larry Bledsoe)
Mysterious ear damage turned out to be corn earworm.
Earworm moth flights were very high late in the season.
"Small black beetles" in the damaged ears are feeding on molds and decaying matter.
Fields with significant damage should carefully be prepared for long-term storage.
Several calls from astute pest managers alerted us to the fact that many corn ears were being damaged during the late summer and early fall. However, there was some uncertainty of the insect(s) causing the problem. These reports occurred while we were in the process of hand harvesting corn insecticide trials and allowed us to carefully monitor for the damage. Indeed, in corn with higher grain moisture, we were finding kernels that had been scarred, gouged, and/or falling off the cob. European corn borer was the first suspect, but larvae were not prevalent on the plants. Within time it became evident that corn earworm larvae were the cause.
Black light trap catches for corn earworm were exceptionally high late in the summer. With the many late maturing fields we had this season, it is not a surprise that earworm moths found these fields attractive for egg laying. Because the earworm larvae had little time to feed on milk and soft dough stage corn, they began to burrow deeper into the kernels causing detachment from the cob. We have never seen this type of earworm damage on such a wide scale before. To add confusion, several very small mold and sap feeding beetles entered the ears to feed on the "leftovers" from the earworm. Some observers had thought that these secondary invaders were causing the problems.
Corn earworm will continue to be considered a minor pest of yellow dent corn. However, 2002 being the exceptional year that it was, earworm damage not only generated inordinate grain losses, but potentially higher kernel molds during storage. Grain cleaning during binning, coupled with proper aeration may be critical this fall. Information on proper storage can be found at the Post Harvest Grain Quality & Stored Product Protection Program web site: <http://pasture.ecn.purdue.edu/%7Egrainlab/>.