Yellow Butterflies- (John Obermeyer, Rich Edwards, and Larry Bledsoe)
Alfalfa butterfly is gracing our presence.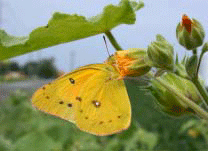 Alfalfa butterfly on velvetleaf
Alfalfa Caterpillar
While driving through the countryside, many have been greeted with the pleasing site of yellow butterflies on and along side of roads near puddles of water or wet surfaces. This is the alfalfa butterfly, Colias eurytheme, also known as "sulfurs." These butterflies congregate in large numbers near sources of moisture. They are prevalent during mid-day, their peak mating time.
The larvae of these butterflies are referred to as the alfalfa caterpillar. This caterpillar is up to 1-1/2 inches long, has a velvety-smooth lime-green body with a white stripe on each of its sides. This caterpillar is commonly found in alfalfa, clover, and vetch, but it can occasionally be found defoliating soybean leaves. Though the numbers of butterflies may be numerous, this does not indicate an outbreak of caterpillars is soon to follow. These caterpillars are very susceptible to insect diseases that can rapidly bring their numbers down to very low levels. When this happens, it is referred to as an epizootic. Therefore, enjoy this beautiful late summer site before they disappear.

Harvest Restrictions for Soybean Insecticides– (John Obermeyer, Rich Edwards, and Larry Bledsoe)
The following listing includes many of the insecticides registered for soybean insect control, including rate per acre and harvest restrictions. Refer to the label for insects controlled and specific rates and application information.
Soybean Insecticides and Harvest Restrictions

Product
Rate and Formulation
Days Before Harvest
carbaryl (Sevin)
2/3 lb 80WSP
1-2 pt 4F, XLR+
21
21
chlorpyrifos (Lorsban)
1 pt 4E
28
dimethoate (Dimethoate)
1 pt 400, 4EC
21
esfenvalerate (Asana XL)*
5.8-9.6 oz 0.66EC
21
lambda-cyhalothrin (Warrior)*
1.9-3.2 or 1CS45
methyl parathion (Penncap-M)*
2-3 pt 2FM
20
methomyl (Lannate)*
1/4 lb 90SP
14
permethrin (Ambush)*
(Pounce)*
3.2-6.4 oz 2EC
2-4 oz 3.2 EC
60
thiodicarb (Larvin)
18-30 oz 3.2F
28
zeta-cypermethrin (Mustang)*
3.0-4.3 oz 1.5EW
21

*Restricted Use Pesticide.

High Value Corn, Watch Out!– (John Obermeyer, Rich Edwards, and Larry Bledsoe)
Earworm are flying.
Late developing corn may attract moths.
Because of ear damage concerns, seed and sweet corn are at greatest risk.
Suddenly there's a surge of moth activity that should concern producers with corn that is late in development. Corn earworm moths are becoming quite numerous in pheromone and black light traps. Earworm moths are attracted to fields with yellow silks for egg laying.
This is especially a concern in late maturing seed corn or late-market sweet corn fields. Crops with yellow silks will likely need protection.