Soybean Aphid in Indiana- (John Obermeyer, Rich Edwards, and Larry Bledsoe)
Aphids are moving from winter to summer host.
Brief information on biology and damage given.
Checklist of considerations before treating.
Many insecticides, if applied properly, should control soybean aphid.
Soybean aphid, Aphis glycines Matsumura, was found on June 18 at the Agronomy Research Center, Tippecanoe County, on V3 soybean plants. This indicates that soybean aphids are now moving from their winter host, buckthorn, onto their summer one, soybean. This is our first observation, not an alert of an economic infestation. States in the northern Corn Belt observed this movement about one week earlier than we did. Groups attending Diagnostic Training Center sessions at the Agronomy Research Center looked for aphids as part of their training activity, but only ONE was found among such critters as thrips, spider mites, and whiteflies.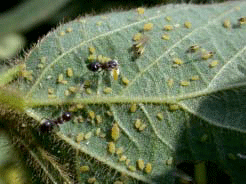 Winged and wingless female aphids with ants.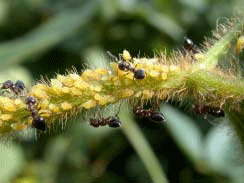 Aphids on stem tended by ants.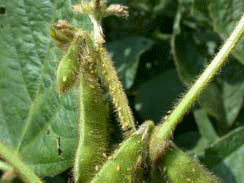 Aphids on stems and pods.
Soybean aphid has a very complicated lifecycle. Simply put, female aphids feed-on and reproduce in the summer on soybean. Females give birth to female offspring, so aphid numbers can increase quickly on soybean (it is estimated that populations can double every 2-1/2 days). In the fall, as temperatures drop and days grow shorter, a generation of winged females and males are produced. Both migrate from soybean to their overwintering host plant Rhamnus, a shrubby tree also known as buckthorn. Eggs are laid on buckthorn, which overwinter and hatch in the spring. Aphids emerging in the spring are females. After several generations on the overwintering host, winged spring migrants fly to soybean to establish new colonies.
The soybean aphid feeds by using a needle-like, sucking mouthpart to remove plant sap. Plant damage occurs from large numbers of aphids removing a significant amount of water and nutrients as they feed on leaves and stems. Some isolated fields in east central Indiana, in 2001 had plants that were covered with aphids, and leaves that were curled and wilted. Leaves on the bottom-third of plants were covered with shed aphid skins (resembling white powder) and aphid secreted honeydew, both of which are signs of aphid presence. Gray sooty mold growing on the honeydew, also covered these leaves. Plants covered with aphids were often stunted when compared to plants from other parts of the field. In some cases, heavily infested plants showed dramatic leaf yellowing. This yellowing may have been associated with potassium (K) deficiency, because symptoms can be more pronounced in fields where both high numbers of aphids and deficient levels of K are found.
It is too early to speculate on how severe the infestations will be in the Midwest, much less Indiana, for this season. Considerable time and effort has been and will be devoted to this pest throughout the Corn Belt because of its potential economic impact on soybeans. Indiana has had minimal crop damage due to this aphid since its discovery in 2000. Therefore, our expertise in this area relies heavily on what we read and hear from colleagues in neighboring states. Many pest managers are asking about thresholds for this insect in case outbreaks occur. Christina DiFonzo, Michigan State University Entomologist, put together a treatment decision "checklist" this past winter. Her checklist follows:
Aphid distribution: Aphids on leaves and stems. When aphids begin to move from the undersides of leaves onto stems, the population is large and increasing. Aphids on stems generally are easy to see without a hand lens.
Aphid number: Leaflet rating of at least 3.0. The leaflet rating is fairly quick and easy to do, and will allow you to assess aphid numbers after treatment. A rating of a 3.0 is a minimum of 25 aphids on every leaflet of the plant.
Plant appearance: Honeydew (sticky substance) on plants. Honeydew is a sugary substance secreted by aphids as they feed. It is mainly an annoyance, although it promotes the growth of gray sooty mold on leaf surfaces. Honeydew is a sign aphid numbers are large.
Aphid appearance: Healthy. Aphid-infesting fungi already exist in your fields, in the soil and on plant surfaces. These fungi specifically attack and infect aphids and can crash the aphid population in a field in a matter of days. Infected aphids are pinkish, white, or tan, and fuzzy from the growth of fungi out of their bodies. When weather conditions are favorable, the fungi can infest and control aphids quickly. Once a fungal infection starts, an insecticide spray may not be needed.
Weather conditions: Warm and dry. Aphid pathogenic fungi reduce aphid numbers best in warm, humid weather. Under dry conditions, these fungi cannot infect aphids. When thinking about aphids and weather, think about the same conditions favorable for spider mite infestation in soybean.
Timing: July. June is likely too early to assess aphid populations and make a spray decision. August is probably too late to get the most yield advantage from treatment.
Plant stage: Flowering and early pod development. Flowering and early pod fill seem to be critical times for aphid control. Large numbers of aphid feeding on the plant may cause flowers and pods to abort. Also, there is Minnesota data showing that node number was reduced by large numbers of aphids. Spraying too late in the season, once pods are formed, is probably too late to get the most yield advantage from treatment."
As well, predatory insects, especially lady beetle adults and larvae, lacewing larvae, and syrphid fly larvae, have been very abundant in infested fields and should provide some control, if present. Parasitic wasps, which lay eggs directly into aphids, have been less abundant, but still present. In addition to the above-mentioned pathogenic fungi, these biocontrol agents have the potential to dramatically reduce aphid numbers in Indiana to below economic levels.
Efficacy trials conducted by Michigan State and Minnesota demonstrated that many products control aphids in soybean. Complete coverage on the foliage, as with spider mites, seems to be the key. Last year, on-farm trials conducted in Michigan yielded from 2 to 24 bushels better than the untreated. Yield benefits decreased the later applications were applied in the season.
Further information with many color pictures can be found in extension publication E-217, Soybean Aphid (new May 2001). A hard copy of this publication can be obtained by calling 1888-EXT-INFO or an electronic copy viewed at <http://www.entm.purdue.edu/entomology/ext/targets/e-series/e-list.htm>.

Rootworm Damage Being Reported on Late-Planted Corn– (John Obermeyer, Larry Bledsoe, and Rich Edwards)
Rootworm larval damage is apparent in several fields.
Moist soils will help damaged roots regenerate.
Too late for rescue treatments, but cultivation may help.
Gear up to monitor rootworm beetles in soybean this August.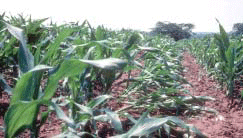 Late-planted corn lodging from rootworm damage.
This past week, pest managers were out diagnosing problem fields. Symptoms that have been commonly observed in several central Indiana cornfields are plants lagging behind in growth and showing yellowish color. Purdue specialists, Bob Nielsen and Greg Shaner, have visited some of these fields, as have several company agronomists. Much of this corn was planted in late May/early June without the application of an insecticide. Inspections of root systems have revealed tunneling and pruning by rootworms. In addition, poor nodal root development from dry soil surface and compacted soils from poor planting conditions have compounded damage.
Rootworm larval feeding causes reduced water and nutrient uptake and can lead to standability problems. Major yield losses occur when nodal and brace roots are so severely damaged that plants lodge. Research has shown that even though plants attempt to right themselves (goose neck or sled-runner look), on average, there is at least a 30% yield loss. Obviously, losses will be more dramatic if winds blow the plants over shortly before or at pollination.
By the time you read this, rootworm development will be too far advanced, except in the most northerly counties of Indiana, to attempt rescue treatments with insecticides. If still possible, cultivation may help root regeneration by throwing soil up at the base of damaged plants. The best defense you have against rootworm is scouting soybean fields for beetles this August and determining the potential for egg laying and subsequent damage to next year's corn. This suggestion is for all of Indiana. Further information with many color pictures can be found in extension publication E-218, Monitoring and Decision Rules for Western Corn Rootworm Beetles in Soybean (New 5/2001). A hard copy of this publication can be obtained by calling 1888-EXT-INFO or an electronic copy viewed at <http://www.entm.purdue.edu/entomology/ext/targets/
e-series/e-list.htm>.

Potato Leafhopper Populations on the Rise– (John Obermeyer, Rich Edwards, and Larry Bledsoe)
Regrowth is most at risk to feeding damage.
Damage has already occurred once "hopper burn" is noticed.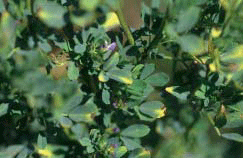 Hopper burn on alfalfa
Populations of potato leafhopper in alfalfa fields and black light traps have been rising throughout the state. Several observations of high numbers of leafhoppers coming to lights at night have been shared with us. Undoubtedly, the warmer temperatures have contributed to this increase.
Producers are encouraged to inspect new growth soon after cutting for potato leafhopper; this is when alfalfa is most susceptible to feeding, leading to reduced yields and protein levels. Remember, once yellowing or "hopper burn" is seen, the damage has already been done. Refer to Pest&Crop #13, for sampling and management guidelines. For recommended insecticides, see E-220, Alfalfa Insect Control Recommendations – 2002. This and other field crop related publications can be viewed electronically at <http://www.entm.purdue.edu/
entomology/ext/targets/e-series/fieldcro.htm>.

Stalk Borer Interfering With Herbicide Uptake– (John Obermeyer, Rich Edwards, and Larry Bledsoe)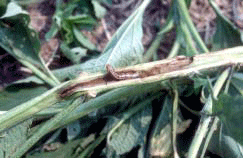 Stalk borer and damage in giant ragweed stem.
Darrel Daniels, BASF, has made us aware of some poor performance complaints with post-emergence herbicide applications on giant ragweed. During field surveys, it was noted that some plants were wilting due to factors not related to herbicide activity. Some ragweed plants were split open and revealed extensive tunneling by stalk borer larvae. Obviously, this insect's tunneling activity prevented sufficient translocation of the herbicide in the ragweed plants to kill them. Not only is giant ragweed a favorite egg-laying site for stalk borer moths in the fall, but also a host for the larvae in the spring. Stalk borer can be an efficient biocontrol agent for ragweed, however, it can also kill adjacent plants, such as corn, thus limiting its usefulness as a weed control agent.