Black Cutworm Damage Noted in Southern Indiana– (John Obermeyer, Rich Edwards, and Larry Bledsoe)
First cutworm reports begins the monitoring season for Indiana.
Southern and Central Indiana should be looking for leaf feeding and initial cutting.
Scouting guidelines and rescue insecticides given.
Rotary hoe may improve control where soils are dry.
Gary Michel, Warrick County CES, and Gene Flaningam, southwestern Indiana consultant, informed us on May 1 that small black cutworm are beginning to damage corn. This signals the beginning of the cutworm season for Indiana and as heat units accumulate and cutworm development progresses the potential for damage will move northward. The early arriving moths (March) and subsequent flights apparently survived the frosts, were able to established in weedy fields, and are now feeding. The underlying theme of all this is that it is now time to scout for cutworms in southern and central Indiana.
Black cutworm moths are particularly fond of winter annuals, such as chickweed and mustards, for egg laying. Fields that were weedy before or at planting are at the highest risk for cutworm damage. This includes fields that were treated at planting with a soil insecticide. Remember, corn and soybean are not the preferred food of the black cutworm. It just so happens, these are normally the only plant remaining by the time the larvae have hatch.
Scout by inspecting 20 consecutive plants in each of 5 areas of a field (100 plants) for cutworms and feeding activity. Count and record the number of plants cut or damaged and determine the percentage of plants affected. Also collect black cutworm larvae and determine the average instar stage. While sampling, also record how many leaves are fully unrolled (the collar of the leaf is visible on a fully unrolled leaf). Control of black cutworm may be necessary if 3 to 5% of the plants are damaged and the average larval instar is from 4 to 6. Use the following management guidelines and instar guide. Suggested foliar insecticides for control of economic infestations are listed below.
To increase the probability that adequate control will be achieved when dry soil conditions are noted, a rotary hoe may prove useful. This should stir up the soil and increase the likelihood that the cutworms will come into contact with the insecticide. Additionally, the use of a higher rate of the insecticide in 20 gallons or more water per acre may help the level of control. On no-till fields, where hoeing is not possible, applying the insecticide in the early evening may increase control, as the worms more toward the soil surface during the nighttime hours.
Black Cutworm Management Guidelines

Number of Plant Leaves Fully Emerged

Average Instar of BCW

6 or more

5

4

3

2

1

4.0

1%+

2%+

2%+

2%+

3%+

4%+

5.0

2%+

3%+

4%+

4%+

6%+

25%+

6.0

4%+

7%+

9%+

17%+

Don't

Don't

7.0

6%+

15%+

50%+

Don't

Don't

Don't

Look down the column at the left labeled "Average Instar of BCW" until you find the average instar of BCW found in the field. This column is called the Instar Row
Look across the top of the table and find the number that best represents the "Number of Plant Leaves Fully Emerged" for the plant inspected. A leaf is fully emerged if the leaf color is visible. The column of figures below this is called the Leaf Column.
Follow the Instar Row and the Leaf Column to the place where they intersect. This figure is the control threshold. If the percentage of cut or damaged plants in the field equals or exceeds this number, treatment may be advisable.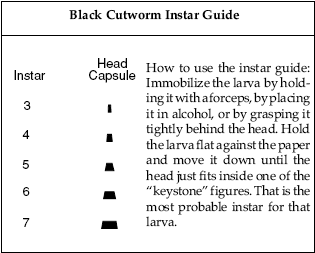 Insecticides Suggested for Foliar Application to Control Cutworms in Corn

Material

Amount Per Acre and Formulation*

Chlorpyrifos
(Lorsban)1

1-2 pt. 4E

esfenvalerate
(Asana XL)1

5.8-9.6 fl. oz. EC

lambda-cyhalothrin
(Warrior T)1

1.92-3.20 fl. oz. CS

permethrin
(Ambush)1
(Pounce)1


6.4-12.8 fl. oz. EC
4-8 fl. oz. 3.2EC

*Under dry conditions and where rotary hoeing may be needed to increase cutworm control, use the higher insecticide rate.
1Restricted Use Insecticide
2Bee Caution

Armyworm Can March Through Corn– (John Obermeyer, Rich Edwards, and Larry Bledsoe)
Significant moth flights have been noted.
Moths lay eggs on grassy crops and weeds.
Corn can be quickly consumed when grass cover crop is destroyed.
For the last couple of weeks, several pest managers have noticed armyworm moths flying at night. Black light traps have confirmed these observations, identifying some heavy catches. Because spring flying armyworm moths prefer to lay their eggs on dense grassy vegetation, special attention should be given to corn no-tilled into "grassy" fields.
Corn that has been no-tilled into or is growing adjacent to a grass cover crop (especially rye) should be inspected immediately for armyworm feeding. Larvae will move from the dying grasses to emerging/emerged corn. Armyworm feeding gives corn a ragged appearance, feeding from the leaf margin toward the midrib. Damage may be so extensive that most of the plant, except the midrib and stalk, is consumed. A severely damaged plant may recover if the growing point has not been destroyed. As their name implies, the larvae can appear to march in unison like an army across a field while devouring plants.
If more than 50% of the plants show armyworm feeding and live larvae less than 1-1/4 inches long are numerous in the field, a control may be necessary. Larvae greater than 1-1/4 inches will soon be pupating and controls are futile since the damage has already been done. If armyworms are detected migrating from border areas or waterways within fields, spot treatments in these areas are possible if the problem is identified early enough.

Severe Alfalfa Weevil Feeding Damage Continues in Northern Indiana– (John Obermeyer, Rich Edwards, and Larry Bledsoe)
Surveys of northern Indiana counties on May 2 show that alfalfa weevil feeding continues at high levels. Tip feeding percentages reached as high as 100% (range 40 to 100%). Refer to the "Alfalfa Weevil Larval Survey."
Pest managers in all areas of northern Indiana should be evaluating their alfalfa fields, if they have not already done so, as soon as possible. Accelerated heat unit accumulations over the last week have really boosted this pest's development and subsequent damage. At this time, alfalfa fields with an average of 60% or greater tip feeding should be treated with an insecticide. Refer to Pest&Crop #5, for insecticides to control alfalfa weevil. Careful consideration should be given to days of residual needed and/or harvest restrictions of products when choosing products and rates to apply.

Bean Leaf Beetle– (John Obermeyer)
Although we haven't received any calls concerning this soybean pest, we know the beetles are now active. As soybean emerges, pest managers should be on the lookout for this insect. Please refer to Pest&Crop # 2 for the article, "Potential for Problems with Bean Leaf Beetle Highly Variable."

County (Fields) Sampled

Stem Height (inches)

% Tip Feeding

LaPorte

19.2

44%

LaPorte

16.3

LaPorte

16.6

64%

LaPorte

17.1

48%

Marshall

13.5

72%

Marshall

18.2

40%

Marshall

20.1

48%

Marshall

15.7

68%