Soybean Aphid Showing Up in Indiana Soybean Fields– (John Obermeyer, Rich Edwards, and Larry Bledsoe)
This new pest quickly being confirmed throughout the Midwest.
There are more questions than answers at this time.
Brief information on history, damage, and biology given.
No treatment thresholds established.
Late planted soybean with poor soil fertility levels may express damage first.
We knew it was just a matter of time, finally field inspections this past week revealed soybean aphid (Aphis glycines Matsumura) in several northern and west central indiana soybean fields (Elkhart, Kosciusko, Marshall, Noble, Porter, and Tippecanoe Counties). Every field sampled had some level of infestation, ranging from 7-23%. Most densities per plant were very low. These findings are similar to other states from Iowa to New York and Ontario to Kentucky confirming their presence. No question soybean aphid appears established in the Midwest, now the many hard questions are beginning. The following is some of what we know.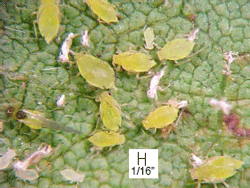 Soybean Aphids (Aphis glycines)
Soybean aphid is native to Asia, and its distribution includes China, Korea, Japan, Philippines, Thailand, Vietnam, Australia, and Eastern Russia. In July of 2000, researchers in Wisconsin discovered aphids feeding on soybean. The 2000 discovery was the first report of this species in North America. By the end of the 2000 growing season, soybean aphid was confirmed in eight Midwestern states, with highest populations in areas bordering Lake Michigan. In Indiana, the aphid was found on soybean in every county surveyed (46), with the highest infestation levels in Northwestern Indiana.
The soybean aphid feeds by using a needle-like, sucking mouthpart to remove plant sap. Plant damage occurs from large numbers of aphids removing a significant amount of water and nutrients as they feed on leaves and stems. In some fields in Northwestern Indiana, in 2000, plants were covered with aphids, and leaves were curled and wilted. Leaves on the bottom-third of plants were covered with shed aphid skins (resembling white powder) and aphid secreted honeydew, both of which are signs of aphid presence. Gray sooty mold, growing on the honeydew, also covered these leaves. Plants covered with aphids were often stunted compared to plants from other parts of the field. In some cases, heavily infested plants showed dramatic leaf yellowing. This yellowing may have been associated with potassium (K) deficiency, because symptoms can be more pronounced in fields where both high numbers of aphids and deficient levels of K are found.
Little data are currently available on yield losses due to soybean aphid in the US because soybean aphid was found too late in the field season to conduct replicated field trials. However, what is known is that soybean aphid caused significant reduction in plant height and 28% yield reduction in Chinese field studies and that this species transmitted soybean viruses in Asia. Reports from Wisconsin and Michigan in 2000 indicated that heavy aphid infestations caused stunting and poor pod fill, as well as yield reduction in replicated and unreplicated strip trials.
Soybean aphid has a very complicated, but typical, aphid lifecycle. In the US, as in China, it feeds and reproduces in the summer on soybean. The summer aphid population can be non-winged or winged (dispersal phase), but all are females. No males are present or needed for reproduction during this time period! The females reproduce parthenogenetically (egg development without fertilization). Females give birth to female offspring, so aphid numbers can increase quickly on soybean. In the fall, as temperatures drop and days grow shorter, a generation of winged females (gynoparae) and males are produced. Both migrate from soybean to their overwintering host plant Rhamnus, a shrubby tree also known as buckthorn. Gynoparae give birth to non-winged females called oviparae. Oviparae mature, mate with the males, and lay eggs on the buckthorn. Eggs overwinter and hatch in the spring. Aphids emerging in the spring are females. After several generations on the overwintering host, winged spring migrants fly to soybean to establish new colonies.
A striking feature of soybean aphid infestation in soybean fields in 2000 was the large number of beneficial organisms. Predatory insects, especially lady beetles, lacewings, and syrphid fly larvae, were very abundant in infested fields. Parasitic wasps, which lay eggs directly into aphids, were less abundant, but still present. Although not observed in Indiana, several different fungal pathogens infected and killed high numbers of aphids in Wisconsin and Michigan. All of these biocontrol agents have the potential to dramatically reduce aphid numbers in Indiana to below economic levels, but sometimes this does not occur soon enough to prevent damage to soybean.
Based on experience with soybean aphid in 2000 and with aphids in other crops, spraying for this insect is not recommended, except in cases of high infestations. Economic yield loss has not yet been documented in the US, and treatment guidelines are sketchy at best. If fields are sprayed for aphids late in the season, be sure to obtain good coverage of leaves. Remember that infested fields tend to have large numbers of natural enemies and that spraying may kill them, but not all of the aphids. This can result in a resurgence of aphid numbers. Fungal pathogens did a good job of killing soybean aphids in Wisconsin and Michigan in 2000, and populations crashed in a matter of days at many locations without the application of insecticides.
Further information with many color pictures can be found in extension publication E-217, Soybean Aphid (new May 2001). A hard-copy of this publication can be obtained by calling 1888-EXT-INFO or an electronic copy viewed at <http://www.entm.purdue.edu/entomology/ext/targets/e-series/e-list.htm>.

Silk Damage, Not Beetle Numbers– (John Obermeyer, Rich Edwards, and Larry Bledsoe)
Monitor pollinating fields for silk damage.
Concentrate on silk length and amount of pollen yet to shed.
Treatment after 50% pollination is not economical, only revenge.
Rootworm and Japanese beetles continue to emerge throughout the state, some heavy populations (see "Corn Rootworm and Japanese Beetle Survey in Pollinating Corn Fields") have been reported. If beetles are present in commercial cornfields during pollination, control may be necessary if the silks are clipped off to within 1\2 inch or less of the tip of the ear before 50% pollination is completed. It has been suggested that 5 beetles per plant can result in the need of control, however, many fields have had higher numbers during pollination with little or no interference with corn fertilization. So, do not judge the need for treatment based on beetle numbers. On the other hand, research with inbreds in seed production fields has shown that 2 to 3 rootworm beetles per plant can significantly reduce ear fill. For additional information on rootworm beetles see Extension Publication E-49, Managing Corn Rootworms - 2001 (Rev. 1/01). A hard-copy of this publication can be obtained by calling 1888-EXT-INFO or an electronic copy viewed at <http://www.entm.purdue.edu/entomology/ext/targets/e-series/e-list.htm>.

County (Fields) Sampled

# Adult CRW/plant*

# Adult JB/plant*

Clinton

11.1

0.1

Clinton

0.7

0.2

Fountain

3.6

0.2

Vermillion

5.6

0.4

Vermillion

5.9

0.9

Vermilion

8.1

0.0

Warren

4.0

0.1

Warren

4.3

0.0

Warren

0.7

0.0

* Average for ten plants examined/field.