Rootworm Digging Time!– (John Obermeyer, Rich Edwards, and Larry Bledsoe)
High risk fields should be evaluated for rootworm immediately.
Impact on yield depends on how much damage and whether plants lodge.
Consider the possibility/benefit of a rescue treatment.
Treatment guidelines are given.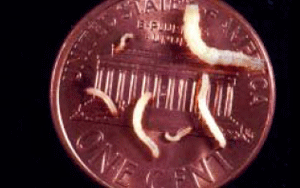 Rootworm larvae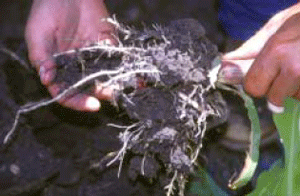 Examining root mass for larvae
One of the worst surprises a producer encounters while harvesting within a corn field that looked so good from the road are areas of lodged and "goose necked" corn. At that time rootworm feeding is often suspected, but post-mortem diagnosis is difficult at best. Scouting root systems now can reveal rootworm feeding and the potential for toppling during summer storms.
Plants with nodal roots being destroyed and pruned brace roots where contacting the soil, will likely lodge during storms coupled with high winds. Should lodging occur just before or during pollination, yields will be cut dramatically. Plants will attempt to right themselves, "goose neck," which may help during harvest. Soil pathogens infect damaged plants through the feeding wounds, this may lead to stalk rots during dry down.
Using a shovel to sample, lift out the root mass and surrounding soil (about a 7" cube) and place on a dark surface (black plastic garbage bags work well). Carefully break up the clods and sort through the soil. Look for 1/4 to 1/2 inch long, slender, creamy-white larvae with a brownish-black head and tail. Once the soil has been separated from the root mass, inspect it for root scarring and pruning. You may find the rootworms under the leaf collars that are in close proximity to nodal roots, tear these leaves away to check. Also, you may even observe the rootworms' hind-ends sticking out of roots. Repeat this process with several plants representing different areas of a field. An average of two or more larvae per plant represents a rootworm population that signals the need for a cultivation application.
Insecticides applied after planting must be directed toward the base of plants. It is also important to cultivate the soil near the plants to incorporate the insecticide. Throwing soil up around plants will also promote the establishment of brace roots. A good brace root system will help prevent plant lodging and reduce losses due to rootworm feeding. If a no-till field has an economic population of larvae, placing the insecticide on top of the ground will normally not be effective. The only exceptions might be if the soil insecticide is watered in through irrigation or rainfall (ideally a 1/2" or more). Two liquid soil insecticides, Furadan 4F and Lorsban 4E, are labeled for post-directed applications. Furadan, being more soluble, would better move into the root zone if rainfall is minimal. If one decides to mix the insecticide with a liquid nitrogen source for a carrier, compatibility checks should be made.
Additional information about rootworms can be found in extension publication Managing Corn Rootworm – 2001, available from county extension offices or on the web at <http://www.entm.purdue.edu/entomology/ext/targets/e-series/EseriesPDF/E-49.pdf>.

How's Your Rootworm Insecticide Doing?– (John Obermeyer)
Two things that accelerate the breakdown of soil insecticides are sunlight and rainfall. Consider these as you determine whether or not to check your corn now for rootworm feeding (see previous article). The sun's UV rays will degrade insecticide exposed on the surface of the soil. T-band applications may leave a considerable percent of product exposed if there wasn't any incorporation (e.g., drag chains).
High moisture levels move the insecticides deeper into the soil profile, sometimes too far. Insecticide chemistries vary in their solubility. However, those fields that received "toad croakers" may have either physically moved the insecticide off-target or caused deeper movement into the soil.
Think of your insecticide application methods and the environmental factors that your rootworm protection has contended with since planting. The key to control then may depend on the larval populations with the field. Happy scouting!

Corn Borer Moths Still Flying– (John Obermeyer, Rich Edwards, and Larry Bledsoe)
First brood moth flight extended by environmental extremes.
Though significant moths are noted, not much damage being seen.
NE Indiana counties are at greatest risk for this first generation.
Second brood population and damage cannot be determined at this time.
The weird swings in temperatures and moisture that we've experienced over the last couple months seem to have encouraged an extended first generation corn borer moth flight. Those early emerging moths attempting to find tall, lush corn in which to lay eggs were certainly disappointed. However, now the corn is quickly growing, those moths that are still flying may find corn a suitable egg laying site.
Black light traps and alert pest managers have confirmed that corn borer moths are trying their best to populate. Though Ron Blackwell's corn borer surveys have shown little success in the first generation. One area of the state to especially be aware or is northeastern Indiana, which had some of the highest infestation levels last year.
Though corn borer is down, don't count it out for the 2001 growing season. Even a small number of moths from this first generation, given ideal environmental conditions during mating and egg laying, can cause significant damage to some fields later this summer. Actively pollinating corn is most attractive to the moths for egg laying, usually this correlates to late planted fields.
Stay tuned to future issues of the Pest&Crop as we track the moth flight and infestations of this pest throughout the season.

County

#PLH/Sweep

Stem Height (in.)

Tippecanoe

0.5

8.3

Tippecanoe

1.1

10.8

Tippecanoe

2.8

19.9

Warren

0.1

3.8

Warren

0.1

4.5

County (Fields) Sampled

Extended Leaf Height (in.)

% of plants/field with damage

Average # Egg masses/plant

Cass

45.0

2%

0.0

Cass

38.8

7%

0.0

Cass

28.5

3%

0.1

Tippecanoe

41.8

0%

0.0

Tippecanoe

35.1

0%

0.0

Warren

41.0

0%

0.0

Warren

47.5

5%

0.0

White

33.5

0%

0.1

White

25.4

0%

0.0