Armyworm... Get Out the Camera, You May Never See This Again!– (John Obermeyer, Rich Edwards, and Larry Bledsoe)
Armyworm problems are progressing up the state.
Armyworm questions and answers below.
Northeastern Indiana counties need to be on "RED ALERT".
For over two weeks, many producers in southwestern Indiana have been battling armyworm and for the past week this beast has been quite active in west central counties. Now they are threatening northeastern areas of the state. Many questions have surfaced during this "blitzkrieg." Below are some of these and our best answers.
When was the last time we had armyworm problems? Every year we receive a few reports of fields in the state that have armyworm damage. However, it has been many years since we've had numbers that reached "biblical proportions" (quoting a SW Indiana producer). Some of you "old timers" may recall a similar situation with this pest back in the 1950's. Get some photos, this widespread and dramatic destruction may not happen for many years to come.
Why so many armyworms this year? There is no good answer to this other than we had an exceptionally high moth flight. It is not completely understood where these moths originated. Considering that there has been serious armyworm damage reported in the states of Texas, Arkansas, Missouri, Illinois, and Kentucky, one can should be able to visualize moths tracking with the same weather fronts as do black cutworms. If this is so, these moths are unwelcomed guests from Texas and/or Mexico. The first week that our black light traps at the seven Purdue agriculture research farms were up and running (April 17-23), we captured as many as 670 armyworm moths (the Whitley County site). This is a phenomenal number compared to the normal 10 to 20 we see most years. But it didn't stop with the April 17-23 period, the 670 were followed by weekly captures of 332, 351, 85, and 497 (last week's)!!! Interestingly, urban folks in northeastern counties called around May 18 with reports of high numbers of moths coming to their lights at night. These were confirmed to be armyworms.
How long will armyworm be a problem? The answer depends on how many eggs are still being laid and how mature the larvae are in your area. A look back at the literature reveals that in 1914 Indiana experienced a significant armyworm outbreak. Dr. John J. Davis, known to us as the father of Purdue entomology, was inspired to conduct some simple yet valuable life development information on the armyworm that year. The chart below summarizes the approximate number of days for each of the life stages of the armyworm and body measurements.
| | | | |
| --- | --- | --- | --- |
| Stage | Approx. Days | Approx. Body Length (mm) | Approx. Head Capsule Width (mm) |
| Egg | 5 | - | - |
| Larva: | | | |
| First Instar | 4 | 2-4 | 0.4 |
| Second Instar | 3.5 | 3-6 | 0.6 |
| Third Instar | 3 | 5-10 | 1.0 |
| Fourth Instar | 3 | 11-15 (about .5 inch) | 1.5 |
| Fifth Instar | 3.5 | 14-21 | 2.4 |
| Sixth Instar | 8 | 24-35 (about 1 to 1.5 inch) | 3.4 |
| Total Larval stage | 25 | | |
| Pupa | 21 | - | - |
Are the large armyworms almost finished feeding? When armyworms reach a length of about 1-1/2 inches they still have about 8 days to feed before pupating. During this time period they can consume a tremendous amount of foliage. If they consume their host, they can be seen "marching" from that field to another. Dr. Davis said, "The remarkable voracity of the armyworm during its last larval instar explains its sudden appearance in such enormous and destructive numbers when it is nearly full grown. The amount of foliage eaten in this (sixth) instar was nearly seven times as much as in the fifth instar, and more than 80 percent of all of the foliage eaten during the entire larval period."
When is it best to control armyworms? Obviously from the above, one needs to prevent the armyworm from getting over an inch in length. It has been stated by many of you who have been on the "front line" that the big worms are harder to kill than the small ones. Whether or not to treat damaged fields, especially the grass pastures, has been a difficult question to answer. For some pasture and wheat fields, control decisions are being made too late. Refer to Keith Johnson's and Ellsworth Christmas' articles in this issue concerning pasture recovery and importance of the wheat flag leaf to assist in management decisions.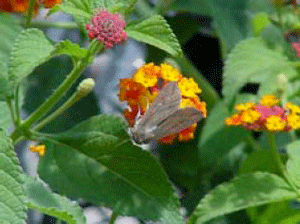 Armyworm moth on flowers in greenhouse
(Todd Hutson, Fountain County ANR Educator)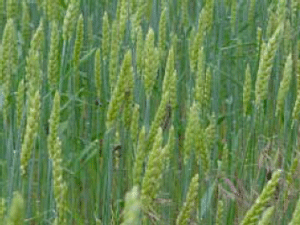 Armyworm larvae on wheat heads
(Todd Hutson, Fountain County ANR Educator)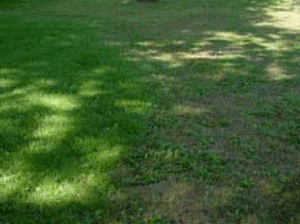 Armyworm destroying homelawn next to pasture
(Dug Akers, Boone County ANR Educator)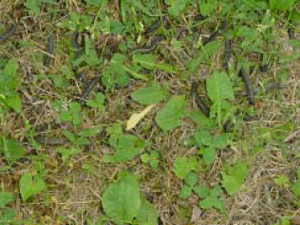 Armyworm larvae on destroyed lawn
(Doug Akers, Boone County ANR Educator)
What crops are at greatest risk? Grass pastures, especially fescue, are being hit the hardest. Immediately following is wheat. Corn adjoining any of these crops should be carefully monitored. Lawns and golf courses next to denuded pastures are being damaged as well. Very little damage has been reported in soybean and legume forages.
Will border treatments work? Border or field perimeter treatments should be considered for wheat or cornfields adjoining heavily infested grass pastures. Once armyworms completely defoliate a pasture they will begin their movement into adjoining fields. This movement should be carefully monitored as a timely insecticide application 100 – 200 feet into a field should "head them off at the pass."
What insecticides are working best? We are getting feedback from many producers and ag. chem. dealers that they are pleased with the results they have received from application of pyrethroid insecticides (Ambush, Asana, Capture, Pounce, and Warrior). On the other hand, malathion, which has been used extensively in grass pastures because of its 0 day harvest/pasture restriction, has been rated from fair to poor. The pyrethroid products appear to be giving sufficient residual activity to keep any advancing "armies" at bay.
What about natural controls? Where are they? It has been noted many times in the past that when armyworm populations, as well as other insect pests, begin to become economic that pathogens and/or parasites often significantly reduce pest numbers to non-economic levels within a matter of days. However, this year this has not been case. Speculation is that the dry conditions early on favored the armyworm more than it did the natural controls. Recent reports from several southern Indiana counties, however, now indicate that diseased worms (darkened and shriveled) are becoming a common site. Perhaps the wetter weather is allowing this to happen. We can only hope that this disease(s) outbreak catches up with the larval population in northern Indiana and causes an epizootic before extensive damage occurs.
What areas of the state are at risk at this time? Southern Indiana seems to be at the tail-end of the battle, especially with much of the wheat beginning to mature. West central counties are still in the midst of the war, but most producers and ag. chem. dealers now seem aware of the problem and have been taking action when necessary. WATCH OUT IN NORTHEASTERN INDIANA!!!!!!!!! Heavy moth flights continue in this area. Ron Blackwell, IPM Survey Specialist, was in Whitley County on May 23 checking wheat fields for larvae and damage. He was having a difficult time finding damage, but when he got on his hands and knees and sorted through the residue on the soil surface, he easily found 1/2" larvae. One count was over 60 larvae per linear foot of row, well beyond the 5 larvae/linear foot of row treatment threshold. Most counts were above 20. Yet, there were fields where he couldn't find any larvae. This indicates that there are some fields ready to "explode" and others with not much likelihood of significant damage. To find those fields that are about ready to explode, one will have to get down on hands and knees and carefully look for the worms.
Armyworm Insecticides (Read and follow ALL label rate, application, and use directions)

Crop

Product (Formulation)

Restrictions (days to harvest)
Corn

Ambush (EC)
Asana XL
Capture
Lannate (SP)
Lorsban (4E)
Malathion (EC)
Penncap-M
Pounce (EC)
Sevin (4F, 80S, XLR)

30
21
30
21
35
5
12
30
48

Soybean

Larvin (EC)
Lorsban (4E)
Sevin (4F, 80S, XLR)
Warrior T

25
25
14
45

Wheat

Lannate (SP)
Malathion (EC)
Penncap-M
Sevin (4F, 80S, XLR)
Warrior T

7 (10 for grazing/feeding)
7
15 (harvest or grazing
21 grain harvest, 7 grazing forage
30

Grass

Malathion (EC)

0

Pasture

Sevin (4F, 80S, XLR)

14 (harvest or grazing)

Alfalfa

Lannate (SP)
Lorsban (4E)
Malathion (EC)
Sevin (4F,80S, XLR)
Warrior T

7 for grazing/feeding
14
0
7 (harvest or grazing)
1 forage, 7 hay

European Corn Borer Moths Flying– (John Obermeyer, Rich Edwards, and Larry Bledsoe)
Our first ECB moth was captured in the Dubois County black light trap during the last week of April. Since then we've captured several moths throughout the state, refer to "Black Light Trap Catch Report." The Whitley County trap, which has been busy with armyworm captures, also took this week's prize for the most corn borer moths caught. Congratulations!
It is too early to draw any conclusions from this very early corn borer flight data. However, it would be wise to inspect the tallest corn in the area for corn borer eggs and moth activity in grassy areas surrounding these fields. More on this pest in future issues of the Pest&Crop.

Variegated Cutworm in Soybean– (John Obermeyer, Rich Edwards, and Larry Bledsoe)
Armyworms are not the only moths flying this spring. Several calls from central Indiana counties have indicated that strange looking cutworms have been feeding on soybean leaves and in some cases, severely reducing stands. All damaged fields reported at this time had heavy patches of chickweed.
An inspection of one of these fields in Montgomery County revealed very large variegated cutworm larvae curled up under chickweed residue. Normally, we associate this "occasional" pest with clover pastures where early spring variegated cutworm moths like to deposit their eggs. It now appears that they have an alternative egg laying site…chickweed.
The management strategy suggested for this particular weedy soybean field was to tear it up and replant. Since the worms were close to pupation, no insecticide was necessary.