EAB Management - For Neighborhood Associations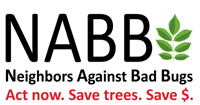 Welcome to Neighbors Against Bad Bugs (NABB)!
Empowering Indiana's Public to
Combat Emerald Ash Borer
Getting Started
Working with your neighbors will save money and protect property values by keeping your neighborhood beautiful. Group contracts reduce equipment and labor costs, and tree care companies pass the savings on to you!
Contact your county extension office at 1-888-EXT-INFO (1-888-398-4636),

or
Contact the Purdue EAB Outreach and Education Program at ForestPests@purdue.edu or 765-494-5983, and say you are interested in a NABB tree tagging for your neighborhood.
You and your neighbors will be connected with local Master Gardeners.
The volunteer group will be trained on NABB and ash tree identification.
Contact your city forester and notify them of your plans to tag right-of-way trees.
Engage the local media to publicize the event.
Stage your event! Ash trees in the right-of-way are tagged for all to see.
Follow up with your neighbors and city forester to formulate an ash management strategy.