How long can I protect an ash tree with an insecticide application?
Cliff Sadof, Purdue University1

December 2010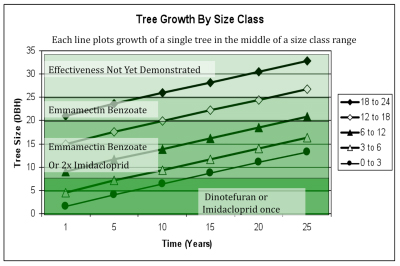 Insecticides can extend the life and benefits of healthy ash trees during an EAB infestation. These applications are most critical for protecting trees in the years when surrounding ash trees are dying and the population of EAB is near its peak. They also buy time to allow the development of newer and better controls (insecticides and biological controls) for fighting EAB.

The graph above shows how different insecticides may protect ash trees of different sizes over time when EAB populations are high. Each of the lines illustrates how uninfested ash trees of different sizes grow. Size is measured as the diameter of the trunk in inches at 4.5 ft above the soil line (DBH). The starting size for each tree size range is the middle of the size range (e.g., 4.5" for a 3-6" range, or 9" for a 6-12" range). Growth is projected for 25 years. On average, in Indianapolis, the trunk width increases at just under ½ inch (0.46) per year, or just under a foot (11.5 inches) in 25 years.
Annual soil applications of imidacloprid (Bayer Tree and Shrub) and or trunk sprays or soil applications of dinotefuran (Safari) can protect trees until trunk diameters get to 8" DBH. These insecticides are quite good at protecting small trees. Trees with a DBH of 2" can be protected for 13 years, while those with a DBH of 4.5" for about 7 years.

Double rates of imidacloprid, applied annually as Xytect™, or single doses of Merit® applied twice can protect trees with a DBH from 0 to 20". A tree with 9" DBH can be protected up to 24 years, while a tree with a DBH of 15" can be protected for about 10 years.

Injections of trees with emmamectin benzoate (Tree-äge) every 2 years have also been shown to control EAB in trees with a DBH from 0 to 25". Trees with a DBH of 9" can be protected up to 25 years, while those with DBH of 15" can be protected for about 21 years and those with a DBH between 21 for about 8 years. Studies of insecticide effectiveness have not yet been reported on trees with a DBH > 25" so it is hard to say how long this insecticide can protect larger trees.
For a more complete discussion of the relative effectiveness of insecticides against EAB, using available delivery methods, please refer to this link How Effective Are Insecticides at Controlling EAB.

Finally, it is important to consider that after EAB has killed all the untreated trees in an area the populations of adult beetles will probably crash, leaving far fewer beetles to attack the remaining live ash trees. Although the duration of this decline in beetle numbers and its impact on control recommendations are not yet known, it is quite possible that trees could be protected with less insecticide after the first wave of EAB has moved through a city. Keeping trees alive with insecticide during the invasion wave is a critical first step to take advantage of any future refinements of control recommendations.
---
1This note was prepared based on the results of insecticide trials conducted at Michigan State University by D. McCullough, and D. Smitley, and at The Ohio State University by D. Herms. Data for building the tree growth model was provided by P. Peper of the USFS.