Protecting Ash Trees with Insecticides
If EAB has been found in your county or within 15 miles, you should start protecting your ash trees. The bulletin below, written by State Extension Entomologists in Ohio, Michigan, Illinois, Indiana, and Wisconsin, answers questions and provides current information on controlling EAB with insecticides.
Bulletin of Insecticide Options for Protecting Ash Trees from EAB
FAQ Regarding Potential Side Effects of Systemic Insecticides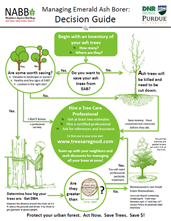 Managing EAB Decision Guide
Use this step by step guide to make decisions about your ash trees.
Quick Summary of Insecticide Options
Ash tree size, condition, and time of year affect which insecticides can be used effectively. Use the summary tables below to determine how best to protect trees from EAB.