Welcome to 4-H and Youth Entomology
---
4-H Mission: To assist youth and adults in their development by conducting hands-on educational programs, using the knowledge base of Purdue University, other land grant universities and the United States Department of Agriculture.
Upcoming events
Bug Bowl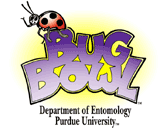 Bug Bowl is the largest known insect event of its kind. This popular two-day insect festival for the general public is held each April at Purdue Springfest. Preschoolers through retirees take part in numerous hands-on insect activities. Click here to learn more about the events at Bug Bowl.

Insectaganza
Each October "Insectaganza" provides 1,500 fifth graders throughout Tippecanoe County with the opportunity to have a hands-on and minds-on experience with insects during a day-long experience at Purdue. Future scientists are nurtured as they learn about the science of entomology through insect dissection labs, the "Insect Quiz Bowl," and presentations on Insect Biology and Insects and the Humanities.
View photos
Entomology Science Workshop for High School Students
Get hands-on training about insects from Purdue Entomologists in the classroom, as well as, the laboratory and in the field.
Click here for more information and registration.