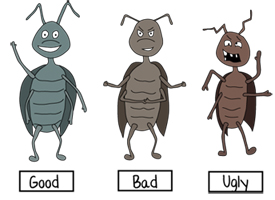 Part of making an insect collection is learning how to correctly classify the specimens. This is a very challenging assignment, because there are so many insects and so many of them look alike. Do not be discouraged if there are specimens that cannot be identified. Remember that even professional insect taxonomists (entomologists who identify and classify insects) cannot identify every species of insect. Some must specialize in working with one group and others with another group.
Classification, the grouping and naming of insects, is an ever-changing science. Insect specialists separate and combine groups of insects based largely upon their morphological similarities, some having more influence in a decision than others. As such, this process is somewhat subjective and, thus, dynamic. A student of entomology may find slight differences in classification schemes depending upon which reference or which entomologist they consult, and these may change over time.
Not all orders of insects are the same size. For example, more than one-third of the named species of insects (300,000) are in one single order, the Coleoptera (beetles). The next largest orders are Lepidoptera (butterflies and moths), with 150,000 species; and Hymenoptera (wasps and bees), with 125,000 species. The order Diptera (flies) includes about 20,000 species. These four orders, Coleoptera, Lepidoptera, Hymenoptera, and Diptera, comprise more than 80 percent of the named species of insects.
Approximately 92,000 named species of insects occur in the United States and Canada. It is not known how many of these species occur in any one state or in even a small area within a state. A list of insects in New York, published in 1928, included more than 15,000 species, but hundreds of species have been discovered there since that time. States such as California, Arizona, Texas, and Florida probably far exceed the Midwest and Northern states in the total number of species of insects.
Estimates of the number of species for three representative states and also for all of USA and Canada are provided as an indication of the number of species that insect collectors may expect to find (Table 1). A collector who can find one or more representatives of each of the 24 orders discussed in this book will have a very diverse collection, and in so doing will learn a great deal about insects and their habits.
Table 1. Estimated Number of Species
Order
North Carolina
New York
Indiana
USA & Canada
World Wide
Collembola
169
200
200
314
9000
Thysanura
6
5
7
25
900
Ephemeroptera
121
61
120
690
3100
Odonata
148
159
150
425
5500
Dictyoptera
23
15
20
101
5800
Orthoptera
235
121
150
925
20000
Dermaptera
7
4
5
18
2000
Isoptera
5
1
5
41
2900
Plecoptera
94
59
85
408
2000
Psocoptera
37
38
30
150
4400
Mallophaga
164
53
90
318
4000
Anoplura
11
11
15
62
900
Thysanoptera
64
71
150
600
5000
Hemiptera
568
727
800
4600
40000
Homoptera
759
864
900
6700
50000
Neuroptera
68
61
65
338
6500
Megaloptera
9
10
15
61
300
Coleoptera
3336
4546
4424
30000
350000
Mecoptera
27
20
20
89
600
Trichoptera
161
174
210
980
11000
Lepidoptera
1428
2439
2000
10100
150000
Diptera
2595
3615
3600
17000
120000
Siphonaptera
14
26
28
250
2500
Hymenoptera
2463
2300
2800
17000
125000