Insecticide Per-Acre Restrictions
How to comply with insecticide labels that limit amounts applied per acre?
In order to protect the ground water there are restrictions on the amount of imidacloprid and dinotefuran that can be applied on an acre of ground in a year. The table below summarizes current restrictions with the maximum inches of DBH allowed to be treated per acre in a single year.
Note that in Indiana, Ohio and Michigan there is a special local needs label (24c) that allows a higher rate of imidacloprid to be applied per acre. When treating larger trees with imidacloprid at twice the rate you can only treat half the number of trees.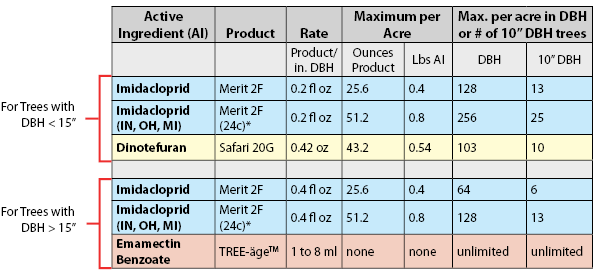 Clearly it may be necessary to limit the number of ash trees you can treat on an acre, especially if you are only using imidacloprid or dinotefuran and if you are also applying these products to other plants (eg to kill grubs in turf) on the property. To increase the number of trees that you can treat on an acre you will have to use more than one of the three active ingredients.