How to Make an Awesome Insect Collection
A Beginner's Guide to Finding, Collecting, Mounting,
Identifying, and Displaying Insects
Authors: Timothy J. Gibb and Christian Y. Oseto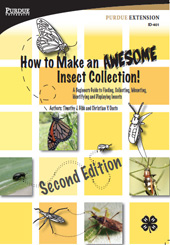 In spite of their small size, insects are among the most interesting and adaptable creatures on planet Earth. Each is distinct in appearance and has a behavior that, when studied, is truly fascinating. Insects are as plentiful as they are diverse. An enthusiastic insect collector will find no end to the number of treasures hidden in fields and woods, along the shores of lakes and streams, in soils or leaf litter, and in a myriad of other places. In fact, insects are so universally present that they can be found nearly everywhere, any time of the day or night, and even during the winter months, if one knows how and where to search for them.

Observing and collecting insects provides hours of pleasure and satisfaction and creates an awareness of the ecological importance of insects in our environment. Studying an insect in its natural setting can open a whole new world to a curious student. Each group of insects not only appears different from every other, but also has its own unique feeding, mating, and defensive strategies. Capturing and adding a new specimen to a collection is an exciting experience. As new specimens are classified and placed in the collection, a student learns about both the differences and similarities of insects belonging to each group. An observant student soon becomes aware of the marvelous ways in which insects have adapted themselves to the conditions under which each species lives.

To order this book from The Education Store click here.

To order the phone app click here.

To order the Mobile Flash Insect Quiz Cards: Interactive PDF click here.


Happy Collecting!