How to Make an Awesome Insect Collection
A Beginner's Guide to Finding, Collecting, Mounting,
Identifying, and Displaying Insects
Authors: Timothy J. Gibb and Christian Y. Oseto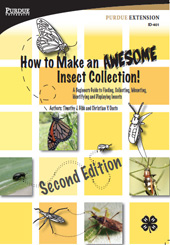 This book is dedicated to all beginning students of entomology. May you take the time to look beyond the "BUG" you are collecting and into the fascinating life of the "INSECT."

To order this book from The Education Store click here.

To order the phone app click here.


Happy Collecting!